Strategy 2025 Update: Directed Steps for University of Utah Health and our Community
In 2022, the pandemic began to transition to the endemic phase. This created capacity for us to mentally heal ourselves and recenter our focus on our missions and future. Our community is experiencing tremendous growth, our workforce is experiencing tremendous challenges, and our society is re-learning how to be civil with one another. In this environment, U of U Health has re-dedicated itself to the expansion of knowledge, the training of a new generation, and the advancement of new care models, all in service to our evolving community.
We step into the future guided by Strategy 2025, which represents our overarching goals as an institution. In the fourth year of this multi-year plan, our roadmap to success is charted by revised annual directed steps.
These new, annual objectives lay out our step-by-step tactics to move our system to the broader goals of Strategy 2025. These steps are the result of careful consideration and collaboration by leaders across many levels of our organization. I encourage everyone in the U of U Health system to familiarize themselves with these steps as they guide and help us prioritize our everyday work.
The Pillars of Strategy 2025
Because our organization is complex, we organize our system-wide strategy into seven unique pillars, defined as follows:
1. One U
This pillar reflects our dedication to high performance, created by universal collaboration across all aspects of the University of Utah at large. We reach our highest potential when we are integrated and collaborative.
2. Community Engagement
The community we serve is our anchor. They are our purpose, and we commit ourselves to helping them in every way we can.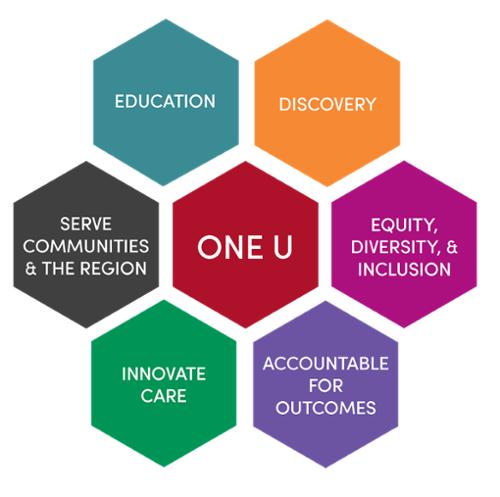 3. Equity, Diversity, and Inclusion
We are committed to eradicating sexism, racism, bias, and the health disparities that result from prejudice. We strive to elevate voices from all backgrounds, as they increase our collective potential.
4. Education
We are driven to provide an exceptional education to all students. We train the health care leaders of tomorrow, today.
5. Discovery
Advancement of research at every level of organization, from micro to macro knowledge, distinguishes us as an institution locally, regionally, and nationally.
6. Innovate Care
We provide patients with care that is both tailored to their specific needs and moves them seamlessly through our system. We strive for this care to be sustainable for providers so they can build their careers here.
7. Accountable for Outcomes
We are consistently high performing and rated highly in value as defined by quality, safety, and caring. We seek to become directly accountable for our choices and their outcomes.
How Annual Directed Steps are Created
To meet the standards of excellence that we set for ourselves across all seven pillars, we make annual plans that address how we can improve in the here and now.
Each year, we hold a Strategy Retreat to plan and strategize our steps for the next year. In late 2022, more than 250 leaders representing all four of our missions and all seven of our pillars finalized directed steps for 2023. This annual gathering is an exercise in re-centering ourselves in our values and making continued commitments to our long-term goals. Ideas come from all levels of our organization. This process empowers our stakeholders to take ownership and accountability for system-wide success.
Directed Steps for 2023
As our teams organize their own work, we invite them to familiarize themselves with a full list of the 2023 directed steps on the strategy website. To better understand how these steps play out and how many different areas of our organization they touch, below we offer a few examples of the initiatives we are working on in 2023.
Embedding U of U Health Care Innovations with The One Utah Health Collaborative
The One Utah Health Collaborative is a state-wide joint effort between providers, state legislature, and community members. It seeks to provide affordable, equitable care to all Utahns.
Two representatives from U of U Health, Rita Aguilar and RyLee Curtis, sit on the board of this collaborative. We hope to further the goals of the collaborative with three projects of our own.
Through these initiatives, we will further the goals of the One Utah Health Collaborative, increasing access to better and more affordable care.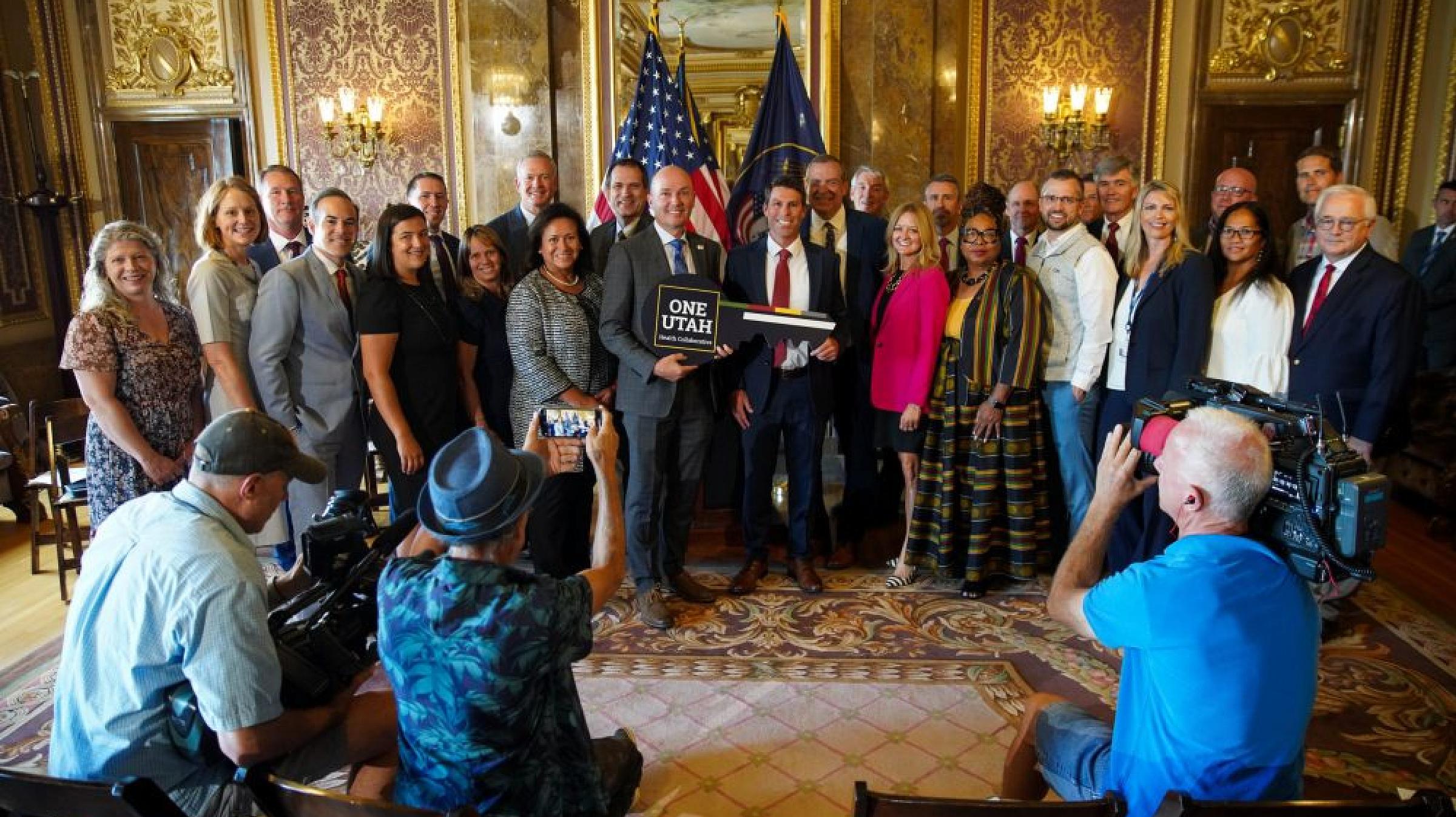 Communicating with University Leadership on the Priorities and Importance of the Health Sciences Research Mission
Research is integral to what makes us unique as an academic medical center. In 2023, we intend to boost awareness of the importance of research excellence through targeted communications.
We intend to capitalize on online communication platforms to generate buzz about the importance of research. Here are a few of our research-forward platforms:
We also plan to connect leadership to research through weekly communications across missions. We have seen a 23% increase in site usage in the last year, indicating a strong uptick in interest for ongoing research.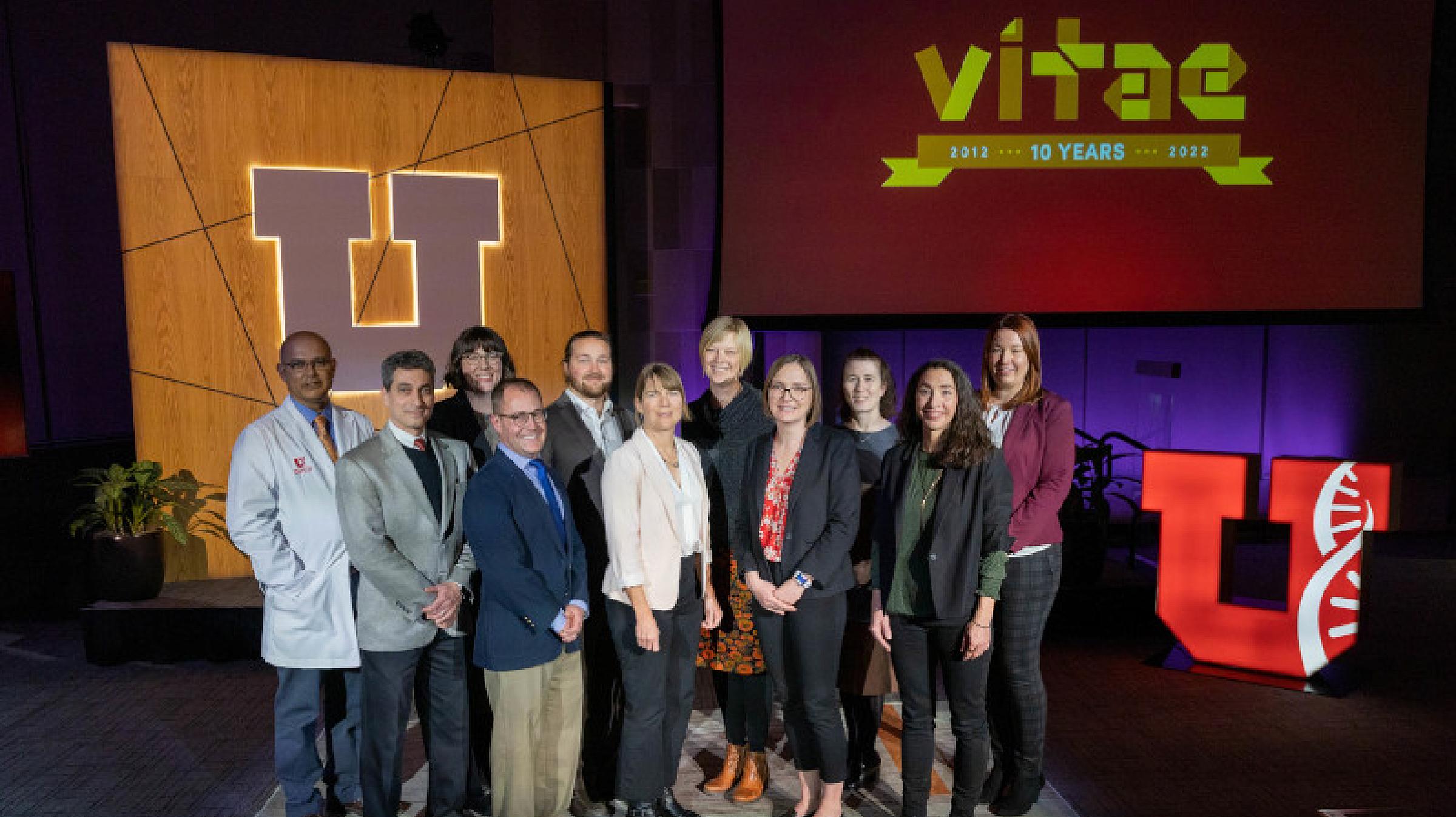 Creating a Model for Attracting Marginalized Groups to Health Sciences Graduate Programs
We seek to prepare a workforce to serve the diverse racial and ethnic populations of Utah in a way that eliminates health disparities. Our state's demographics continue to change, and our institution can lead the state and nation in being prepared to care for the "new Utah." Connecting with historically marginalized groups requires attention from every level of the institution. With broad support from the Health Sciences EDI Council, we're confident that we can take the steps necessary to build more trust with local communities.
To attract more people from historically marginalized backgrounds, we need to focus on two efforts.
First, we need to further spread the word about how we have taken steps to improve care for marginalized populations in our community. These efforts help to create a culture of belonging for us as an institution and for our patients.
Second, we need to elevate and expand already successful pathway programs that focus on improving representation of historically marginalized students. Here are a few examples:
These programs will help us welcome those from historically marginalized backgrounds into the U of U Health community.

Expanding Destination Care with New Multidisciplinary Specialty Programs
We have finally emerged from a long process of selecting four new multidisciplinary programs to expand our services in destination care. The process began as a request for proposals in Summer 2022, which netted 18 nominations. The nominations represented multiple departments, divisions, and more than 40 different specialties. These exceptional specialty programs demonstrated a high level of quality and expertise achieved through excellence in patient care, education, research and innovation, and multidisciplinary collaboration. These nominees were reviewed by a committee representing University Hospital and U of U Medical Group, resulting in four final selections. They are:
Neuroendocrine Tumor, led by Saundra Buys, MD, Heloisa Soares, MD, PhD, Courtney Scaife, MD, and Ignacio Garrido-Laguna, MD, PhD
Endoscopic Spine, led by Mark Mahan, MD, FAANS, and Zachary McCormick, MD
Robotic Cardiac Program, led by Vikas Sharma, MD, Craig Selzman, MD, Matthew Goodwin, MD, Anwar Tandar, MD, FACC, FRCPC, and Fred Welt, MD
Liver Transplant, led by Talia Baker, MD, FACS, and Manuel Rodriguez-Davalos, MD
These programs will crossover between U of U Health and Huntsman Cancer Institute, or Primary Children's. We plan to implement models that will streamline care coordination between these institutions to better serve patients as they travel to U of U Health and cross specialties to receive their care. These efforts speak to the high levels of quality, expertise, and collaboration across our system.
Taking The Next Step Toward Success
Our institution is broad, solves problems creatively, and continuously learns. Executing Strategy 2025 helps us to maintain focus on what matters most: our people, our patients, and advancing the next generations of knowledge and health care professionals.
We look forward to 2023 and all that we have planned on the journey to improving the quality of life for our communities.
Michael Good, MD
Michael Good is Executive Dean of the Spencer Fox Eccles School of Medicine at the University of Utah, CEO of U of U Health, and A. Lorris Betz Senior Vice President for Health Sciences. Good ensures the professional and educational success of more than 20,000 talented faculty, staff, and students who make U of U Health one of the nation's premier academic health systems. He received an MD from the University of Michigan and completed residency and a research fellowship in anesthesiology at the University of Florida.
DON'T MISS OUT. GOOD NOTES delivers to your inbox.