Sundance Film Festival 2023
After two years of a pandemic-friendly, virtual festival, we were delighted that Sundance Film Festival 2023 returned in person this January. And for the seventh year in a row, University of Utah Health was proud to be the festival's Official Health & Wellness Partner. From January 19-29, we extended our community to include the 100,000+ artists, creatives, industry insiders, and film lovers from around the globe, as well as the thousands of staff and volunteers who work so hard to make the magic happen.
So how do we promote health and wellness at Sundance? We trained staff and volunteers on de-escalation, provided health and wellness tips for our dry, high-altitude, winter climate, and placed trained professional in potentially triggering films. We also fostered conversations with the film community about important health topics and demonstrated how powerful the art of filmmaking can be to highlight the tragedies and triumphs of modern science and medicine. And, of course, we make sure people know that if they need our health care services, we're there for them.
Below are a few of our Sundance Film Festival 2023 highlights:
Coping with PTSD for Documentary Filmmakers
We elevated the importance of mental health and eliminating the stigma that surrounds simply asking for help.
Two Academy Award-nominated documentary filmmakers—Jehane Noujaim and Matthew Heineman—joined two experts from Huntsman Mental Health Institute—Mark Rapaport, MD, CEO of HMHI, and Brooks Keeshin, MD, trauma expert—to discuss PTSD at the Canon Creative House on Saturday, January 21st.
The hour-long panel touched on Noujaim and Heineman's harrowing tales of war-torn work and near-death experiences in Egypt, Mexico, Syria, and Afghanistan, along with the long-term effects of psychological trauma and the resources available to cope with PTSD.
The fascinating discussion represents another step in HMHI's mission to stop the stigma together, bringing advances in clinical care and mental health research to communities in need.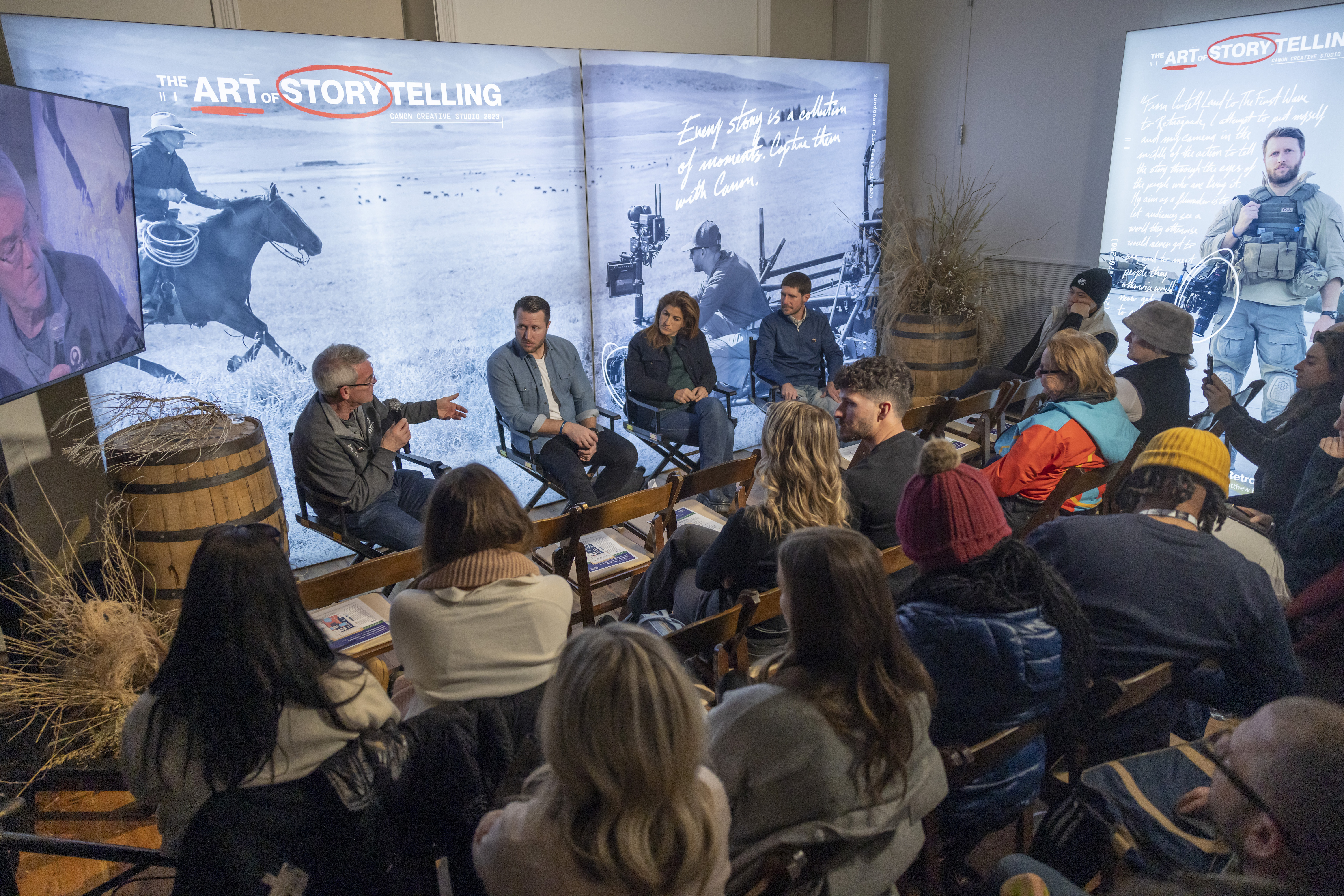 New Narratives in Health Screening + Panel
We harnessed the power of science, art, and storytelling to center the health needs of historically marginalized patients.
"The Language of Care," an emotional six-minute film about Deaf patients working with diabetes researchers to co-design care in American Sign Language, premiered at Filmmaker Lodge on Monday, January 23rd.

A thought-provoking panel followed, featuring health care providers like Michelle Litchman, PhD, FNP-BC; Murdock Henderson, PsyD; Tamiko Rafeek, one of many Deaf patients co-creating care with them; Ross Kauffman, the filmmaker who captured their emotional stories; Heather Kahlert, supporter and executive producer of the film; and many more.

We screened the first two films in University of Utah Health's New Narratives in Health:

"Meet Me Where I Am" and "One in a Million," with the main subjects, their families, and their health care providers taking the stage to discuss the long-lasting impacts of these films on health policy and human-centered care.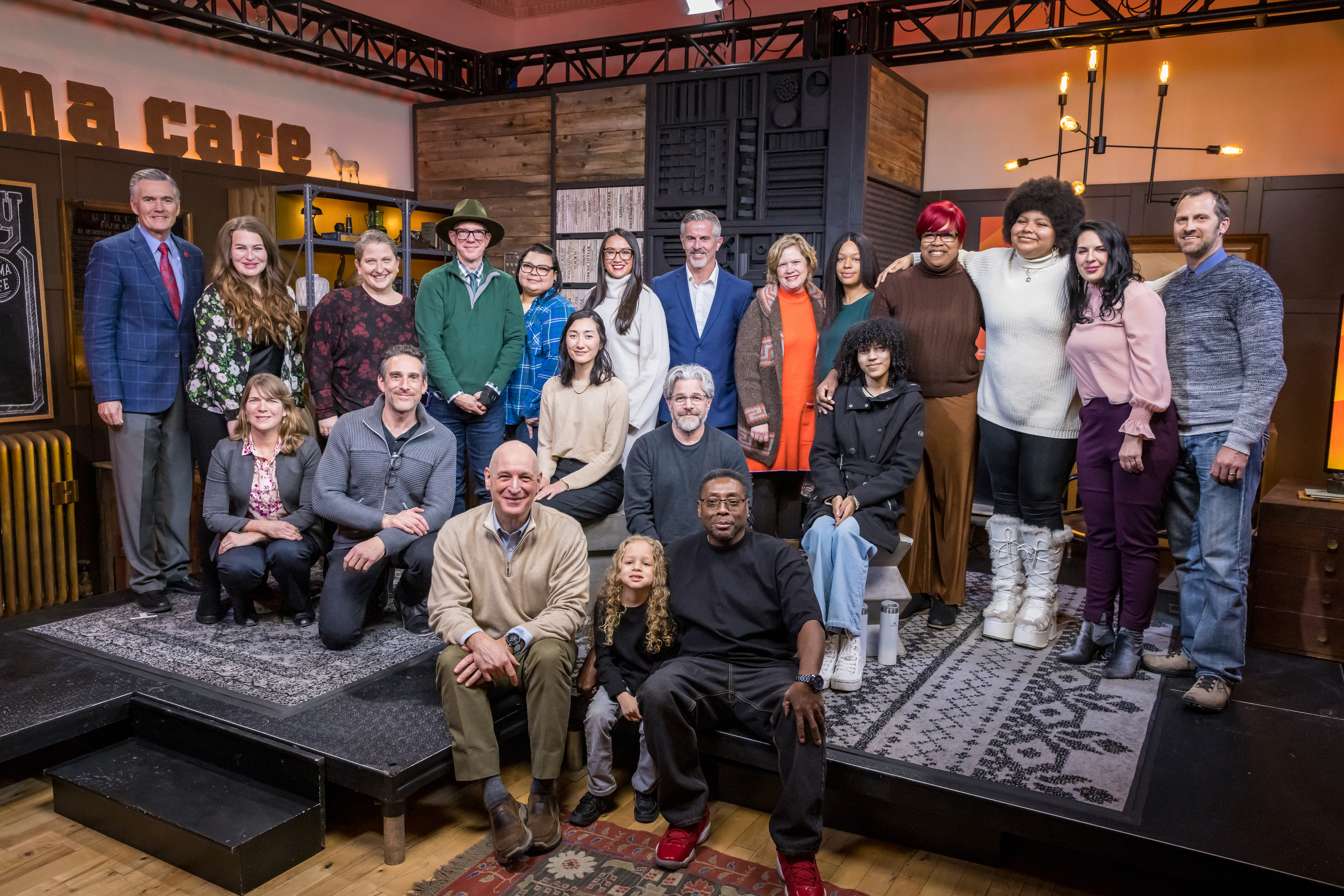 We delivered wellness interventions to relieve physical and mental stress for the unsung heroes—staff and volunteers—of Sundance Film Festival.
Massage therapists from the L.S. Skaggs Patient Wellness Center provided more than 250 soothing chair massages.

Centrally located inside Festival Headquarters at the Park City Sheraton, these free 10-minute massages gave hard-working Sundance Film Festival staff, volunteers, and artists the chance to unwind and decompress before returning to their important work refreshed and rejuvenated.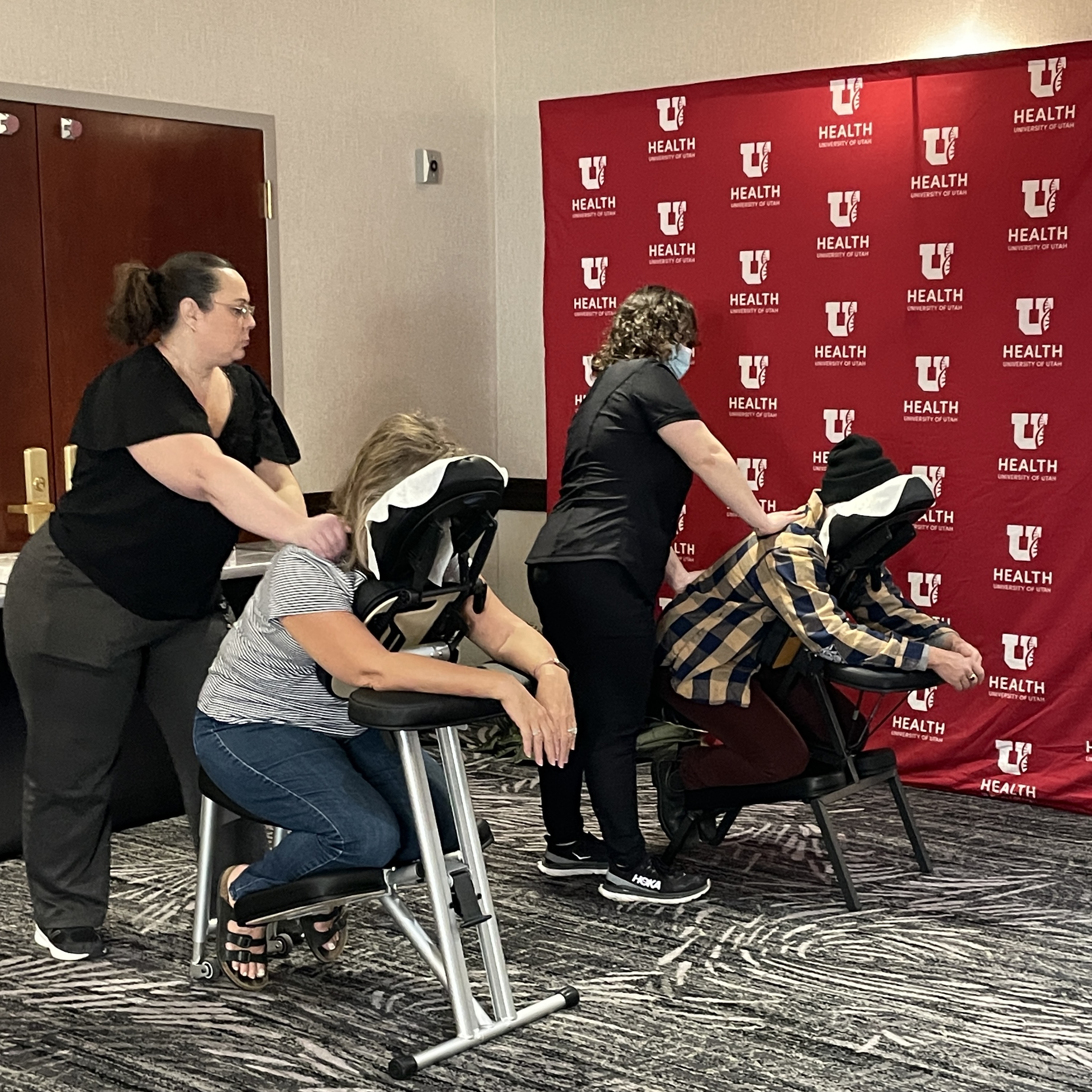 Utah Film Commission Partnership
We shared our expertise about Parkinson's disease.
Salt Lake City Community Screening
We thanked our community.
We capped off our partnership with a screening of "Going Varsity in Mariachi," which won Sundance Film Festival 2023's Jonathan Oppenheim Editing Award.

The joyful documentary follows a group of high school students in South Texas as they learn new instruments, navigate personal challenges, and come together as a team to compete in their ultra-competitive state championships.
More than 200 community leaders, state and local legislators, and U of U Health executives mingled at a pre-show reception before lining up below the Sundance Film Festival 2023 and U of U marquee at Broadway Cinemas.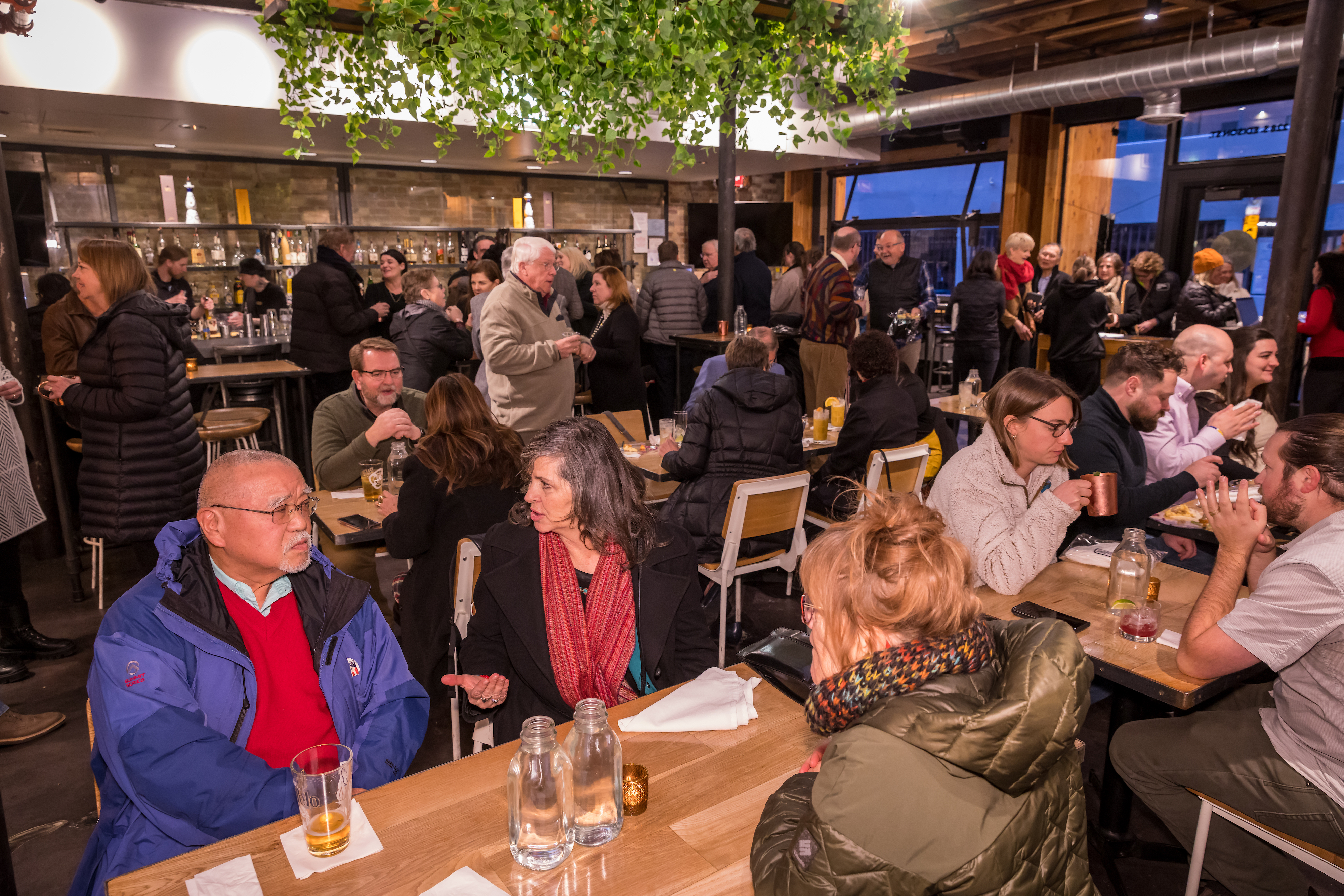 Yoga Sessions with Canada Goose
We collaborated with other Sundance Film Festival partners who share our commitment to health and wellness.
We co-hosted restorative morning yoga and sound baths at the Canada Goose Base Camp. These sessions carved out a calming space amidst the hustle and bustle of Main Street in Park City for relaxation and intention. Rumor has it a famous actress or two even started their busy days us!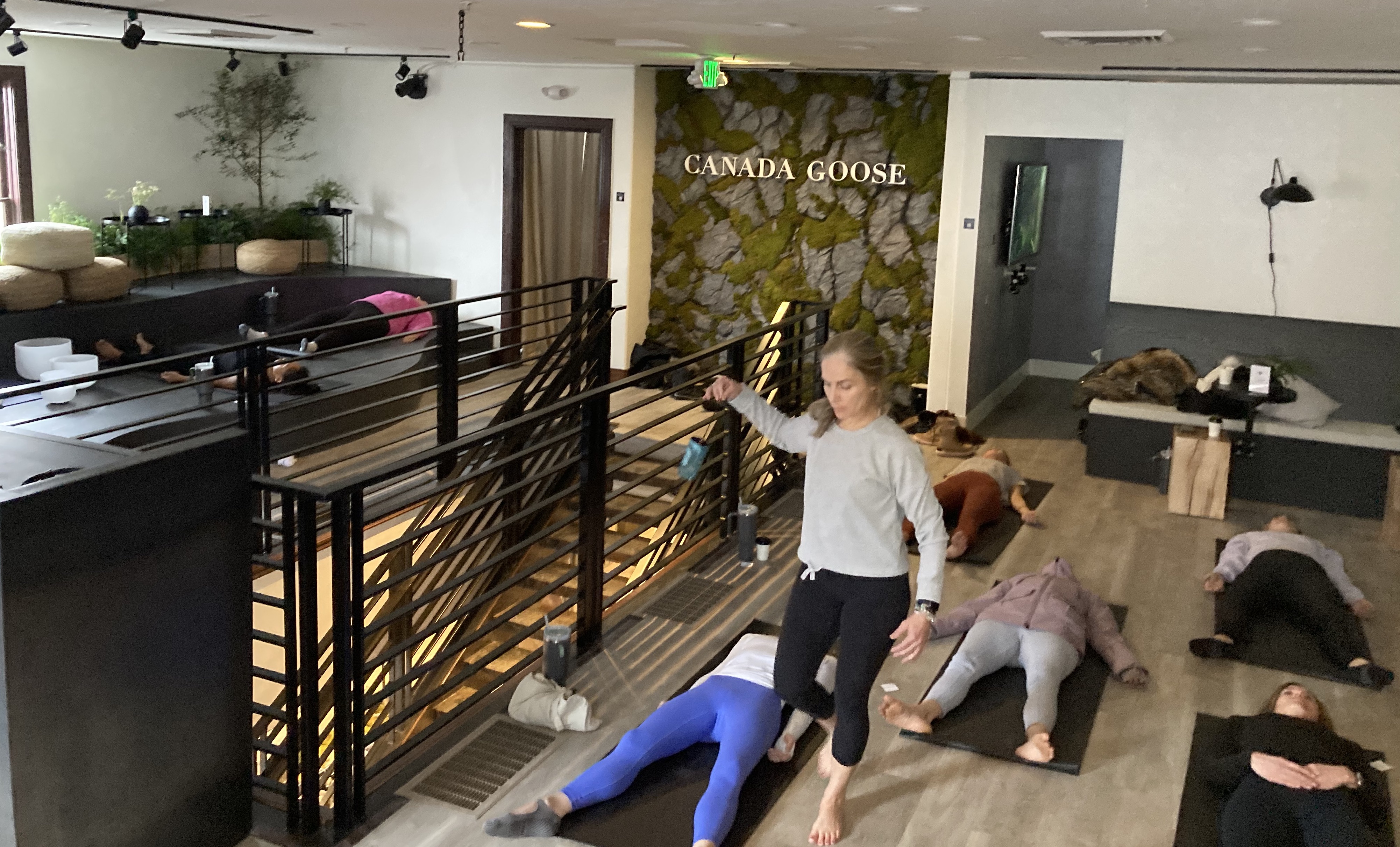 Slow Down Racing Thoughts
Sundance Film Festival 2022
New Narratives in Health: Meet Me Where I am
On Friday, January 28, University of Utah Health premiered Meet Me Where I Am, a documentary short film directed by award-winning filmmakers Ross Kauffman, André Robert Lee, and Robin Honan.
The film (which you can stream below) follows Adolphus Nickleberry (pictured above, right, with Kay McMahon, PA-C) on his journey at U of U Health's Intensive Outpatient Clinic as he rewrites his story with help from compassionate providers. Overcoming the ripples of health disparities and racism that last generations while surviving the loss of his parents and a lifetime of substance abuse, Adolphus looks to the future, relishing time spent with his family. "That's the best love in the world," he says. "It's like a gift given back to me."
Following the premiere of Meet Me Where I Am, U of U Health convened a panel discussion with the filmmakers, Adolphus, and his care team to discuss how the IOC's innovative approach to population health helped Adolphus regain his health. 
The panel, which you can stream below, features moderator and executive producer Joe Borgenicht; filmmakers Ross Kauffman, André Robert Lee, and Robin Honan; IOC providers Stacey Bank, MD, medical director of the IOC, and Christina Cackler, LCSW, clinical social worker at IOC; Richard Ferguson, MD, MBA, chief medical officer at Health Choice Utah and founder of non-profit group Black Physicians of Utah; and Patricia Aguayo, MD, MPH, medical director at Huntsman Mental Health Institute's Neurobehavior HOME and Autism Spectrum Disorder Clinics.
Bank shares highlights from the panel in a Good Notes blog published after the event.