U of U Health Partners with One Utah Health Collaborative
In November 2021, Governor Spencer Cox announced an innovative plan to transform health care in Utah.
One Utah Health Collaborative is a state-wide effort to reduce health care costs and improve equitable health outcomes for all Utahns. University of Utah Health is proud to be an official partner of the collaborative.
Gov. Cox invited us to serve on the board of directors on behalf of U of U Health. Holding two spots on the board is a significant and exciting opportunity.
As an academic medical center and AAMC institution, innovation is at the heart of what we do. We train providers, conduct research, provide top-notch patient care, and engage with community members. Partnering with One Utah Health Collaborative lets us share this expertise with other organizations across the state.
Three current U of U Health projects will further the goals of the collaborative.
Intensive Outpatient Clinic
The first is U of U Health's Intensive Outpatient Clinic (IOC). The IOC improves patient outcomes using a population health approach. An interdisciplinary medical team addresses the medical, behavioral, and social needs of their patients—all under one roof.
This model of care improves both clinical and patient-reported outcomes. It also demonstrates significant cost savings. In the IOC's first three years, patient costs decreased by almost 50 percent.
One Utah Health Collaborative creates an opportunity to expand the reach and impact of the clinic. With support from our state partners, we can scale the IOC model to improve the health of more patients at higher quality and even lower costs.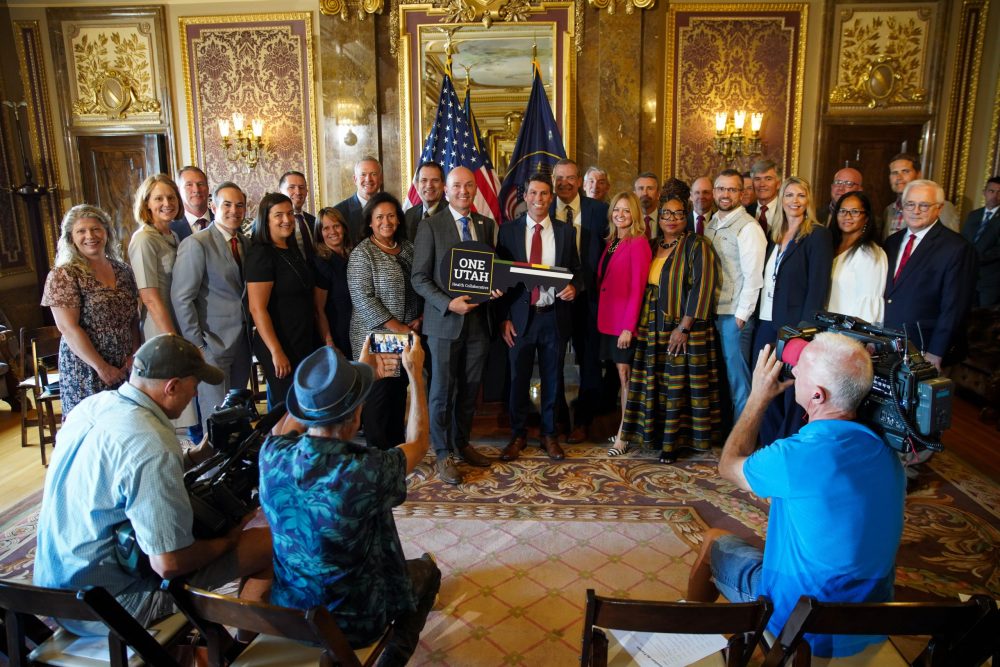 Huntsman at Home
Huntsman at Home provides Huntsman Cancer Institute-quality care to patients in their homes. The goal is to prevent symptoms from escalating, requiring emergency department visits or hospitalization. Utahns living in remote parts of the state must travel hours from where they live to receive specialty cancer care. This can lead to poorer cancer outcomes.
Since launching in Salt Lake City in 2018, Huntsman at Home has expanded to Carbon, Emery, and Grand Counties. Research shows patients participating in this program have lower costs, make fewer trips to the ER, and have fewer unplanned hospitalizations compared to those who do not participate.
The One Utah Health Collaborative can help us serve even more communities by bringing key partners to the table—from policymakers to community health providers and more.
Huntsman Mental Health Institute HOME Program
The HOME Program is a patient-centered medical home for people with developmental disabilities. The program currently serves more than 1,400 patients from Salt Lake, Davis, Weber, Tooele, Utah, Summit, and Wasatch Counties.
As part of the One Utah Health Collaborative, we will expand this program to provide behavioral care for more patients.
Making the Most of Our Seats at the Table
Holding two seats at the board of directors table is a big responsibility. As our partnership continues, we will look at health outcomes across diverse populations, social service spending, and preventive efforts.
If the pandemic showed us anything, it's that there are disparate outcomes for diverse communities. The One Utah Health Collaborative allows us to help our underserved communities more than ever.
This collaboration brings a lot of smart people to the same table. We share what we are doing and build upon what others are already doing. This allows us to meet the needs of more Utahns in a more innovative way.
Rita Aguilar, DNP, MBA/HCM, RN, NEA-BC
Rita Aguilar is the Associate Chief Nursing Officer for Inpatient Services at University of Utah Health. Aguilar has more than three decades of nursing leadership experience in a variety of hospital settings. She understands the impact that nursing has on the health and well-being of our communities, along with the unique challenges facing our diverse patient populations. She received her Doctorate in Nursing Practice and a second bachelor's degree in Sociology at the University of Utah. 
RyLee Curtis, MPP
RyLee Curtis is Director of Community Engagement at University of Utah Health. Curtis leads University Hospital's Healthcare Anchor Institution work, engages with community-based organizations to address social determinants of health, and builds partnerships across the University of Utah campus, University of Utah Health Plans, and University Hospital. She received a master's degree in public policy at the University of Utah.
DON'T MISS OUT. GOOD NOTES delivers to your inbox.