Together as One U, we serve communities and the region, advance equity, diversity, and inclusion, lead education and discovery, and innovate care accountable for outcomes.
Communities, partners, and people make us who we are, and we are fully invested in their health, wellness, and success.
One U
We are a high-performing health system and university. We create our highest value when we work together. Rapid changes in the environment require that we make decisions quickly and act nimbly. We will organize to create new value, solve grand challenges, and reach our full potential as an integrated, high-performing organization. Shared governance will help us make correct decisions and carry them out together. We will listen to our patients and employees to gain knowledge from the point of care. As one university, we are both the University of Utah and the University for Utah, achieving excellence in our missions, ensuring vitality for Utah and the region, and serving as a model for the nation.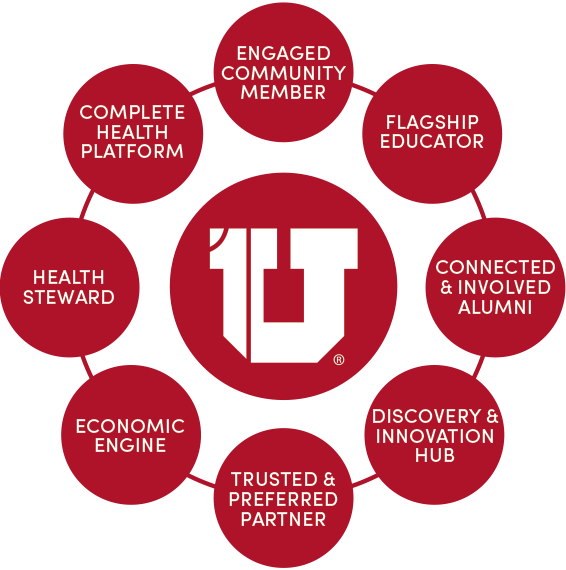 Outcomes We Seek for 2025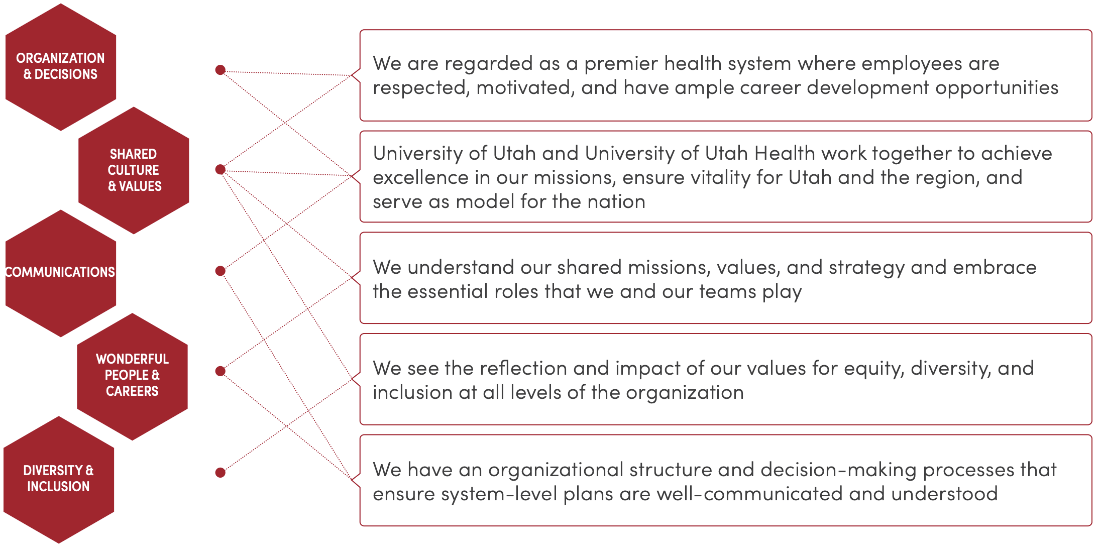 Our Directed Steps in 2023
Deeper Ties
Refine career progressions and ladders for high-volume job classifications, supported by streamlined HR systems & processes.
Implement education and training programs in West Valley in partnership with Main Campus and Salt Lake Community College.
Create and publish a case study detailing the realignment and integration of the U of U Health and U of U advancement teams.
Implement practices to consistently co-feature U of U and U of U Health in each other's communications.
New Solutions
Participate in the One U Data Science initiative by selecting and implementing a DELPHI project to improve care outcomes.
Calibrate health claims data for university employees and dependents and use population health approaches to identify opportunities to improve health and reduce care costs.
Create a cross campus communication structure to promote the positive societal impacts of U of U West Valley.
Participate in One U sustainability efforts and ensure that U of U Health patient and employee perspectives are included in the university's Climate Change Action Plan.
Organizational Excellence
Create an Exceptional Employee Experience framework, establishing baseline data and implementing initial initiatives.
Launch and measure impacts of the employee-facing "connect to purpose" campaign to support retention, recruitment, and engagement.
Serve Communities & the Region
Service • Engagement • Mission Driven
University of Utah Health is here to serve Utah and the Mountain West as care providers, educators, researchers, partners, advocates, and more. We are an anchor institution in our community. We will further the impact of our work in these roles by connecting our efforts and prioritizing service to communities and people. Service is foundational to our mission to advance health. Communities, partners, and people make us who we are, and we are fully invested in their health, wellness, and success.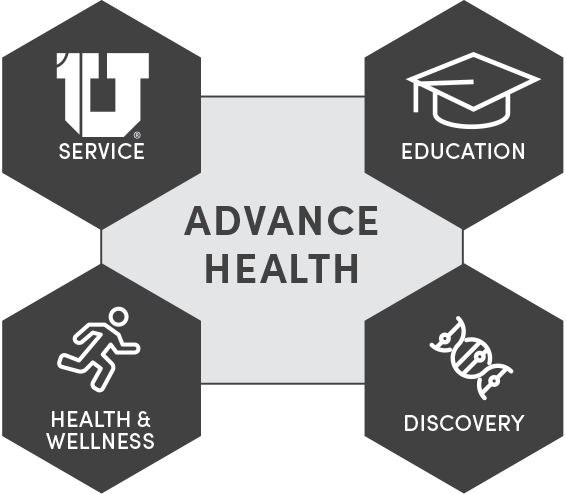 Outcomes We Seek for 2025
Our Directed Steps in 2023
Deeper Ties
Launch a primary care clinic with the Spencer Fox Eccles School of Medicine and the Intensive Outpatient Clinic focused on health management for Medicaid enrollees and population health.
Extend HMHI partnerships with community providers, nonprofits, and government agencies on mental health and substance use disorders.
Further embed and extend U of U Health care innovations into the One Utah Health Collaborative.
New Solutions
Evaluate models for integrating legal support services into care models to address social determinants of health.
Implement interventions that advance equitable access to health insurance for historically underserved people and communities.
Improve suicide prevention through HMHI's community efforts, including education, policy guidance, and partner support.
Organizational Excellence
Foster a culture of sustainability at U of U Health, including deeper understanding of climate change impacts on patient health.
Organize a team to improve U of U Health's understanding of the role of community health workers in care delivery.
Equity, Diversity, & Inclusion
Enrich Experiences • Commitment • Leadership
Members of our university community are determined to research, challenge, and eradicate systemic sexism, racism, and bias and the resultant health disparities, while proactively and creatively developing institutional actions, policies, and funding mechanisms that extend support for the University of Utah's ongoing commitment to equity, diversity, and inclusion. Addressing these issues will improve outcomes for all patients, creating equity among historically marginalized groups (i.e. Black or African American, American Indian or Alaska Native, Native Hawaiian or Pacific Islanders, Latinx [Hispanic or Latino], Southeast Asians, LGBTQ+ community, differently abled and disabled people, women, and other excluded populations) and help us become the campus of choice for learning and employment.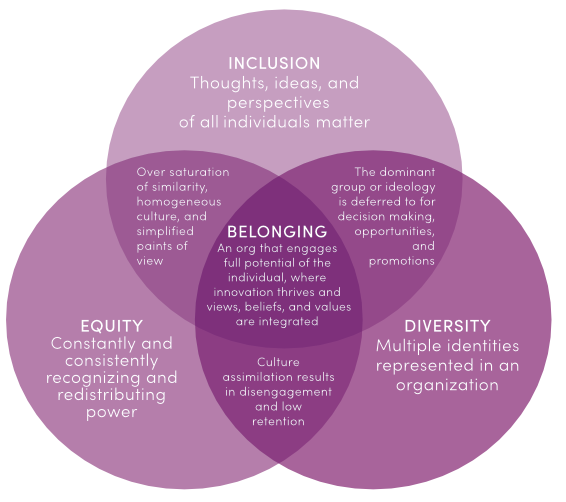 Outcomes We Seek for 2025
Our Directed Steps in 2023
Deeper Ties
Develop and publish equity dashboards for health outcomes.
Create a sustainable model to attract historically marginalized students into health sciences graduate programs.
New Solutions
Create a salary equity committee for women and underrepresented employees inclusive of all health sciences with transparent data sharing, leader accountability, and advocacy to address inequities.
Construct a common statement for EDI accountability in staff appointment, retention, and promotion.
Organizational Excellence
Construct EDI accountability in faculty appointment, retention, and promotion, including an area of effectiveness in EDI across health sciences.
Build or modify existing retention dashboards for each unit, focusing on historically marginalized staff, students, and faculty, with a data sharing strategy for leadership discussions.
Develop and implement annual mandatory EDI training for all units in health sciences, both online and in-person.
Address and correct 5 areas of the DICE inventory that are yellow today and ensure that they become green across health sciences.
Collaborative • Innovative • Exceptional
We are driven by a central vision of an exceptional educational experience for all students across all University of Utah Health colleges and schools. Through collaboration and a strong education community, we build student knowledge, skills, and attitudes. We strive for educational impact and transformation. Our educational programs actively engage communities, help address their needs, and prepare students to thrive in real-world environments. We train tomorrow's health care experts and leaders to succeed in a rapidly changing world.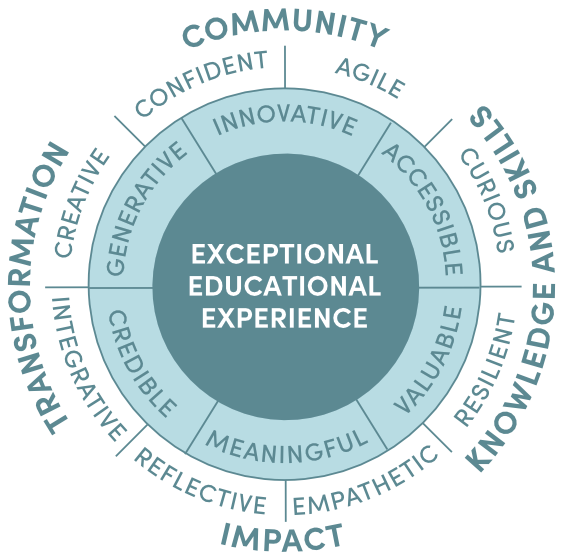 Outcomes We Seek for 2025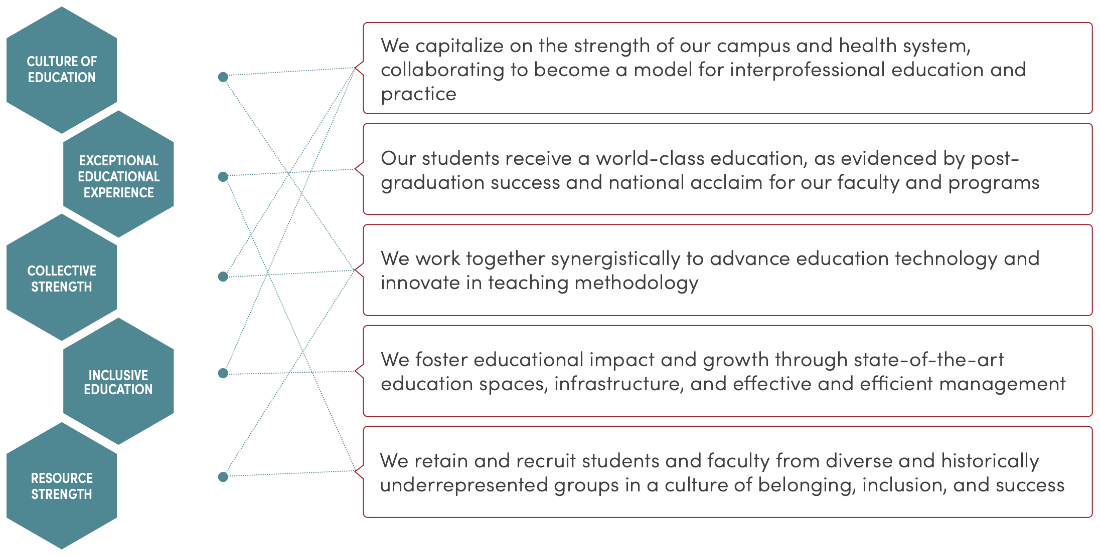 Our Directed Steps in 2023
Deeper Ties
Create infrastructure with colleges, schools, and hospitals to improve efficiency of clinical placements.
Establish and pilot West Valley Pathways for Success in Health Profession Education.
Advance exceptional faculty educator experience by developing and promoting sustainable faculty educator pathways.
New Solutions
Model new innovations for student success, including admissions, advocacy, and coaching; focus on communities where we can have greatest impact.
Identify logistics, commonalities, and alignments in curricula across health sciences with a goal of future integration.
Organizational Excellence
Build infrastructure with colleges, schools, and hospitals to improve access to appropriate mental health and wellness services for health profession students.
With the EDI Dean and Directors Council, develop expectations for inclusive curriculum that represents diversity in health and illness experiences.
Excellence Across the Research Spectrum
We improve human health for all by advancing biomedical discoveries, innovation, and health care practices. Weaving discovery through all we do amplifies the impact and pace of our combined work and further differentiates us as a leading academic health system.
Outcomes We Seek for 2025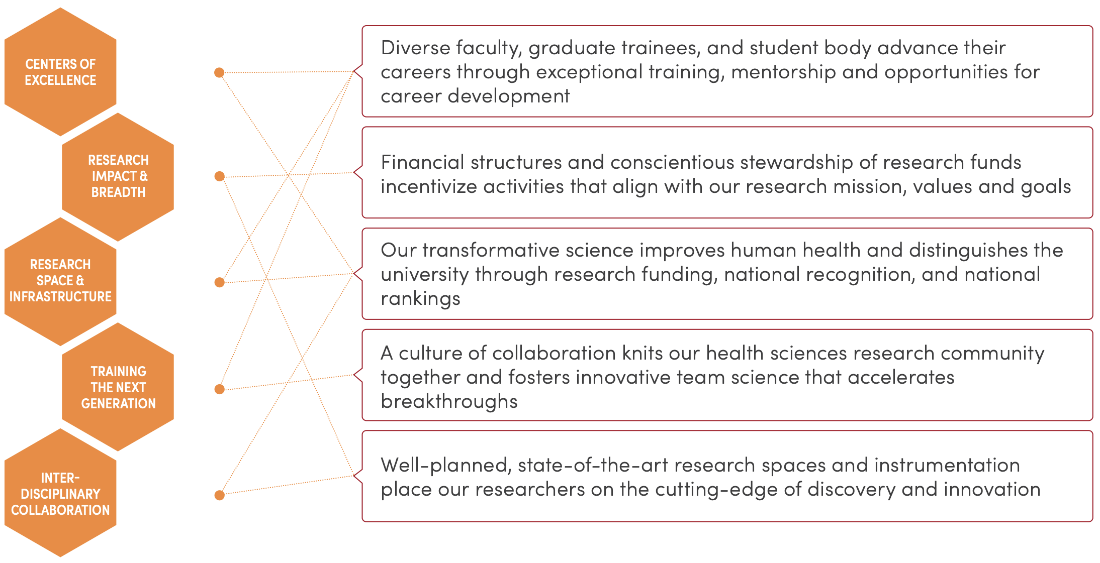 Our Directed Steps in 2023
Deeper Ties
Analyze all health sciences investments in research; assess alignment of investments with research goals by the end of 2023.
Work with the Office of Faculty to create recruitment and retention dashboards that enable U of U Health to understand faculty diversity and identify opportunities within the faculty pipeline.
New Solutions
Work with the Advancement office to create support from philanthropic sources for 2-3 endowed chairs in the health sciences, or for the overall health science research mission, with the aim of retaining highly productive faculty.
Work with departments to define expectations of research excellence and adopt metrics related to funding models, research activity, and leverage on investment.
Organizational Excellence
Partner with the Office of Faculty and departments to ensure leadership and mentor training is provided to at least 25% of directors and department leaders in health sciences research.
Communicate with university leaders and other stakeholders on the priorities and importance of the health sciences research mission.
Patient Focused • Accessible • Provider Friendly
We tailor services to the specific needs of each patient and seamlessly move them through our health system. Care is sensitive to patient time and money and is available close to (or at) home with little to no wait. Routine care is often handled virtually on-demand. Growth is sustainable for providers. Care roles are top-of-license and team-based. Diverse, talented professionals come here and stay for their careers.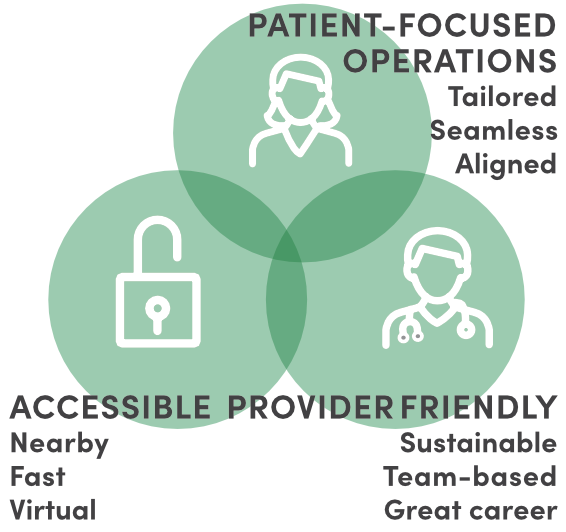 Outcomes We Seek for 2025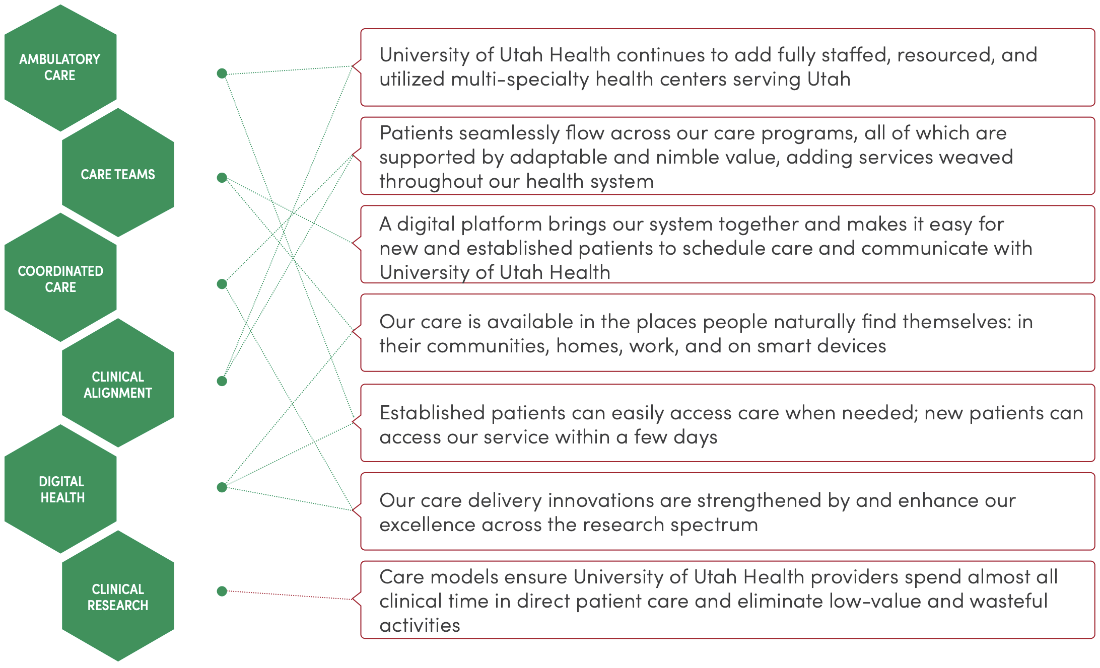 Our Directed Steps in 2023
Deeper Ties
Collaborate with an affiliate hospital to identify U of U Health patients who could be treated in their home community; develop support needed to transition treatment to the home community.
In partnership with Community Nursing Services, increase Heal @ Home program enrollment by 50%.
Expand destination care by designating 4 new multidisciplinary specialty programs as destination services with focus on innovation, care coordination, and system representation.
Champion prioritization for destination care programs with important health system partners, including Outreach and Network Development, Telehealth, and Clinical Marketing.
New Solutions
Define unified metrics for outpatient clinic capacity; measure actual usage of outpatient clinics, with earliest work focused on analysis and generating solutions to improve clinic room usage.
Define target virtual visit proportions for specialties, define a sustainable technical support model, and develop a plan to minimize use of clinic resources for virtual visits.
Deploy a sustainable model for inbound patient communications that supports provider & staff resilience and patient experience, with CY2023 focusing on in-clinic processes.
Identify and develop a pilot utilizing community health workers to streamline care transitions for patients discharging from U of U Health hospitals who screen positive for SDOH.
Launch and monitor three separate strategies to increase inpatient capacity.
Organizational Excellence
Examine and redefine RN, MA, etc. roles in ambulatory clinics to eliminate non-value-added work. Redistribute work that does not require a licensed employee away from MAs and RNs.
Develop a multidisciplinary care coordination model and supporting infrastructure to facilitate seamless institutional crossover for destination care (U of U Health, HCH, and Primary Children's).
Continue evaluation and implementation of a secure chat platform to support communication needs of the interdisciplinary inpatient care team.
Implement self-service access tools to create a people-centered health care environment, strengthen equitable access, and drive toward improved automated scheduling workflows.
By mid-year, develop a high-level perioperative dashboard, alongside site level dashboards, both to be used by PEC and local governance committees to address capacity, efficiency, financial performance, and quality and safety opportunities.
Value • Experience • Population Health
University of Utah Health is firmly established as one of the nation's highest value academic health centers, a top performer in quality, safety, and caring. We seek the next phase of our ambition: becoming directly accountable for our choices and their outcomes.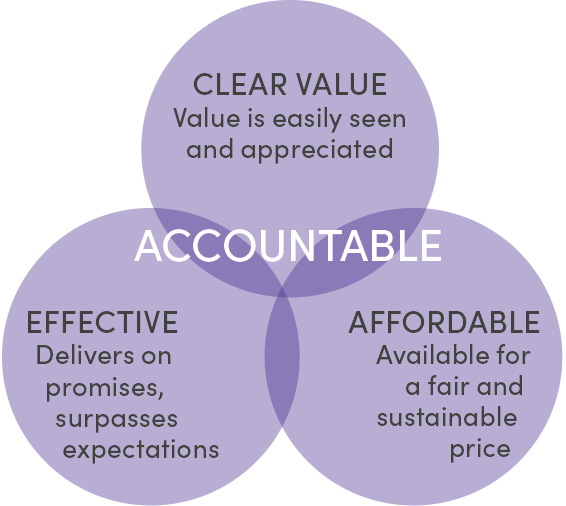 Outcomes We Seek for 2025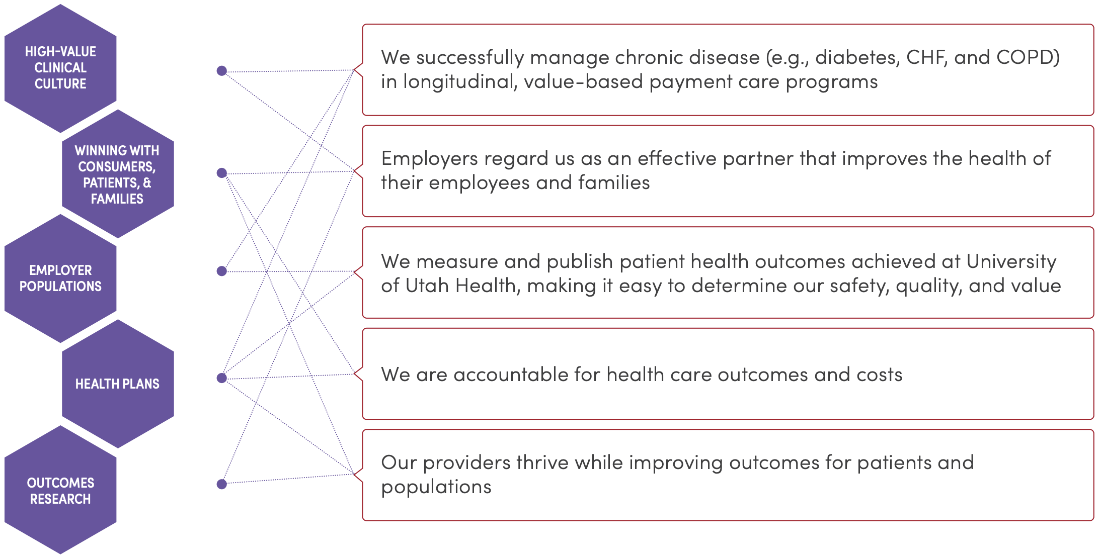 Our Directed Steps in 2023
Deeper Ties
Partner with 1 or more rural community hospitals or groups to address health care disparities in underserved regions.
Establish The University of Utah Population Health Center; emphasize Intensive Outpatient Clinic expansion and creating a primary care clinic for Medicaid patients.
New Solutions
Propose a population health pilot for U of U Hospitals & Clinics employees; aim to improve health outcomes and care value for our teams.
In early 2023, measure race- and ethnicity-based screening for colon cancer, breast cancer, and depression. Intervene to begin reducing inequities in these areas by the end of the year.
Re-energize value stream improvement work by developing the structure and framework for recommending, selecting, prioritizing, and monitoring value stream programs.
Expand data transparency by identifying outcome metrics to make publicly available for 2 new U of U Health entities; leverage the framework developed by Moran and patient and family advisors.
Organizational Excellence
Improve capture of race, ethnicity, sexual orientation, and gender identity data by increasing selection options, training frontline teams, providing patient education, and identifying disparities and health interventions based on these demographic selections.
Expand and optimize virtual care in targeted areas to improve care access and extend treatment options.
By mid-year, charter a new perioperative governance structure; integrate into hospital and department operations via subcommittees and local governance committees at all perioperative locations.