Together as One U, we serve communities and the region, advance equity, diversity, and inclusion, lead education and discovery, and innovate care accountable for outcomes.
Communities, partners, and people make us who we are, and we are fully invested in their health, wellness, and success.
One U
We are a high-performing health system and university. We create our highest value when we work together. Rapid changes in the environment require that we make decisions quickly and act nimbly. We will organize to create new value, solve grand challenges, and reach our full potential as an integrated, high-performing organization. Shared governance will help us make correct decisions and carry them out together. We will listen to our patients and employees to gain knowledge from the point of care. As one university, we are both the University of Utah and the University for Utah, achieving excellence in our missions, ensuring vitality for Utah and the region, and serving as a model for the nation.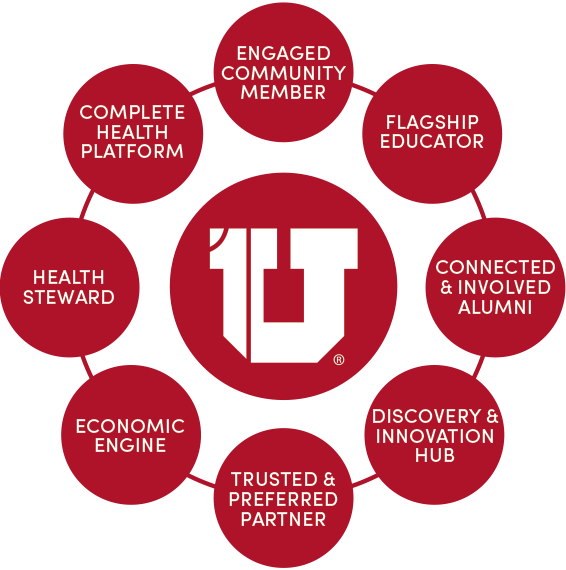 Outcomes We Seek for 2025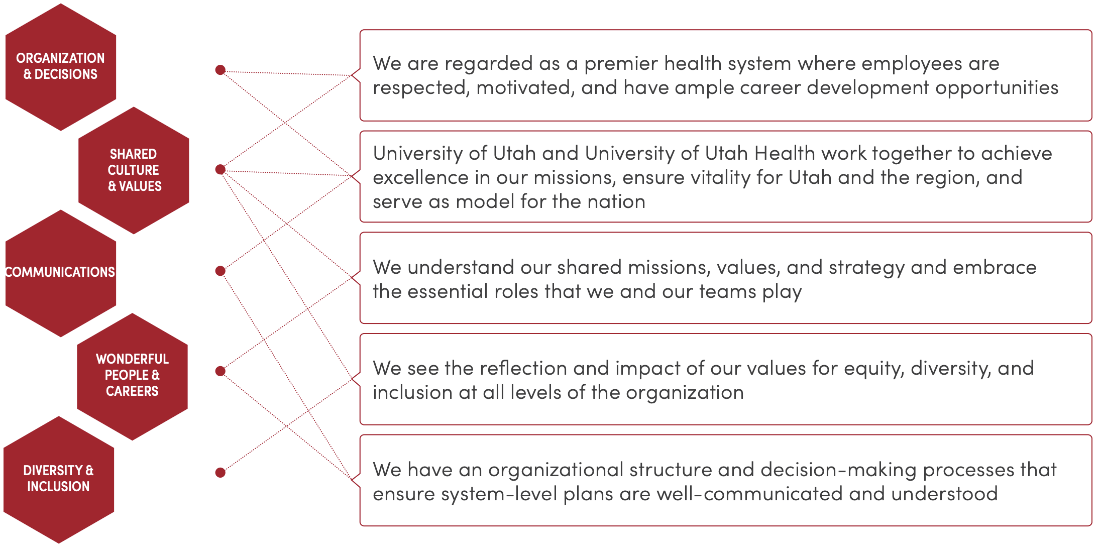 Our Directed Steps in 2022
Deeper Ties
Craft and implement practices to consistently co-feature University of Utah and University of Utah Health in each other's communications
In partnership with U of U President's Cabinet, articulate a shared One U research agenda focused on community health needs
New Solutions
Use a One U governance structure, incorporating all university missions and community voices, to make shared decisions for West Valley programming
Create workforce development plans for West Valley with early enrollments no later than 2023
Design and begin implementation of a population health initiative that creates value for U of U and U of U Health employees
Organizational Excellence
Improve communication models to clarify organizational structures and decision-making processes
Develop and implement a One U organizational structure and approach to fundraising
Support a One U approach to improving child care for university employees
Initiate pursuit of achieving distinction as a National Magnet Hospital for nursing
Serve Communities & the Region
Service • Engagement • Mission Driven
University of Utah Health is here to serve Utah and the Mountain West as care providers, educators, researchers, partners, advocates, and more. We are an anchor institution in our community. We will further the impact of our work in these roles by connecting our efforts and prioritizing service to communities and people. Service is foundational to our mission to advance health. Communities, partners, and people make us who we are, and we are fully invested in their health, wellness, and success.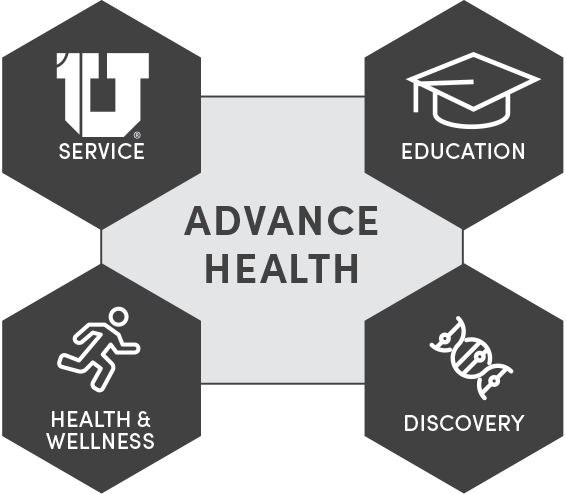 Outcomes We Seek for 2025
Our Directed Steps in 2022
Deeper Ties
Expand the language accessibility of patient health information, portals (e.g., MyChart), and support services (e.g., insurance help)
Expand access to virtual mental health services, including the SafeUT app and HMHI's CALL UP program
Strengthen relationships in regional communities that look to U of U Health for services, including Cache and Tooele Counties
New Solutions
Strengthen U of U Health's commitment to environmental and sustainability efforts and measure our impact on community health
Participate in and support the governor's Utah Sustainable Health Collaborative
Convene and lead the inaugural year of the national mental health Stigma Grand Challenge campaign
Organizational Excellence
Inventory U of U Health's existing partnerships and develop criteria and tools to measure and improve their value
Strengthen bi-directional communication between U of U Health and the community
Charter a committee to steer U of U Health's strategy to serve communities and the region
Equity, Diversity, & Inclusion
Enrich Experiences • Commitment • Leadership
Members of our university community are determined to research, challenge, and eradicate systemic sexism, racism, and bias and the resultant health disparities, while proactively and creatively developing institutional actions, policies, and funding mechanisms that extend support for the University of Utah's ongoing commitment to equity, diversity, and inclusion. Addressing these issues will improve outcomes for all patients, creating equity among historically marginalized groups (i.e. Black or African American, American Indian or Alaska Native, Native Hawaiian or Pacific Islanders, Latinx [Hispanic or Latino], Southeast Asians, LGBTQ+ community, differently abled and disabled people, women, and other excluded populations) and help us become the campus of choice for learning and employment.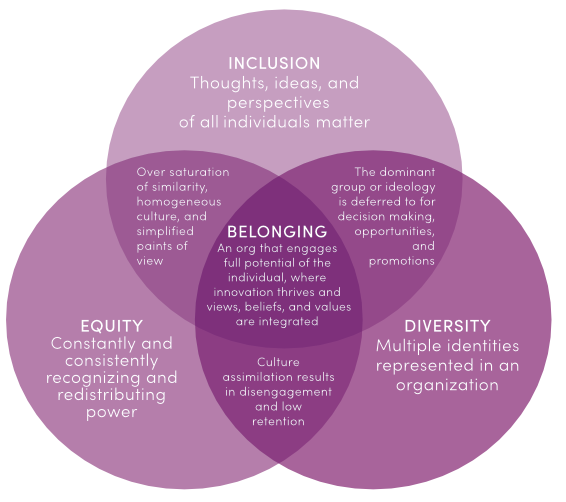 Outcomes We Seek for 2025
Our Directed Steps in 2022
Deeper Ties
Establish employee retention and growth programs that directly engage diverse staff and staff recruits
Develop an initial set of goals for our anti-sexism commission
Deepen expertise in Spanish language media relations, including a new role focused on engaging Spanish media
New Solutions
Construct plan to include EDI accountability in faculty evaluations, including hiring metrics
Expand the Basic Needs Center—Health Sciences Satellite physical locations and services
Document steps required to gain national recognition in culturally competent care, including Age-Friendly Health System designation
Launch UHEDI transparency page, including compositional diversity data, membership of leadership committees, and program successes
Organizational Excellence
Help craft language for West Valley Project mission and vision statements
Formalize an EDI Leadership Committee that includes a full spectrum of health system leadership
Work with each college, department, and division to (a) refine mission and vision statements to include EDI elements; (b) complete cultural inventory; and (c) create an associated EDI action plan
Collaborative • Innovative • Exceptional
We are driven by a central vision of an exceptional educational experience for all students across all University of Utah Health colleges and schools. Through collaboration and a strong education community, we build student knowledge, skills, and attitudes. We strive for educational impact and transformation. Our educational programs actively engage communities, help address their needs, and prepare students to thrive in real-world environments. We train tomorrow's health care experts and leaders to succeed in a rapidly changing world.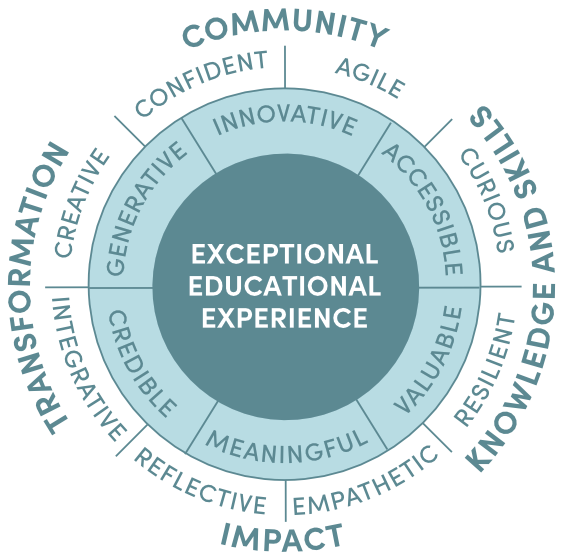 Outcomes We Seek for 2025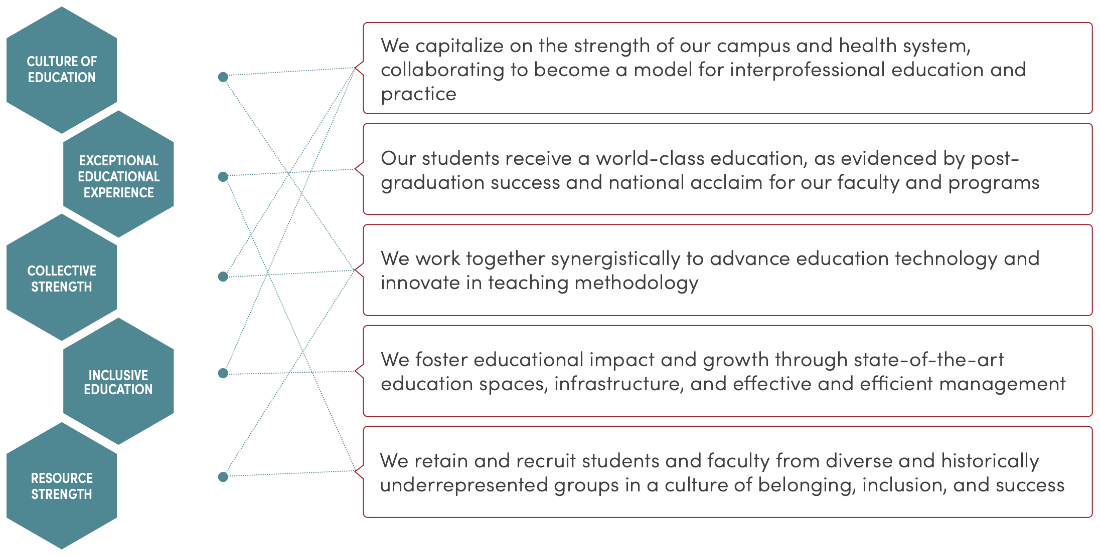 Our Directed Steps in 2022
Deeper Ties
Collaborate with colleges, schools, and the hospital to improve the efficiency of clinical placements
Elucidate what constitutes an exceptional education experience by engaging and learning from students
Advance exceptional faculty experience by making promotion pathways clearer and more informed by data
New Solutions
Partner with University of Utah main campus, University Neighborhood Partners, Salt Lake Community College, and others to create a West Valley education hub
Evaluate opportunities and logistics for digital learning in service of an exceptional education experience
Identify logistics, commonalities, and alignments in curricula across health sciences with a goal of future integration
Organizational Excellence
Utilize Health Sciences Education Executive Committee to solve concrete issues, enhance relationships, and improve communication between programs
Develop expectations for visible representations of diversity in all educational presentations (skin color, ability, etc.)
Excellence Across the Research Spectrum
We improve human health for all by advancing biomedical discoveries, innovation, and health care practices. Weaving discovery through all we do amplifies the impact and pace of our combined work and further differentiates us as a leading academic health system.
Outcomes We Seek for 2025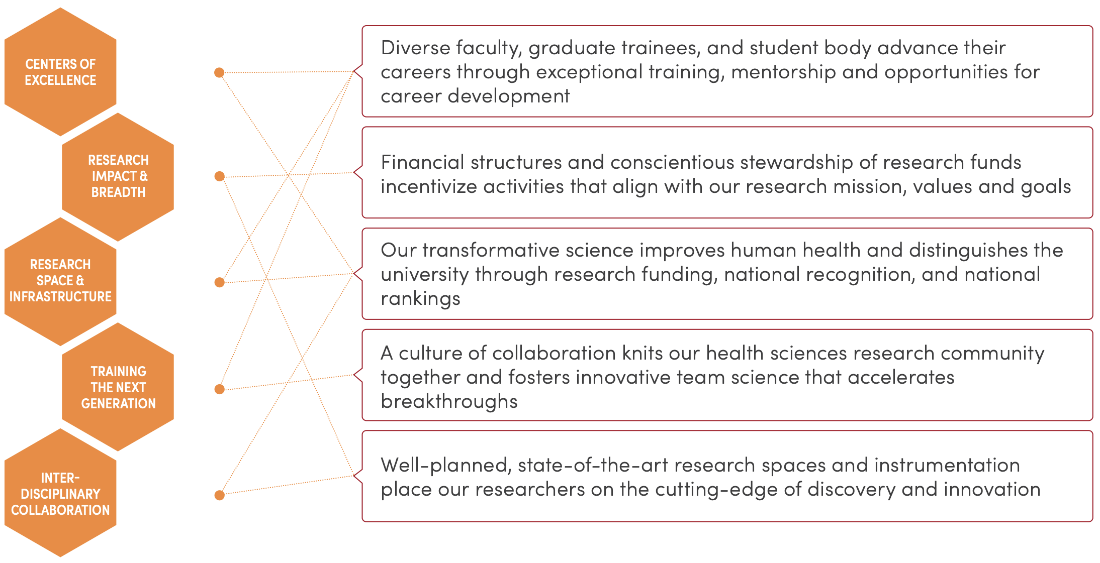 Our Directed Steps in 2022
Deeper Ties
Launch partnerships with departments to support the recruitment and retention of outstanding tenure-line faculty that enhance diversity and have a major commitment to research excellence
Compile, refine, and disseminate best practices to strengthen our mentoring culture
Identify barriers to team-science and interdepartmental collaboration
New Solutions
Launch new institutional initiative(s) that strengthen programmatic research across departments
Plan the integration of research at the new West Valley Project site
Partner with Advancement to prioritize the support of research-related philanthropic endeavors
Organizational Excellence
Define a short and three-year plan to ensure HSC Cores and vivaria are well-suited for the rapid growth of our research endeavors
Develop talent management strategies for Health Sciences faculty and staff, including clinician-scientists
Communicate with university leaders and other stakeholders on the priorities and importance of the Health Sciences Research mission
Patient Focused • Accessible • Provider Friendly
We tailor services to the specific needs of each patient and seamlessly move them through our health system. Care is sensitive to patient time and money and is available close to (or at) home with little to no wait. Routine care is often handled virtually on-demand. Growth is sustainable for providers. Care roles are top-of-license and team-based. Diverse, talented professionals come here and stay for their careers.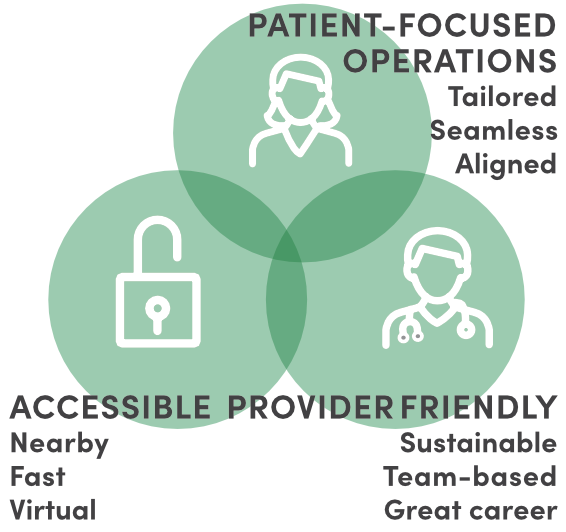 Outcomes We Seek for 2025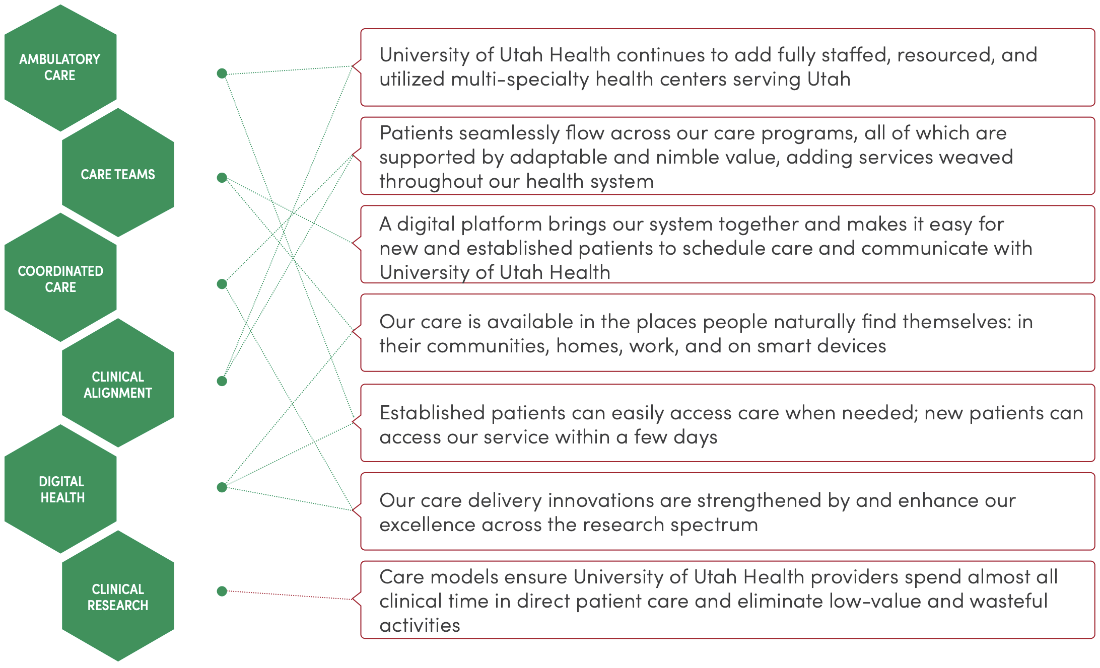 Our Directed Steps in 2022
Deeper Ties
Implement two strategies that foster a culture of psychological safety in the workforce
New Solutions
Execute a plan to strengthen perioperative capacity and efficiency through workforce development, new processes, and new technologies
Define target virtual visit proportions for each specialty; utilizing a sustainable technical support model, develop a plan to minimize use of clinic resources for virtual visits
Streamline the process of obtaining appropriate outside records to improve care delivery and reduce waste
Begin telehealth monitoring of patients leaving the hospital who need close follow-up (Heal at Home)
Increase patient enrollment in the Heal at Home program; track outcomes that demonstrate improved transitions of care and bed capacity
Organizational Excellence
Define unified metrics for outpatient clinic capacity by the end of Q1 in CY22; measure actual clinic utilization
Deploy a sustainable model for patient communications to support provider resilience and patient experience
Develop a capacity plan for the system, focusing on inpatient bed capacity and efficiencies by Q1 of CY22
Create digital alignment by adding a new Marketing Digital Team Leader, collaborating across all areas to ensure synergy among digital platforms and explore consumer-first strategies
Value • Experience • Population Health
University of Utah Health is firmly established as one of the nation's highest value academic health centers, a top performer in quality, safety, and caring. We seek the next phase of our ambition: becoming directly accountable for our choices and their outcomes.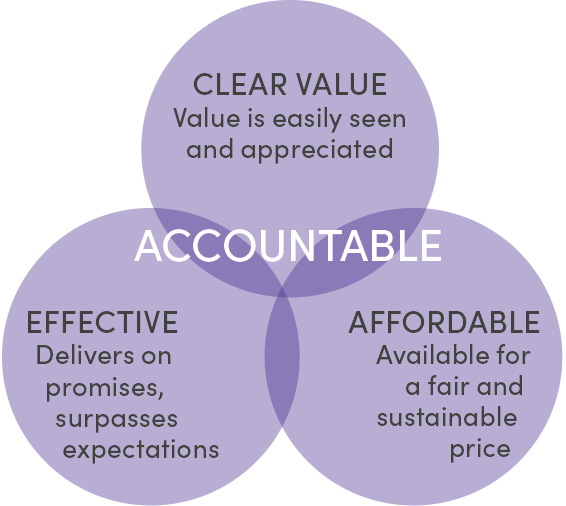 Outcomes We Seek for 2025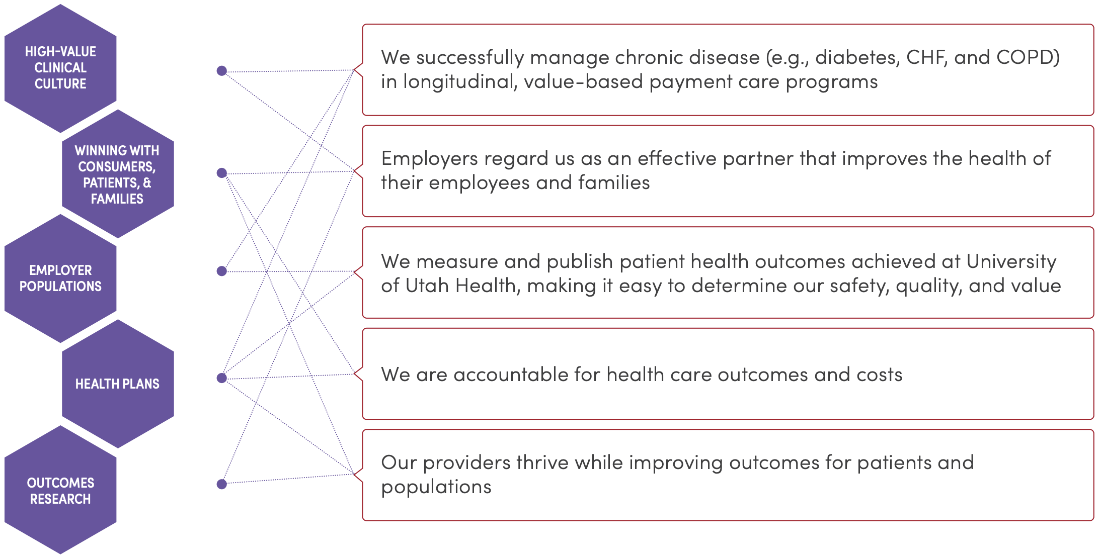 Our Directed Steps in 2022
Deeper Ties
Identify two additional care gaps related to race, ethnicity, sexual orientation, and/or gender identity; develop system interventions to address
Identify two health care disparities in our Medicaid population; develop population health approaches to address
New Solutions
Implement a diabetes and chronic kidney disease pilot for a targeted population aimed at improving outcomes and reducing costs
Develop infrastructure and principles for transparency in quality and patient safety performance that are understandable to patients and community; pilot internally, beginning with Moran
Define two populations of interest; develop and related outcomes to address their most pressing health needs
Secure a partner to expand UUHP's population health capabilities and offer health products focused on outcomes
Complete Patient Reported Outcomes pilots in Mental Health and Cancer Care; share learning, opportunities, benefits, and risks to inform prioritization of PRO spread by end of calendar year
Organizational Excellence
Develop a plan to expand inpatient, subspecialty surgical capacity on the main campus by strategically and efficiently distributing routine surgical care to off-campus ambulatory sites
Continue multiple channels of work on depression screening, treatment, and suicide prevention; measure effectiveness throughout the calendar year
Utilize existing partnerships and develop criteria and tools to measure, monitor, and improve the value by June 2022
Identify three opportunities for care coordination improvement where interdepartmental collaboration on inpatient care is vital