The impressive achievements of University of Utah Health in 2021 are a testament to the resilience and dedication of our care providers, faculty, staff, and students. While helping our communities cope with the ongoing impact of the coronavirus, they maintained—or even accelerated—their momentum in clinical care, education, research, and community engagement.
As evidenced in the highlights of this year-end recap, their efforts are making a difference in people's lives. The following is just a sampling of the impactful work taking place every day on our campus and throughout the community.
Pandemic Response
As a community, we came together, took proactive measures to slow the spread of the coronavirus, and prevented our local health systems from exceeding capacity. Because of these collective efforts, every COVID-19 patient that needed a hospital bed in Utah was able to find one. And within one year of University of Utah Hospital admitting its first COVID-19 patient, we began administering COVID-19 vaccines at our facilities.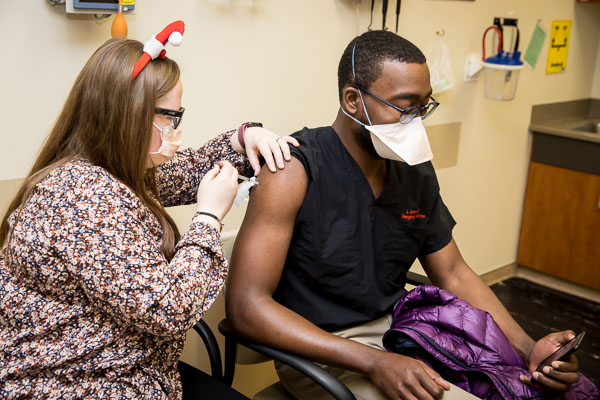 As of Dec. 16, 2021:
2,851 COVID patients admitted and treated at University of Utah Hospital
5K unique COVID tests
5K unique patients tested for COVID
>21K health care personnel vaccinated
>80K vaccines administered to patients

8K at Redwood Health Center
7K BIPOC Patients
4K from Salt Lake underrepresented communities
Equity, Diversity, and Inclusion 
We recognize and appreciate the ongoing efforts of the Office of the Associate Vice President for Health Equity, Diversity, & Inclusion to help us foster an inclusive, anti-racist culture at U of U Health. Institutional change starts with leaders, and we have seen immense growth in our health sciences equity, diversity, and inclusion (EDI) teams in recent years. Several key EDI leadership appointments from 2021 are noted in this report.
Multiple stakeholders are engaging in this work through the formation of EDI and/or Anti-Racism Commissions (ARC). The School of Medicine ARC, in particular, made significant gains over the past year.
Strategy 2025
U of U Health is moving full speed ahead with a comprehensive five-year strategic plan focused on serving communities and the region; advancing EDI; leading education and discovery; and innovating care accountable for outcomes.
In 2021, EDI was added as an essential pillar to the plan. This decision supports our commitment to making EDI part of our everyday discussions and actions. We recently updated the "directed steps" for each focus area. We will continue to share directed steps for every subsequent year to move us toward our 2025 vision.
Societal Impact Through Clinical Care
For the 12th consecutive year, U of U Health was ranked among the nation's top 10 academic medical centers, receiving Vizient's prestigious Bernard A. Birnbaum, MD, Quality Leadership Award with an inpatient quality ranking of No. 4 nationally. For the seventh consecutive year, U of U Health was also ranked in the top five in the nation for ambulatory care, ranking No. 2 nationally. And Erin Fox, PharmD, won the inaugural Vizient Pharmacy Vision Award for elevating pharmacy practice standards.
For its performance across five quality categories, University of Utah Hospital received a 5-out-of-5 star rating from the Centers for Medicare & Medicaid Services.
For the eighth consecutive year, U.S. News & World Report ranked University of Utah Hospital the No. 1 hospital in Utah and the Salt Lake City metro area. Additionally, Huntsman Cancer Institute ranked No. 30 in the nation for cancer care, and John A. Moran Eye Center ranked No. 11 in the nation for ophthalmology care.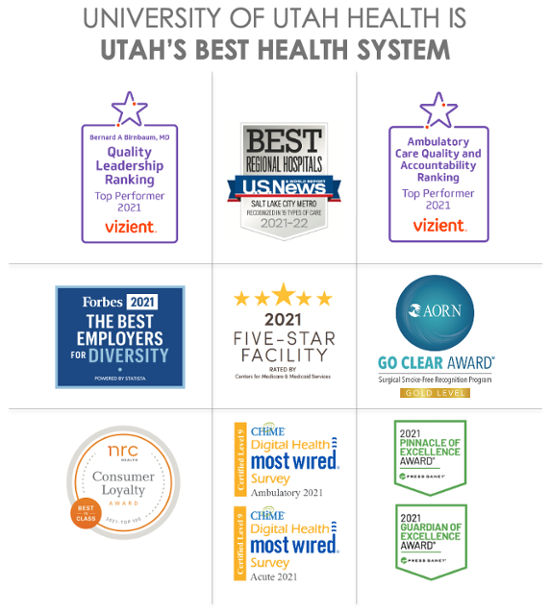 U of U Health has been recognized for outstanding achievement in patient experience by Press Ganey. Moran Eye Center at Midvalley and Huntsman Cancer Institute's Clinic 2B earned the 2021 Pinnacle of Excellence award for achieving and sustaining superior patient experience performance over the last three years. And Craig H. Neilsen Rehabilitation Hospital earned the 2021 Guardian of Excellence award for reaching the 95th percentile for each reporting period for the award year.
Forbes named U of U Health as one of the best employers for diversity in 2021, ranking No. 98 out of 500 recognized organizations nationally.
University of Utah Hospital received a 2021 NRC Health Top 100 Consumer Loyalty Award, the only loyalty-based hospital rankings that recognize the top U.S. health care organizations for earning exceptional loyalty ratings from their patient populations. Additionally, the hospital was recognized as Best in Class—a distinction bestowed upon only 10 organizations that received the highest mark of consumer approval.
Fortune/IBM Watson Health recognized University of Utah Hospital on its list of 100 Top Hospitals in the U.S., with a No. 5 ranking among the 15 Top Major Teaching Hospitals.
Healthgrades named University of Utah Hospitals & Clinics and University Orthopaedic Center among America's 250 Best Hospitals for 2021, putting them in the top five percent in the nation for overall clinical excellence and consistently delivering superior outcomes year over year. 
For the eighth consecutive year, University Hospital was recognized among CHIME Healthcare's Digital Health Most Wired Hospitals for effectively applying core and advanced technologies into its clinical and business programs. In 2021, the hospital earned a Level 9 "Honor" certification for acute and ambulatory care and the Performance Excellence Award.
Newsweek recognized University of Utah Hospital on it 2021 list of World's Best Smart Hospitals, ranking No. 135 out of 250 hospitals worldwide that are leading in their use of AI, robotic surgery, digital imaging, telemedicine, smart buildings, information technology infrastructure, and EHRs.
University of Utah Hospital earned a Gold Level Go Clear Award™ presented by the Association of periOperative Registered Nurses (AORN) for providing increased surgical patient and health care worker safety by implementing practices that eliminate smoke caused by using lasers and electrosurgery devices during surgery.
New Leaders
Dan Lundergan

, MHA, appointed CEO for U of U Health Hospitals and Clinics.

Rory Hume, DDS, PhD, reappointed as dean of the School of Dentistry.
Darrel Brodke, MD, appointed chair of the Department of Orthopaedics.
Wayne Samuelson, MD, appointed dean of Medical Education for the University of Utah School of Medicine.
Sara Lamb, MD, appointed vice dean of Education for the School of Medicine.
Cynthia Best, MBA, appointed vice dean for Finance & Administration for the School of Medicine
Lee Dibble, PT, PhD, ATC, FAPTA, appointed chair of the Department of Physical Therapy and Athletic Training in the College of Health.
Tim Brusseau, PhD, appointed chair of the Department of Health & Kinesiology in the College of Health.
Rachel Weir, MD, appointed as inaugural chief of Mental Health Integration. 
Michael Pulsipher, MD, appointed division chief of pediatric hematology and oncology in the Department of Pediatrics, and as inauguraldirector of the Children's and Adolescent Cancer Initiative at Huntsman Cancer Institute and Intermountain Primary Children's Hospital.
Nicola Camp, PhD, genetic epidemiologist/statistical geneticist, became director of the Utah Population Database (UPDB) Shared Resource, one of the world's richest sources of in-depth information that supports research on genetics, epidemiology, demography, and public health. 
Valerie Flattes, PhD, APRN, MS, ANP-BC, appointed inaugural associate dean for Equity, Diversity, and Inclusion for the College of Nursing.
Heather Nyman, PharmD, appointed assistant dean for Equity, Diversity, and Inclusion for the College of Pharmacy.
Academic Excellence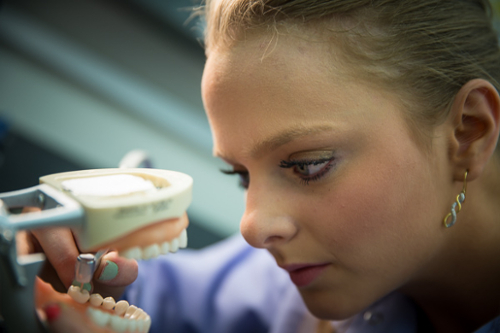 Each U of U Health school or college is nationally recognized for various accomplishments and competencies. This is reflected in the 2022 rankings published by U.S. News & World Report and in high levels of research funding from the National Institutes of Health (NIH).
The following represents how U of U Health academic programs rank among their peers.
College of Health

No. 13 Physical Therapy Program
No. 32 Speech-Language Pathology
No. 22 Audiology Program
No. 42 Occupational Therapy

College of Nursing

No. 11 Nursing-Midwifery Program
No. 23 Doctor of Nursing Practice
No. 38 Online Master's in Nursing
No. 22 NIH Research Funding

College of Pharmacy

No. 14 PharmD Program
No. 15 NIH Research Funding

School of Dentistry

No. 33 NIH Research Funding

School of Medicine

No. 4 Physician Assistant
No. 17 Family Medicine
No. 32 Primary Care
No. 33 Rural Medicine
No. 41 Research
No. 36 NIH Research Funding
Community Nutrition 
The Utah Center for Community Nutrition (UCCN) in the College of Health continued its work to advance preventive health through nutrition education, research, and community outreach. In 2021, UCCN hosted the Food is Medicine virtual conference for health care providers, students, and community members, with a focus on the link between food and health.
Vaccinating Community Members
As COVID-19 vaccines became available for public administration in early 2021, College of Nursing (CON) students, faculty, and alumni participated in vaccine clinics across Salt Lake and Summit Counties. Additionally, CON staff members have played a key role in disseminating COVID-19 vaccine information to internal and external audiences.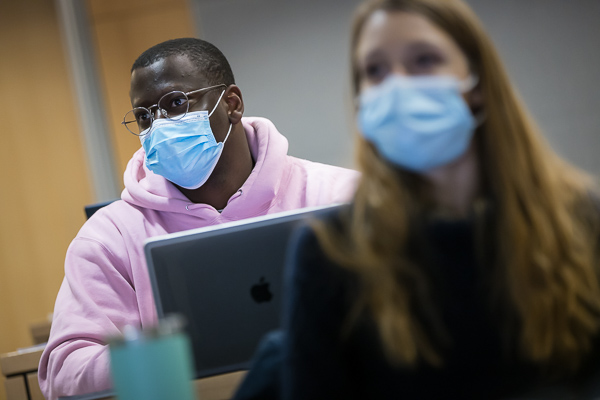 Accelerating Therapeutic Discoveries
The University of Utah Therapeutics Accelerator Hub, a collaboration between the College of Pharmacy and the Huntsman Cancer Institute, is putting the University of Utah on the map for drug discovery and development. The Accelerator has engaged more than 200 researchers and reviewed more than 70 therapeutic discoveries related to cancer, Alzheimer's, heart disease, neurological disorders, immunology, and rare diseases.
Oral Care for the Underserved
With a state grant, the School of Dentistry expanded its community-based services through a mobile outreach program to care for Utah's underserved populations, primarily in rural locations. With the opening of a new dental clinic in Ogden in 2021, the school now operates eight clinics throughout the state—one of the largest school networks in the country.
New Vision for Medical Education
The George S. and Dolores Doré Eccles Foundation and the Nora Eccles Treadwell Foundation made a landmark gift of $110 million for the School of Medicine, including $30 million for a new, state-of-the-art School of Medicine building. The school launched MedEdMorphosis, an ambitious five-year plan to re-envision and redesign medical education for the future. This vision will culminate with the opening of the new medical school building.
50th Anniversary of Spencer S. Eccles Health Sciences Library
In 2021, we celebrated half a century of setting the pace in health sciences information at the Spencer S. Eccles Health Sciences Library. This library continues to incorporate access to information, new technology for education, and expert librarians to further the mission of U of U Health.
Research Innovations and Insights
U of U Health researchers secured more than $428 million in extramural research funding in fiscal year 2021. U of U Health was also designated as a Rare Disease Center for Excellence by the National Organization for Rare Disorders, joining an innovative effort to expand access and advance care and research for patients with rare diseases in the United States. 
Examples of high-impact research from the past year include:
Randy Peterson, PhD, professor and dean of the College of Pharmacy, and his team have developed a  new technology that is based on the robust, Nobel-prize winning CRISPR gene editing system. Their findings, published in Science , allows scientists to rapidly screen the functions of hundreds of genes at a time, promising to speed up insights into health and disease.
John A. Moran Eye Center researcher Richard Normann, PhD, and collaborator Eduardo Fernández, MD, PhD, successfully created a form of artificial vision for a blind woman using a prosthesis hardwired into her brain. Details about their device—which has the potential to restore functional vision for people who have lost their vision—were published in The Journal of Clinical Investigation and covered by NPR.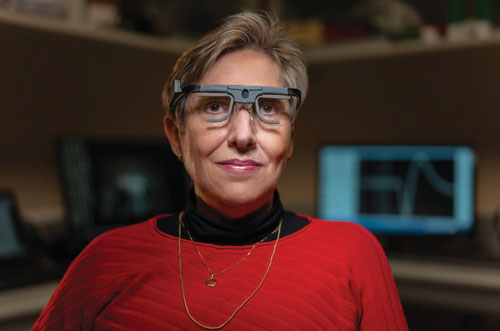 Major Awards and Recognition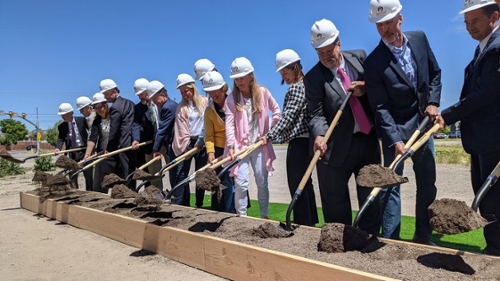 Expanded Care
Intermountain Healthcare and the University of Utah partnered to create a new academic program to help keep people healthy. By training the next generation of physicians in population health, the partnership seeks to create greater access to care in rural and other underserved communities. The first cohort of population health scholars was admitted in 2021. 
U of U Health and the Huntsman Foundation celebrated the dedication of Huntsman Mental Health Institute (HMHI), the next step in the evolution of University of Utah becoming a premier institution for mental health research and training while continuing its tradition of exceptional mental health care.
HMHI also broke ground on a mental health crisis care center on the future nine-acre site of the HMHI Campus of Hope to provide immediate, compassionate care at no cost to individuals; and announced plans for the Utah Mental Health Translational Research Building in Research Park, a collaborative space for solving mental health challenges like suicide, child and young adult mental health, and rural mental health.
The South Jordan VA Clinic celebrated its one-year anniversary. The clinic is making it easier for more veterans to receive the comprehensive care they need closer to home.
Engaging and Serving the Community 
U of U Health received $234.5 million in philanthropic support in fiscal year 2021.
The Larry H. & Gail Miller Family Foundation announced a $3 million challenge grant for the University of Utah and local community. The grant will support the expansion of U of U Health's Driving Out Diabetes Initiative.
U of U Health and U.S. Army joined forces to connect soldiers and veterans with jobs in their own communities when they finish their military service.
U of U Health became the exclusive and official health care partner for Real Salt Lake, Real Monarchs and the RSL Youth Development Academy. The agreement provides players and staff access to world-class sports medicine and the state's top clinical care.
U of U Health and leaders from Utah's health care organizations issued a public statement

declaring racism is a real threat to the health of our patients, our families, and our communities. As allies, we are taking steps to help overcome the health care disparities in our communities.

U of U Health published its inaugural Report to Our Community and launched a new website highlighting some of the impactful ways we are partnering with our communities to improve the health and lives of citizens in Utah and around the Mountain West. We also released the 2018-2020 Community Health Needs Assessments Completion Reports for the Hospital and Huntsman Mental Health Institute.
Campus Transformation 
The George S. and Dolores Doré Eccles Foundation and the Nora Eccles Treadwell Foundation gave a landmark $110 million gift to the School of Medicine. The gift included $30 million for a new, state-of-the-art School of Medicine building.
Began construction of the Healthcare, Educators, Leaders & Innovators Complex (HELIX). HELIX will offer U of U Health faculty and staff a workspace where they can focus, collaborate, and do their best work.
Abatement began in late 2021 on the Medical Research & Education Building in preparation for the eventual demolition of the School of Medicine building. Originally named the Cancer Research Building, MREB is one of the oldest buildings on the health science campus. It's scheduled for demolished in 2022.
It was another remarkable year for U of U Health! We will continue to collaborate and innovate in service of our communities and shape the future of health care.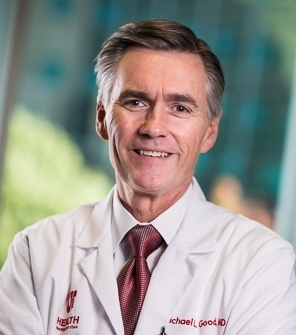 Michael Good, MD
Michael Good is CEO of University of Utah Health, Dean of the University of Utah School of Medicine, and A. Lorris Betz Senior Vice President for Health Sciences. A professor of anesthesiology, Good joined U of U Health after more than three decades of teaching, innovation, and leadership at the University of Florida, where he served as dean of the College of Medicine for 10 years.
DON'T MISS OUT. GOOD NOTES delivers to your inbox.