Ambitious Agenda for Dentistry
As I begin five more years as dean of the School of Dentistry (SOD), I want to acknowledge our brilliant students, residents, faculty, and staff. Because of them we provide great care to our patients, develop excellent young oral health care providers, and break new ground through research.
Going forward I want to concentrate on three vital initiatives. First, building on the school's clinical network, deeply integrating it with University of Utah Health. Second, enhancing research activities that focus on the relationship between oral and overall health. And third, increasing the diversity of our students, staff, and faculty in terms of gender, ethnicity, and national origin. These three initiatives will elevate our work to another level and generate tremendous community impact.
Integrated Clinical Network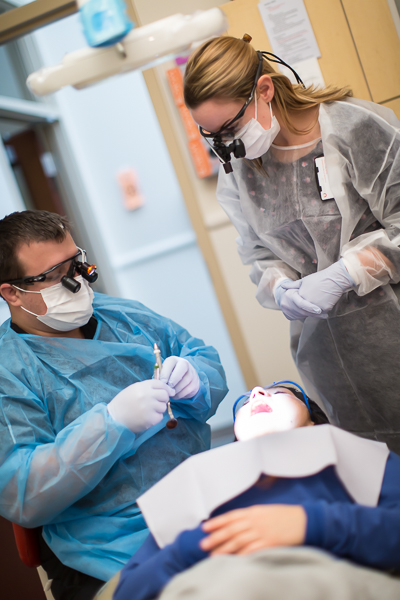 The Noorda family, SOD's primary founders, generously gave a $10 million-dollar endowment to fund our Oral Health Assistance Program (OHAP), which helps subsidize the cost of care for the underserved. This along with Medicaid funding enables us to serve our mission within the community. We've also got a terrific network with exceptional geographic access, extending from Ogden to St. George. 
But we don't want to be viewed as a separate dental presence. I am eager to solidify our clinical network and decrease our insularity from other health sciences disciplines. When possible, we want to integrate with other aspects of health care.
U of U Health's South Main Clinic is a great example. We learned that there was an enormous oral health need for the populations that South Main serves. Our response? Let's convert a few exam rooms. Don't start a separate dental clinic next door. Put us inside. Same reception. Same billing. Same staffing. Patients can get their feet examined in one part of the clinic and get their teeth looked after in another.
It has been a great success. Our students and faculty work alongside physicians and medical residents. They learn an enormous amount being in the room where it happens. The physicians and the medical residents also learn because they generally know little about oral health.
We want to build on that, and we're proactive in advocating for a spot in future clinics similar to those in Farmington, West Jordan, and Sugar House. We want to be fully integrated—not a separate dental clinic, but inside the building with primary care.
Our school was the first in the country to adopt an integrated health record when we joined Epic. It's not perfect, but it's much better than being separate. We're developing a great database where we can relate oral health interventions to other health outcomes.
Oral Health Connected to Overall Health
An integrated clinic design also adds to key research infrastructure for the future. In our strategic plan, the principal area of additional research activity is where oral and overall health intersect.
At South Main we conducted a successful study that followed people in a substance use disorder program. Glen Hanson, DDS, PhD, led the study, which found that people suffering the consequences of addiction were much more likely to rehabilitate quickly when we fixed their mouths. So many things about their lives improved. They had three times better employment and three times less homelessness. They wanted to get back into society. Restored oral health was a key factor to their turnaround.
We believe many chronic diseases will be lessened and other treatment outcomes made better if we improve oral health. Our Epic database is a valuable starting point for this research. If we can show that it's cheaper to look after somebody with diabetes if we fix their mouths at relatively low cost, then that's a great deal.
We hope to take that from the Medicaid world into the Medicare world. We want to make the argument that investing a relatively small amount of money on oral health for Medicare recipients will save large amounts of money in other areas of Medicare.
From its very beginning, SOD research has been tied to just social causes. It demonstrates that better oral health care is good for overall health. 
Strength of Diversity

Attracting great students and building diversity is a high priority for our school. We continue pushing for both racial and gender diversity. In Utah, 92 percent of dentists are men. That's a huge imbalance, and it's not good. So many potentially great dentists aren't becoming dentists. Many people prefer female health providers. Last year, for our first time, a majority of the incoming class were women.
We tell applicants, "You'll be welcome here. You're in good company. It's more diverse than you think it will be. You'll be comfortable here." And we work hard to make sure it's true.
We've worked successfully on gender diversification with the faculty, too. Mostly we have recruited diverse candidates from other places. And we just recruited our first alumna, a woman from one of our early graduating classes, to become a faculty member.
We're working with equal intent to diversify faculty, students, and staff in terms of ethnicity and national origin. We're doing well but have a long way to go. Many people prefer to see health providers who look like them or who understand their culture and background. That is a continued point of emphasis.
Staying Grounded in the Classroom
We are a school first, so I stay directly engaged with teaching. Teaching in two courses during the students' first year helps them get to know me, and I get to know them. The courses are foundational courses in oral health and oral disease. Editing and writing several textbook chapters in those areas for the last 25 years has helped me stay current in my field and comfortable teaching.
The agenda for my new term as dean is full. I am grateful to my fine colleagues within the SOD who enable me to dream big. We have an audacious agenda because we know how it can impact so many people—and the profession of dentistry as a whole. I only wish the next five years might not go by as fast as I know they will.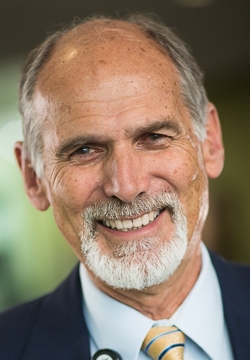 Rory Hume, DDS, PhD
Rory Hume is Dean of the School of Dentistry and Associate Vice President for Academic Affairs at U of U Health. An internationally acclaimed scholar, Hume previously served as dean of the UCLA School of Dentistry and as executive vice chancellor at UCLA. He was also vice president for health sciences, provost and executive vice president, and chief operating officer for the 10-campus University of California system.
DON'T MISS OUT. GOOD NOTES delivers to your inbox.