A Golden Font of Knowledge
In October 1971, the doors were thrown wide open and a flood poured out. It filled the surrounding grounds, lapping against adjacent structures and penetrating open doorways before running downhill to inundate campus. Nothing could stanch it. The deluge exceeded Utah's borders, extending in all directions and spawning springs in far-flung parts of the map.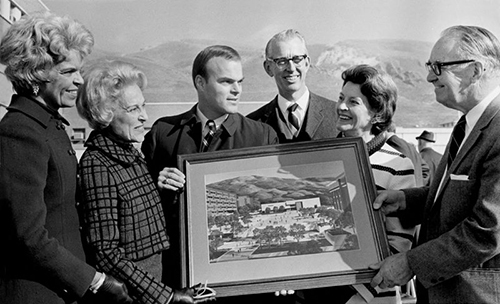 But this was no flood of water. Rather, it was one of research, learning, and knowledge that began with the grand opening of the Spencer S. Eccles Health Sciences Library (EHSL) at the University of Utah.
Its construction was made possible by a generous gift, the first of many from the Eccles family. After 50 years, we are proud to recognize and celebrate all that this library has meant to our campus and community.
At this, our Golden Anniversary, it's a thrill to look back at the advances we've made and see how the library—like other medical libraries—continues to power health sciences education, research, and clinical care for the University of Utah and our community.
Relevance of Libraries Today
Describing the value and importance of libraries in our society is simple. Libraries continue doing what they have always done: collecting content and tools and helping people use those tools to learn and create new knowledge.
What has changed are the ways in which libraries do this. At EHSL, technology has been the critical factor in this change, influencing how we search for information and how we deliver that content to our users. In 1983, EHSL was among the first health sciences libraries to use computers to collect, store, and dispense information.
One of my favorite examples of how libraries have changed over the years has to do with films and filmmaking. Initially, films were meant for entertaining. Gradually, we realized that people were learning from films and movies, so they were incorporated into university curricula. That meant libraries needed to add both equipment and experts to play the films. Soon, the equipment and expertise to actually create films became an integral component of libraries.
Current Role of Eccles Health Sciences Library
Today, we can't imagine education without video content. Nor can we imagine libraries without such content. Video games, virtual reality, and 3D printing—once considered forms of entertainment—are now being incorporated into research and education.
At EHSL, these digital formats have become an important part of the library's collections and services. They are used to teach patients about a diagnosis or to help surgeons plan for a complicated operation. Researchers partner with librarians to ask and answer such questions as, do students learn better, faster, more if they use virtual reality as part of the curriculum? Or will a patient understand their diagnosis and treatment more thoroughly if they are able to hold their 3D printed kidney and talk about the treatment plan with their health providers?
Another vital role of the EHSL is acquiring new content each year for use by everyone at the U and the community in general. Everyone benefits from having all content purchased once that is accessible to all, saving both time and money.
Equal Access for Everyone
In addition to collecting content, it's important to note that EHSL, like most other libraries, provides its content and services at no charge to anyone who needs or wants it. By providing equal and free access, we level the playing field for learners, whether they're students, residents, post-docs, faculty, staff, researchers, clinicians, or anyone else.
Educating People to Think Critically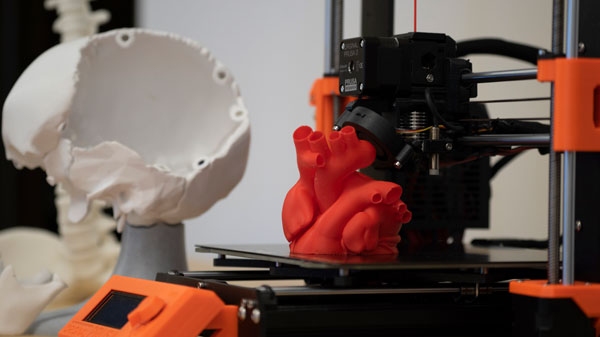 At the library, we can find the latest, evidence-based research on a given topic. We also help people learn to use critical thinking to understand and evaluate that content.
Even research published in reputable journals is sometimes recalled due to problems discovered with data or methodology. Being able to evaluate research rather than just accepting it "as is" requires critical thinking.
For example, accessing information on the internet is easy but not always fruitful. At health sciences libraries like EHSL, we help people evaluate content to identify quality information. We encourage people to ask questions about the content they consume, and we educate faculty, staff, and students at the U to do just that.
Sometimes our community wants answers to medical questions in a language they can understand. One of our favorite resources that offers complex medical information in lay terms is MedLinePlus. This website provides free information from reliable, credible sources.
Taking Steps to Realize Our Future 
There's no time like the present to plan for the future! EHSL is a relevant, vital, inclusive component of the University of Utah's success. It is a dynamic hub where information and innovation intersect. We are a key contributor to the research lifecycle and the learning process. We point the way toward informed health care decision-making, better treatments, and better outcomes.
For 50 years, EHSL has not just kept pace. We have led the way in advancing health sciences research and education, flooding not only our university but far beyond our borders with learning and the tools to create new knowledge. We invite you to learn more about the library and participate in our exciting future!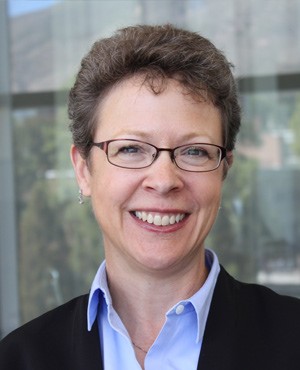 Catherine Soehner, MLS, BSN
Catherine Soehner is the director of the Spencer S. Eccles Health Sciences Library and associate dean for research at the Marriott Library. During her time at the Marriott Library, Soehner has led the delivery of a wide range of library services, including research and information services, library instruction and training for users, and support for faculty, graduate students, and other advanced users in digital scholarship efforts. Previously, Soehner served in academic libraries at the University of Michigan and the University of California, Santa Cruz, as well as the National Library of Medicine.
DON'T MISS OUT. GOOD NOTES delivers to your inbox.