Strategically Advancing Health Equity, Diversity, and Inclusion
I am delighted and truly impressed with the progress our institution has made in the short time that I have been serving as Associate Vice President for Health Equity, Diversity, and Inclusion. Since I was asked to take the job on as interim AVP in 2018, our organization has undertaken major changes in this space. First, the institution hired a Vice President for Equity, Diversity, and Inclusion. Then, the School of Medicine (SOM) reorganized their office of inclusion and outreach, expanding the staff, changing the name, and adding an associate dean, along with an assistant dean, now in the SOM Office of Health Equity, Diversity, and Inclusion (OHEDI).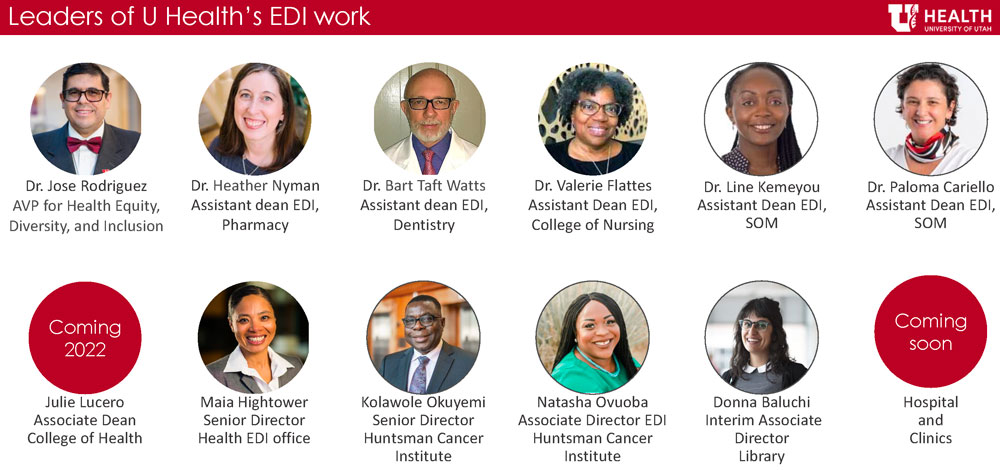 Committed to Change
The real structural changes, however, happened after the murder of George Floyd—which was brought to our attention by a brave teenager, Darnella Frazier. In our collective outrage, we looked inside to see what we could do to undo systemic anti-Black racism in our institution. We made anti-racism statements, we committed to change, and we pledged money to scholarships for underrepresented medical students. Groups of health sciences students joined together and presented a letter to SOM leadership, and the Anti-Racism Commission was convened to operationalize the recommendations from the students. A Health Sciences Anti-Racism Commission was subsequently formed, and together these recommendations are being used to shape policies and programming throughout health sciences.
The Colleges of Health, Nursing, and Pharmacy, as well as the School of Dentistry, established offices of equity, diversity, and inclusion, led by associate and/or assistant deans. University of Utah Hospitals and Clinics, Huntsman Cancer Institute, and the Eccles Health Sciences Library all established directors or associate directors for EDI as well. These new positions recognized that the most important changes have to do with strategic planning.
Embedding EDI Into Our Strategy 
In the past, equity, diversity, and inclusion work was embedded in other strategy efforts. This has led to some gains but has not garnered the attention needed to get the work done. However, early in 2021, many stakeholders recognized that health equity, diversity, and inclusion needed to have its own strategy effort. In the meeting, many voices advocated for equity, diversity, and inclusion to be its own pillar, and continue to be embedded into the other strategies. Stakeholders agreed that this was a necessary change and would elevate the work to become part of everyday discussion, instead of a traditional siloed space.
This grassroots effort is truly where the credit is due for elevating the work of equity, diversity, and inclusion to its current status as a main focus of our Strategy Refresh 2021-2025. We are looking forward to moving our institution in the following areas:
Democratization of equity, diversity, and inclusion work. Simply put, it means that all of us are responsible for making U of U Health more equitable, diverse, and inclusive.
Leading the nation in equity transformation, while documenting our positive outcomes in the literature. We are changing our teaching, research, training, and clinical services delivery to become anti-racist and anti-oppression in all its forms. We are re-imagining ourselves to become the employer, provider, and education center of choice for individuals who come from historically marginalized groups.
We become an institution that provides opportunities to and promotes our entry-level employees to the highest levels of leadership.
So, today we celebrate getting to the table. Tomorrow, we will celebrate our transformation. I am convinced that this is an area of rapid growth for U of U Health. We can lead, we can change, but more so these efforts will benefit the most important of our end-users: our patients!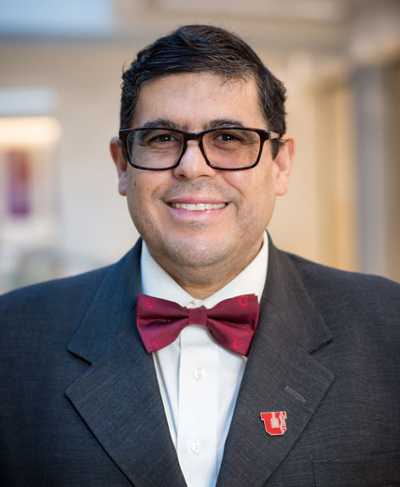 José Rodríguez, MD, FAAFP
As Associate Vice President for Health Equity, Diversity, and Inclusion for University of Utah Health, José Rodríguez is committed to identifying and eliminating systemic anti-Black racism in medicine; equipping underrepresented minority faculty with tools to succeed in a system that was not designed for them; and enlisting allies in this work. Rodríguez is a professor in the Department of Family and Preventive Medicine and a family physician and Associate Medical Director at the Redwood Health Center. He received an MD from Weill Cornell Medicine and completed a residency in social medicine at the Montefiore Medical Center at Albert Einstein College of Medicine.
DON'T MISS OUT. GOOD NOTES delivers to your inbox.