Creating a Culture of Mentorship: Part 1
This is the first blog in a series about creating a culture of mentorship in academic medicine. Mentorship is an essential part of the academic experience. It's key to individual and institutional growth and success. This series demonstrates the value of mentorship and leadership development across U of U Health.
Mentorship is a vital part of growth, both as a person and as a researcher. Mentorship is also key to the culture of a research institution. It gives everyone involved a much greater likelihood of research and career success.
That equals success for the individual, but it's also a huge return on investment for the university.
That's one reason why University of Utah Health works to build a culture of mentorship. Programs like the Vice President's Clinical and Translational (VPCAT) Research Scholars Program is one example.
The Value of Mentorship Throughout a Research Career
When I came to the University of Utah, I had a mentor while I was doing my fellowship after residency training. That person continued as my mentor when I joined the faculty, and he remains my colleague today. We continue to have a productive scientific and academic relationship.
Mentorship can be helpful for people at every stage of their career.
Early Career: Programs like VPCAT focus on people's early careers. That's when it's critical for people to learn what it means to do research or be a faculty member.
Mid-Career: It's easy for people to get caught up in the day-to-day work of academic life. It helps to stop and reflect on where they're going and what they're hoping to do. That's when mentorship is helpful to reach that next level of success—however a person might define it.
Late Career: Even people at later stages in their career benefit from mentorship as new opportunities and leadership pathways open up. If we want people to succeed in their careers, giving them guidance and support through mentorship will help more of them get there—and often more quickly. It's a win-win-win for the mentee, mentor, and the academic community.
Avoiding "Sink or Swim" Culture
Historically, academia has had a "sink or swim" mindset, where "you either figure it out or you don't."
At the U, however, instead of expecting faculty and trainees to figure it out on their own, we give them the support and mentorship they need to succeed. We believe that approach is much more likely to be successful and appreciated than the alternative.
Valuing Mentorship with VPCAT
I got involved with the VPCAT program thanks to another key mentor in my career, Carrie Byington, MD, who I knew thanks to our similar areas of research. She was directing the VPCAT program along with what was then called the Center for Clinical and Translational Science (now the Clinical and Translational Science Institute).
I observed what she was doing with mentoring and faculty development programs. That opened my eyes to a different pathway in academia that I hadn't thought of before. I realized mentoring and faculty development can be much more than things you're expected to do on the side. They can be fields of study and practice of their own.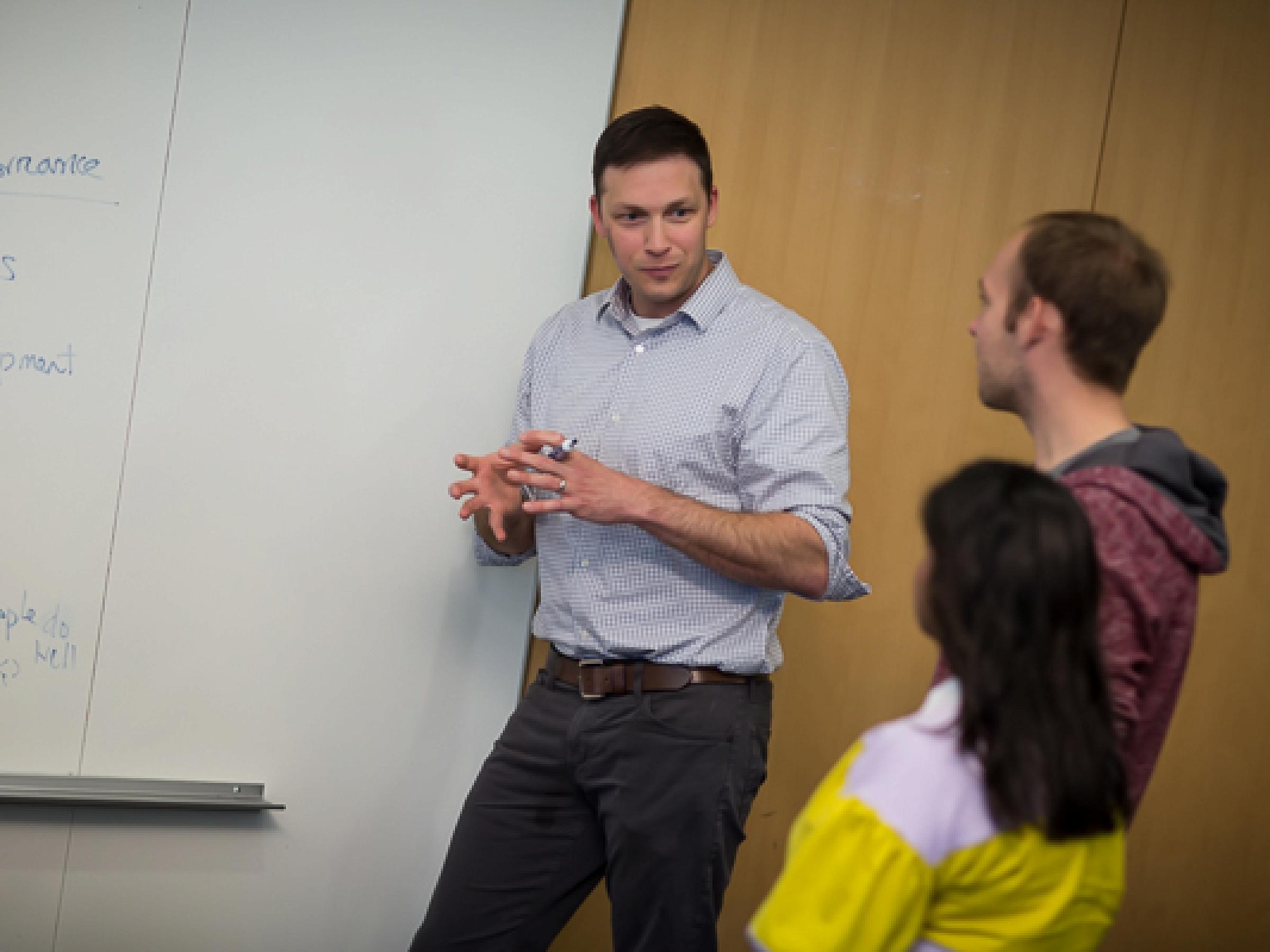 Dr. Byington asked me if I wanted to be a mentor in the VPCAT program, and that's how I first became involved. Today, I direct the VPCAT program.
VPCAT makes mentorship and support a priority for our research faculty. Its success serves as a model for other programs at the U.
Making Mentoring Work at U of Utah Health
Research mentoring is a key part of our research strategy across the university. At U of U Health, we use the VPCAT "matrix model" to create quality mentoring experiences.
Mentoring has traditionally been a one-to-one model between one mentee and one mentor. But we believe multiple people should take part to allow for different perspectives and skillsets. The different types of mentorships in the VPCAT matrix model include:
Scientific mentoring: Researchers who help the next generation of scientists learn how to do research and become scientific investigators.
Senior mentoring: Senior faculty mentors who know the ins and outs of academic research careers. That can provide a different perspective than what the scientific mentor brings.
Peer mentoring: Colleagues who are going through the same experiences as the mentee and can provide support and camaraderie
Staff mentoring: Staff members in our programs who know a lot about grant preparation and grant writing. Each VPCAT scholar gets to spend time with an experienced staff member to help them understand how to develop and submit a grant.
Self mentoring: Each person participates in self-reflection to understand what's important to them as they pursue their career path.
Mentoring Is Intentional
We need all of those different perspectives as we progress through our careers. Mentoring is best as a team activity, rather than an individual pursuit.
Our mentoring infrastructure at the U ensures that mentoring isn't an afterthought or something to squeeze in when or if there's time.
It's an essential part of the academic experience and our culture as a research institution.
Michael Rubin, MD, PhD, MS
Michael Rubin is a tenured professor of medicine with a nationally recognized research program focused on antibiotic resistance and infection prevention. Rubin holds several key leadership roles at University of Utah Health and VA Salt Lake City Health Care System, including Vice Chair of Faculty Development for the Department of Internal Medicine and director of the Vice President's Clinical and Translational Research (VPCAT) Scholars Program. Rubin received an MD and PhD in immunology at the University of Illinois Chicago. He completed a residency in internal medicine and a fellowship in infectious disease and received an MS in biomedical informatics at the University of Utah. 
DON'T MISS OUT. GOOD NOTES delivers to your inbox.