Creating a Culture of Mentorship: Part 3 - Mid-Career Coaching and Mentorship
This is the third blog in a series about creating a culture of mentorship in academic medicine. Mentorship is an essential part of the academic experience. It's key to individual and institutional growth and success. This series demonstrates the value of mentorship and leadership development across U of U Health.
By the time you enter the middle phase of your career, you might feel like you've run out of rungs on the ladder. Or you may be ambivalent about climbing the ones that are left. You've reached a point of career security, met your basic needs, and mastered the skills you need to become established in your position.

But your journey doesn't end with meeting basic needs or with career security—not by a long shot. Now is the time to start asking yourself questions about your vision, impact, and legacy. You need to address the following: "Now that I am established, what do I actually want to do?"
The Career Life Cycle  
Before we dive into self-examination, we need to discuss the stages that a person goes through in their career. Our definition comes from the Fundamentals of Professional Mentoring guide, but there are many models, most of which follow the same format with four stages or seasons: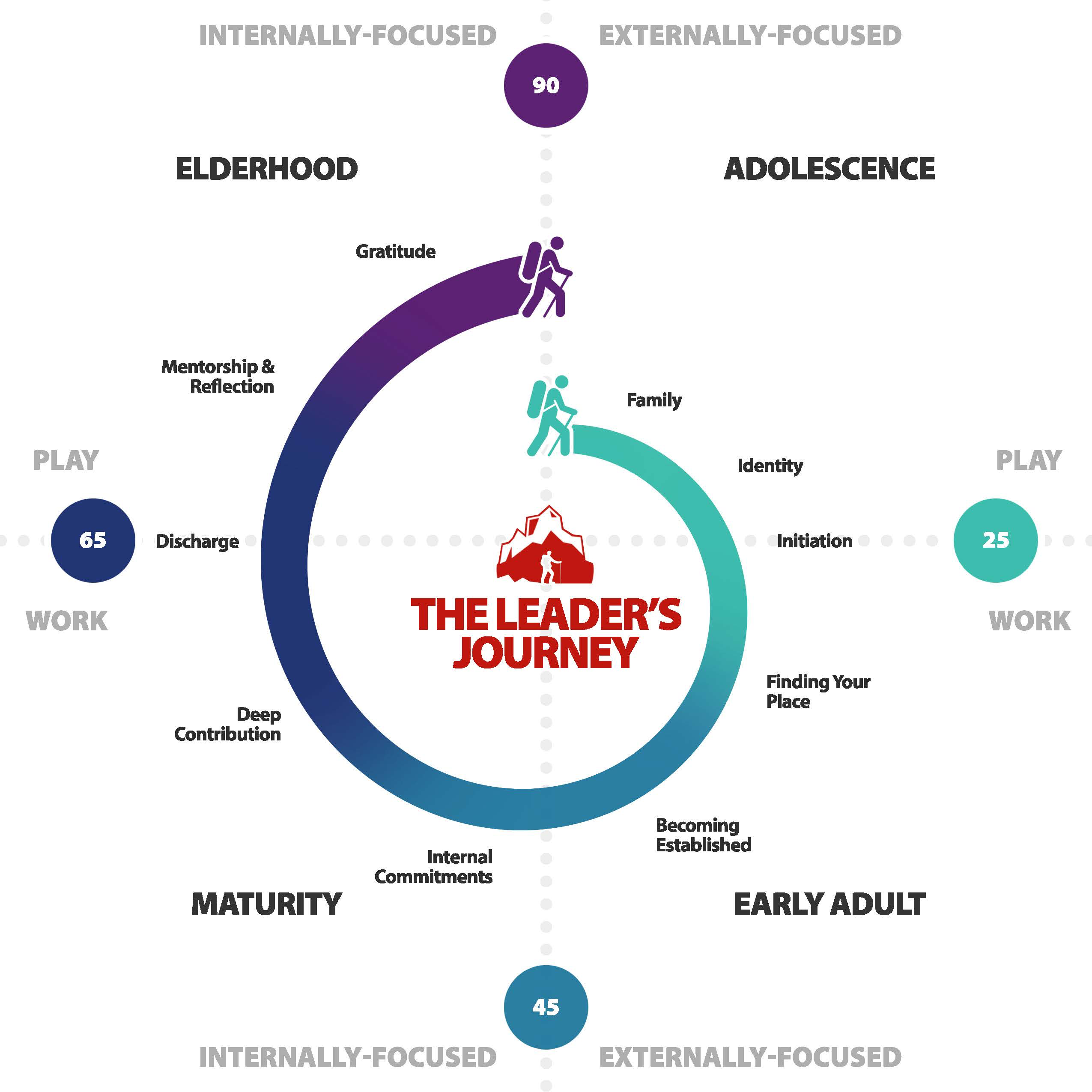 Adolescence is the beginning of the cycle. It involves a lot of fundamental growth, play, and a focus on family relationships, as well as building identity. It usually ends around our mid 20s.
Early adulthood is characterized by finding your place in your career. You gain momentum, become established, work on mastering skills, and meet your financial needs. This phase is dominated by individual achievement, concern with promotion, and a focus on advancing in your system or organization.
Maturity, or the mid-career phase, comes next. It typically begins around your mid 40s. At this point, you have ascended the ladder of seniority and reached a point of professional credibility and recognition. The transition from early adulthood into maturity is the moment that we are focused on in this part of the series.
Elderhood is the final season in the long cycle of life. Beginning in our 50s to 60s, it is defined by taking more time for gratitude, reflection, and mentorship for those around you.
Asking Tough Questions
When we refer to mid-career, we are addressing the moment when you have achieved many of the metrics for success that you set for yourself (often in service of metrics defined by your mentors, the institution, or the profession). This may mean promotion, tenure, a recognized leadership role, the mastery of a skillset, or the development of a financial security net. It may mean all these things.
At this stage, many feel they have "made it," finally achieving that big goal. At this point, the path of least resistance is to settle into your established role, continuing the momentum of early adulthood toward retirement. And yet, the idea of continuing the narrative of your career along the same path may not satisfy you. You may be asking the question, "What's next?"
And that is a good thing. Achieving a milestone and transitioning to the mid-career phase is an opportune time to shift your focus to the big picture. With your experience, connections, and credibility, it's time to stop focusing on externally established expectations. Instead, start setting your own rules and goals for success.
Some of the questions you may ask yourself are:
"How can I re-invent myself in my current role?"
"What other opportunities are out there?"
"What do I want to do, now that my needs are met?"
"What is my legacy? How do I want to change my field?"
"How can I position people to take over for me as I transition to other opportunities?"
This final question is one that many don't think of soon enough. But if you want to have a lasting impact on your organization, field, or environment, it's important that you set up successors. Carefully selecting these people and beginning to mentor them now will ensure that your work and your impact lives on after you retire.
The Influence of Coaches and Mentors
Many people don't consider these questions, or don't act on what they are feeling. Coaches and mentors can help you understand what you want and inspire you to take action to work toward new goals.
While they are often lumped together, coaches and mentors have different roles, with different approaches. These are just two different types of mentorship, which we explained in more detail in the last part of the series.
Mentors are people who share a common pathway. These relationships are generally long-term, although the type of support they give changes over time. Mentors draw on their experience to provide perspective and advice that smooths your path to success.
Coaching, by contrast, is a focused, time-limited engagement. The coach need not share a common pathway to be effective. Coaches help you understand yourself, where you have been, what you want, and where you want to go next. They listen, ask powerful questions, and provide the challenge and support that enables you to build internal clarity, develop new goals, and have the confidence to pursue them.
Who these coaches or mentors are differs for everyone. In some cases, they may not even be people. Books, like David Brooks' The Second Mountain, can also open our minds to self-examination and big-picture thinking.
Coaching and Mentoring Through the Mid-Career Transition
Working with a coach is especially valuable in jump-starting a mid-career transition. The Utah Coaching and Advancement Network (U-CAN) builds capacity for providing professional effectiveness and career advancement coaching to learners, faculty, and staff. U-CAN offers a Mid-Career Coaching Program aimed at this transition.
During mid-career transition, mentors also play an important role. When you are mentoring someone as they reach the mid-career transition, you have the power to facilitate their transition by referring them to a coach.
Or, use coaching skills (see Section 5 of Fundamentals of Professional Mentoring guide) to help them explore questions: "What's next?" or "What do I want?" You can use coaching skills to start the conversation, provide internal clarity and confidence in developing new goals, and then use mentoring skills to help your mentee understand how to take the next step.
When acting as a coach, your job is to spark moments of self-reflection that build clarity and confidence. Many people feel constrained by pre-set criteria in defining goals and success. Help them challenge themselves to look past the path they are on to the path that might be.
If you mentor someone in this transitional period, you probably have a standing relationship with them. When they identify their new goals, they will likely consult with you about how to proceed or what the next "step" is.
Direct them to books, coaches, and other resources that can help them begin to define their own path. If they have already answered some of the important questions about their vision for the future, continue to help them connect the dots. Your mentees are, unbeknownst to them, embarking on one of the most exciting and liberating stages of their career.
Harriet Hopf, MD
Harriet Hopf is the co-director of the University Coaching and Advancement Network (U-CAN), working with trainees, faculty, and staff to build capacity for professional effectiveness and career advancement. A professor of anesthesiology and adjunct professor of biomedical engineering, she has served in numerous academic and clinical leadership roles at the U and is frequently consulted as an expert resource on infection control. Hopf received an MD from the Geisel School of Medicine at Dartmouth and completed a residency in anesthesiology at University of California, San Francisco.  
Tony Tsai, MBA
Tony Tsai is the director of Leadership and Career Development for University of Utah Health and co-director of the University Coaching and Advancement Network (U-CAN). Tsai helps people connect to the meaning and authentic purpose in their careers through innovative, practical programming and coaching. In previous roles, he led strategic transformation efforts in medical education. He formerly served as head of career advising at the Ross School of Business at the University of Michigan and as an officer in the U.S. Army. Tsai received an MBA from Columbia Business School. 
DON'T MISS OUT. GOOD NOTES delivers to your inbox.