Creating a Culture of Mentorship: Part 4 - Knowing You Belong
This is the fourth blog in a series about creating a culture of mentorship in academic medicine. Mentorship is an essential part of the academic experience. It's key to individual and institutional growth and success. This series demonstrates the value of mentorship and leadership development across U of U Health.
Feeling like you belong and have opportunities to interact with individuals you can relate to is important in any environment.
For historically underrepresented groups in academic medicine, culturally relevant mentoring plays a significant role. This mentorship approach helps overcome barriers to diversifying our workforce. It increases likelihood for success and stronger connection to the institution.
The Utah Health Equity Leadership & Mentoring Program (U-HELM) is one way University of Utah Health provides culturally relevant mentoring for our health care professionals and researchers.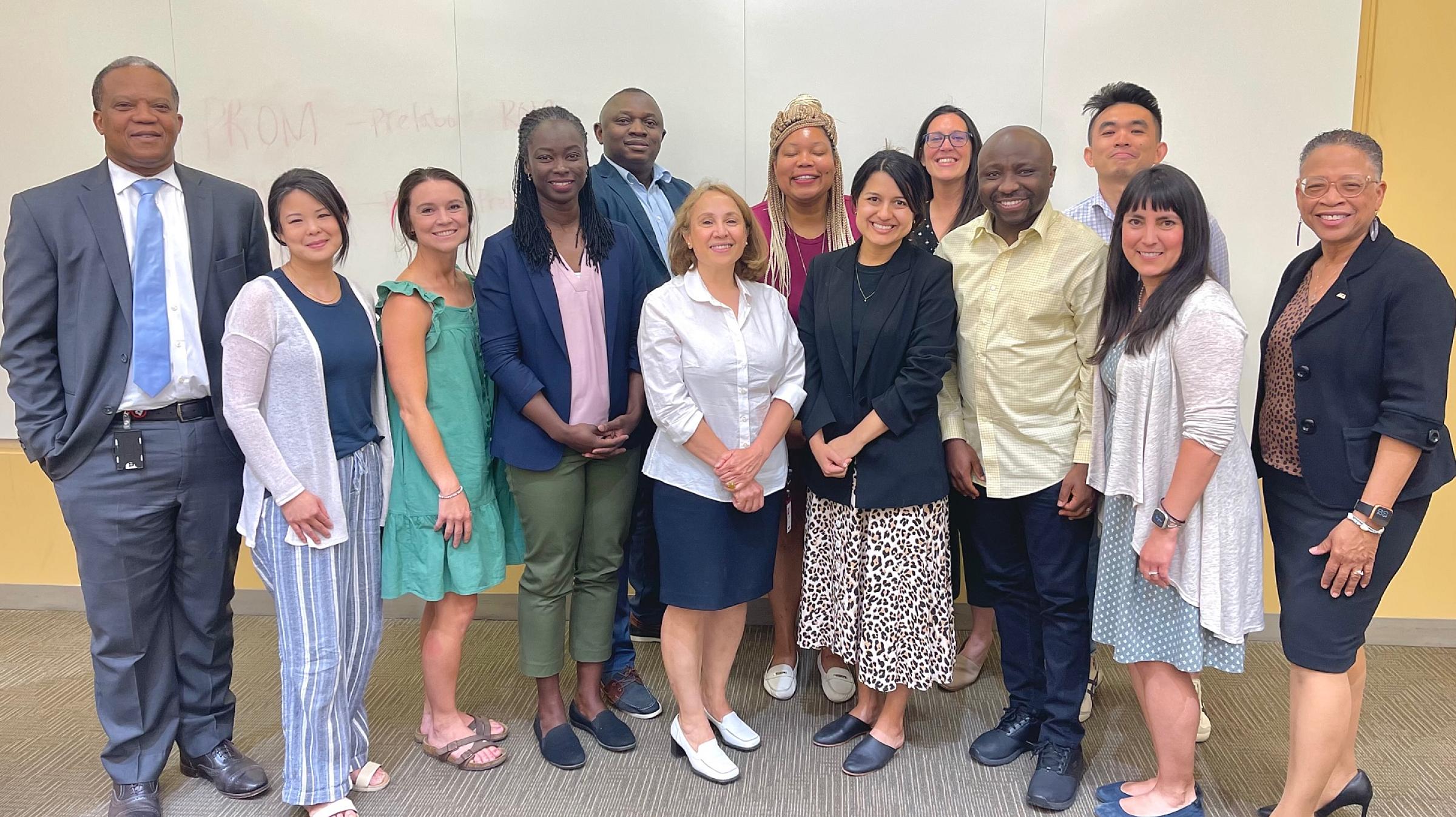 Why Culturally Relevant Mentorship Matters
Culturally relevant mentorship is essential for inclusion and health equity. Health equity may look different for different people. But in a nutshell, it's when everybody has the ability to reach their best possible health.
The U.S. has a long way to go to achieve true health equity. Systemic, environmental, and cultural factors must be overcome.
One step toward that goal is to have more health professionals and researchers who look like the patients and communities they serve—and who share cultural touchstones with them. This creates trust in the patient-provider relationship and medical systems. That trust helps patients feel understood by their doctor and by the broader health care system.
The more diverse the health care providers serving a community, the better it is for that community. This calls for more health care providers and researchers who are women, LGBTQ+, and from historically underrepresented communities.
What Is U-HELM and Why Is It Important?
U-HELM provides fellowship and mentorship for junior faculty and postdoctoral scholars from underrepresented populations or those studying health equity. U-HELM pairs fellows with mentors who are trained to provide effective, culturally relevant mentoring. The program seeks to supplement—not replace—existing research or academic mentoring relationships.
Inspired by a similar program at the University of Minnesota, U-HELM launched in 2018. The three of us share a common interest in research, research training, equity, and inclusion. Each of us has had the privilege of working with exemplary mentors. U-HELM is a way for us to create similar experiences for others at the University of Utah.
Every year, a new cohort of 12 fellows is selected from across the health science disciplines. U-HELM meets regularly to share experiences, provide peer support, and learn from each other. Monthly seminars cover critical topics related to cultural identities, including minority tax, micro-aggressions, building supportive networks, allyship, and resilience.
Mentees meet one-on-one with their mentors and U-HELM co-directors throughout the year. It's a safe space for mentees to discuss challenges and goals with their mentors and with each other.
Finding Your Place
Women and other underrepresented people in academic medicine are more likely to face discrimination in clinical environments by fellow peers, residents, faculty, and patients. Health care careers can be high-stress and isolating. Feeling safe and understood is important. People need to know they belong, especially when things get tough.
In the U-HELM program, clinicians, educators, and researchers discover how they belong—and add value—in our health system. They receive the tools, strategies, and support to be successful.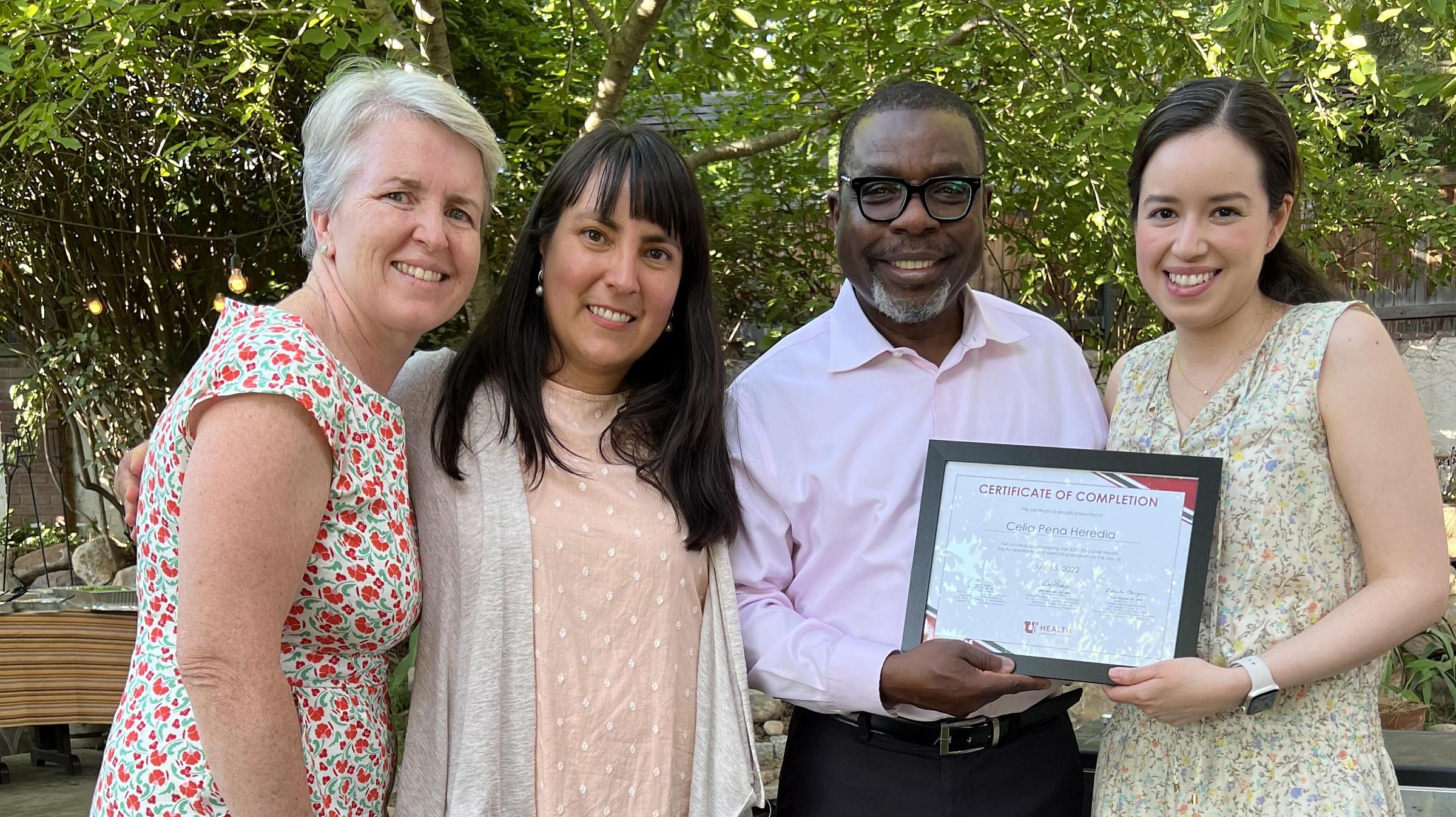 Paying It Forward
As U-HELM fellows progress through the program, they gain new perspectives on caring for communities. They are passionate about serving and "giving back" to their own cultural communities.
With each fellowship completed, there is an exciting ripple effect. As they put their experience and training to work, they improve the lives of countless individuals in a variety of communities. They will act as mentors and leaders, keeping the cycle going for future generations.
That's the outcome we really want, hope, and expect for U-HELM alumni.
Molly Conroy, MD, MPH, FACSM, FAHA
Molly Conroy is co-founder and co-director of the Utah Health Equity Leadership & Mentoring (U-HELM) program at the University of Utah. Conroy is a primary care provider and general internist with U of U Health. Her clinical interests include physical activity and lifestyle counseling, cardiovascular disease prevention, and women's health. Conroy serves as chief of the Division of General Internal Medicine. She is a fellow of both the American College of Sports Medicine and the American Heart Association. Conroy received an MD at the University of Pennsylvania. She completed an internal medicine residency at the University of California, San Francisco and an internal medicine fellowship at Harvard Medical School/Massachusetts General Hospital.  
April Mohanty, MPH, PhD
April Mohanty is co-director of the Utah Health Equity Leadership & Mentoring (U-HELM) program at the University of Utah. Mohanty is an epidemiologist and health services researcher with U of U Health. Her research interests include improving the quality and equity of cardiovascular health care. She was among the first cohort to complete the U-HELM program. She returned in 2020 as a co-director. Mohanty received a Master of Public Health and PhD at the University of Washington and competed a postdoctoral fellowship in medical informatics at the VA Salt Lake City Health Care System. 
Kola Okuyemi, MD, MPH
Kola Okuyemi is co-founder and co-director of the Utah Health Equity Leadership & Mentoring (U-HELM) program at the University of Utah. Okuyemi is chair of the Department of Family & Preventive Medicine. He also serves as executive director for Equity, Diversity, & Inclusion at the Huntsman Cancer Institute. As a physician-researcher and professor of family medicine, Okuyemi focuses on improving the health of underserved and refugee populations and eliminating health disparities. He received an MD from the University of Ilorin in Nigeria. He completed a residency in family medicine and MPH at the University of Kansas Medical Center and a research fellowship at the Morehouse School of Medicine in Atlanta.  
DON'T MISS OUT. GOOD NOTES delivers to your inbox.