Exhibiting Innovation in Well-Being and Evidence-Based Improvement
For four days in April, the atrium and A-level bridge of the University of Utah Hospital bustled with activity. Staff, executive leaders, and hospital visitors exchanged ideas during the Evidence-Based Practice & Wellness Champions Poster Fair. The event spotlighted systemwide initiatives to improve local health care delivery and elevate well-being.
The Resiliency Center, Department of Patient Experience, and Accelerate Learning Community co-sponsored the poster fair. There were many key collaborators including, but not limited to, the Department of Nursing and GME Wellness. Kim Mahoney, Maiko Taguchi, Kripa Kuncheria, and Bridgette Maitre were instrumental in organizing this year's event.
Combining Process Improvement and Employee Well-being
This was the sixth year for the Wellness Champions poster session. The Resiliency Center Wellness Champions program promotes a culture of well-being across University of Utah Health by supporting individuals and teams in addressing the wellness needs of their department, division, or clinic. In 2014, the Evidence-Based Practice Council started a separate poster fair to inspire staff and students. That fair displayed projects and research that improved the quality of processes and approaches to patient care and teamwork.
This year was the first time we combined the two events. Professionals from across the U of U Health community submitted almost 30 posters. Participants aimed to improve the well-being of their team or a team within their sphere of work.
Posters covered a wide range of topics from diverse groups, including the Utah Office of the Medical Examiner, the Environmental Services team, the Department of Pediatrics, ophthalmology residents, and the Burn Center, among many others. The posters demonstrated ways to address well-being and showed how to achieve improvement.
Some great examples are highlighted below.
Updating Protocols During a Time of Crisis
The Environmental Services (EVS) team presented their solution for a problem early in the pandemic. They discussed their challenge and the solution they created.
The EVS team noticed they didn't always know the correct personal protective equipment (PPE) to use when cleaning a room. Each room was slightly different. Rooms were mislabeled or incorrectly identified. It was leading to confusion for the team and discord among the hospital staff. It increased stress, lessened the safety of the working environment, and delayed patient room turnover.
After discussing and identifying the problem, they created a visual checklist system. They chose a visual system because many team members don't speak English as a primary language.
They created placards for anyone on the EVS team to corroborate the correct room label. All staff were then trained on using the visual room checklists. They would then know the proper PPE needed for each room. The visual checklists were then available to all staff by posting them on custodial carts.
This improved safety for the team and other hospital staff, reduced stress, and increased well-being. The EVS staff continues to receive feedback. With the feedback they continue to receive, EVS staff are constantly improving the efficiency and effectiveness of the system.
Improving Process, Improving Well-Being
The Decedent Affairs office was created just before the COVID pandemic. The office addressed consistent process breakdowns after a patient died, such as if a case would go to the state medical examiner's (ME) office.
When COVID struck, the state ME's office had to determine how many patients had passed away from COVID. Requests inundated the Decedent Affairs office. It created a backlog before cases could move forward. As they ran further behind on cases, it began to cause undue stress for family members and department staff.
The Decedent Affairs office created a check list and record of death outlining the criteria for ME cases. The office introduced it to all U of U Health units to determine if cases would proceed to the ME's office. This helped ensure an efficient, consistent process throughout the organization and reduced errors.
As a result, they addressed systemic breakdowns and created a more efficient system. Cases could move along faster to meet the needs of families better and reduce staff stress.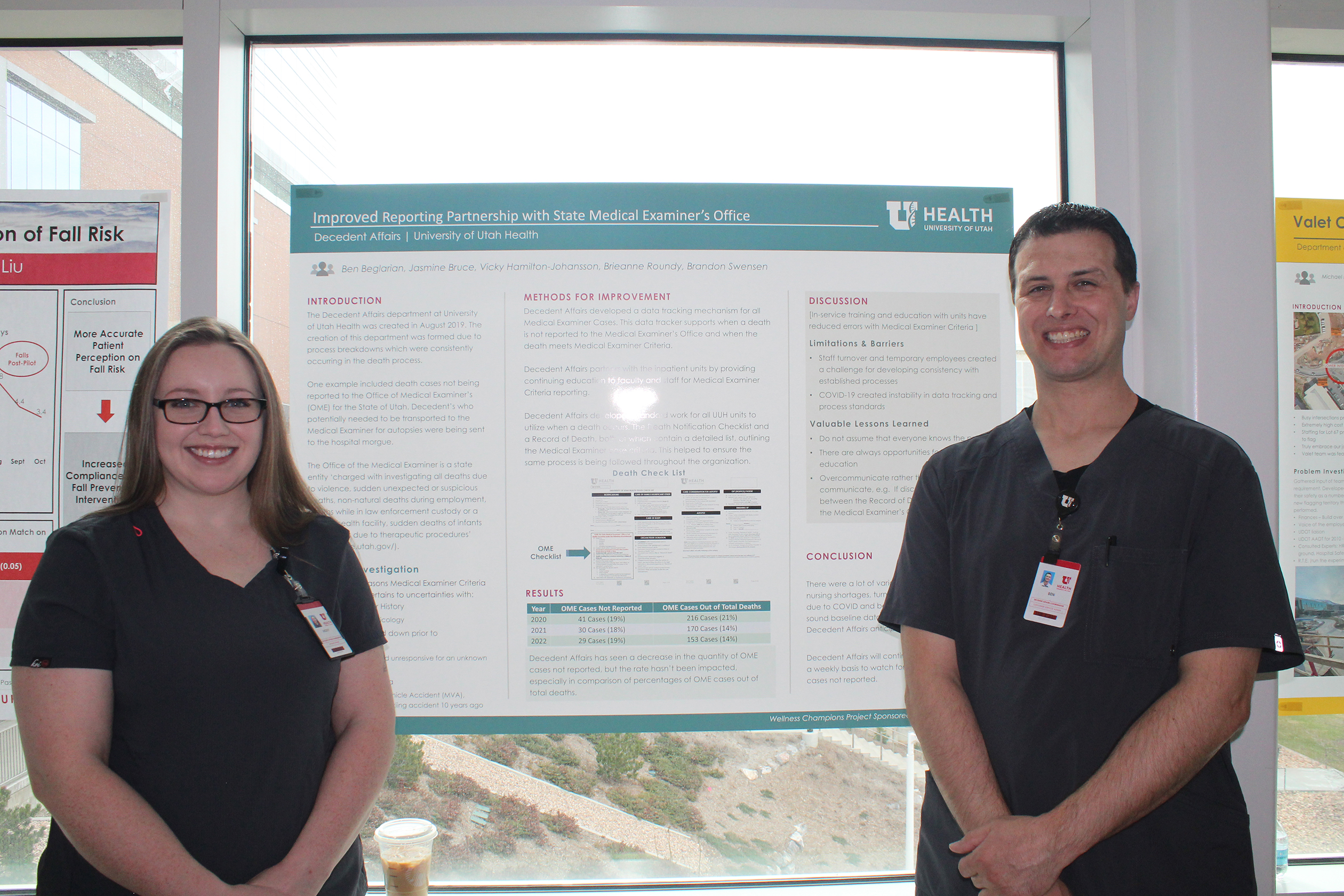 Art of Caring in the Burn Center
As a regional burn treatment center, staff often face emotionally demanding situations. Last year, the center addressed employee exhaustion and fatigue by teaming up with a community-based arts education center. With The Walter Hive, we gave our staff tools to build resilience and cope better. We provided personal and professional skills to strengthen the team and improve trust.
Nursing staff members participated in weekly therapeutic art sessions via Zoom. Sessions presented different mediums with therapeutic discussion, including:
Emotional and physical safety
Building a community of support
Finding a balance between work and home
Coping skills to use during times of stress
One participant noted, "Allowing myself to be vulnerable in the process has built trust and connection between myself and the other participants." Another commented, "I feel like I can add art to my list of coping strategies, despite never thinking of myself as an artist."
Objective and subjective data showed the program helped decrease stress levels. It provided an outlet for participants to process their caregiver burden in a caring environment. The program has helped staff members develop coping mechanisms for difficult situations. This will reduce exhaustion and fatigue. Taking care of employees' mental health improves patient care and creates a healthier workplace.
Culture of Innovation
One of the joys of working for U of U Health is the emphasis on innovation. We understand that innovation is essential to continuously improve the quality of health care we provide. Our culture encourages staff to develop and pilot new ideas to see if they work. When it's successful, it's common practice to share that with other teams as applicable. This has created a welcoming and exciting culture of learning and improving patient care.
We recognize the importance of a work environment that promotes physical and mental well-being and understand that improving processes can lead to better patient outcomes. We're committed to continuing to improve in both domains.
The poster fair allowed our diverse teams and colleagues to showcase their ideas, programs, and innovations. It was an opportunity for everyone to find inspiration for their own innovations to share in the years to come. We will continue to prioritize innovation in every aspect of health care to improve patient outcomes and create a better work environment for our staff.
Megan Call, PhD, MS
Megan Call is a licensed counseling psychologist, an assistant clinical professor in the Department of Psychiatry, and director of the Resiliency Center at the University of Utah. Call has research and clinical interests in promoting resilience and well-being among health care professionals, with a specific focus on embracing vulnerability and discomfort, incorporating informal mindfulness into everyday practice, improving communication and relationship skills among teams, and addressing systematic change. She received a PhD in counseling psychology and an MS in health promotion and education at the University of Utah.  
DON'T MISS OUT. GOOD NOTES delivers to your inbox.