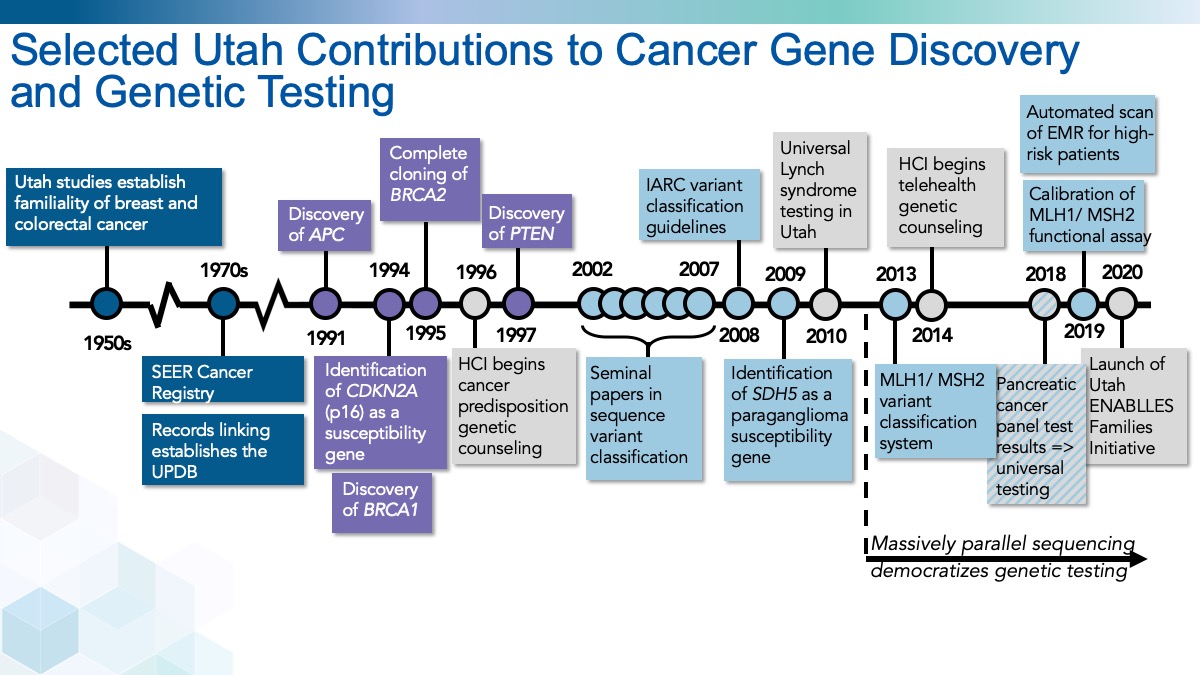 For decades, geneticists working in Utah have made seminal contributions to the field of cancer predisposition genetics. In late 2019, the creation of the Center for Cancer Genetics (C4CG) at Huntsman Cancer Institute continues our leadership in this area through comprehensive translation of cancer susceptibility gene discoveries to the clinic and the population.
Currently, the C4CG is launching two projects: the Utah ENables Apc, Brca1/2 Lynch syndrome & Li-fraumEni Syndrome (ENABLLES) Families Initiative and the Utah Variants of Uncertain Significance (VUS) Project.
Utah

ENABLLES Families Initiative

This initiative undertakes a statewide comprehensive search for families with germline mutations in a set of eight genes that cause predisposition to cancers: APC, BRCA1, BRCA2, MLH1, MSH2, MSH6, PMS2, and TP53. After discovering these families, we will use cascade testing, counseling, and risk reduction efforts in hopes of adding years to the lives of family members who carry these mutations and reducing the burden of these cancer predisposition genotypes for other family members.
Utah VUS Project
The primary goal of genetic testing in cancer patients is to identify mutations that predispose them to cancer. These tests have three main outcomes. The first outcome is identification of a pathogenic sequence variation—a "mutation." Patients and families with a mutation can benefit from tailored medical, surgical, and lifestyle-based risk-reduction efforts. A second outcome is test results that reveal only benign variation or perhaps no sequence variants at all. These patients receive counseling based on their personal and family cancer histories.
In the third outcome, genetic testing may identify variations of the eight ENABLLES genes which have not yet been classified as affecting cancer predisposition. These are called variants of uncertain significance (VUS). Through worldwide collaborations with scientists and clinicians, the ability to classify these VUS variants has greatly improved over the past few years. The Utah VUS project will accelerate classification of VUS observed in the Utah population and ensure that genetics clinics in the state distribute consistent information about VUS to patients.