A traveling exhibit shows how the NIH-funded All of Us Research Program is working to make biomedical research more inclusive.
During the week of Sept. 5, the University of Utah will host the National Institutes of Health's "All of Us Journey," a traveling, hands-on exhibit that raises awareness about the All of Us Research Program. "All of Us" aims to speed up health research and medical breakthroughs. To do so, "All of Us" is asking 1 million volunteers to share different types of health and lifestyle information—like where they live, what they do and their family health history.
Find the "All of Us" Journey on the Marriott Library plaza on Sept. 5, 7 and 8, from 10 a.m. to 4 p.m. Find the schedule for the "All of Us" Journey's other stops in the Salt Lake Valley in English here and in Spanish here.
Unlike a single research study focused on a specific disease or community, the All of Us Research Program will create a research resource to inform thousands of studies, covering a wide range of health conditions. This information could help researchers learn more about different diseases and treatments and improve health for generations to come.
The "All of Us" Journey exhibit will allow interested visitors to join the program by ordering salivary test kits or making an appointment to donate biosamples at a Quest Diagnostics location.
The U's Genetic Science Learning Center (GSLC) is a partner of the All of Us Research Program. The GSLC produces educational materials for All of Us using principles of community-based co-design. The goal is to create a lasting relationship between participants and the program by engaging people with information they find valuable while also raising awareness of the program. Examples include this interactive website that was created with community members to address their questions about viruses and vaccines and this video about how medication works in the body.
Salt Lake City is one stop on the "All of Us" Journey's national tour. The University of Utah invites you to attend this event to learn more about the research program and how it could advance individualized prevention, treatment and care for all of us.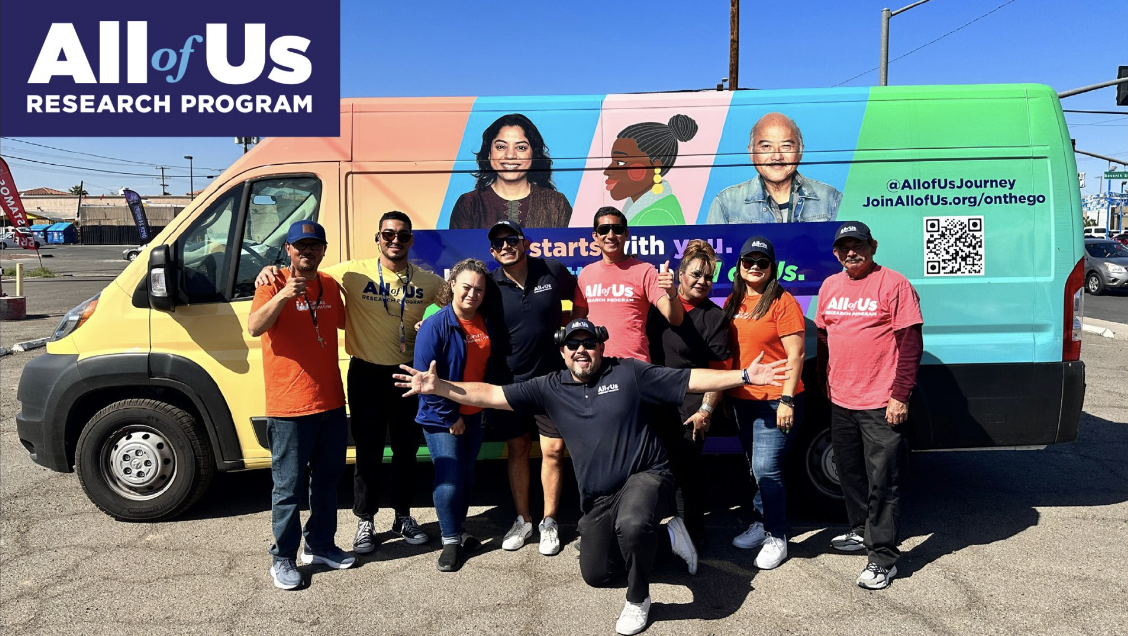 Activities at the "All of Us" Journey include the following:
Did You Know Factoid Dice: Features two sets of oversized dice featuring factoids about diverse participation in health research. Visitors roll the large dice to uncover striking facts and stats about the importance of diversity in health research.
Diverse Data Matters: Allows event attendees to learn about the All of Us Research Program's commitment to diversity through this hands-on engagement. The QR code showcases an Augmented Reality (AR) experience.
Share Your Story: Writable books allow attendees to share why they support the program with their community. Books on the All of Us library bookshelf will include QR codes to drive attendees to participants and researchers' video testimonials about the value of participation.
Your DNA Journey: Enables visitors to build their own DNA sequence and learn about how DNA is used by the All of Us Research Program, including the genetic return of results.
The "All of Us" Kiosk: The "All of Us" Kiosk features two standing touchscreen kiosks to navigate and better understand the All of Us Research Program.
Enrollment Video Station: Allows attendees to access the Virtual Ambassador Program (VAP) video library and learn about key aspects of the enrollment journey.
The Research Hub: Enables visitors to learn about All of Us through the researcher lens.
All of Us Backyard Games: Cornhole, "Gene-ga" and Tower Ball.