FY 2022 Annual Report
Office of the Associate Vice President
The Office of the Associate Vice President for Research (OAVPR) is composed of six reporting organizations, including the SVPHS Research Unit, the Molecular Medicine Program, the Interdepartmental Graduate Programs (Neuroscience, Bioscience, and MD-PhD), the Health Sciences Cores, the Rocky Mountain Office of Environmental Health (RMCOEH), and the newly formed Clinical and Translational Sciences Institute (CTSI). The office serves as the strategic lead for the health sciences research mission, and works closely with Schools, Colleges, Departments, and Programs, to ensure alignment of goals and resources.
The OAVPR is led by the Associate Vice President for Research, Rachel Hess, and Senior Director, Amy Tanner, with the support of the School of Medicine Vice Dean for Research, Chris Hill, and three Associate Deans: Richard Dorsky, Jamie Dwyer, and Jennifer Majersik.
Mission
The Senior Vice President for Health Sciences Research Unit facilitates discovery and innovation that advance medicine and science. The Research Unit seeks to provide strategic research resources for colleges and departments in careful alignment with and as a complement to existing resources.
The Unit has four major pillars: Administrative Operations (Financial Analytics, Strategy, Space, Laboratory Safety, General Admin) led by Abby Rooney, MS; Program Development (DMRC, DODI, 3i, CGM, DHI, DELPHI) led by Bridget Hughes, PhD; Training Programs (Training Grants, EDI support, Interdepartmental Graduate Programs) led by Sean Flynn, PhD; and Pre-Award Support led by Joy Blatchford, BS.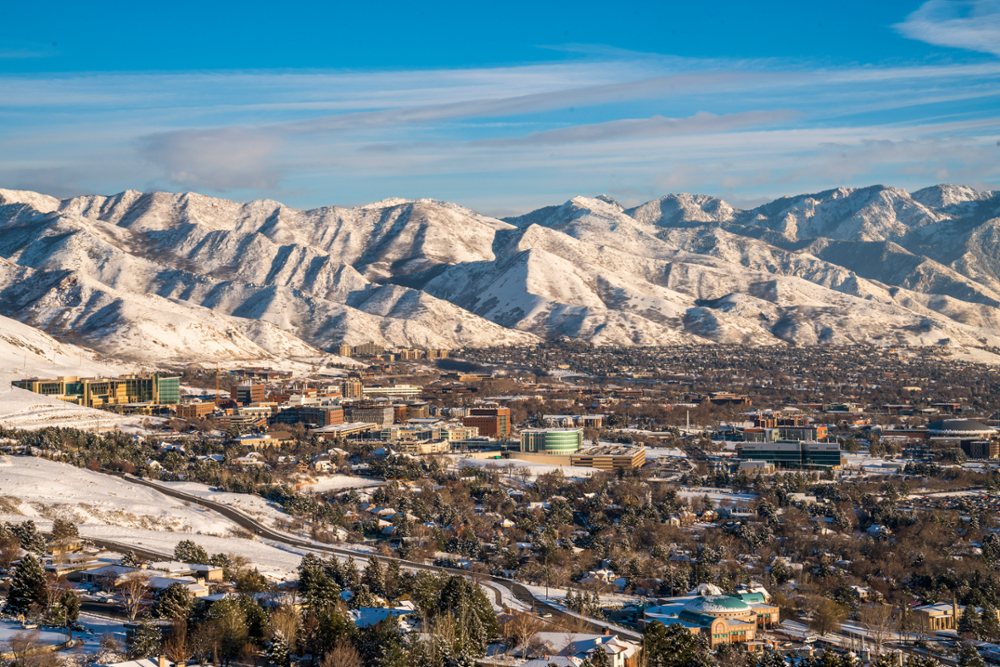 In FY22, the OAVPR stewarded change within its leadership structure. Dr. Richard Dorsky joined the senior leadership team as Associate Dean for Research Space in March 2022; Dr. Willard Dere retired as AVP for Research in June 2022, with Dr. Rachel Hess taking his place; and Dr. Michael
Dean entered phased retirement, with Dr. Jamie Dwyer taking over as Associate Dean for Clinical Research in July 2022. The Office completed the incorporation of RMCOEH, the HSC Cores, and the CTSI into its reporting structure. Progress continued in support of the research mission 5-year
strategy. And substantial progress was made within each of the reporting units, with details below.
Helping the Research Community Excel
The Administrative Operations team provides broad level support of the research mission through administrative infrastructure related to financial analytics and reporting; strategic planning and implementation; research news and communications; research space planning and management; general administration; and laboratory safety. The team provides critical decision-making support to the AVPR and other research leadership through financial analysis of the research portfolio, planning and advocacy for current and future space needs, communicating innovative research findings to internal and external communities, providing strategic planning and implementation oversight for the research enterprise, and partnering with EHS to promote a culture of laboratory safety.
The general administration staff is in many ways the backbone of the SVPHS Research Unit. They provide general support across the pillars of the unit, assisting with scheduling, event coordination, supplies, purchases, equipment, and more.

As the team left FY22 and entered FY23, there were several changes to the structure of the administrative staff. This brought the additions of Katelin Ruzzamenti and Renata Visnjic and a more deliberate division of responsibilities and cross-training for improved coverage and function.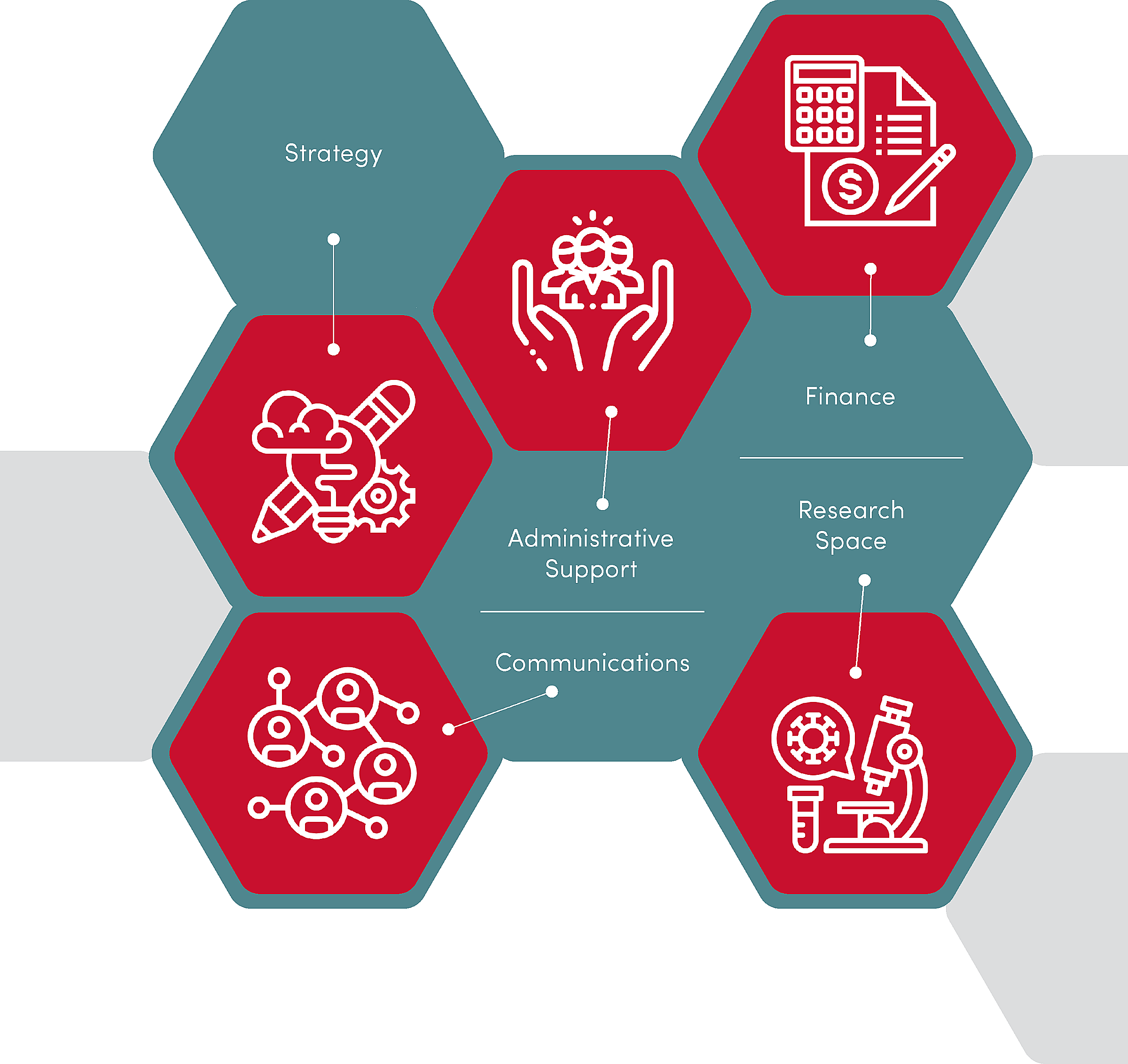 Apart from providing financial and analytical support to colleges, departments and programs where needed, the Research Unit finance and analytics team conducts a variety of special projects meant to enhance institutional decision making for the research enterprise. In FY22, an Associate Director for Finance and Analytics was hired to extend reporting capabilities and enhance the sophistication of research modeling. The team spent significant effort this year in understanding current and historical institutional investment into research, in support of the research strategy. This modeling is intended to result in a Leverage on Investment metric that can be utilized to ensure consistent and continued investment in the research mission.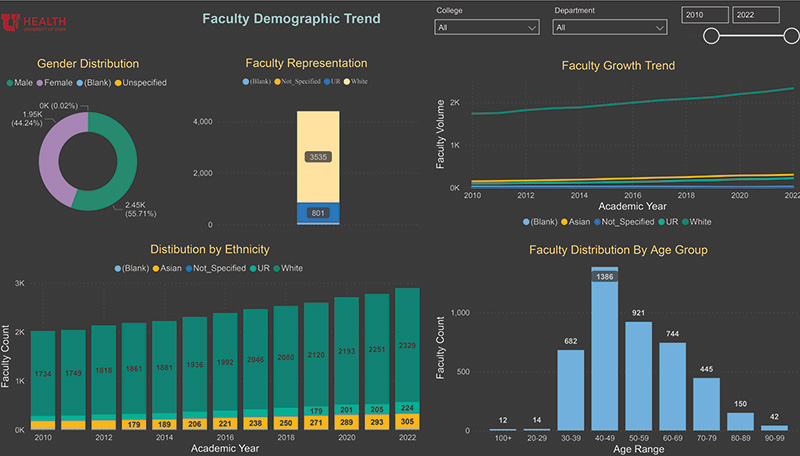 In partnership with the Health Sciences Research Council (HSRC) and Senior Research Leadership, the health sciences research mission strategy is stewarded by the Strategic Project Manager within the Research Unit. In alignment with the Health Sciences strategy, goals and reporting for the strategy run on a calendar year basis. The research strategy includes 10 subsections, with prioritized goals and corresponding implementation tactics.
2022 Strategy Implementation Highlights
Establishment of quarterly progress reporting with the HSRC.
Development of prioritized goals for near and future term planning.
Establishment of the Diverse Faculty Recruiting Initiative.
Creation of best practice guides, including recruitment, diversity, and mentoring.
Ensure Senior University of Utah Leadership understand space issues of the Health Sciences research enterprise.
Inclusion of infrastructure goals and tactics to the Research Space and Infrastructure subsection.
Collaboration with other offices to understand faculty and staff recruitment, retention, and development.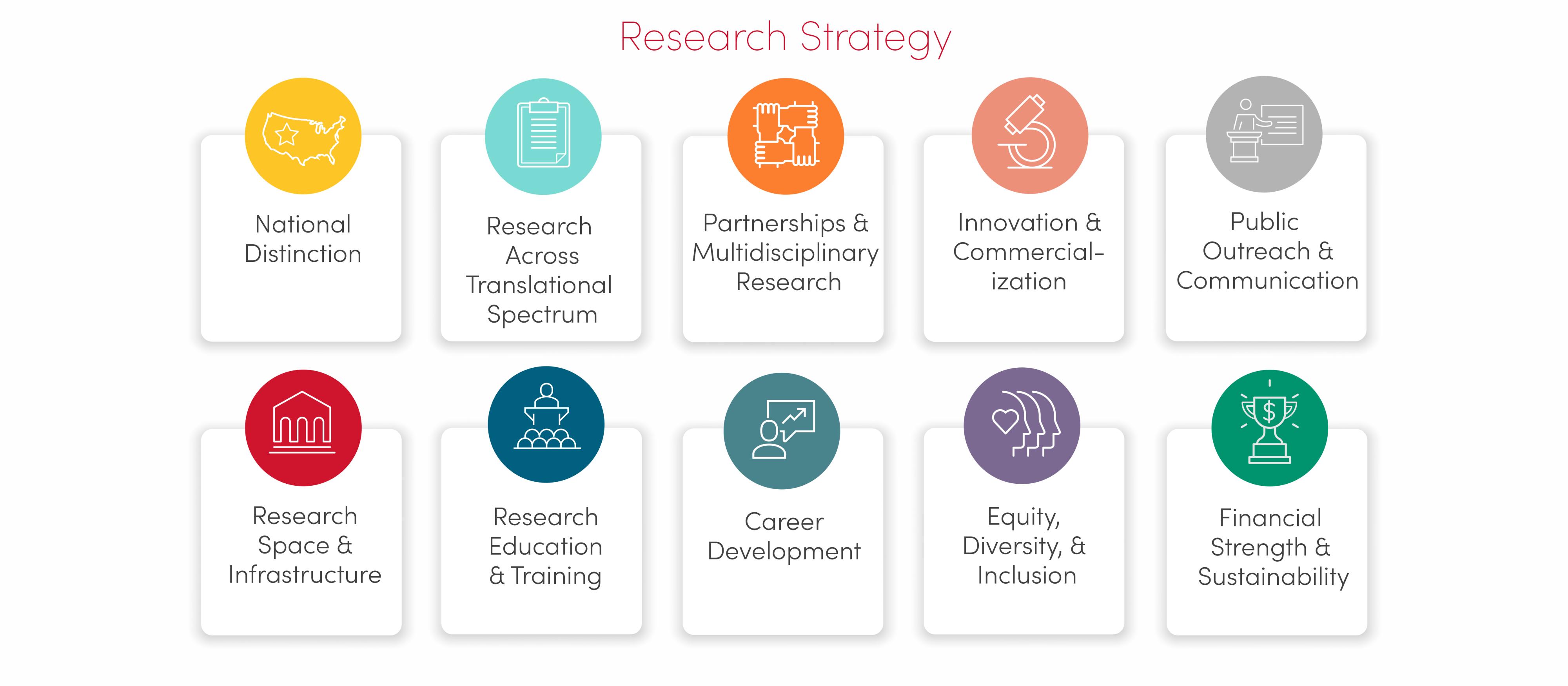 With several hallmark research communications having been developed in FY21, expanding platforms and audience reach was a major priority of the communications team in FY22. The Research Unit partnered with Marketing and Communications and the Interactive Web team to complete a major overhaul of the research mission web presence. This included the merging of the U of U Health Research and the SVPHS Research Unit websites into one cohesive site. The team conducted user interviews, and focus groups, and collected user experience data to ensure that the next iteration of the web presence would meet a diverse assortment of needs, from providing resources to current university researchers, attracting student and faculty recruits, and providing general information to the public. The new research site went online in the summer of 2022; the project entered its final phase and will be completed in the fall of 2022 when the transition to Drupal—a new content management system—is fully implemented and lingering minor design and content tasks are completed.
Also, in FY22, the communications team worked to improve upon internal collaboration structures. The health sciences content committee was created to bring together communications professionals within various schools and departments for networking, content sharing, and resource building.
The communications team continues to collect and celebrate stories of discovery and innovation for the Pioneering the Future series. These stories are a hallmark communication piece, highlighting major research that has emerged and continues to be developed at the University of Utah.
Pioneering the Future
High quality research space increases research output by providing necessary capacity, fostering creativity, and promoting interactions between researchers with complementary expertise. Space limitations represent the single greatest impediment for increasing research productivity within University of Utah Health. Challenges include: a simple lack of available research space, proper programmatic co-localization, and balancing the distribution of on and off campus research sites. To mitigate these challenges, our office seeks to provide nimble and effective infrastructure solutions and works with senior leadership, department chairs, and other stakeholders in the allocation of space to meet the needs of our ever-growing research enterprise.
FY22 was a pivotal year for research space. In February 2022, Dr. John Phillips left his administrative roles within the University to pursue external opportunities; Dr. Richard Dorsky took over the role of Associate Dean for Research Space. With the new space management information system, Archibus, now fully online, the team worked to develop a new space dashboard to present real-time information to leadership to assist in space scenario planning. Newly available information tracks space vacancy information by volume and by building, department assignment information, and utilizes a rate based space usage calculation to determine future need projections and the impacts of potential space acquisitions/losses. With the additional information available, the team focused on working with University senior leadership to prioritize the acquisition of additional research space. A feasibility study was completed for a new wet-lab building within the existing health sciences footprint and other options were considered, including the purchase of existing buildings in research park and potential partnerships with external companies to build and lease new build space. Discussions continue into FY23.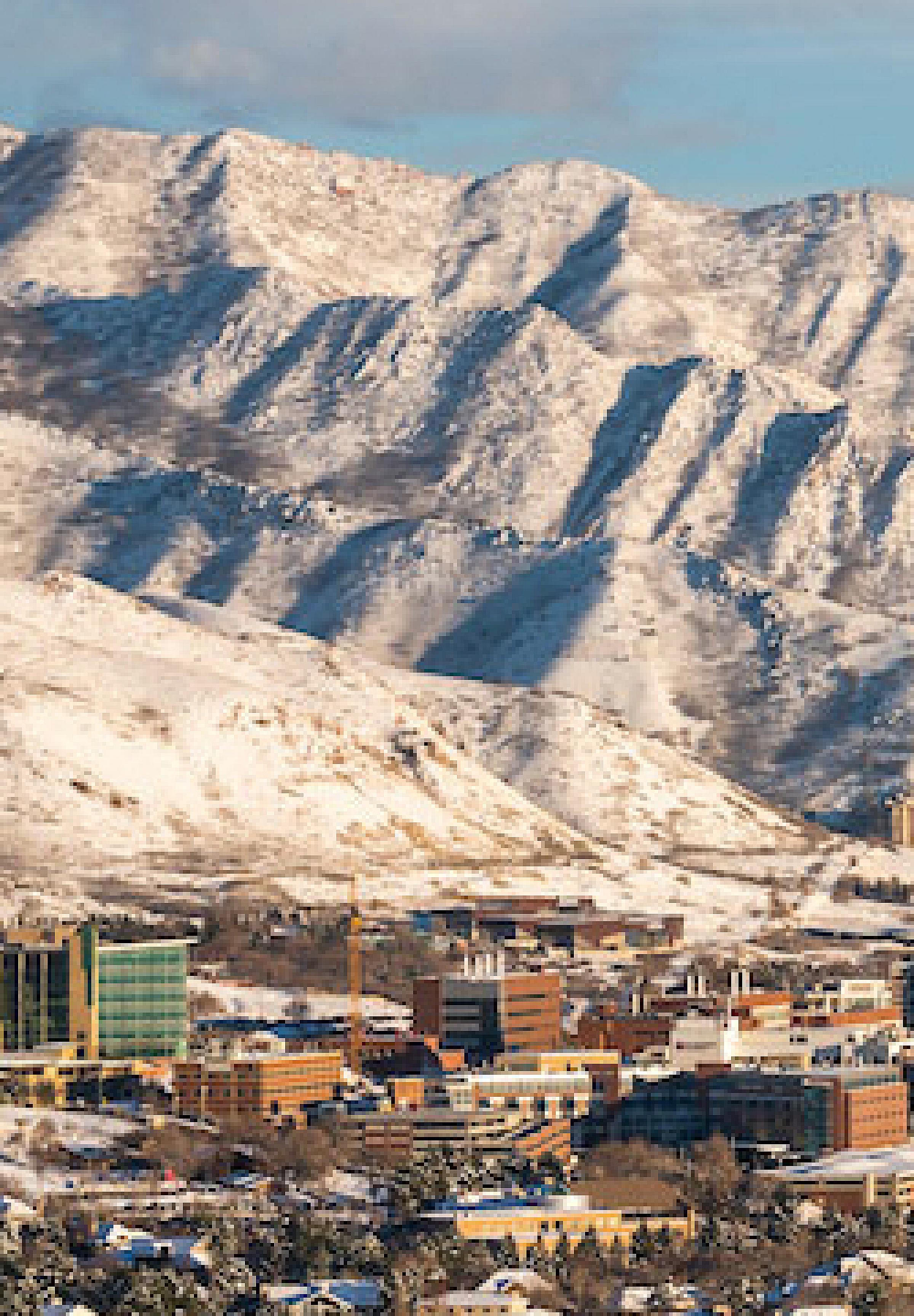 In FY21, the OAVPR partnered with the Office of Environmental Health and Safety (EHS) to embed a new safety manager within the U of U health sciences campus. Brandon Newell, an EHS safety specialist since 2017, was hired into this inaugural role. In FY22, a School of Medicine safety committee was established and other existing health sciences college committees were expanded, with the goal of communicating University and regulatory safety requirements, and to serve as a resource in coordinating safety solutions with EHS.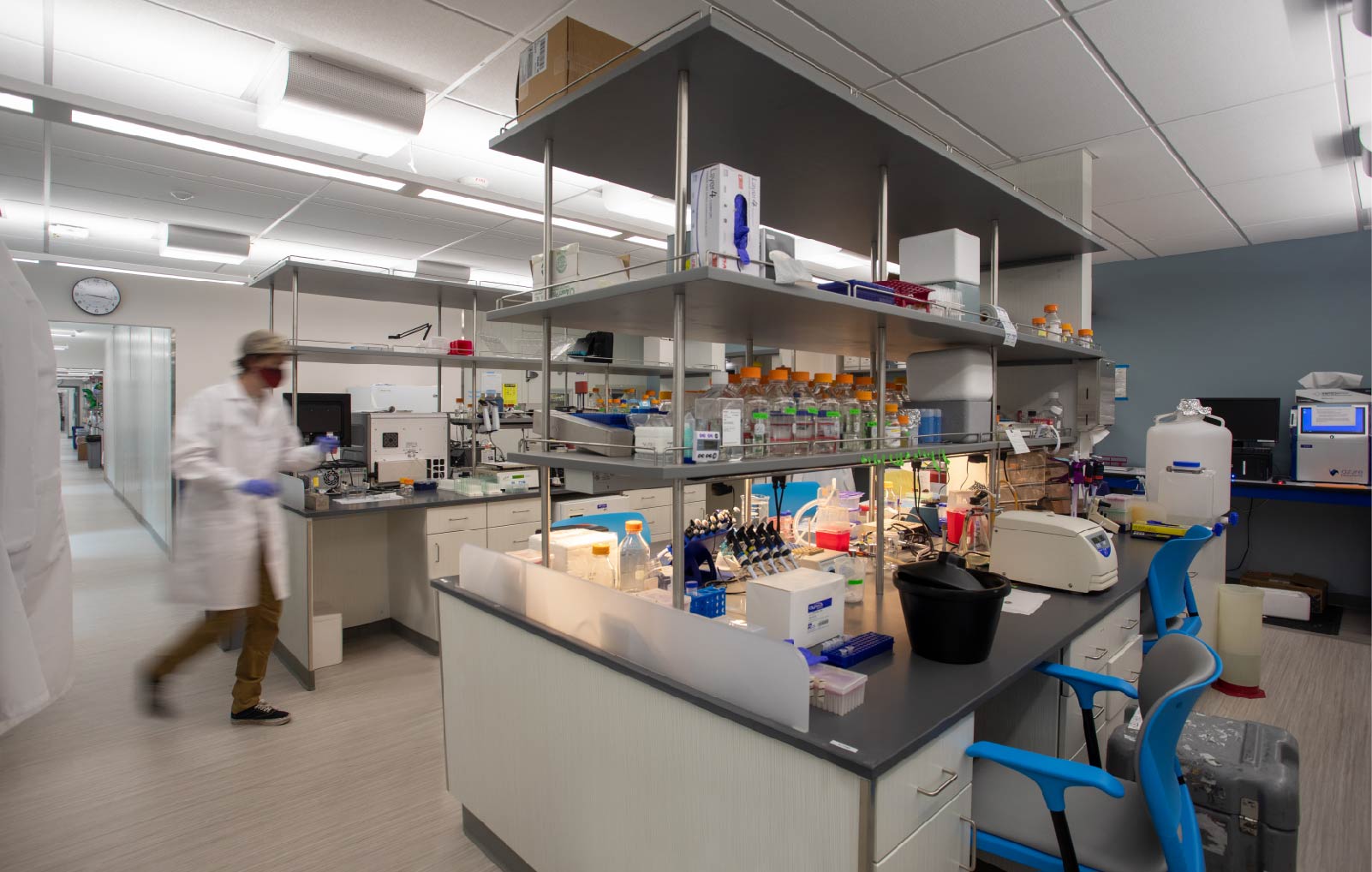 Research Program Development
In FY22, the Research Program Development (RPD) team successfully oversaw the operations of the DMRC, CGM, and 3i initiatives, and worked with key faculty members to develop and launch the DELPHI and Digital Health Initiatives. Overall, the team facilitated submission of 15 grant proposals for $63M and eight philanthropic proposals for $7.3M, supported the recruitment of 10 new faculty, allocated 11 seed grants, organized eight seminar series and/or events, and informed researchers through 124 email communications and three active Twitter accounts.
The RPD Team oversees the development and implementation of strategic research initiatives for University of Utah Health and executes other high-priority research activities designated by the office of the Associate Vice President for Research. Strategic initiatives overseen by the RPD Team in FY22 include: the Center for Genomic Medicine, the Diabetes and Metabolism Research Center, the Immunology, Inflammation, and Infectious Disease (3i) Initiative. The long-term goal of these strategic research initiatives is to catalyze research innovation across departments and colleges to elevate the university's research portfolio and amplify our scientific impact. The RPD Team supports strategic initiatives and advances research excellence by:
Building teams and supporting large grant proposal development
Catalyzing innovative research through seed funding mechanisms
Fostering interdisciplinary community building through interest groups, seminars, and events
Cultivating and stewarding philanthropic and industry partnerships
Raising awareness of research areas both internally and externally
Supporting new technology and infrastructure advancement
Developing new educational and training opportunities
Supporting faculty recruitment efforts in partnership with departments
Strategic planning with faculty and senior leadership to enhance initiative success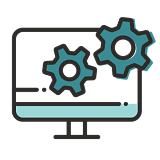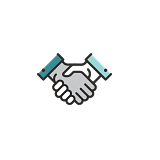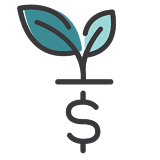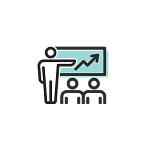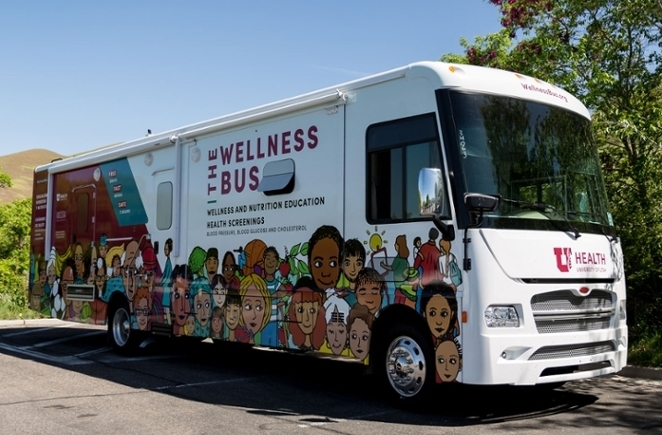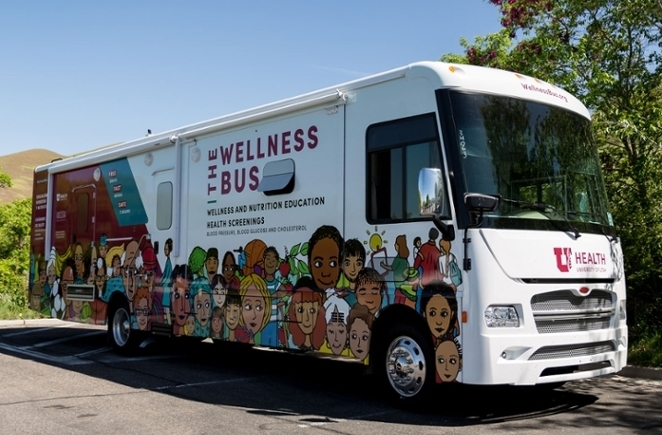 The Diabetes and Metabolism Research Center (DMRC) at the University of Utah Health strives to unify clinicians, researchers, and educators to catalyze innovative research relating to diabetes and metabolic health throughout Utah and the Intermountain West. 
In FY22, the DMRC partnered with departments to recruit four new researchers to the UofU. Three recruits belong to the Health Behaviors Interest Group and one belongs to the Metabolism Interest Group area of the DMRC.
The DMRC spearheaded numerous activities aimed at advancing equity, diversity, and inclusion.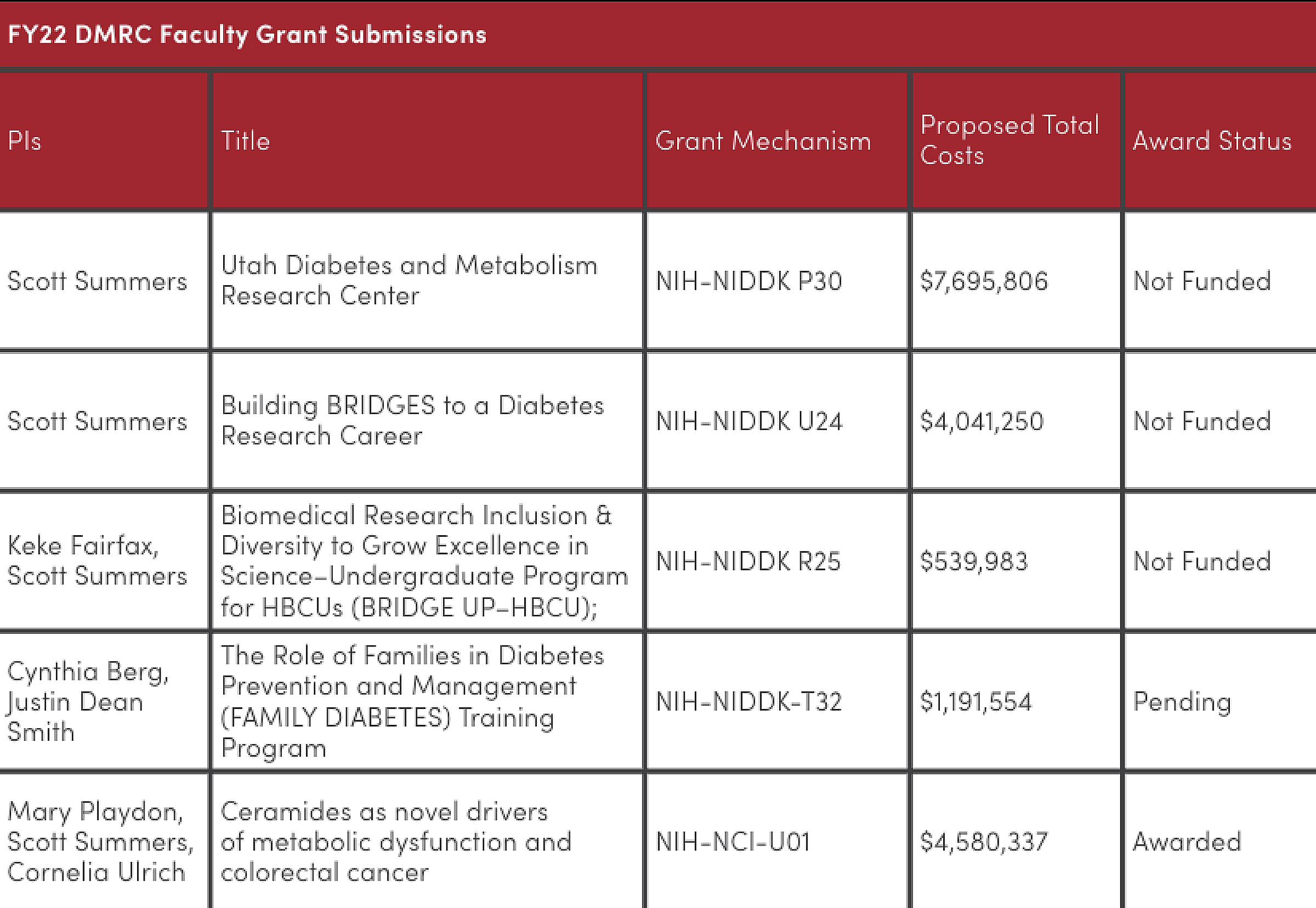 Driving Out Diabetes. FY22 served as the five-year anniversary of the Driving Out Diabetes Initiative; having touched the lives of >200,000 individuals during this time through community health and wellness outreach and clinical programming, in addition to fueling
scientific research. FY22 highlights include:
Receipt of an ongoing Utah State Legislature appropriation of $500,000/year to support community outreach and diabetes clinical management programming efforts throughout Utah.
 A $3M challenge from the Larry H. Miller Family Foundation to support the effort. In FY23 the challenge was met and $3M received by the UofU.
Drs. Scott Summers and Angela Fagerlin co-hosted a hybrid event "Diabetes and U" for 211 viewers on the facets of the Driving Out Diabetes Program.
An additional $143K was raised to support diabetes research by the "Of Love" Tennis Tournament, Jacobsen Construction, the Anderson/Hatch Foundation, William England Foundation, Gary Watkins, and the Hatch Endowment.
The 2022 Paul Shurtleff Hatch and Heidi Hatch Ford Scholar Award for Type 1 Diabetes Research was awarded to Alan Blakely, PhD candidate in the Department of Biochemistry for the project "Snail venom insights break long-standing barriers to manageable insulin therapy."
The DMRC hosts numerous
activities to build and sustain interactions
and collaboration among its members.
Highlights from this past year include the
weekly Seminars in Metabolism Series,
twice-monthly Health Behavior Seminar
Series, and monthly trainee-led Metabolism
Interest Group.
DMRC spearheaded the creation of a "Metabolism Interest Group" in the Biosciences Graduate Program, creating a pathway for trainees interested in metabolism research
The DMRC provided $20K in matching funds to support the purchase of two new pieces of equipment that will benefit the DMRC community: 1) an ESR5000 electron paramagnetic resonance Spectrometer, a state-of-the-art instrument used to measure reactive oxygen and nitrogen species in blood, cells, and tissues ($10K); and, 2) a TD-NMR Body Composition Analyzer, Bruker LF90 analyzer that assesses animal model body composition ($10K), In FY22, the DMRC earmarked funds to support the creation of a "Metabolic Kitchen" in the College of Health to advance nutrition-based research studies
DMRC leadership serve on an advisory board that guides the Metabolic Phenotyping Core, which is of critical use to DMRC investigators. A new Core Director was hired in 2021 and the facility is already showing a substantial improvement in use and user satisfaction.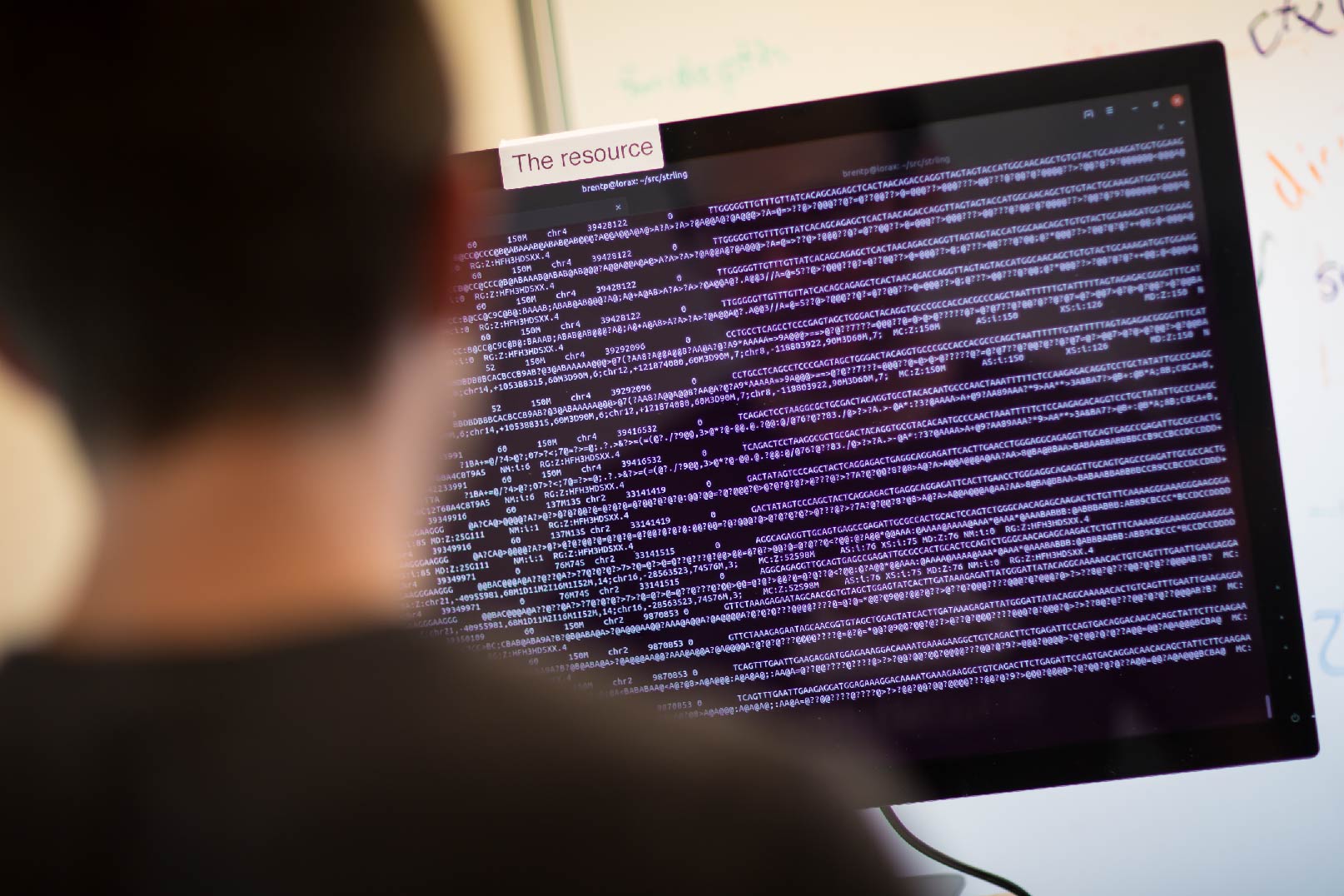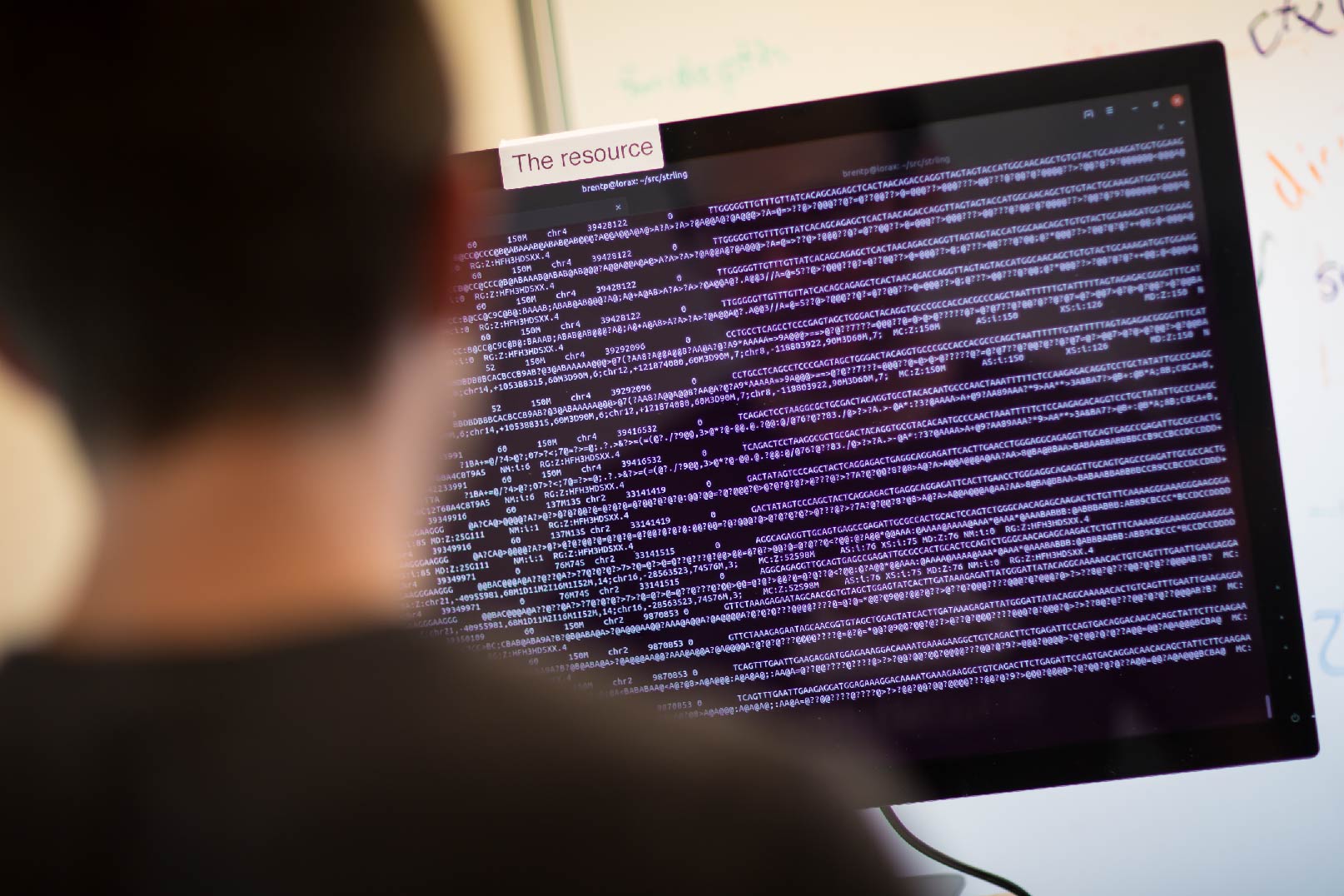 The Center for Genomic Medicine (CGM) brings together patients, providers, and researchers to discover the genetic causes of disease and translate these discoveries into better diagnoses, treatments, and prevention strategies.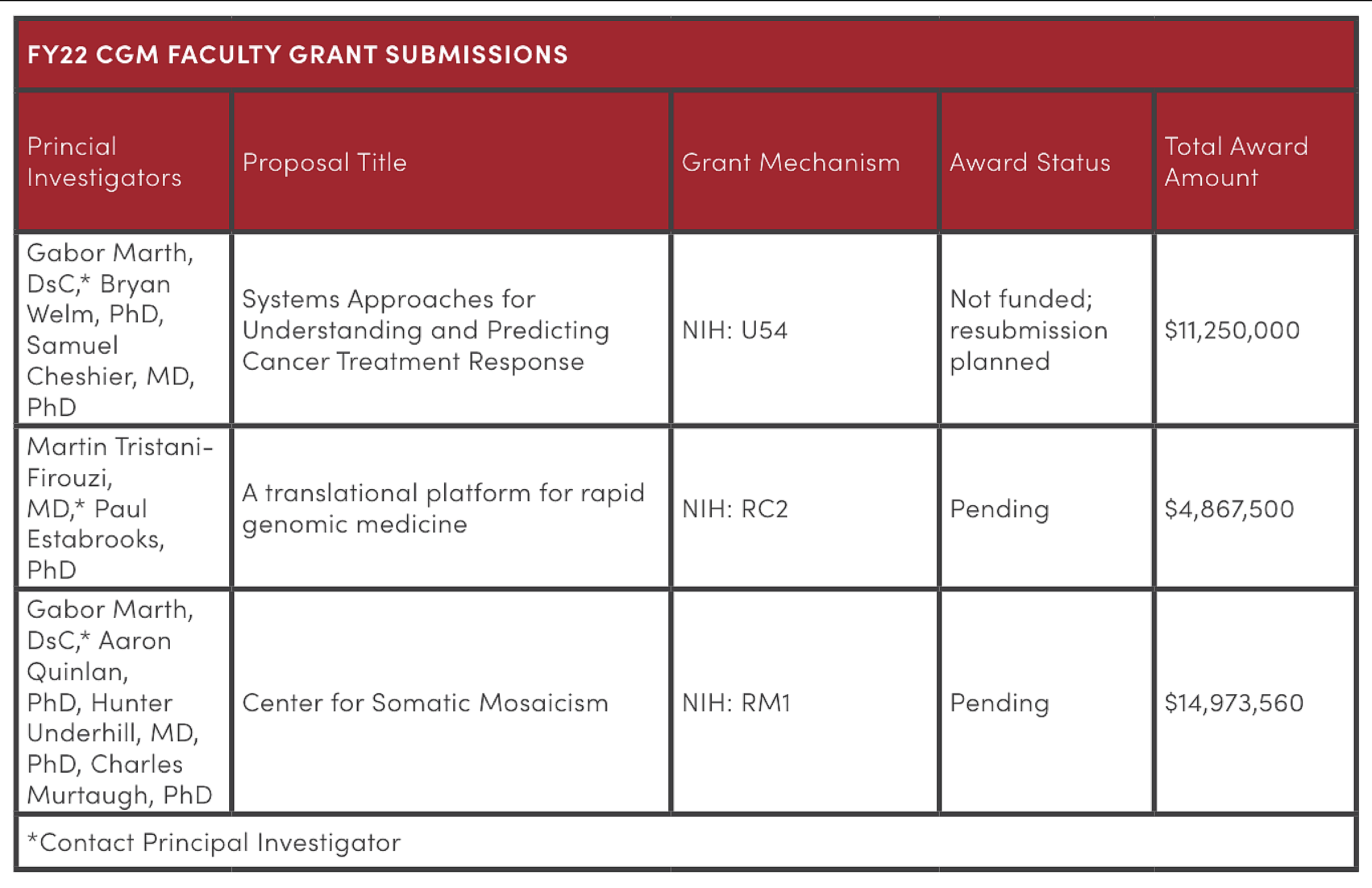 The Genomics Summer Research for Minorities Program continues to provide a 10-week summer internship program for minorities.
CGM hosted a lunch for donors, grateful patients, and industry leaders to showcase the innovation and impact of the CGM pilot awards. Over 50 people attended, and the renewed relationships will help to foster future gifts for CGM.
Clement Chow, PhD, received $85,000 from Diane and Tom Might to study new therapeutics for NGLY1 deficiency.
Joshua Bonkowsky, MD, PhD, received $15,000 from Erika Havlik for his gene therapy research project for vanishing white matter disease.
The NeoSeq Program received $10,000 from the Burton Foundation for rapid whole genome sequencing for babies in the Newborn Intensive Care Unit (NICU).
The Utah NeoSeq Program continued through a close collaboration between ARUP, UCGD, and the Department of Pediatrics. This project leverages rapid whole genome sequencing (rWGS) to diagnose critically ill infants in the University of Utah NICU. Forty-seven of the target 60 patients have been enrolled to date. The rWGS test result has impacted the clinical care of 38% of participants – aiding in the avoidance of unnecessary procedures/tests, facilitating appropriate referrals, guiding targeted medical screening, and initiating of palliative care as appropriate. The program also establishes a pipeline for the development of genomics-based clinical diagnostics at ARUP; a clinical rWGS test offering from ARUP is expected by mid FY23. An RC2, submitted with Utah's Center for Translational Science Institute renewal, focused on expanding the NeoSeq Program, received a fundable score. The NeoSeq Program also began to reevaluate undiagnosed cases, resulting in one new diagnosis, based on newly published clinical findings and began to implement RNA sequencing workflows and long- read sequencing standard operating procedures.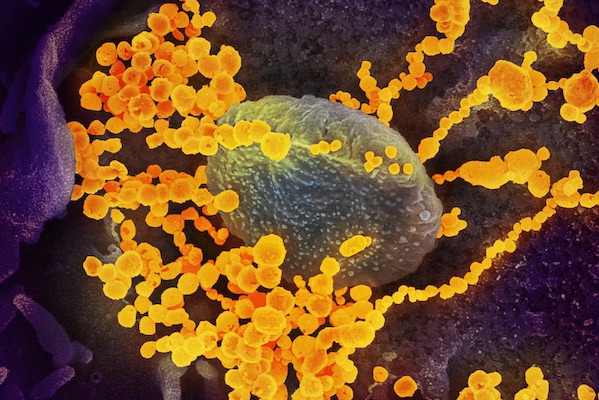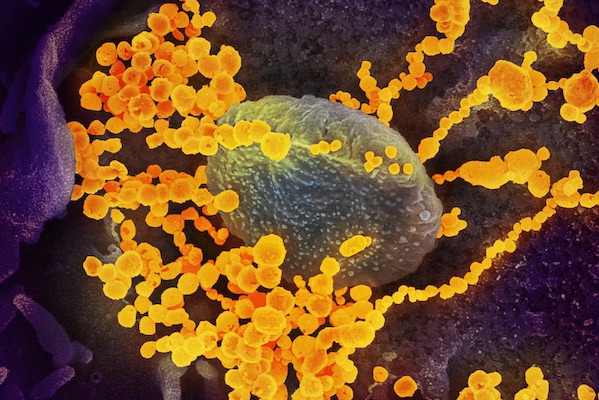 The 3i Initiative's vision is to become a center of scientific excellence known internationally for its top-tier research performed at the nexus of the immunology, inflammation, and infectious disease fields. By focusing resources at the nexus of the three "i"s, the Initiative is able to grow and support strategic interdisciplinary collaborations, innovative program pilot projects, and individual research programs.
Gianna Hammer, PhD, Associate Professor, Pathology – focused the mechanisms by which cells of the immune system interact with microbes that reside in the intestine.
Katharine Walter, PhD, Assistant Professor, Internal Medicine (Epidemiology) – works at the intersection of epidemiology, evolution, and ecology of infectious diseases.
Tyler Starr, PhD, Assistant Professor, Biochemistry – works on protein evolution in viruses and immunity, SARS-CoV-2, HIV, Zoonosis, and Molecular evolution.
Yue Lu, PhD, Assistant Professor, Pharmaceutics and Pharmaceutical Chemistry – works on developing and applying state-of-the-art technologies to understand disease pathologies and develop treatment strategies for cancer, autoimmune disease, and infectious disease.
Shreya Goel, PhD, Assistant Professor, Pharmaceutics and Pharmaceutical Chemistry – focused on developing and implementing advanced multimodal molecular imaging and nanobioengineering tools to refine the way we visualize, treat and manage cancer and other diseases.
Jarrod Johnson, PhD, Assistant Professor, Pathology – works on how the human innate immune system needs to "sense" the invading pathogen, sound the alarm signals, and then engage a protective response to fight the threat
Team Grant Support – One of the primary activities of 3i Initiative is to support large multiple-investigators applications. In FY2, the initiative has supported the following programmatic grant submissions:
Equity, Diversity, & Inclusion – Karen Wilcox and Ryan O'Connell had an R25 from NINDS selected for funding. This award is tied to the Neuroimmunology T32 and supports URM post-baccalaureate researchers for two years to increase competitiveness for graduate school. The grant was awarded for four years.
Seed Grants – In FY22, the 3i Initiative hosted the Team Building grant call as part of it's ongoing effort to build teams ready to purse large multi-pi grants. In the Team Building part of the cycle, the RFA looks for new/emerging teams in need of funding to kindle a working relationship. Six teams were selected for funding, representing 15 departments, and 8 colleges. 
The 3i Initiative is actively working with the Office of Advancement to identify key partnership opportunities that may be developed into meaningful relationships with corporate and foundation partners.
3i Fellows: Thanks to an anonymous donor, the 3i Initiative has awarded a 2nd year of support to the inaugural class of graduate student fellowships in inflammation research and emerging microbial threats. New this year, the same donor supported three new graduate student fellowships within the Immunology, Inflammation, and Infectious Disease fields.
Cumming Family Foundation: In FY22, David and John Cumming approached the 3i Initiative to establish a Microbiome-focused Scientific Meeting. Under the leadership of Dr. June Round, a Intermountain West meeting is currently being planned for the spring of 2023 at Snowbird Resort. The Cumming Family Foundation will be financially supporting the entirety of this meeting under the 3i Initiative and University of Utah name.
In FY22, the 3i Initiative with the support of ARUP, launched the 3I-UCGD Bioinformatics Core expansion. This expansion adds immunology and microbiology-related bioinformatics services for all University of Utah investigators. The core offers to perform, or expand on, most bioinformatic processing or analyses with domain expertise in immunology, microbial genomics and metagenomic approaches. They also offer consultation on experimental design and sequencing strategies, as well as reanalysis of publicly available data
In an effort to continue to connect researchers across the 3i-spectrum, the Initiative held it's 4th Annual Spring Symposium at the S.J. Quinney Law School. This event was held in a hybrid forum with attendees participating both in person and online. Attendance at this event was over 200 with over 30 posters. In addition to the large, all-3i Symposium, the 2nd COVID symposium was held virtually in March 2022. This half day symposium covered a wide range of topic updates and included over 50 participants.
Office has continued to see substantial growth. This past year we have been able to expand both our Health Sciences Team and Main Campus Team with four Grants/Contracts Officers and a Senior Manager on each team. We have worked with 100 researchers in Health Sciences to submit 216 proposals, totaling $293,990,030 in total costs requested. We are looking forward to further expansion across the University to help ensure all faculty have access to skilled Research Administration Professionals.
Since July 1, 2021 the team has assisted 100 researchers with the submission of 216 proposals, totaling $293,990,030 in total costs requested. Of those 216 proposals, 19 have been awarded and 159 are still pending review outcome.
As the sister Pre-Award Teams (Health Sciences & Main Campus) have progressed and operated successfully, a focus has been put on operating both with greater centralization. We have implemented robust cross coverage and despite a difficult hiring climate have been able to successfully hire a new Health Sciences Manager, two Health Sciences Grants & Contracts Officers resulting in two-way back up and additional external support for existing teams. With our current teams and the two open positions we have posted we will have expanded the combined teams from 7 to 12. Our teams were previously operating at ~130% above capacity. These additions will allow for the reduction of turnover, burnout, and increase the quality of assistance we are able to provide.
For the broader University community, we have been rolling out networking opportunities to provide a community of support to embedded Grants & Contracts Officers across campus, resulting in two-way back up and additional external support for existing teams.
Other successes include the implementation of the Grants & Contracts career progression ladder, which now offers a solid and tangible career line within the Grants & Contracts field at the University of Utah. By implementing this we are able to increase retention and foster skill sets
previously unrecognized. We are also streamlining data access for the units we serve working with UIT to create a seamless, fully accessible database of submissions and proposal information combined with automated follow-up to ensure continuity of communication.
We have worked closely with the Research Education Office to identify, plan, and are beginning to roll-out updated trainings targeted at continuity of training across internal and externally embedded Department-focused Grants & Contracts Support. We are currently in the beta phases, assessing wide spread applicability and best modality for accessibility.
Biomedical Research Education Office
The U of U funded 20 training grants in the Health Sciences in FY22 totaling $9.9M in awards. In total all U of U training grants support 195 trainees – 69 PhD students, 53 Postdoctoral Fellows, 32 Medical Students, and 41 undergraduates. The team submitted applications for large institutional training grants including broad institutional mechanisms (U2C/TL1 and MSTP) and diversity focused programs. We also established a PhD student stipend supplement program to encourage increased fellowship applications and have begun work to establish a Biomedical Research Education Training Office.
Successful research training programs provide the highest quality education, improve the lives of trainees, provide an invaluable
research workforce, ensure the continuation of medical advances, help to create a diverse community, garner national recognition, and
establish a legacy. The Biomedical Training Programs team works to provide foundational support for the research education infrastructure, fostering a culture of excellence in training and research education. Primary activities include extensive support for institutional training
grant applications, strategic and administrative support for graduate programs, institutional support for active training grants, and
long-term tracking and reporting on graduate students and postdoctoral fellows. Further, our team works collaboratively with the Office of Undergraduate Research, Office of Postdoctoral Affairs, and many other departments, institutes, and centers to advance research education. With this approach we aim foster an exceptional training environment rooted in evidence-based practices and a holistic approach that equips our trainees with the tools to tackle the biomedical challenges of tomorrow and the skills to identify and obtain fulfilling careers in science.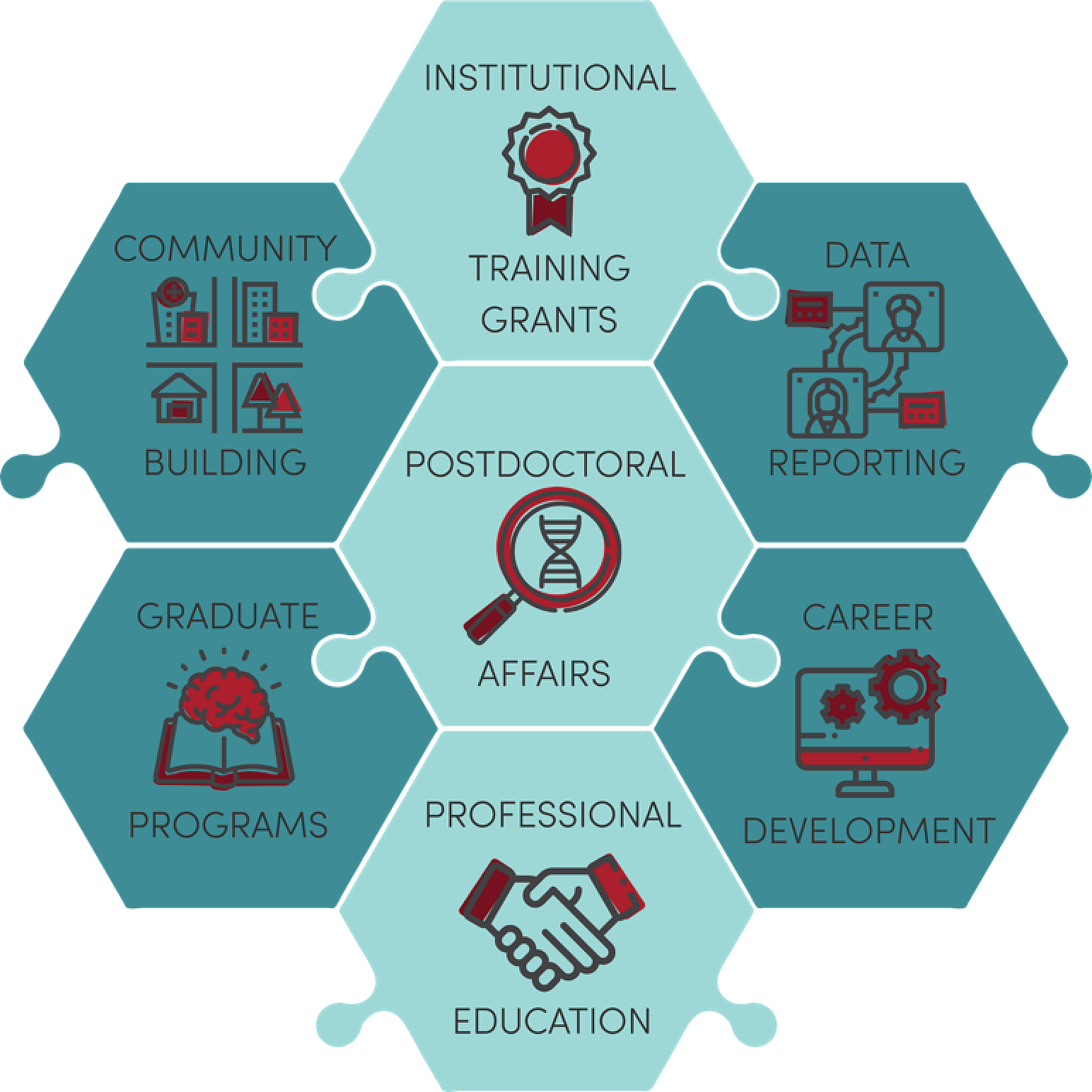 Provide the Heath Sciences community with extensive support for institutional training grants including specific pre- and post-
award support. Our team works closely with training grant directors to develop innovative program plans, gather, and synthesize institutional data related to trainees and faculty mentors, complete required data tables, facilitate training grant submission, and support common activities for funded grants.
The U of U 29 funded training grants in the Health Sciences in FY22 totaling $9.9M in awards
In total all U of Utah Training grants support 195 trainees – 69 PhD students, 53 Postdoctoral Fellows, 32 Medical Students, and 41 undergraduates
Submitted applications to large institutional training grants including broad institutional mechanisms (U2C/TL1 and MSTP) and diversity focused programs (e.g., PREP, IDEAs in Neuroscience and BRIDGE-UP HBCU)
Established a PhD student stipend supplement program to encourage increased fellowship applications.
The Training Programs team facilitated the submission of 20 training grants in FY22, an institutional record.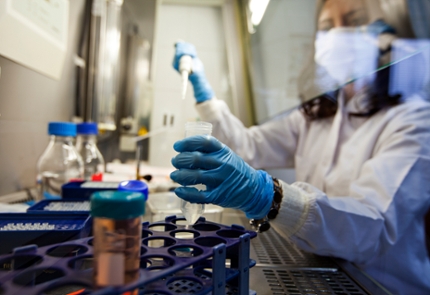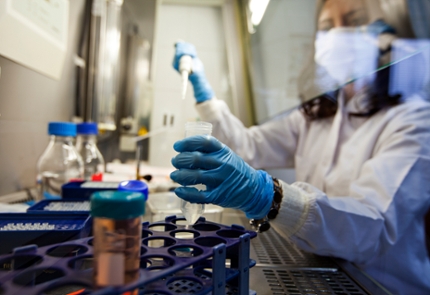 The Health Sciences Center (HSC) Core Facilities administratively reports to the Director Dr. James Cox. The administrative office is managed by Ms. Brenda Smith, with assistance from Ms. Iryna Wiley, Ms. Terra Curley, and Mr. Derek Schlotfeldt.
Responsibilities of the Core Administration office include - personnel management, budget preparation, financial affairs, ordering of supplies, and tracking expenses for all 31 Core Facilities and Service Recharge Centers. In addition, the Administrative Core supports general research infrastructure for the community, e.g. maintaining the X-ray film developer in the SOM and the research irradiator logging and access requests. All cores and recharge centers operate on a charge-back basis, with the Administration Core recovering 5% of the revenue collected for billing and collection services.
In FY22 the core billed $6.82 million; however, what is most impressive is that the collection rate for billed services remains at 100%. We have developed a real time account management system to allow each Director to view revenue and expenses in real time. The tracking system stores fiscal data so that historical comparisons between revenue and expenses can be performed as well as validation of expenses, and
operational analysis.
The electronic inventory system created for capital equipment tracking is still being heavily used by additional departments
and groups in Health Sciences and Main Campus. Upgrades for FY22 allow more reporting and tracking of equipment and better access from hand held devices. As of July 2021, there are 86 Departments, and 6,820 items entered into the system. These items are located in 1,274 rooms across campus. The total asset value of these items is $107.9 million. This system continues to expand and is free to use by any group on
campus.
We have worked closely with the Research Education Office to identify, plan, and are beginning to roll-out updated trainings targeted at continuity of training across internal and externally embedded Department-focused Grants & Contracts Support. We are currently in the beta phases, assessing wide spread applicability and best modality for accessibility.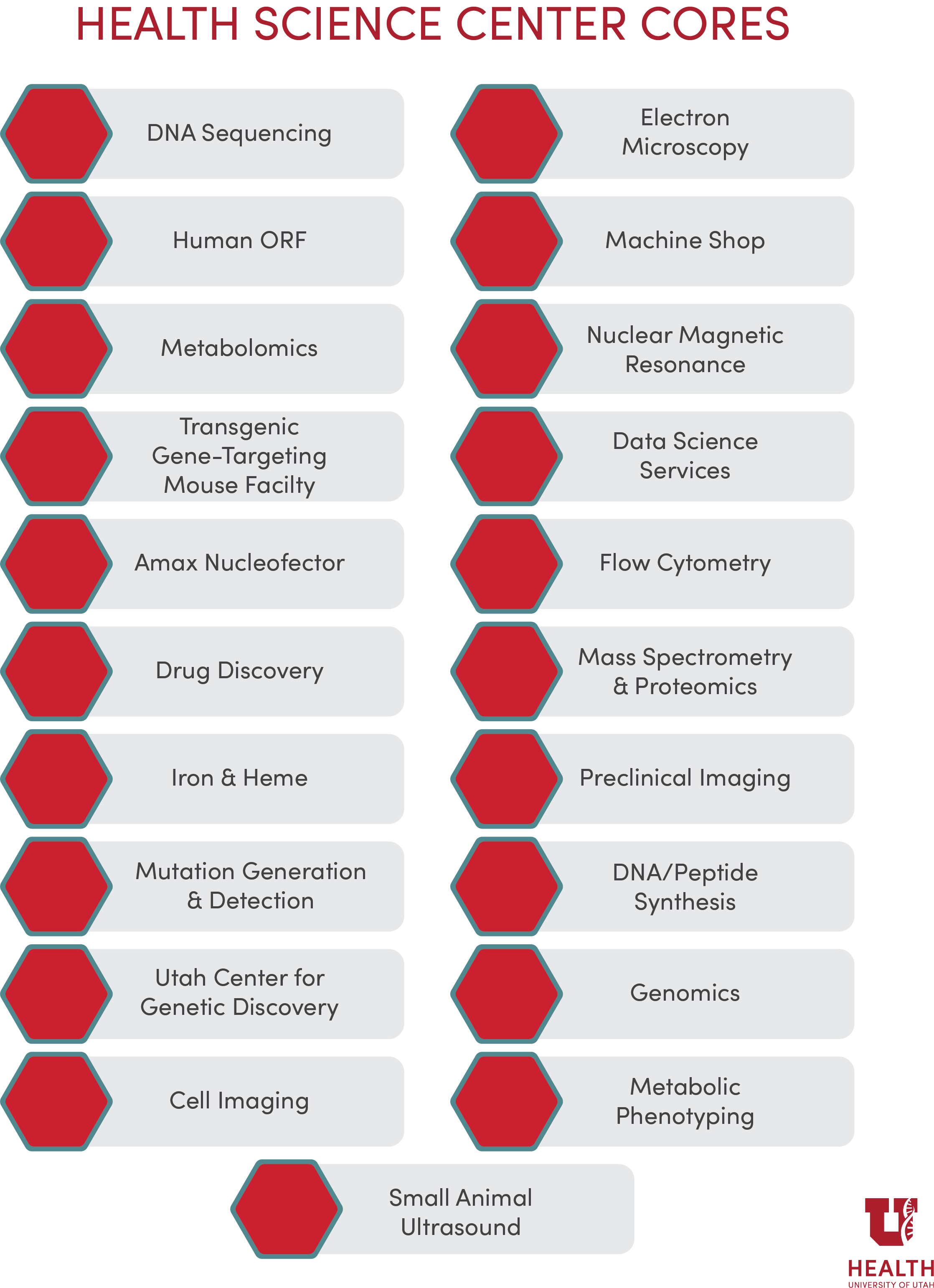 Clinical & Translational Sciences Institute
The Clinical and Translational Science Institute (CTSI) serves as an academic home for clinical and translational research, developing innovative health services and training a new generation of investigators. Four foundations of discovery compose the institute: Cores and Services, Education and Training, Clinical Research Support Office, and Administration, and these foundations provide support for T0 to T5 research.
Utah CTSI has produced leading investigators with several NIH grants awarded for their various "bench-to- bedside" areas of research and partners with other flagship institutions to contribute published works and clinical success.
Drs. Rachel Hess and Jennifer Majersik co-direct the CTSI Administrative Core. Dr. Majersik was appointed upon Dr. Will Dere's retirement from the position, as well from his post as the Associate Vice President for Research. Drs. Hess and Dere—and subsequently Dr. Majersik—have been actively engaged in CTSA network activities, attend the CTSA PI annual meetings, and monthly calls. Dr. Hess serves on the CTSA Steering Committee. They work closely with each key partner institution: University of Utah; Comagine; Intermountain Healthcare; Utah Department of Health; and Veterans Affairs Salt Lake City Health Care System.
Drs. Hess and Majersik maintain active communication with our governance body that includes representatives from all areas of clinical and translational research. This contains the Internal Advisory Committee, Steering Committee, and External Advisory Board. All EAB members are nationally recognized experts in translational science.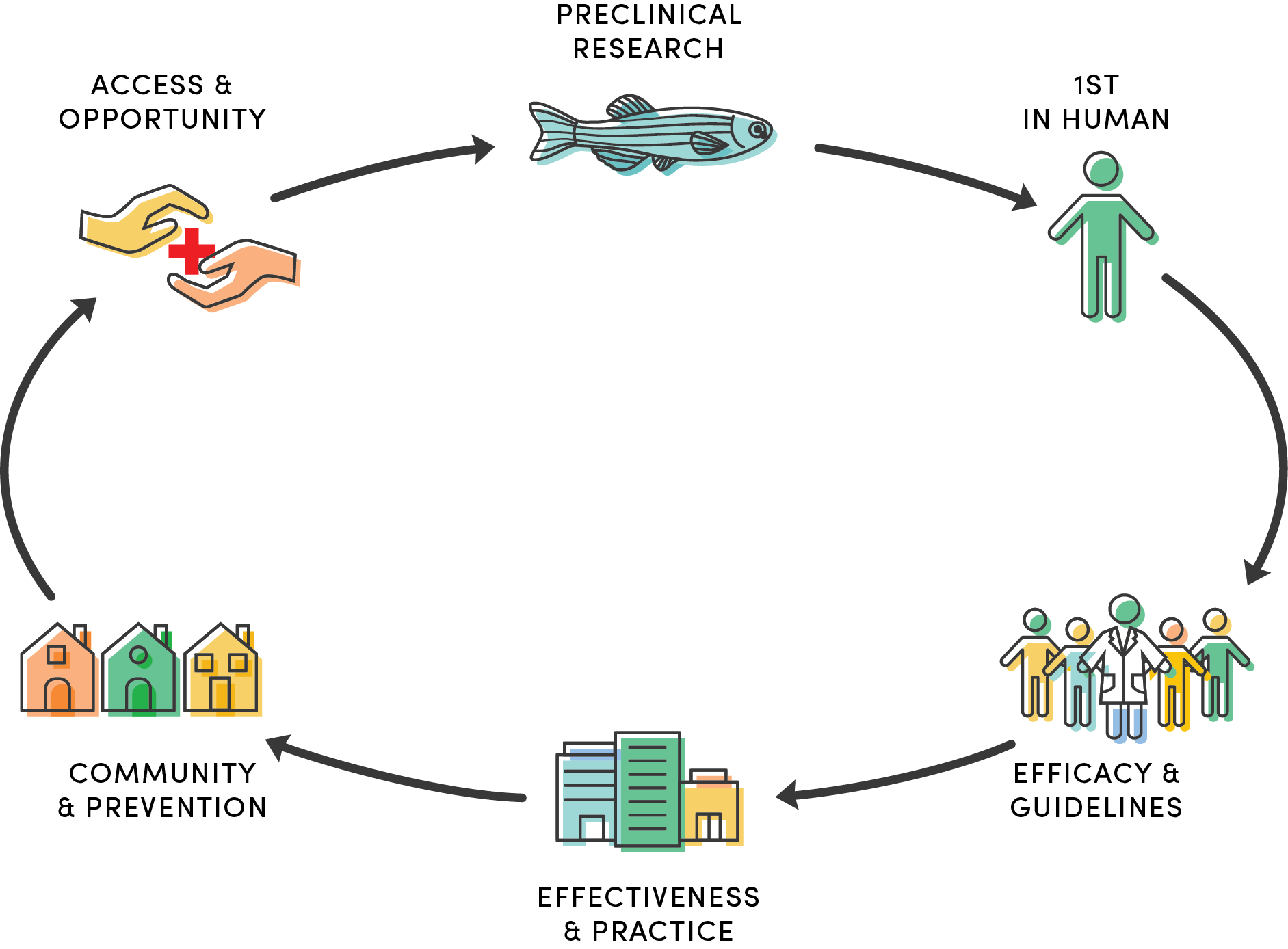 We have continued our successful CTSI governance by participating in CTSA partnerships; Consortium of Rural States (CORES, formerly Western Consortium) CTSA activities; NCATS and CTSA national work, steering committees, Enterprise Groups, Un-Meetings, and working groups, ensuring diverse partner participation in these activities.
We continue to contribute to the National CTSA network by serving on the following:
CTSA Steering Committee (Dr. Hess)
Informatics Enterprise Committee
Collaboration/Engagement Enterprise Committee
Integration Across the Lifespan Enterprise Committee
Administrators Group
TL1 PI Group
KL2 PI Group
Trial Innovation Network Patients, Providers, Public work group
Collaborations with the National CTSA efforts including:
Partnership on the Recruitment Innovation Center (RIC)
Providing a single-center Trial Innovation Center (TIC)
Collaboration with the National Center for Data to Health (CD2H)
Collaboration with the National COVID Cohort Collaborative (N3C)
Collaboration with Accrual to Clinical Trials (ACT)
Consortium of Rural States (CORES)
Drs. Hess and Majersik, along with CTSI Administrative Director Susan Krantz and Grants and Contracts Manager Jennifer Zitterkoph participate in the monthly CORES PI and Administrator conference calls.
We funded one (of the 3 total) collaborative study in 2021 through the CORES Inter-Institutional Pilot Project Award Program.
The annual CTSA CORES meeting, normally held in November/December each year was postponed until Spring 2022.
CTSI Leadership meetings are held monthly to discuss strategy and strengthen collaborations. We have added Comagine, U Health Regional Network, and Community Faces of Utah to the Leadership meetings.
 
Marketing goals, tactics, and metrics. Over the past year, we created and launched a multipoint Marketing & Communication Strategy that outlines the following key goals for continual improvements:
Improve recognition of CTSI and its components through shared visual resources. Streamline and enhance website to strengthen navigation and impactful content
Promote consistent use of CTSI branding & communications by CTSI staff & faculty
Create onboarding/introductory material to introduce and familiarize stakeholders with CTSI and its offerings
Demonstrate the impact of CTSI through novel content
Disseminate CTSI content across communication mediums
Track marketing and communications outcomes to inform refinements and new directions
To date, we have completed the following activities in support of the Marketing & Communication Strategy:
Created "word mark" (i.e., logo) to represent/attribute CTSI on presentations, flyers, website, posters, etc.
Created custom CTSI images that can be used for the banner images of websites, newsletters, flyers, opening presentation slides (e.g., PowerPoint), and opening/ closing of videos.
Finished initial construction of new CTSI website. We continue to work streamline and supplement the existing webpages, improve navigation, and create new features. We are harnessing Google Analytics to understand the user experiences and optimize content accordingly.
Created a newsletter template, to be launched January 2022. The newsletter will feature:

"Researcher Spotlights" – highlighting the research supported by the CTSI resources
"Behind the CTSI" interviews – highlighting the staff behind the CTSI cores and services, and promoting the functions of the cores and services
Events, Funding Opportunities, and other timely announcements

Continued a series of brief videos describing "How the CTSI helped me help you." These are available on our YouTube channel.
Increased our presence on Twitter and Instagram, which has resulted in an increase in participation in events such as K-Club.
Drs. Hess, Majersik, Dere, and other CTSI Staff have been presenting an overview of the CTSI along with available resources and services at a variety of faculty and staff meetings across the university.
CTSI Navigators:
Ashley Kapron, Strategic Operations & Navigation Specialist, is working with staff across the CTSI units to streamline marketing and communications, processes for intake and navigation, and create plans for updating the service request system, ProTrackS.
Emily Campbell, Clinical Trials Navigator, our point of contact for all researchers to help find funding opportunities and collaborations as well as providing support during the grant submission process.
Breanne Johnson, Grants Manager manages the Utah CTSI Pilot Program process, including Intra- and Inter- institutional opportunities and the Community-Initiated Pilot Grant opportunity, encouraging community and researcher collaboration. The funding opportunity announcements are also used to market available Utah CTSI resources.
Naomi Flake, Community Engagement Navigator, is active in consultations as well as organizing and conducting community engagement studios.
Practice Engagement and Translation (PET). This team includes Dr. David Wetter who has been appointed as the Associate Director of Community Practice Engagement and Kara Kikuchi, the CTSI Community Health Care Practice Liaison. These outreach efforts provide the opportunity to engage with individuals embedded in community practices and public health entities that serve underserved patients. To that end, PET has partnered with 13 CHC systems in Utah, the state of Utah's federally designated primary care association (Association for Utah Community Health [AUCH]), and the Utah Department of Health (UDOH). In Utah, the 13 Community Health Care systems include ~50 primary care clinics who serve low socioeconomic status (66% below the Federal Poverty Level; 49% uninsured), diverse (49% Latino; 9% Native American), and rural/frontier populations (~50% of clinics in rural/frontier counties). Through this initiative, the CTSI is participating as one of the RADx-UP sites with our SCALE-UP project.
Dr. Hess currently serves as the Associate Vice President for Research for Health Sciences at the University of Utah. In this position, Dr. Hess is responsible for oversight of research activities within the Health Sciences, and the development and realization of a research strategic plan.
This provides increased opportunities to ensure that all health sciences and campus researchers are aware of available CTSI resources.
The Continuous Improvement, Tracking, and Evaluation (CITE) team continues to serve as a national leader in defining and evaluating the value of existing and new metrics for strategic planning. Locally, they monitor and assess the progress of each CTSI component and provide regular feedback to the CTSI leadership in order to identify areas of success and areas for improvement. Metrics are shared with all partners and advisory board members, and used in conjunction with all of their feedback to continuously improve the CTSI and make it more efficient and effective. Successes this year include the roll-out of the accrual metric. The CITE team is leading our transition from the Common Metrics to an enhancement of our ongoing continuous quality improvement program. For example, they provide metrics and evaluation for our successful Utah Accrual to Clinical Trial committee, which has brought together all stakeholders in the clinical trials process, including IRB and Office of Sponsored Projects, to reduce the start-up time for clinical trials to a goal of 100 days.
In July 2021, we were designated by the Utah Board of Regents as formal Institute, and became the Utah Clinical and Translational Science Institute (CTSI). This multi-step process required step-wise approval by the College (School of Medicine College Council and School of Medicine Executive Committee), Graduate Council, Academic Senate Executive Committee, full Academic Senate, Board of Trustees, and finally the Board of Regents.
By creating the CTSI, we broaden the reach and scope of its current mission to encompass translational research from our partner Utah System of Higher Education (USHE) institutions. The formal Institute status highlights the cross- disciplinary leadership role the CTSI fills for clinical and translational research across the University of Utah and its partners.
Dr. Erin Rothwell (Associate Vice President for Research) was appointed to the position of CTSI Director of the Research Knowledge Core and she continues to enhance the CTSI access to the following necessary Institutional resources:
Institutional Review Board
Compliance Office
Vice President for Research's Office
Technology, Venture and Commercialization Office
Conflict of Interest
Responsible Conduct of Research
Biosafety
Research Ethics Education
In conjunction with the Vice President for Research's office and the Department of Philosophy, we have hired Dr. Joyce Havstad who is redesigning research ethics education for the institution, leading our research ethics consult team, and ensuring that we continue to infuse ethics throughout our entire CTSI. Since July 2021, Dr. Havstad has provided 10 clear, concise, and topical 1-page conversation guides available to support formal and informal discussions about research ethics and integrity. She also provides Responsible Conduct of Research (RCR) trainings to science graduate students across the university, about research integrity and other ethical issues involved in scientific research. Topics included: research misconduct; conflict of interest; human subjects research; animal subjects research; collaboration & interdisciplinarity; authorship, peer review, and publication; mentoring & being mentored; the relationship between science & society; and the replication crisis.
Since January 2021, Dr. Havstad has conducted 20+ Research Ethics Consults on: codes of conduct for interdisciplinary research groups; enrollment and compensation standards for research participation; ethical acquisition and control of biospecimens; incidental disclosure of mental health and other crises in the course of research; maintenance of specimen anonymity despite publicity of results; medical mistrust and complications of targeting research to historically marginalized populations; potential allegations of research misconduct; recruiting without harm or offense for research on sensitive topics; workplace discrimination, harassment, and resulting authorship or data-access disputes; and more. In addition to offering on-demand aid at the case-based level, when appropriate, the Consult Service has developed institutional-level responses to ethical or climate-based issues uncovered via consult.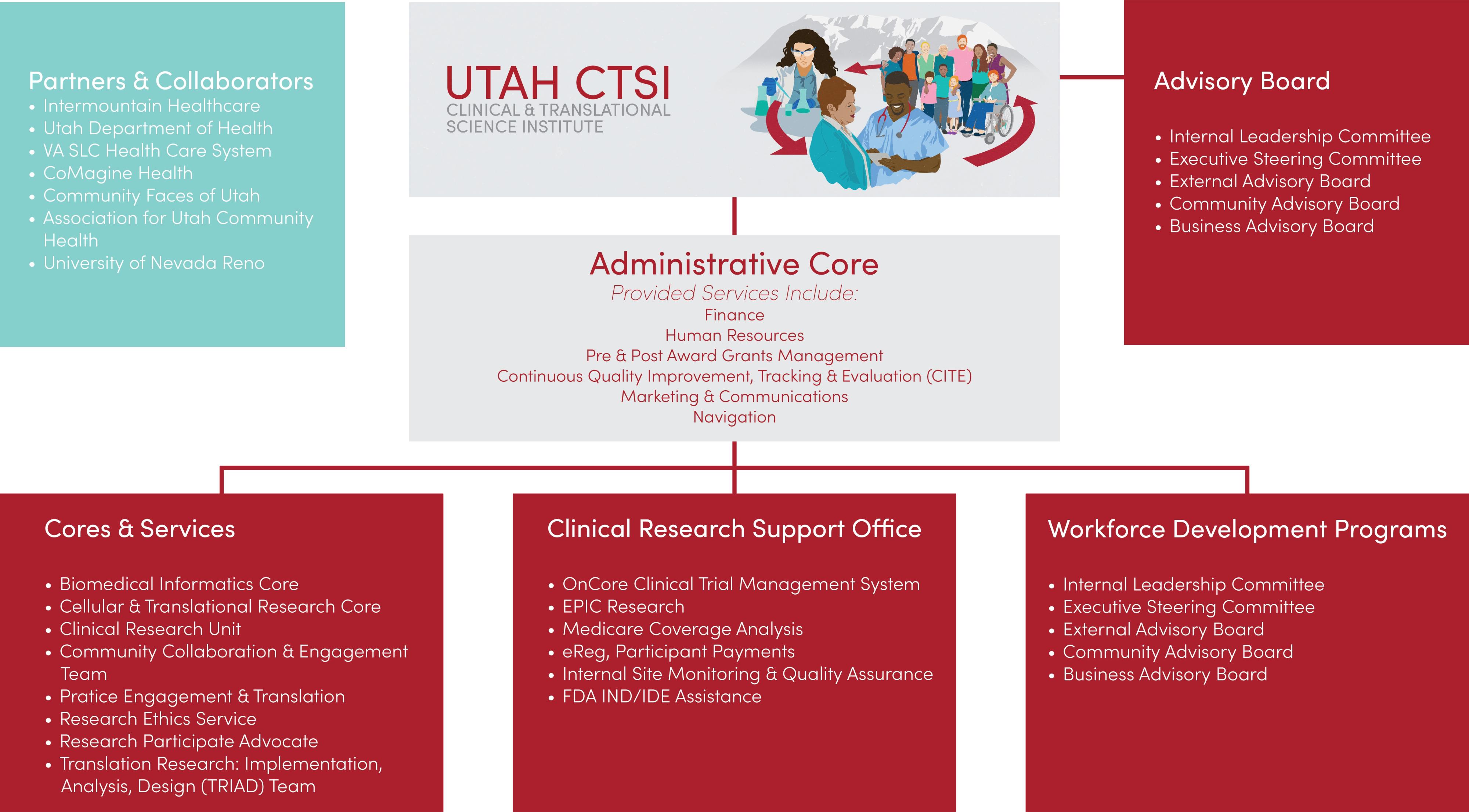 Rocky Mountain Center for Occupational and Environmental Health
The Rocky Mountain Center for Occupational and Environmental Health (RMCOEH) is an innovative and growing Education and Research Center (ERC) that fulfills a critical mission: protecting workers and their environment through interdisciplinary and diverse education, research, and service. It is one of 18 National Institute for Occupational Safety and Health (NIOSH)-sponsored ERCs in the U.S., with training programs in ergonomics, industrial hygiene, occupational medicine, occupational injury prevention, and safety, and occupational health nursing, as well as a continuing education program. As of fall 2022, the center's research portfolio includes 44-plus extramural awards with more than $30 million in total funding. Its prominent research areas include COVID-19 vaccine efficacy, influenza vaccine efficacy, transportation safety, musculoskeletal
disorders, occupational epidemiology, containment devices for infectious aerosols, biomechanics and wearable technology including exoskeletons.
RMCOEH programs' curricula are designed to especially meet the tremendous need for OEHS professionals in Region 8 (UT, CO, WY, MT, ND, SD), where there is only one other ERC (Mountain & Plains) (see Figures 1-2 below). According to Bureau of Labor Statistics data, Region 8 has industrial activities, such as mining, that warrant a higher ratio of OEHS professionals to the total population than elsewhere due to elevated rates of occupational morbidity and mortality.
Region 8 has the highest risk of any HHS region for fatal occupational injuries. The Region 8 fatality rate was 4.4 per 100,000 full-time equivalent workers in 2020 vs. 3.4 for the U.S. overall, or 30% greater (Figure to the right). Non-fatal injury rates are also elevated in Region 8 in a number of sectors, such as agriculture, goods production, mining, construction, and manufacturing. Multiple HHS Region 8 states are also among the highest for silicosis (CO, MT, ID, UT) and coal workers pneumoconiosis (UT, WY) [3]. The rate of fatalities, injuries and diseases puts into stark terms the vital importance of RMCOEH's OEHS training, which has significant impacts throughout the region.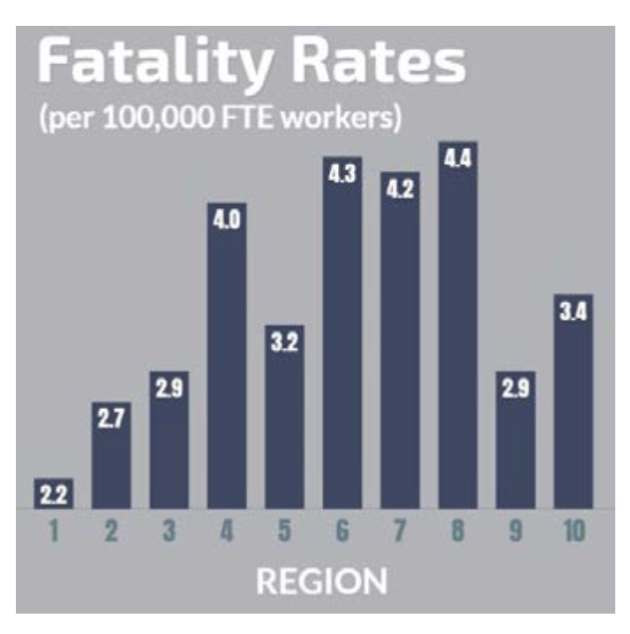 Programs, Faculty Achievements in Administration: Dr. Kurt Hegmann has been the RMCOEH Center Director since 2003 and has provided capable leadership, including overseeing dramatic, seven-fold expansion over these 19 years. Dr. Matthew Hughes has served a prior stint as Deputy Director and also has decades of private sector senior medical officer experiences. Dr. Matthew Thiese is serving in the new role of Chief Operating Officer, which is necessitated by the ongoing expansion of RMCOEH into a multi-university partnership, and has been a key member of the leadership team for several years. Drs. Hegmann, Hughes, and Thiese, and Heidi Slack (Assoc. Dir.) comprise RMCOEH's Core Team. The center also has eight Program Directors (see table below), who bring a tremendous depth of experience and expertise to their roles.
Along with the Center Director, Deputy Director, COO, and Assoc. Director, the Program Directors constitute the Center Executive Committee (CEC), which meets monthly or more frequently as needed. Ad hoc CEC members are Sr Academic Advisor Kat McColl, IT Systems Administrator Ian Boss, Sr Technical Writer Bubba (Matthew) Brown, and Multimedia Content Specialist Charles Schuknecht.
Our extensive history of obtaining support for RMCOEH, includes research grants (current extramural portfolio $30.8M from 44+ projects), Utah State legislative support ($8M total, now adding $2.5M/year in ongoing funding as of 2022), and private-sector donations (approx. $500K/year). Our success is evidenced by factors such as: the number of RMCOEH graduates and their workplace impacts, the extensive organizations we assist through CE and other avenues, our Graduate Survey results, and the volume of high-impact research publications we produce (~80 pubs/yr, including three in New Engl J Med in 2021-22, and four in MMWR.)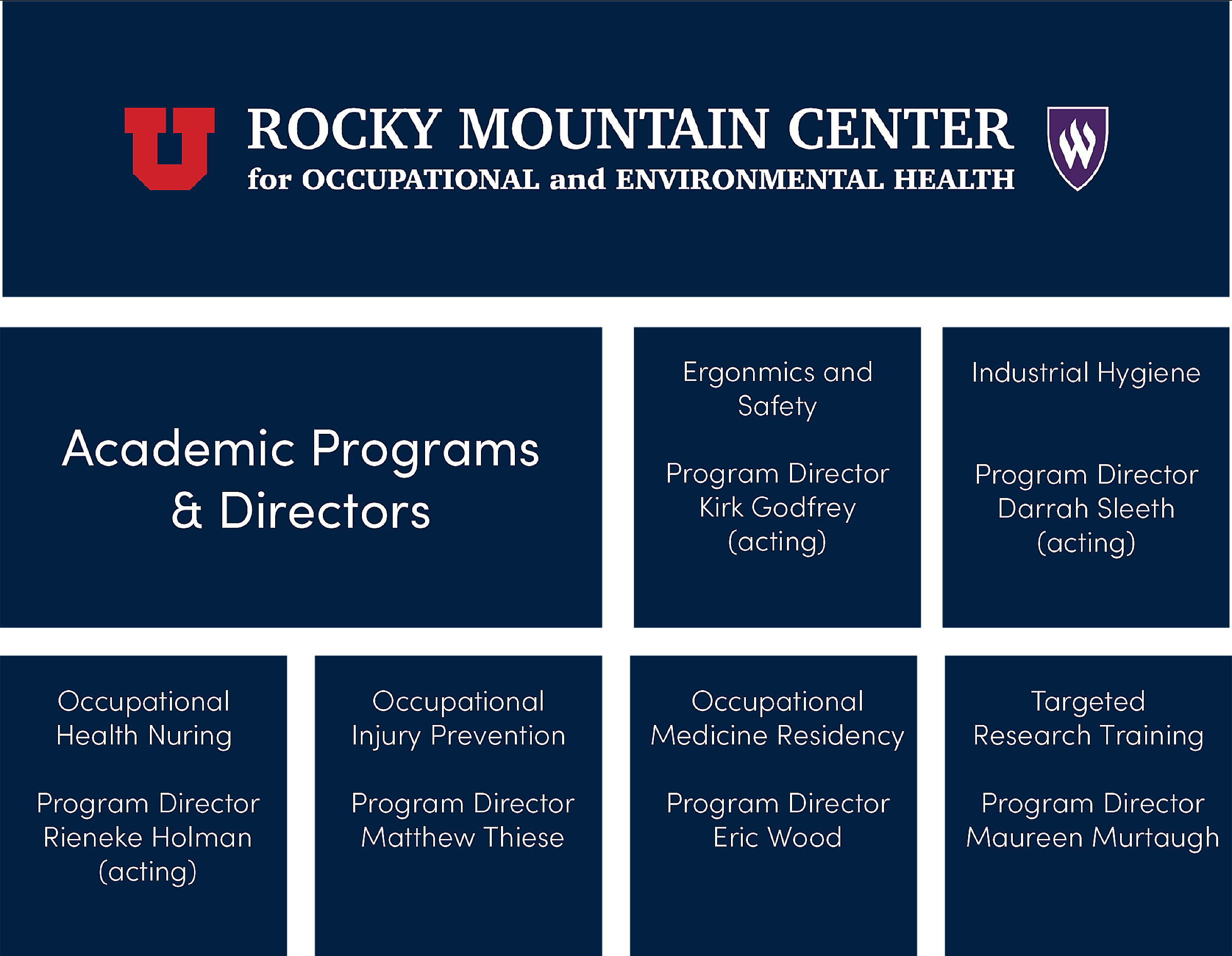 The University of Utah Molecular Medicine (U2M2) Program unites PhD- and physician-scientists from clinical Departments and Colleges to catalyze interdisciplinary wet lab-based science with clinical impact. We are unique in bringing together scientifically diverse viewpoints from across the Health Sciences campus to maximize innovation in early translational (T0/T1) research. We achieve our goals by:
Providing a rich intellectual environment and highly effective research infrastructure support;
Recruiting and retaining outstanding investigators in partnership with Departments and Colleges;
Training the next generation of biomedical researchers.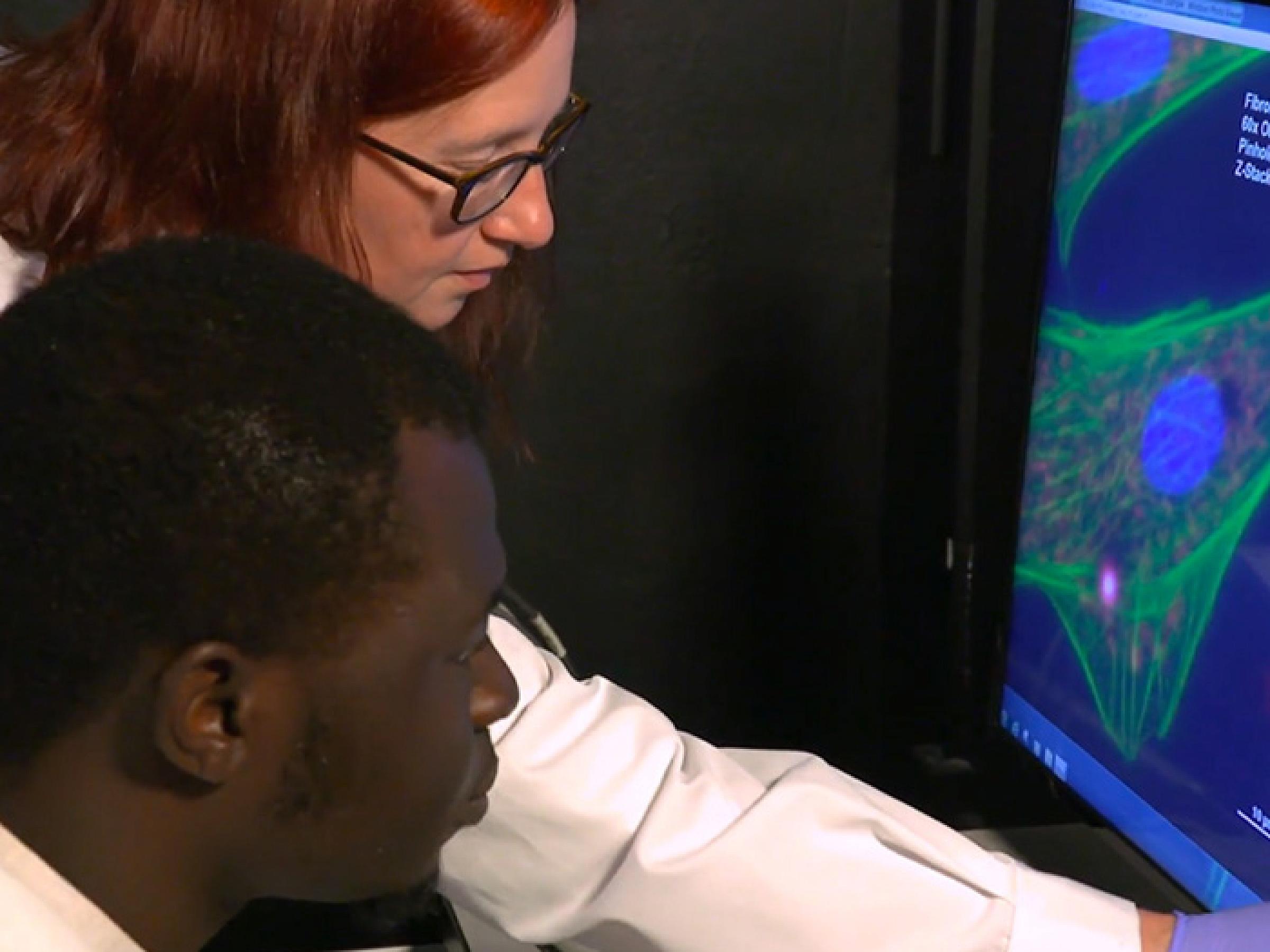 U2M2 Investigators are our greatest strength. To that end, we are continuously and actively recruiting from external institutions, and seeking to retain exceptional scientists considering moves elsewhere. Because all U2M2 Investigators must have a primary appointment in a Department,
all recruitment and retention efforts are in partnership with a Department. Recruitment efforts are initiated both by Departments and U2M2.

U2M2 participated in nine recruitments/retentions in FY22, four of which were successful. In many cases, U2M2 is a core part of the appeal for faculty considering Utah. Successful recruitments In FY22 included Ade Aromolaran, PhD (URS), who was recruited in partnership with the Department of Surgery and CVRTI, and Jim Hotaling, MD, a faculty member in Urology, who joined U2M2 as an Investigator as part of a new U2M2 initiative to support Surgeon-Scientists. Two early-stage investigators received K awards and were appointed as U2M2 Investigators, Joe Palatinus, MD, PhD (Cardiovascular Medicine/CVRTI) and Collin Merrill, PhD (Psychiatry). U2M2 continues to support two other early career faculty, Rajeshwary Ghosh, PhD and Candace Reno, PhD.

U2M2 is especially interested in recruiting and retaining exceptional scientists from diverse backgrounds, perspectives and experiences, and participated in 3 recruitment efforts in FY22 of candidates from groups historically under-represented in science. Additional equity efforts
include ensuring faculty salaries are at or above AAMC benchmarks and aligning postdoctoral fellow salaries with current year NIH stipend recommendations. In FY22 U2M2 supported an underrepresented student in the IM-PREP program, and we will continue to provide support to this and other programs that support underrepresented trainees. U2M2 Investigators have also successfully competed for R01 Diversity Supplements to support trainees from underrepresented groups, with at least one Supplement application planned for FY23.
Three faculty candidates are already under consideration for FY23 – and likely more to come -including one identified by Orthopedics, and two identified by U2M2 Investigators as candidates to build on and extend existing strengths at the U of U.
Since FY15, U2M2 has recruited or retained
15 new Investigators in partnership with Clinical Departments and Colleges. These Investigators generated ~$51.7M in extramural grant funding.(Transfers $16.4M, New Awards $31.8M, Retention $3.5M)
The U2M2-REACH (Research Excellence Across U of U Health) Mentoring program was launched in FY22 to provide mentorship to non-U2M2 faculty in obtaining a second R01 grant or equivalent. Two scholars, Joel Trinity and Sarah Franklin, were selected for the inaugural year and are being mentored by three U2M2 Investigators, Matt Rondina, Micah Drummond and Adrian Rothenfluh. We plan to mentor an additional 2-3 scholars in FY23. This activity aligns with our overall strategy by promoting cross- disciplinary research excellence across the institution.
In FY22 U2M2 collaborated with 3i to award pilot grants to multi-disciplinary teams encompassing U2M2 and 3i investigators. One award funded Albert Park, MD (Pediatric Otolaryngology) and Anna Beaudin, PhD (U2M2, Hematology), and the other funded Con Yost, MD (U2M2, Neonatology) and Matt Mulvey, PhD (Pathology). U2M2 provided 50% of the awards. Drs. Park and Beaudin have submitted a multi-PI R01 with preliminary data generated by the award, and additional submissions are expected in the coming years from ongoing projects.
The U2M2 leadership and administrative team continues to prioritize Wellness in FY23. In response to pandemic challenges, and to maintain the strength and cohesion of our team – the "golden thread" of successful teams, to quote Chief Wellness Officer Amy Locke – Tammy Willis initially instituted daily remote meetings to check in with all team members. These meetings now occur twice per week, and continue to include
informal check-ins. Administrative Assistant Arahka Sallmon has spearheaded a weekly yoga session, which has been approved by the WellU program. A team meeting with the Resiliency Center is also scheduled in March 2022 to determine how we may best leverage their resources in maintaining our team's strength.
U2M2 has been successful as evidenced by continued growth in key metrics. Extramural grant funding by U2M2 Investigators has increased from FY16-21 by 80% and now stands at ~$16M in expenditures attributed to Molecular Medicine and ~$19M in funding including Molecular Medicine
Investigators working and collaborating outside of our department. The past fiscal year increase is ~2%, despite challenges posed by the pandemic.
U2M2 created new guidelines in FY22 outlining expectations and metrics for our Investigators that align with Institutional priorities and strategic goals. We are continuing to update these expectations to maintain alignment and communicate changes to Investigators and Departments and Colleges.