The central goal of our research efforts is to improve human health by advancing knowledge and transforming clinical practice. The research strategy is part of the larger health sciences strategy. Our research efforts are amplified by our strong collaborative culture and through synergy with our other core missions—clinical care, education, and community human health.
As a part of our overall research strategy, we have identified 10 specific goals with corresponding implementation tactics. You can review an overview of the research strategy (including goals and tactics) or learn detailed information in the action plans.
Health Sciences Research Strategy Overview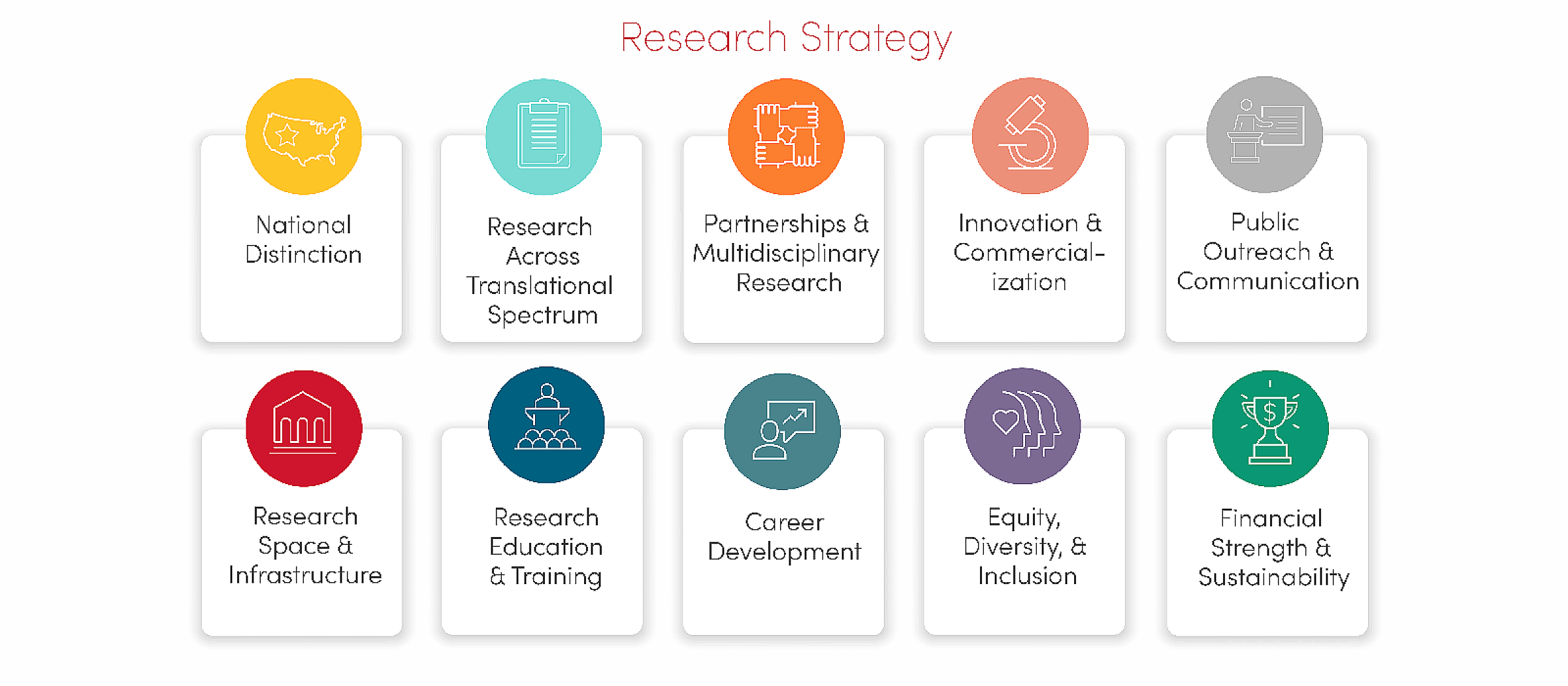 Outcomes We Seek to Accomplish
Our transformative science improves human health and distinguishes the university through research funding, national recognition, and national rankings.

Well-planned, state-of-the-art research spaces and instrumentation place our researchers on the cutting-edge of discovery and innovation.

Diverse faculty, graduate trainees, and student body advance their careers through exceptional training, mentorship, and opportunities for career advancement.

A culture of collaboration knits our health sciences research community together and fosters innovative team science that accelerates breakthrough discoveries.

Financial structures and conscientious stewardship of research funds incentivize activities that align with our research mission, values, and goals.
This five-year plan was developed over the course of 18 months, by the Health Sciences Research Council, in coordination with 12 subcommittees comprised of more than 80 members of the health sciences research community, including faculty, graduate trainees, and students.

In 2022, we will be completing two directed steps from 2021. We anticipate the two directed steps from 2021 to be completed by the first half of 2022. These steps are:
Conduct analysis of health sciences research mission investment.
Work with IHC to increase researcher access and links between the Utah Population Database and the HerediGene Population Study.
As with all research, we view this strategy as living, iterative, and occurring in phases. We identified three overarching goals with corresponding implementation tactics that we felt could be accomplished within a year. Each year we identify new implementation tactics.
We strive to set a strong and steady course for the research mission, while remaining dynamic enough to continually evaluate and, as appropriate, rebalance our research efforts to optimize institutional growth and leverage emerging areas of importance.
Research Strategy Action Plans