Discussions with David Skorton About the State of Academic Medicine
As part of his recent visit with faculty and students at the Spencer Fox Eccles School of Medicine at the University of Utah, Association of American Medical Colleges (AAMC) President and CEO David J. Skorton, MD, recorded a podcast with Michael Good, MD, CEO of U of U Health. They discuss the impact of academic medical centers on local communities. Listen here.
Last month, AAMC President and CEO David J. Skorton, MD, attended a series of roundtables with University of Utah medical students and faculty. The discussions centered around four questions:
What's bothering you?
What's causing you stress?
What's working?
What could work better?
These roundtables were held in conjunction with the AAMC's semi-annual Council of Faculty and Academic Society (CFAS) meeting. Salt Lake City had the honor of hosting the spring meeting this year.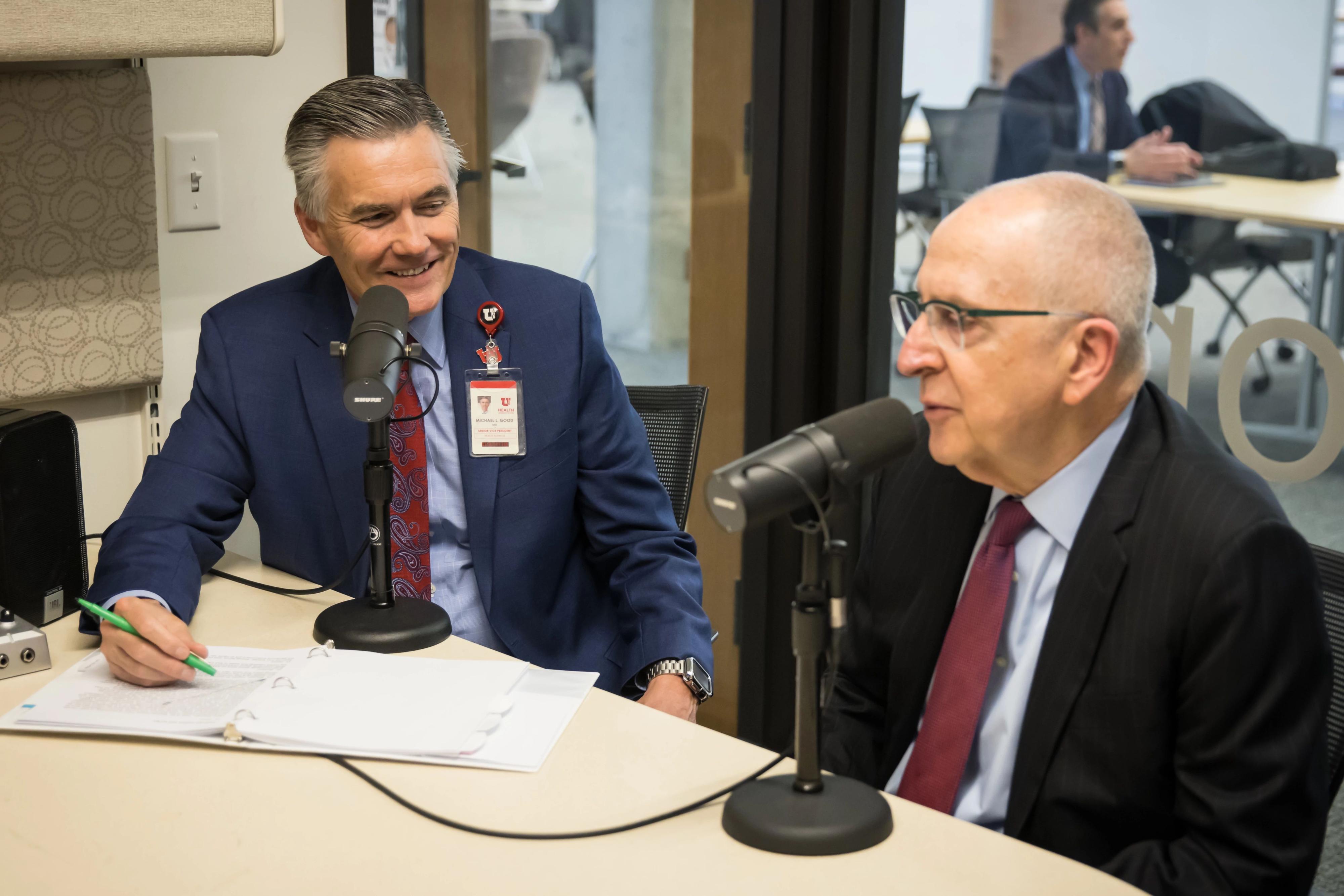 Physician Shortage Is Recognized
As the faculty roundtable began, Skorton acknowledged the challenges medical educators face and the intense political climate we work in. As the ice broke, concerns about the ongoing physician shortage took center stage.
Faculty wondered, "What can we and the AAMC do to help shepherd students into fields that aren't the highest paid but have the highest need?"
This wasn't a new question for Skorton. He understood what was being asked, citing an AAMC report on the physician shortage, which is projected to reach 124,000 by 2034.
The importance of Advanced Practice Nurses and Physician Assistants came up, giving us a chance to boast our highly ranked PA Program. Growing the numbers of these graduates will help soften physician workloads.
Primary Care Pathways Are a Partial Solution
Skorton asked what our medical school is doing to help foster students into fields such as primary care.
We highlighted innovative programs like PROMIS2U, Population Health Scholars, TRUE, and our university's strong relationships with native tribes. Each program is geared toward encouraging students to pursue primary care disciplines.
Our Dean of Student Affairs, Adam Stevenson, MD, mentioned Utah's unique restricted license program for unmatched medical students, which can help unmatched med school graduates to secure residencies.
What Med Students Worry About
At the student roundtable, concerns became more personal. Student debt, residency, and diversity were top of mind.
Skorton acknowledged the stress and uncertainty leading to Match Day. But he assured students that residencies are in good supply. He also noted that as the number of medical students continues to rise, so will the number of residencies.
Looking toward the future, Skorton also mentioned that AAMC is talking to the U.S. Congress about how to fund more residencies to take some of the financial responsibility off teaching hospitals.
Additionally, Skorton asked the students what they would think of capping the number of residencies to which students can apply. Interestingly, the answers were divided. Some think application caps would help more students match. Others believe a cap would be unfair.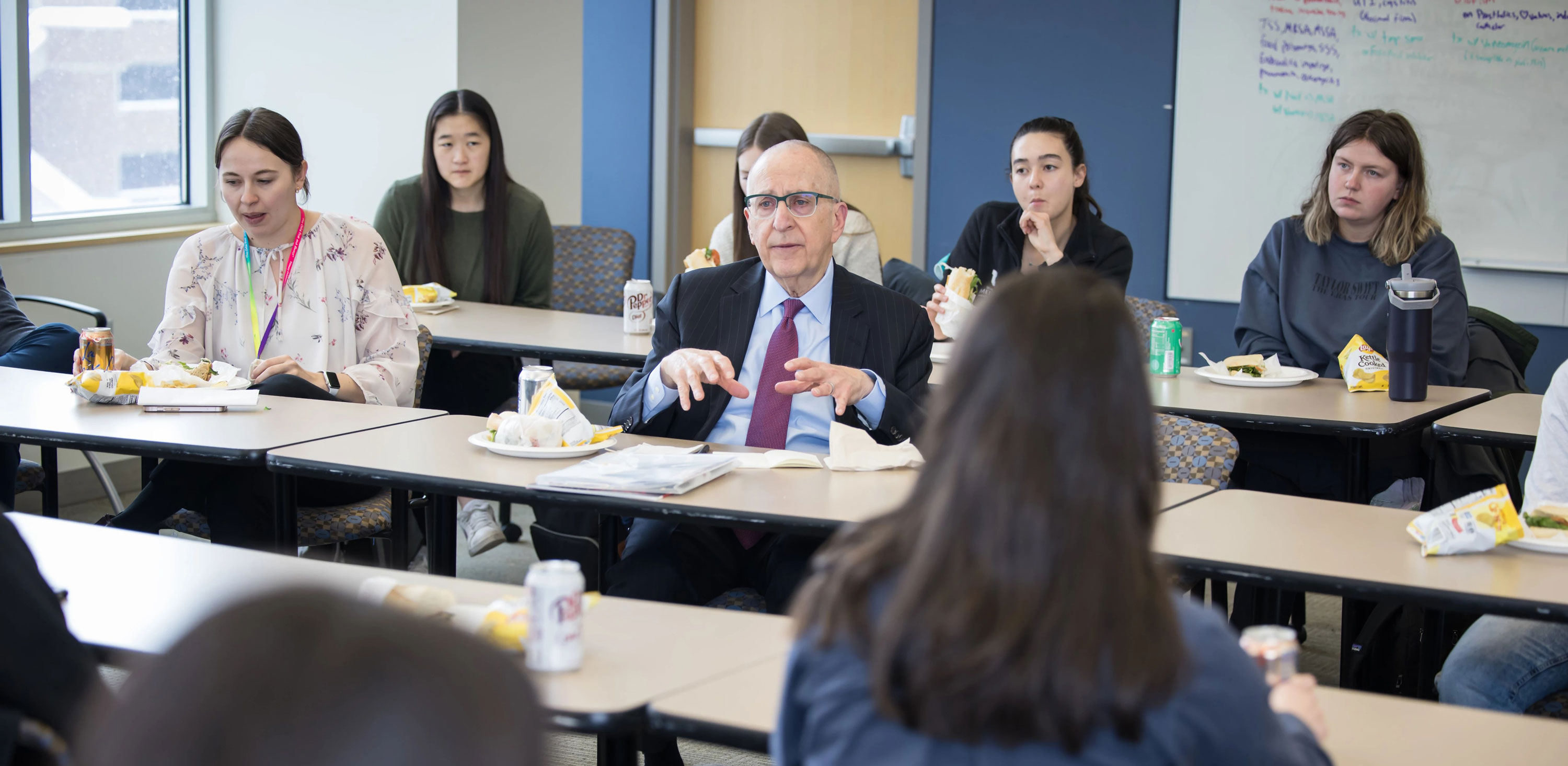 Skorton noted that nothing like an application cap would be rolled out soon. Still, he said that getting a gauge of what students think is important.
To the question of student debt, Skorton gave good advice. He urged all students to learn financial literacy. He shared a resource page provided by the AAMC to help students make smart financial decisions concerning student debt. And he reminded them that nothing great ever comes without a cost.
"At the end of this," he said, "the cost will be worth it." He urged students to focus on their future careers and opportunities.
Students also asked about two cases under consideration at the Supreme Court. Both concern race-conscious admissions.
Responding to both cases, he said the AAMC had filed an amicus brief underscoring the importance of diversity in medical education. He also expressed how important diverse student bodies are, stating that if we care for people from all walks of life, we must educate people from all walks of life.
Roundtables With Leaders Expand Voices of Academic Medicine
Academic medicine represents the best health care available nationally. It is also the future of health care, educating the minds and hands that will occupy tomorrow's clinics and operating rooms.
Hosting Skorton on our campus was a privilege for faculty and students. It allowed them to openly discuss worries, ask questions, share thoughts, and learn what is being done nationally. We sincerely hope the things shared here will help steer decisions made at a higher level so that they expand and improve medical education and, ultimately, the care provided to all patients.
Sara Lamb, MD
Sara Lamb is the Vice Dean of Education at the Spencer Fox Eccles School of Medicine at the University of Utah. Lamb oversees ongoing reform of the new medical school curriculum. She continues to care for patients as a hospitalist within the Division of Inpatient Pediatrics and a primary care internist in the Division of General Internal Medicine, while teaching medical students and residents in the classroom and at the bedside. Lamb received an MD at Michigan State University and completed a residency and internship in internal medicine/pediatrics at the University of Utah.
Wayne Samuelson, MD
Wayne Samuelson is the Dean of Medical Education at the Spencer Fox Eccles School of Medicine at the University of Utah. Samuelson joined the faculty of the Division of Respiratory, Critical Care, and Occupational Pulmonary Medicine in the Department of Internal Medicine in 1995. He is a professor of medicine with clinical interests in the management of asthma patients. Samuelson received an MD at the University of Utah and completed a residency in internal medicine and a fellowship in pulmonary disease at Duke University Medical Center.
DON'T MISS OUT. GOOD NOTES delivers to your inbox.