Fighting Ageism with Age-Friendly Care
Walk into the greeting card section of any department store and you'll find plenty of birthday cards taking jabs at grandma and grandpa for being old, cranky, frail, and always two steps from the grave. 
Though cards like these are meant to be funny, they still speak to the larger problem of how negatively our society views old age. 
Ageism—an "-ism" less confronted in the mainstream—has become so ingrained in our culture that it has permeated our health systems, too. Older adults are still often excluded from critical research trials. 
University of Utah Health is eradicating ageism within our health system by implementing what's known as "age-friendly" care. This takes into account the unique needs and goals of the patient. With better individualized care, we help patients live longer, healthier lives at home and reduce the time they spend in the hospital.
For our efforts in utilizing age-friendly practices thus far, U of U Health received national recognition by the Institute for Healthcare Improvement (IHI). We remain at the forefront of developing and using age-friendly outcome measures to be applied on a national scale. 
Defining Age-Friendly Care
Try as we may to fight it, we are all aging. About 46 million people over the age of 65 currently live in the United States. That number is expected to double over the next 40 years. Now more than ever, age-friendly care needs to be integrated within every facet of health care.
The Institute for Healthcare Improvement launched the Age-Friendly Health Systems initiative. It defines age-friendly as: following an essential set of evidence-based practices, causing no harm, and aligning with What Matters to the older adult and their family caregivers.
Four principles, known as the "4Ms," have been laid out by the initiative to implement age-friendly care:
What Matters Most: Know and align care with each older adult's specific health goals
Medication: Use age-friendly medication, if necessary, that does not detract from a patient's health goals
Mentation: Prevent, identify, treat, and manage dementia, depression, and delirium across all settings of care
Mobility: Help older adults move safely every day to maintain function and meet what matters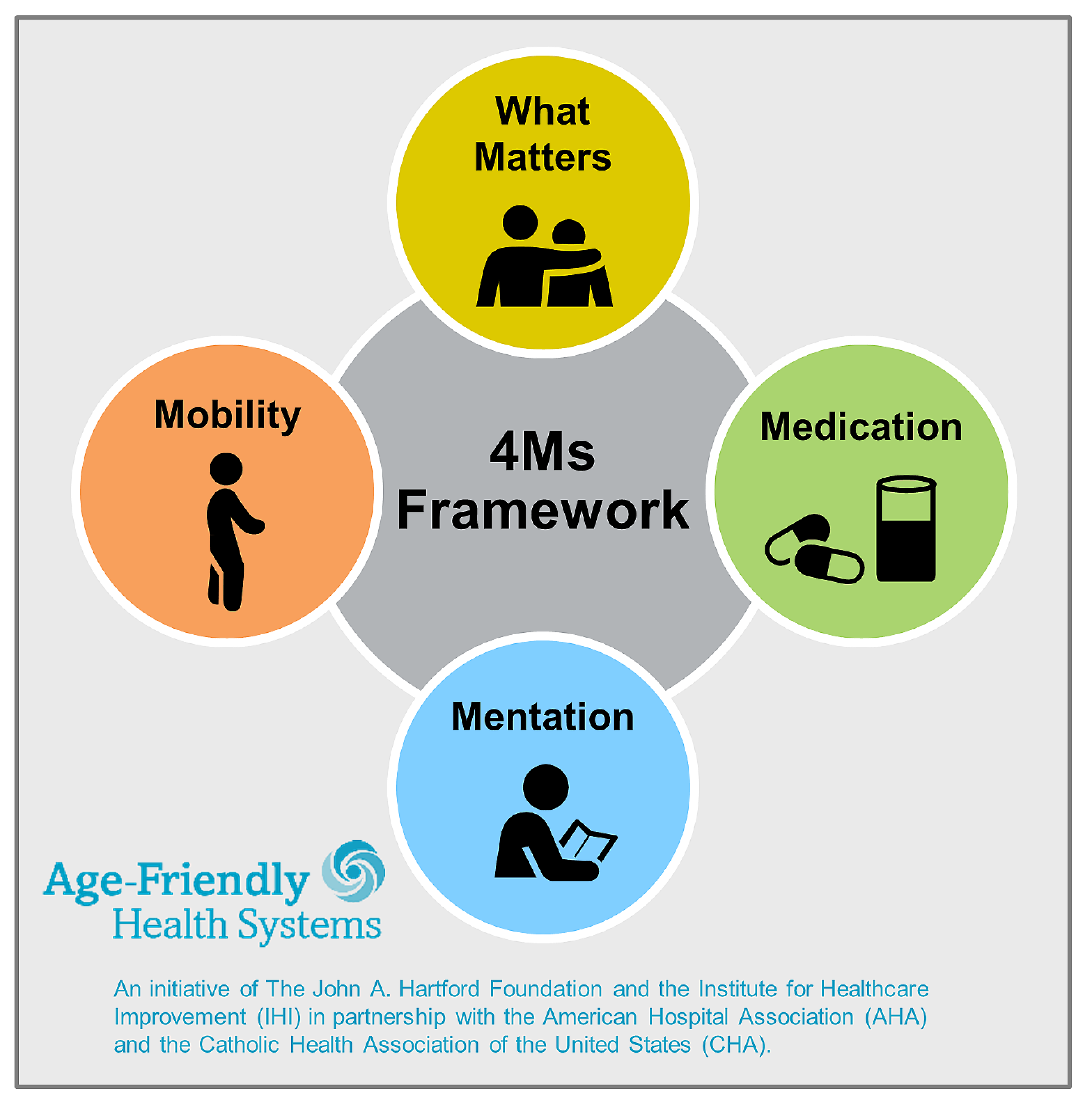 The 4Ms aim to reduce burdensome and unwanted care by focusing on the health goals and care preferences of older adults. It's not just about the relationship between the patient and clinician. It's everything that happens before, during, and after the clinical encounter.
These considerate practices may seem obvious, but they are too often left out in favor of a quicker, one-size-fits-all approach. Using the 4Ms, U of U Health is turning that attitude on its head.
Leading the Charge
U of U Health is a milestone participant in the Age-Friendly Health Systems movement. We've long had conversations with national age-friendly leaders about the uneven availability of geriatric care across the United States. This imbalance motivated IHI to introduce the 4Ms framework.
We received IHI's Age-Friendly "Participant" status for having two age-friendly practices. The first is the inpatient Hospital Elder Life Program, which has dramatically reduced the incidence of delirium in older patients. The second is the Medical Annual Wellness Visit outpatient program.
We've since met IHI's benchmarks for the number of patients receiving age-friendly care in these settings. We were awarded "Committed to Care Excellence" status in November 2021. This is IHI's highest level of age-friendly recognition.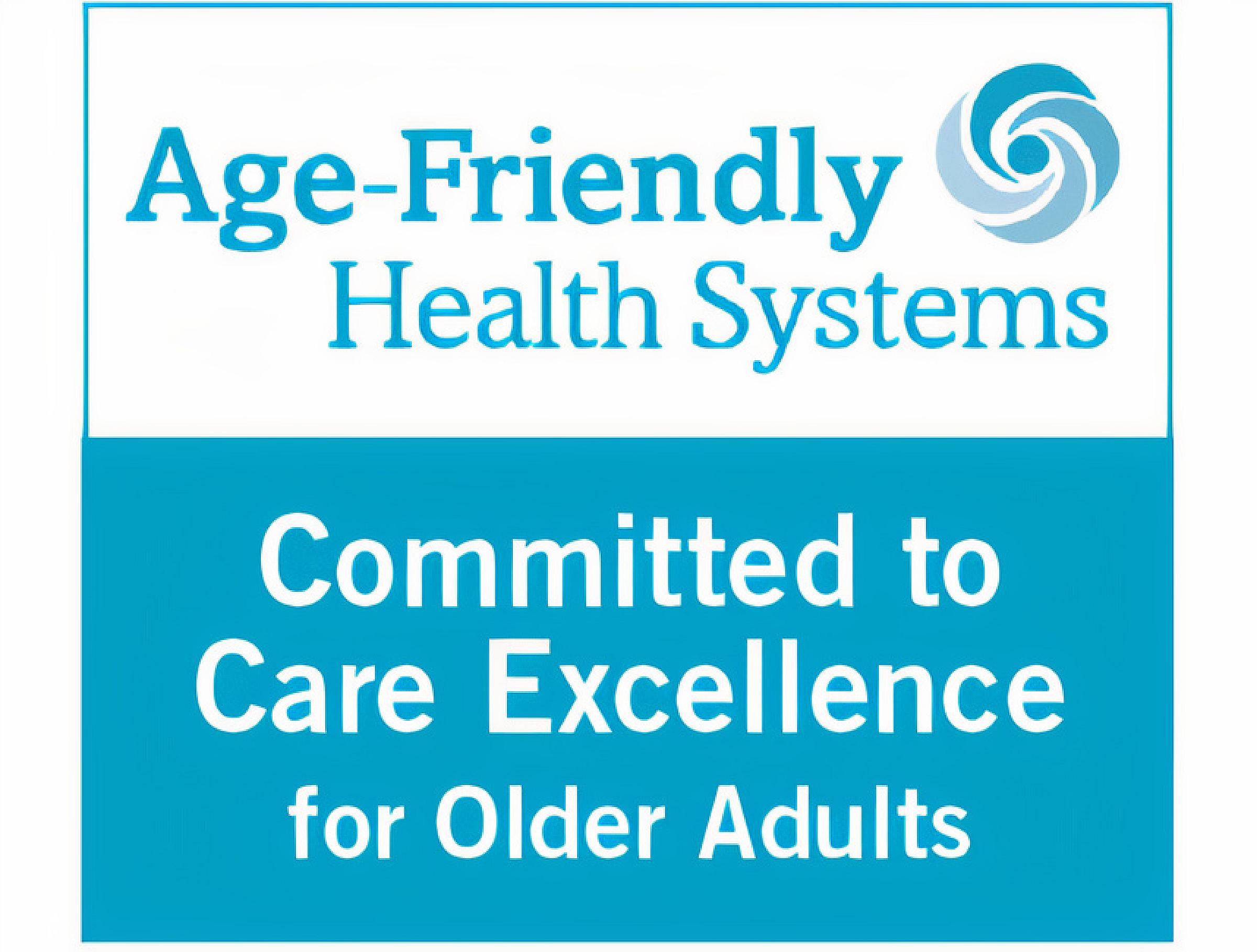 Age-friendly care is also a 2022 Directed Step for equity, diversity, and inclusion at University of Utah Health, reflecting the health system's commitment to combat ageism. 
To bolster this commitment, U of U Health hosted the Age-Friendly Communities Symposium in September 2022. This event brought together individuals from around the country to identify opportunities to foster the independence, productivity, and well-being of older adults. Our leadership in these areas was also highlighted here.
The university will soon have an opportunity to design an entire medical facility with age-friendly ideals built into its day-to-day functions from the outset. The new U West Valley full-service hospital and multi-specialty clinic in West Valley City, slated for completion within the next five years, will set itself apart from traditional hospitals in the way doctors and staff build relationships with their patients.
The Future of Age-Friendly Care
Although the Division of Geriatrics serves as an exemplar for age-friendly care, this approach can and should be applied to older adults across all settings of care. The 4Ms care model is appropriate for younger patients as well.
But for transformation to an Age-Friendly Health System to endure, the health care workforce must be trained in 4Ms care. Geriatrics education is uneven across U.S. medical schools, and few residency programs have geriatrics-specific accreditation requirements.
Our work is cut out for us, but we are already heading in the right direction thanks to the dedication to age-friendly care here at U of U Health. And we intend to be leaders in this movement for many years to come.
Timothy Farrell, MD, AGSF
Timothy Farrell is a professor of medicine (Clinical) and Division of Geriatrics Associate Chief for Age-Friendly Care at the Spencer Fox Eccles School of Medicine at the University of Utah. Farrell is also a Physician Investigator at the VA Salt Lake City Geriatric Research, Education, and Clinical Center and serves as a co-investigator on the University of Utah Geriatric Workforce Enhancement Program initiative funded by HRSA. He led University of Utah Health's successful application to the Institute for Healthcare Improvement for Age-Friendly Health System Committed to Care Excellence status and continues to advance age-friendly initiatives locally, regionally, and nationally. Farrell received an MD from the University of Massachusetts Medical School, followed by family medicine residency and geriatric medicine fellowship training at Brown University. 
DON'T MISS OUT. GOOD NOTES delivers to your inbox.