Equitably Distributing COVID-19 Vaccine
Several weeks before mid-December 2020, when the COVID-19 vaccine was approved and delivered to us, our highest priority was getting it injected into as many arms as fast as possible. For University of Utah Health, that meant not only administering it rapidly to our patients and providers but also administering it equitably throughout the community we serve.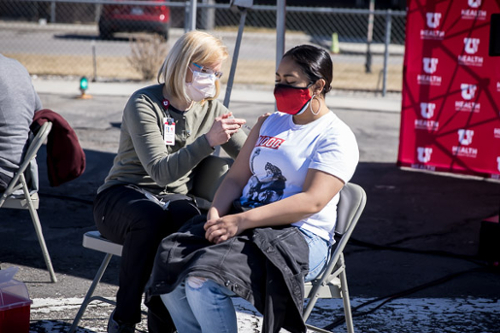 We knew we needed the data infrastructure to measure our vaccine distribution by patients' race, ethnicity, gender, age, and other demographic measures such as ZIP code and proximity to our clinics. We also needed data to indicate the channel by which our patients could best be contacted for scheduling vaccinations—by phone, text, word of mouth, via social media, or through MyChart. Even within these different channels of notification, there are disparities. Our records indicate, for example, that MyChart adoption for U of U Health patients is much higher among Caucasian and more affluent populations.
MyChart adoption rates are lower in some of our more marginalized, vulnerable populations. By design, we set up traditional outreach efforts for our vulnerable populations, including texting and picking up the phone and calling. We made sure that we oversampled more difficult-to-reach populations so that they had more digital touches, MyChart alerts, texts, and phone calls augmented by the Care Navigation Center.
By design, we had equity in mind, from outreach to scheduling to where the vaccine was being distributed. A decision was made very early on to make sure that a good chunk of the vaccine was distributed at U of U Health's Redwood Health Center. The Redwood clinic serves some of our most marginalized communities. We're now shifting from vaccine scarcity to vaccine abundance, so the strategy is shifting as well to distribute more vaccine within the community at more clinic locations. Those community locations now include Greenwood Health Center in Midvale, Westridge Health Center in West Valley, and the South Main Clinic in Salt Lake City.
More Work To Do
By no means is the vaccine team at U of U Health slowing down. Our outreach must continue—especially to underserved populations. As of June 2, the Centers for Disease Control and Prevention (CDC) reported that 32.5 percent of the Utah population has been fully vaccinated for COVID-19. Across the United States, 41 percent of people have been fully vaccinated.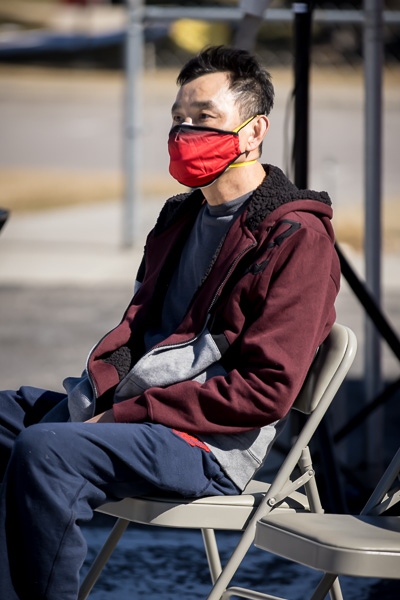 Along with correcting a disparity in opportunities for vaccination, hesitancy to be vaccinated is a factor we would like to reduce. Early on, U of U Health developed a formal plan to have our primary care providers take that lead. And they have. Our primary care, internal medicine, pediatrics, family medicine, and community physician groups continue to encourage our patients to get vaccinated. Those patients that have a lot of touches with our health system—that see their primary care doctor regularly—are very open to the conversation with their doctor and care team.
I'm a primary care provider, and I've had those conversations. Often, patients have a simple question or multiple sources of conflicting information that have made them hesitant to be vaccinated. By getting information from a trusted source—one's personal primary care provider—these patients are reassured with knowledge to help answer their questions.
While physicians and the care team are a great source of information about the COVID-19 vaccine, I think that community leaders such as pastors, ministers, teachers, and other educators can have an even bigger influence. Leaders who live and work within the community have far more daily interactions with our patients than we do—and far greater influence on the decision to get vaccinated or not. I have also been impressed by the role family and friends have on helping loved ones get vaccinated. Some just need a ride or a babysitter to find the time to get vaccinated. Others need the gentle encouragement of a loved one. We all have the ability to help each other get vaccinated.
Lessons Learned
The equitable COVID vaccine distribution effort was our first case in using a data-driven approach to addressing disparities of care. As an institution, it was the first time we used a standard definition for our demographic data. Now we're using that same standard methodology and approach to address other health conditions where there are disparities. It is part of our strategic plan for the next year to identify at least two disease states and quality measures that we can view through this equity lens. Today, we have a deeper understanding of our community through data. That understanding combined with the personal commitment and passion of our staff and providers will make a difference.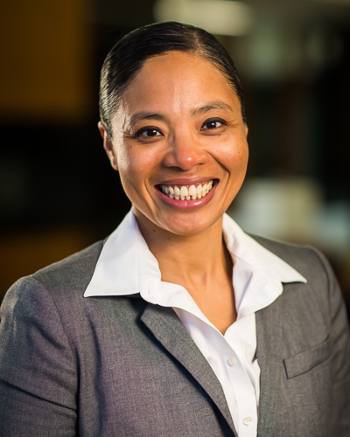 Maia Hightower, MD, MPH, MBA
Maia Hightower is Chief Medical Information Officer (CMIO) and Senior Director for Health Equity, Diversity, & Inclusion at University of Utah Health. As CMIO, she leads efforts to leverage investment in information technology infrastructure, including leading electronic medical record (EMR) optimization. Prior to joining University of Utah Health, Hightower served as CMIO and Interim Chief Population Health Officer for The University of Iowa Health Care and Associate Medical Director for Stanford Health Care's University Healthcare Alliance. She received an MD and a Master's of Public Health from the University of Rochester and an MBA from The Wharton School at University of Pennsylvania.
DON'T MISS OUT. GOOD NOTES delivers to your inbox.