Celebrating Our Scientific Accomplishments
Like most researchers, my love for science comes from a desire to understand the unknown, tell others what we've learned, and hear about their discoveries. My lab investigates the human immunodeficiency virus (HIV), and we are driven to learn what the microscopic virus looks like and what makes it tick. Twenty-five years of exploration have led to new insights that we never anticipated. This knowledge is advancing our understanding of HIV/AIDS, and informing the development of a new class of drugs to treat the disease.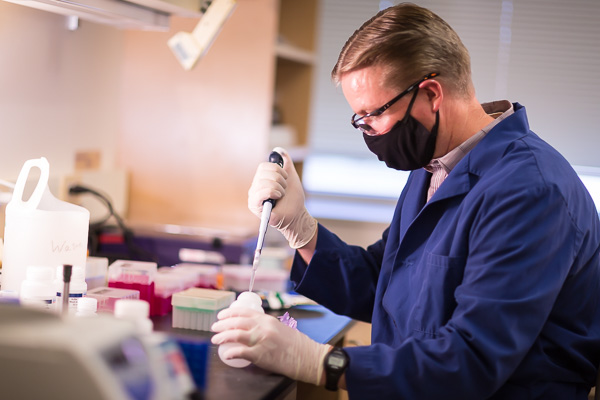 Laboratory basic science is fueled by curiosity. It is the birthplace of new ideas that contribute to a fundamental understanding of how nature works. Some of the world's best innovations stem from basic science—a superb example are the highly effective mRNA COVID-19 vaccines. They are certainly widely celebrated, but the 25 years of basic research that enabled them is much less well known.
Top 52 Discoveries  
University of Utah Health has a strong and deep bench of innovative basic scientists who are conducting impactful cutting-edge research. They consistently publish in the highest-ranked journals, are chosen as members of national societies, and earn highly competitive grants and awards. Most importantly, they change the way we understand biology and, ultimately, practice medicine. We want to make sure our community knows about and celebrates our collective scientific accomplishments. Therefore, we have recently launched a new program designed to help this happen.
Together, the chairs of the 13 basic science departments at U of U Health selected and summarized the top 52 discoveries from the past five years. They are available for view in a digital collection called Discovery and Innovation at University of Utah Health. The collection celebrates how we are carrying on a tradition of field-changing discoveries and high-impact innovation.
Here, you can learn about advanced gene editing technologies that are paving the way toward cures for serious illnesses like sickle cell disease, how bacteria in our gut help keep us healthy, and how microorganisms that live in marine animals have become a source for novel therapeutics. The discoveries are being highlighted in a companion publicity campaign, called Pioneering the Future.
In an exciting new development, the digital collection is also about to expand to include research advances from our distinguished clinical departments, in a companion collection that will soon be added to the archive. Moving forward, all departments will be able to nominate new, scientifically significant stories on an annual basis for inclusion in the collection.

Collection to Inspire 
The Discovery and Innovation Digital Collection is open to everyone. We initially launched the project for our colleagues. Physicians involved in delivering clinical care may be pleasantly surprised to learn about basic advances being made right here that influence their specialties, medical educators will find great new stories to share with their trainees, and all of us will learn something new and feel a sense of pride in our collective accomplishments.
We also envision that this archive will be useful to help philanthropists and legislators understand that, when they invest in research, significant advances are sure to follow. The collection makes it clear that we have excellent scientific tools and great minds who can, with proper investment, make discoveries that benefit our entire health system.
The collection should also be a valuable way for students to learn about the exciting work that is happening right here on our campus. It can also serve as a handy navigation tool for journalists and writers delving into current research and scientific discoveries. Finally, we anticipate that the collection will inspire us all.
The past five years have been an exciting time for the basic sciences and the University of Utah health sciences community. This digital document, the Discovery and Innovation Digital Collection, is a "living archive" of the major discoveries, innovations, advances, and contributions made here each year. We are eager to see what lies ahead.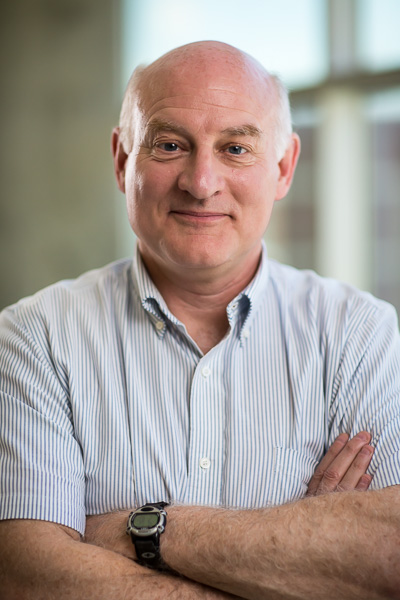 Wes Sundquist, PhD
Wes Sundquist is Samuels Professor and Chair of the Department of Biochemistry at the University of Utah. He is also a member of the Cell Response and Regulation Program at Huntsman Cancer Institute. The Sundquist Lab studies the cellular, molecular, and structural biology of retroviruses, particularly HIV, and the roles of the ESCRT pathway in cell division and the abscission checkpoint. Sundquist received a bachelor's degree from Carleton College, Minnesota, and a PhD from the Massachusetts Institute of Technology. His honors and awards include election to the American Academy of Arts and Sciences and the National Academy of Sciences.
DON'T MISS OUT. GOOD NOTES delivers to your inbox.