COVID-19 Weekly Update, February 2, 2021
Click here for Spanish translation recording.
Transcript of Dr. Good's COVID-19 Weekly Update, February 2, 2021
Hello, I'm Michael Good CEO of University of Utah Health. And today we present the COVID-19 update for February 2, 2021. And some of the positive trends that we saw last week at the national, state, and local level have continued during the past week. So new cases of coronavirus infection in the United States continue to fall at a very steady rate. The blue line is a seven-day rolling average. Our deaths in this country from coronavirus, from COVID-19 have leveled off. Remember, we do expect lags between changes in case numbers, changes in hospitalizations and then changes in deaths from COVID often four to six weeks after we've seen changes in the new case count. Similarly in the state of Utah, we've now got a pretty sustained decline in the number of new coronavirus cases each day dropping down into the hundreds here. Just under 600 yesterday. We do see the holiday phenomena with both dips and rebounds, but again the overall pattern clearly is headed down.
And similarly after a stabilization of deaths from coronavirus, hopefully the beginning of a downward trend. Certainly when we look at the reports from the Utah department of health, already seeing this downward trend in the state data as compared to what's aggregated at the national level. So declining cases and a suggestion that the death rate is also declining. We similarly see the number of active infections declining. So this is the number of Utahns with an active coronavirus infection. And actually that's been declining for several weeks, but an even faster rate of decline over the past week. And so over the past week, we go from about one in 65 Utahns to now one in 85. We also at the national level, after this long period of increasing infections, there is flattening of this curve occurring as well. So good trends, fewer people with a coronavirus infection than the prior week.
And that means that our reproductive number, how many individuals, this is the inset with the blowup of the graph if you will. That means each person with coronavirus infection spreads it to less than one other person. And so our reproductive number remains below one, and that means we continue to see a declining cases. As long as the reproductive number is below one, we'll see declining cases and that's achieved through all of the public health measures we've been talking about, sustaining those and then also increasing numbers of vaccinations and increasing numbers of individuals who've recovered from coronavirus infections. It appears that those who recover from infections do have immunity for certainly a period of several months. And in some cases reported out for many, many months approaching potentially a year. So many factors coming together, but declining number of cases in our state and in our nation.
So here the bars are the number of new cases each day. Again, they relate over to the left axis. But we also then have seen a sustained decrease in the number of Utahns admitted to hospitals with COVID-19. The red line number of Utahns admitted to intensive care with the severe forms of COVID-19 and also a decline in the number of daily admissions to our Utah hospitals for individuals suffering from COVID-19. So decreasing cases is clearly showing up now as decreased hospitalizations. So far the death rates have leveled off, but hopefully will similarly begin to decline.
The same is true here at University of Utah Hospital. We're now seeing around five to six patients each day admitted to University of Utah Hospital with COVID-19. The blue line, the 14-day summation of admissions is declining. And on the right, the two panels showing our census with the gray line being the total number of COVID patients in our hospital, the lighter gray the number on the medical ward and the red line the number in the ICU.
So similar declining trends of COVID patients at University Hospital. Campus has resumed the spring semester, now a couple of weeks into it. Remember last semester we saw about 20 to 30 individuals each day being identified as having coronavirus and our seven-day running average and actually yesterday's total as well, both at eight. So also a lower level of coronavirus infection seen on the University of Utah campus so far into the new semester. Last week we reviewed the expanded testing program available on our campus. As last semester, anyone with symptoms or identified through contact tracing should and can get an immediate coronavirus test to find out if they have coronavirus and need to be isolated. But this semester we expand our testing of students living in our dormitories, our residential students are being tested weekly. We're offering weekly testing to any student who is on campus attending in-person instruction during the semester.
And in fact, we're able to offer all students, faculty, and staff whether they're symptomatic or not if they feel they should be tested. We can get them tested. And so on our various campus websites you can see how to register for a test on campus. And we are getting a rapid turnover in most cases, same day. We haven't had to yet but this increased testing allows us to better monitor the campus. And should we have a flare-up in any area we'll be able to quickly test the individuals in those areas and take other interventions that might be needed. But so far a very low level of coronavirus being seen on the University of Utah campus. The vaccination program continues at University of Utah Health. We're just about done vaccinating our healthcare personnel. Most have received their first dose and are in the process of receiving their second.
The state of Utah continues to do an excellent job rolling out the vaccine, particularly during the past week. The state overall went from just over 200,000 individuals receiving their first dose, and one week later, almost 256,000 individuals now receiving their first dose. And the state is working with the local county health departments and in conversations with the health providers throughout the state to both work to get more vaccine supply into our state and then just as quick as we get it, to get it administered to the citizens of Utah. So we'll continue to track that vaccine program and do our best to get vaccine out to as many individuals just as quickly as can be done.
I'd want to spend in today's update a few minutes talking about the variants. The coronavirus mutations that you've been reading a lot about and hearing a lot about in the news. I really want to thank Dr. Jeanmarie Mayer, who's our epidemiologist, our associate chief medical epidemiologist here at the University of Utah Health. She gave a briefing earlier today to our clinical teams and some of this material I thought you would find interesting. So of course we've all heard about coronavirus and its characteristic spike protein. The so-called spike protein that gives it a crown like appearance hence the name coronavirus. Our scientists are able to develop the molecular structure of that spike protein shown here. And a particular aspect of the spike protein is the receptor binding domain or RBD. This becomes an important part of the spike protein of the coronavirus because the vaccines that are now being administered develop neutralizing antibodies in our body. So we develop antibodies in response to the vaccine and those antibodies target that receptor binding domain.
So if we start to have mutations in the receptor binding domain, that's the very target that our vaccines are developing antibodies toward. And so as we begin to see when viruses replicate, they replicate tens of thousands, hundreds of thousands, millions of times. And as they replicate from time to time, there's an error in that replication, the so-called mutation. Many of those mutations stem render the mutated virus less strong than the original. May not even make it to a subsequent series of replications. But on occasion the random mutation may change the virus in a way that makes it better able to survive in humans. And so when we have virus rapidly replicating, viruses mutate, and these mutations are not unexpected. And what we have to watch out for is a mutation that makes the virus stronger, not weaker than the original.
So today we've heard predominantly about three variants, three variants of coronavirus that have been caused by mutations in that replication process. The first originated in the United Kingdom. Its scientific reference if you will, is B.1.1.7. It has a large number of mutations. And as you've heard, it appears that it spreads more easily. Different reports, not well-studied enough. Some say it's not more severe, others are concerned that it may be more severe. It has been around actually for a while since September of last year, but it is now the most prevalent strain in London and Southeast England. So far, as of the end of January, it's been identified in 32 states. And so far it appears that the vaccine is equally effective at preventing severe disease from B.1.1.7 as the original strains of the coronavirus. So that's the UK variant or B.1.1.7.
From South Africa we also have a strain that's emerged independently of the UK strain. It goes by the abbreviation B.1.351. It's actually been identified for a while dating back to October. It does share some of the same mutations with the UK variant, but it also has an important mutation at site 484, which is part of that receptor binding domain that I mentioned before. So in that previous picture, I showed you a slide of that receptor binding domain on the spike protein. And again, that's the target of the antibodies that our vaccine produces. So there are some early laboratory studies, not human studies but laboratory studies where the vaccine-produced antibodies appear to work, but do so in a much less effective way. I've seen different reports of five to six times reduction in the effectiveness. Still effective, still appear to blunt replication of South Africa variant, less though than the UK or the original strain.
We've seen the South African variant as of the end of January in 12 countries and three known cases, two in South Carolina and one in Maryland. This could change by the day again, this report from the end of January. And then finally, we've begun to hear about the mutation, the variant from Brazil. The code that's being used is P1. It emerged in and has been identified in travelers from Brazil. Similarly, its mutations include that site 484 and mutation may be significant enough to affect the ability of the antibodies that we generate with the vaccine or even the antibodies that are generated when someone recovers from a coronavirus infection. So this is a worrisome mutation of the three. It's the worst of these three variants that we've discussed today. It has been, as of the end of January, detected in Minnesota in a traveler from Brazil.
So certainly a variant that we're going to need to keep an eye on as the pandemic on the one hand winds down from the wonderful success we're seeing with the vaccination and those that are fully vaccinated. After your vaccination, your immunity really comes into strength about two to three weeks after that second dose of the Pfizer or the Moderna vaccine. Watching as the J&J vaccine makes it through its approval process. A single dose of vaccine still highly effective, but not as much as the 95 percent that we see with Moderna and Pfizer, but well into the sixties and seventies depending on the group. And again, a single shot and much less handling, doesn't require the deep freezing that those other two vaccines require. So, hopefully, that helps to understand some of the variants that we're hearing about in the news.
We'll certainly continue to track these as we need to understand which ones the vaccines will protect us against and which ones they won't. Here's a summary of the reported cases of each of those three variants, the United Kingdom, South Africa and Brazil. And the number of cases known in the United States and the number of states reporting that particular variant. The color coded map is all the emerging variants, the numbers of cases. And you can see that several of the states have a growing number—dozens of these cases present in their state.
So that's our update and an encouraging update from the cases and the hospitalization standpoint and encouraging update from leveling off and hopefully declining deaths from coronavirus. In the meantime, please continue all the things that we've been doing over the past year. We are at a point where we see this virus slowing down, its spread lowering and slowing in our community. Please continue to do these public health measures and we'll continue to keep you updated with our weekly updates. Have a great week.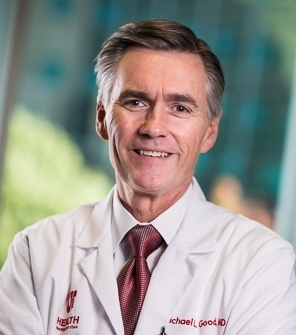 Michael Good, MD
Michael Good is CEO of University of Utah Health, Dean of the University of Utah School of Medicine, and A. Lorris Betz Senior Vice President for Health Sciences. A professor of anesthesiology, Good joined U of U Health after more than three decades of teaching, innovation, and leadership at the University of Florida, where he served as dean of the College of Medicine for 10 years.
DON'T MISS OUT. GOOD NOTES delivers to your inbox.