Supporting Utah's Startup Tech Culture
The growth of technology startup companies is booming in Utah. Inc. Magazine ranks Salt Lake City No. 2 in the nation among the 50 Best Cities for Starting a Business in 2020. The University of Utah has a long history of nurturing and supporting Utah's startup culture. Since 1970, more than 175 startup companies have been founded on technologies that were developed and commercialized at the U—including Myriad Genetics, Biofire, ARUP Laboratories, and Recursion Pharmaceuticals.
At the heart of the U's ongoing commitment to the state's vibrant startup tech industry is a budding relationship with the Silicon Slopes community. In 2018, University of Utah Health Plans and U of U Health became the exclusive health partner of Silicon Slopes. This two-way relationship serves mutual needs in health, business, technology development, and workforce acquisition. As part of the partnership, U of U Health is a title sponsor of the annual Silicon Slopes Tech Summit.
At this year's tech summit, more than 25,000 attendees tapped into all the University of Utah has to offer—academic programs, affordable health insurance, access to world-class health care, and collaboration on innovative technologies that improve quality of life.
It Takes A Village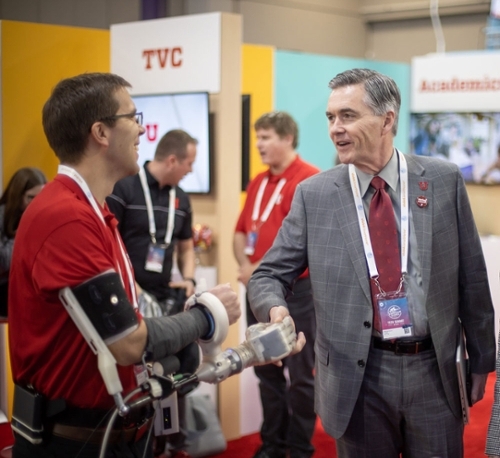 The University of Utah had a significant presence at this year's tech summit: engaging attendees with interactive displays on the exhibit floor, hosting the VIP lounge, and presenting breakout sessions with U of U Health experts.
The U Village floor display demonstrated our strengths as an integrated "One U" campus. U of U Health Plans partnered with HCA Healthcare to showcase the Da Vinci robot, allowing attendees to learn about robotic-assisted surgery while experiencing the technology first-hand. Representatives from psychology, engineering, computing, athletics, law, and business promoted their programs. Technology & Venture Commercialization and the Lassonde Entrepreneur Institute provided interactive demos of the prosthetic LUKE Arm. Lassonde students also demonstrated early prototypes for technology they plan to commercialize and spoke with venture capitalists in attendance about future plans for their company.
Partnering on Health and Wellness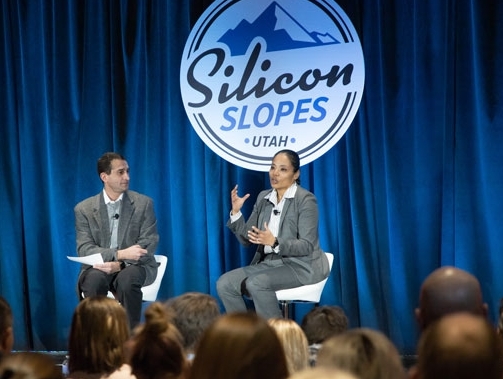 More key connections were made at the VIP Lounge. More than 2,200 executive leaders from Silicon Slopes networked with U of U Health leaders, discussing the value U of U Health Plans can bring to the Silicon Slopes community through affordable health insurance and access to our high-quality, nationally-ranked health care system.
VIPs also interacted with students and the VR games they developed at the U's Therapeutic Games and Apps Lab (GApp Lab) to improve patient care. Games coming out of the GApp Lab address a wide variety of issues from depression in elderly patients and phantom limb pain in amputees, to making optometry visits less scary for children. These student-led solutions encourage leaders from Silicon Slopes and the University of Utah to consider the ways they can collectively address the biggest challenges facing Utahns today.  
Collaboration was also a recurring theme in breakout sessions hosted by U of U Health experts. Topics ranged from navigating change in the digital transformation of health care; addressing addiction, suicide, and mental health; and how technology and biotechnology companies can work together to reduce drug prices.
A Promising Future
From all vantage points, our participation in the 2020 Silicon Slopes Tech Summit was a huge success. We demonstrated the university is a major contributor to the Utah workforce and the thriving technology startup culture in Utah. We showcased our nationally-recognized health care system, academic programs, and innovations. New relationships were formed and new ideas sparked. We look forward to seeing how our partnership with Silicon Slopes can improve life in Utah and beyond.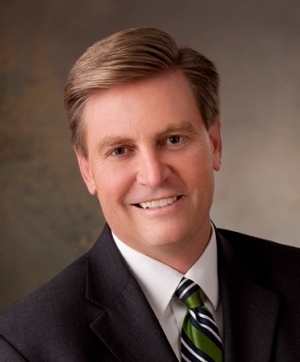 Chad Westover, MPA
Guest blogger Chad Westover is CEO of University of Utah Health Plans. Westover is responsible for the fiscal, operational, regulatory, and human resources objectives of the health plan. He is also the leading driver in enhancing quality, creating access, and improving affordability for health plan members.
DON'T MISS OUT. GOOD NOTES delivers to your inbox.