University of Utah Health is an anchor institution, advancing education and discovery while innovating care that is accountable for outcomes. Our community and our people make us who we are, and we are deeply invested in their health, wellness, and success.
In 2019, the faculty, staff, and students at U of U Health made significant strides in our efforts to improve human health through basic, translational, population and clinical research, and by training the next generation of health care professionals in numerous disciplines. Year after year, the people of U of U Health are having greater and greater impact on individual and community health and quality of life. The highlights in this year-end recap demonstrate just a few examples of how, together, we are building on our national distinction as a leader in shaping the future of health.
Strategy Refresh
In conjunction with a university-wide effort, U of U Health launched a strategy refresh initiative to create a vision for the next five years (2020-2025). We engaged hundreds of faculty, staff, students, and leaders; organized workgroups; and hosted retreats and town halls to identify priorities and gather systemwide input. In 2020, we will launch the refreshed strategic plan.
National Distinction in Clinical Care
For the tenth consecutive year, University of Utah was ranked among the nation's top 10 academic medical centers, receiving Vizient's prestigious Bernard A. Birnbaum, MD, Quality Leadership Award with an inpatient quality ranking of No. 4 nationally. And for the fifth consecutive year, U of U Health was ranked in the top five in the nation for ambulatory care, ranking No. 2 nationally.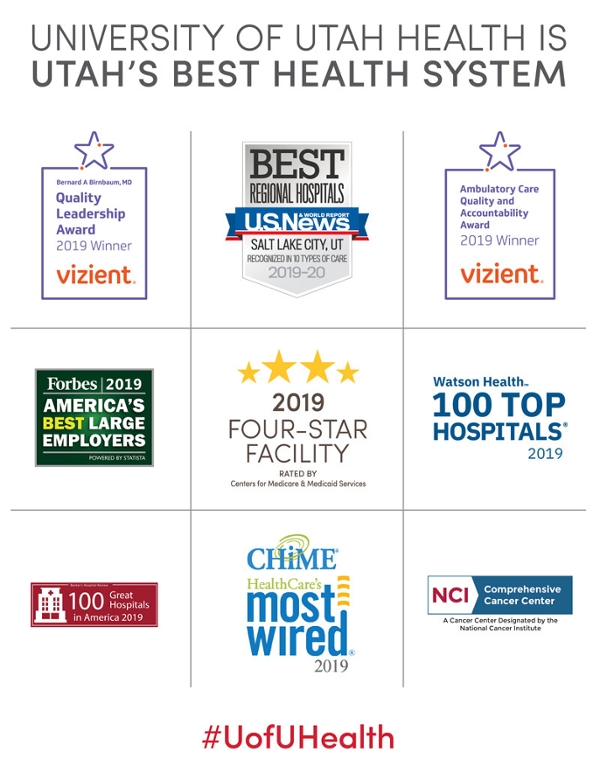 For the sixth year in a row, U.S. News & World Report ranked U of U Health the No. 1 hospital in Utah and the Salt Lake City metro area. Additionally, U of U Health's orthopedic specialty ranked No. 50 in the nation, and our cancer, ophthalmology, and urology specialties rank as high performing.
University Hospital received the Centers for Medicaid Services 4-Star rating for overall quality, the highest rated in Utah.
For the sixth consecutive year, University Hospital was recognized internationally among CHIME Healthcare's Most Wired health care systems.
IBM Watson Health recognized U of U Health among its list of 100 Top Hospitals in the U.S.
Becker's Review named University Hospital to its lists of Top 100 Great Hospitals in America and Top 100 Hospitals with Great Oncology Programs.
Ophthalmology Times' survey ranked the John A. Moran Eye Center among the top 10 programs in the nation in multiple categories, including No. 8 for Overall Best Program, No. 10 for Best Research program, No. 6 for Best Residency Program, and No. 9 for Best Clinical Program.
For the second consecutive year, U of U Health was recognized by Forbes as one of America's Best Employers, ranking 11th in the nation in the Health and Social category.
Huntsman Cancer Institute became the region's first and only Regence provider designated as a national Blue Distinction® Center for Cellular Immunotherapy (CAR-T).
Centers for Medicare & Medicaid Services Administrator Seema Verma named U of U Health one of three exemplary health systems nationwide for voluntarily taking steps to promote price transparency for their patients.
New Leaders
James Ashworth, MD, appointed interim department chair for psychiatry
Willard Dere, MD, appointed associate vice president for research for U of U Health
Rena D'Souza, DDS, MS, PhD, appointed assistant vice president for academic affairs and education in health sciences
Karen Eilbeck, PhD, appointed interim department chair for biomedical informatics
Bernhard Fassl, MD, and Bryan McRae, MD, appointed interim co-directors of the Center for Medical Innovation
Wendy Hobson-Rohrer, MD, MSPH, named associate vice president for health sciences education
Marika Jones, MBA, appointed interim chief philanthropy officer for U of U Health
Dan Lundergan, MHA, appointed chief operating officer for University of Utah Hospitals & Clinics
Don Milligan, MBA, appointed executive director of the Huntsman Cancer Hospital
Charlton Park, MBA, MHSM, appointed chief financial officer and chief analytics officer for University of Utah Hospitals & Clinics
Robyn Reynolds, MBA, named chief marketing and communications officer
Robin Shaw, MD, PhD, named director of Cardiovascular Research & Training Institute
Brian Shiozawa, MD, appointed associate vice president for health policy at U of U Health
Catherine B. Soehner, MLS, BSN, appointed executive director of the Spencer S. Eccles Health Sciences Library
Academic Excellence 
In 2019, the University of Utah became one of the newest members of the prestigious Association of American Universities (AAU). AAU invitations are infrequent; this year's invitations are the first since 2012.
The following represent U of U Health academic program rankings among public universities (Source: 2020 U.S. & World Report).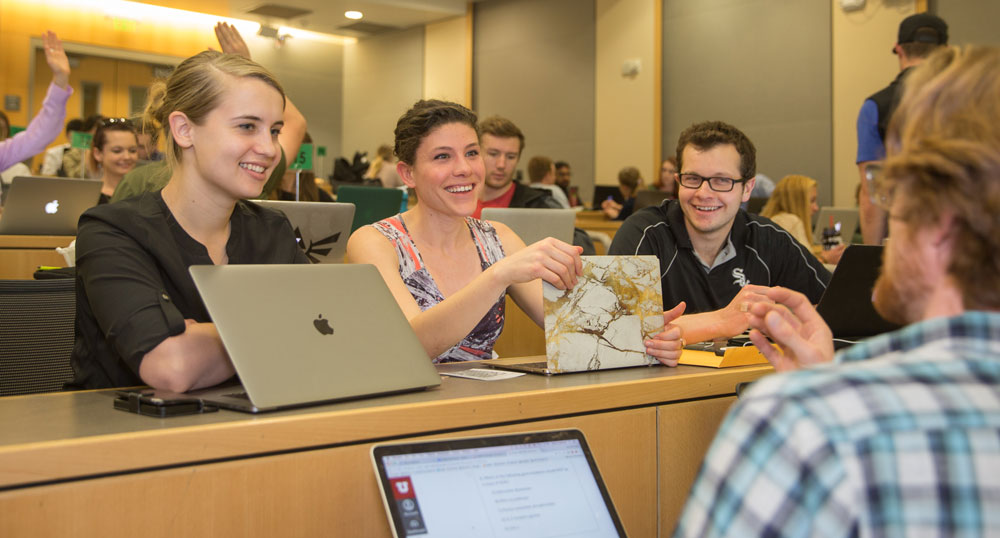 School of Medicine:
No. 2 Physician Assistant Program
No. 14 Primary Care
No. 15 Research
College of Health:
No. 9 Physical Therapy Program
No. 22 Speech-Language Pathology
No. 26 Occupational Therapy
College of Nursing:
No. 3 Nursing Informatics
No. 6 Nurse Midwifery
No. 12 Doctor of Nursing Practice
No. 18 Nursing MS Graduate Programs
College of Pharmacy:
Utah Poison Control Center Celebrates 65 Years
For 65 years, the Utah Poison Control Center has provided an invaluable public health service for the state. The College of Pharmacy and School of Medicine partner to train doctors and pharmacists as full-time staff for the 24-hour call center that provides support in a poisoning crisis. The Utah Poison Control Center became a model for poison control centers nationwide. Today, it receives more than 40,000 calls a year.
School of Dentistry Opens Community Dental Clinic
In partnership with the Salt Lake Education Foundation, the University of Utah School of Dentistry celebrated the opening of a dental clinic at Liberty Community Learning Center, serving adults and students from four area elementary schools.
Transforming Medical Education
As part of a strategic process for transforming the culture of learning in medical education, the School of Medicine launched the Exceptional Learning Experience initiative patterned after U of U Health's highly successful Exceptional Patient Experience.
College of Health Having Community Impact
In 2019, College of Health faculty and students made 44,788 community contacts through a number of community engagement programs: University of Utah Center for Community Nutrition; Connect2Health; clinics including the Life Skills Clinic, Balance and Mobility Clinic, Speech-Language-Hearing Clinic, and 4th Street Clinic; U-Fit; Urban Rangers; physical activity and recess programming in Salt Lake, Murray, Canyons, and Jordan school districts; pro-bono and sliding scale fee OT, CSD, PT clinics on campus; and Driving Out Diabetes. 
Online Courses for Biomedical and Health Sciences Librarians
After winning a second competitive supplement in 2018, the National Network of Libraries of Medicine Training Office, housed in the Spencer S. Eccles Health Sciences Library, developed and further refined online courses in research data management, data science, and open science for biomedical and health sciences librarians nationwide. Among enrolled students, 65 out of 73 (89 percent) successfully completed the courses intended to enhance their skills and knowledge to launch new services at their institutions.
Research Innovations & Insights
U of U Health researchers secured more thanthan $373 million in extramural research funding in fiscal year 2019, achieving an impressive 50 percent growth in funds over the last five years. Examples of high-impact research from the past year include:
Major Awards & Recognition 
2019 Jon M. Huntsman Presidential Chairs were named: Brenda Bass, PhD, Biochemistry; Howard Colman, MD, PhD, Neurosurgery; Mollie Cummins, PhD, RN, Nursing; Ryan Looper, PhD, Organic and Bioorganic Chemistry; Steffan Schmitz-Valckenberg, MD, Ophthalmology and Visual Services; and Jason Shepherd, PhD, Neurobiology and Anatomy.
Investigators from the College of Pharmacy and School of Medicine, co-led by Randall Peterson, PhD, dean of the College of Pharmacy, received a $16 million Center of Excellence grant from the National Institutes of Health to develop antidotes for cyanide poisonings.
Jason, Shepherd, PhD, Neurobiology and Anatomy, received the National Institute of Health Director's Transformative Research Award for interdisciplinary approaches to research about developmental and neurological disorders.
Anne Blaschke named National Academy of Inventors Fellow for advancing new technologies to improve the diagnosis and management of infectious diseases.
Karen Wilcox, PhD, Pharmacology and Toxicology, received the Javits Award from the National Institutes of Health for her contributions to the field of epilepsy research.
Kensaku Kawamoto, MD, PhD, MHS, associate chief medical information officer, was selected to Modern Healthcare's inaugural class of Top 25 Innovators for leading the ReimagineEHR initiative.
Dana Carroll, PhD, Distinguished Professor of Biochemistry, was invited to serve on the new International Commission on the Clinical Use of Human Germline Genome Editing.
Midcontinental Chapter of the Medical Library Association (MCMLA) has three major awards, all of which were given to librarians at the Spencer S. Eccles Health Sciences Library: John Bramble, MCMLA Outstanding Achievement Award; Mary McFarland, Bernice Hetzner Award for Excellence in Academic Health Sciences Librarianship; and Brandon Patterson, MCMLA Stars Award.
Expanded Care
The Huntsman family pledged $150 million to establish the Huntsman Mental Health Institute to advance knowledge and relieve suffering through research-informed treatment of mental illness.
University of Utah Hospital opened Area E, a 300,000 square-foot facility that creates more convenient access for patients who require world-class expertise for their care, but for whom a hospital stay is unnecessary.  
U of U Health celebrated the grand opening of the 170,000 square-foot multi-specialty Sugar House Health Center.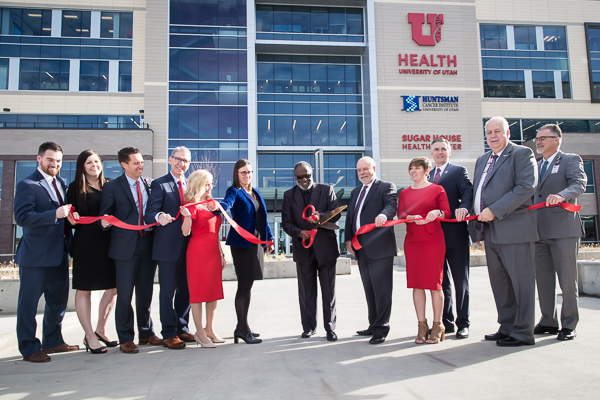 Engaging and Serving the Community 
U of U Health received $205.6 million in philanthropic support in fiscal year 2019.
University of Utah Hospital joined the national Healthcare Care Anchor Network to share best practices for building and investing in safe, vibrant, and health communities.
The University Neuropsychiatric Institute expanded the SafeUT app to the Utah National Guard (SafeUT NG).
U of U Health's South Main Clinic continues to provide comprehensive obstetric, pediatric, family medicine, and dental care for underserved families in our community. Multi-disciplinary care teams, along with partners in government, non-profit, and community organizations collaborate each year to care for more 5,000 patients speaking more than 30 languages.
The College of Nursing and United Way of Salt Lake implemented the Emergency Room Diversion Project, a referral and follow-up process between Emergency Department staff and 2-1-1 community information specialists to assess social needs.
U of U Health's PrEP Clinic was recognized by the Utah Department of Health as 2019 Utah Public Health Champions for addressing the HIV epidemic and expanding patient access among vulnerable populations in Utah.
In partnership with the Salt Lake County Jail, U of U Health providers expanded telehealth services to provide preconception, pregnancy, and postpartum care for incarcerated women with substance use and dependence.
As part of our mission to be a trusted source of expert information for the community, U of U developed a website with interim guidance and answers to frequently asked questions about medical marijuana.
Campus Transformation 
The U of U Health campus continues its historic transformation. Highlights for the year include the opening of Area E, Care Navigation, and Sugar House Health Center.
We look forward to the opening of the Craig H. Neilsen Rehabilitation Hospital in 2020.
Thanks to generous support from the legislature, alumni, and community members, we are building new hubs of innovation and collaboration—including a new home for our medical students and an office complex to accommodate future growth of faculty and staff. 
2019 was an incredible year of accomplishment for the faculty, staff, and students at U of U Health. But we are not resting. As we enter a new decade, Utah is facing exponential growth. We remain committed to serving our community and shaping the future of health in Utah and beyond, for years and generations to come.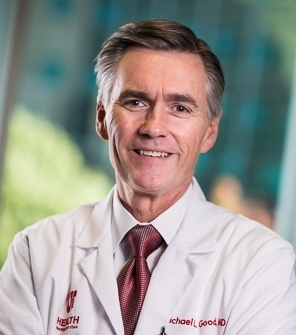 Michael Good, MD
Michael Good is CEO of University of Utah Health, Dean of the University of Utah School of Medicine, and A. Lorris Betz Senior Vice President for Health Sciences. A professor of anesthesiology, Good joined U of U Health after more than three decades of teaching, innovation, and leadership at the University of Florida, where he served as dean of the College of Medicine for 10 years.
DON'T MISS OUT. GOOD NOTES delivers to your inbox.