Strategy Refresh: Keeping Care Close to Home
---
In conjunction with a university-wide effort, University of Utah Health has launched a six-month Strategy Refresh Initiative to establish our path forward during the next five years, 2020 – 2025. This is one of a series of GOOD NOTES blogs about our mission to elevate the health system and university as models for the nation.
---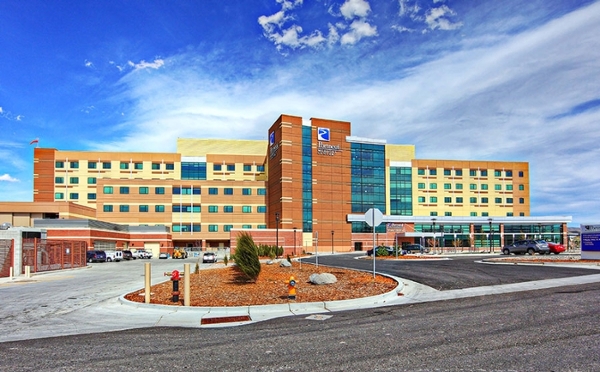 Last March, a young mother caring for her new infant sought emergency treatment for deteriorating eyesight at Portneuf Medical Center in Pocatello, Idaho. Prior to her ER visit, she had been treated for Multiple Sclerosis (MS). The mother had already lost sight completely in one eye and almost entirely in the other.
After she was admitted to the Medical Center, she began TeleNeurology consultation with University of Utah Health physicians to assess her deteriorating vision. Neurologists based at our Clinical Neurosciences Center in Salt Lake City recognized the symptoms of an uncommon neurologic issue known as Neuromyelitis Optica (NMO). After the patient was tested, the NMO diagnosis was confirmed.
The woman now receives treatment for NMO on an ongoing basis and her symptoms have notably improved. The young mother and her newborn never had to leave the community where they live. Her story demonstrates both the quality and scope of our health care service.    
Affiliates and Telehealth Partners
Pocatello's Portneuf Medical Center is part of U of U Health's Affiliate Network, which began in 2013. The network now includes 23 regional affiliates and 83 telehealth partner facilities throughout the Mountain West. These allow patients and their families to access clinical expertise, research, and resources from a top-ranked medical center without travelling away from home unless necessary. The telemedicine programs are designed to support our rural partners' care for patients near their homes, delivering similar, if not better, quality outcomes in a lower-cost environment.
To qualify as an affiliate, U of U Health ensures the mission and values of the prospective partner align with our own. They must meet our standards for community reputation, patient quality, and cost of care.
As part of our Strategy Refresh Initiative (SRI), U of U Health is looking to strengthen the substance of our existing affiliate relationships. We start from the premise that we and they are stronger together. While we share our expertise as an academic medical center steeped in clinical treatment, research, education, and training, from our regional network we receive firsthand knowledge and understanding of the needs and challenges in smaller urban, rural, and frontier communities.
Building Programs That Last
The population in our region is rapidly growing and aging while our reach expands geographically. We have a responsibility to serve communities with even greater impact. And we need to keep a long-term focus, thinking about health care needs 50 years from now. Our institution itself is rapidly expanding, and as it does, we want to advance health and build programs that last.
Our Affiliate Network and telehealth facilities serve communities far from our base in Salt Lake City. But these health care sites, offering on-demand access to U of U Health providers, are by no means on the fringe of what we do. They are the core of what we do—and the core of what University of Utah Health is all about.
Tad Morley, MHA
Guest blogger Tad Morley, MHA, is executive director of business and network development and vice president of outreach and network development. He oversees the business operations of University of Utah Health's outreach and regional network development. He and his team work with physicians, hospitals, payers, and employers to deliver coordinated and collaborative health care.
DON'T MISS OUT. GOOD NOTES delivers to your inbox.