Strategy Refresh: Healthy All the Time
---
In conjunction with a university-wide effort, University of Utah Health has launched a six-month Strategy Refresh Initiative to establish our path forward during the next five years, 2020 – 2025. This is one of a series of GOOD NOTES blogs about our mission to elevate the health system and university as models for the nation.
---
Last month's ribbon-cutting at our Care Navigation facility was a milestone for University of Utah Health. The gleaming 48,000-square-foot building is adjacent to our South Jordan Health Center. Inside, we have a workforce of 400 employees with room for another 100 scaled over a five-year growth plan. The building is open 14 hours a day, 365 days a year. Along with a team of schedulers, staff pharmacists, nurses, medical assistants, interpreters, and, eventually, a family-practice physician will be embedded in the Care Navigation facility.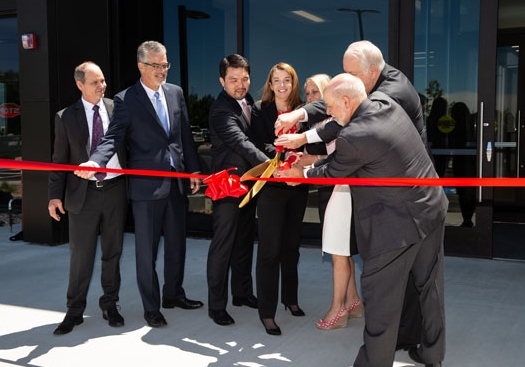 Maximum Efficiency
The building is designed to promote team collaboration and communication, full of health care-focused resources. When patients and providers call into the telecommunications hub they are greeted by care-team experts who instantly and seamlessly guide them through the University system. Close to 80 percent of U of U Health's major specialties and 100 percent of primary care divisions are supported through Care Navigation.
As we brainstormed the optimal set-up for new facilities, such as the navigation facility, one vital question arose: How do we create a natural and cohesive environment that will pull our employees together as one team supporting one mission? The answer: We provide them space. A good example of this strategy is the walking track for employees inside Care Navigation. Not only is the track a means of keeping employees fit and healthy, but when people walk, they partner and build camaraderie away from their day-to-day duties.
Accessible and Flexible
Bringing everyone under one roof, as we've done at the Care Navigation facility, represents the beginning of where we can go with our "patient and provider experience." The ability to communicate with patients on their timetable is central to our mission for care navigation. Patients increasingly expect to reach us morning and night, on demand, using their choice of technology. They expect the person answering the phone to be knowledgeable and kind. Sixty percent of patients still prefer contacting us by phone, but that is rapidly changing. Through the use of telehealth, online self-service products, text messaging, email, video calls, and more; the Care Navigation facility, is paving the way to a more digital health care experience.
Our Care Navigation building represents a cornerstone as we construct a flexible, accessible health care system for the decades ahead. We're building multi-faceted services in ambulatory settings, near where patients live. We're more focused now on keeping people healthy, year-round, rather than episodic care. This is a significant transformation away from the hospital setting, which medicine has relied on historically.
Utah Population Boom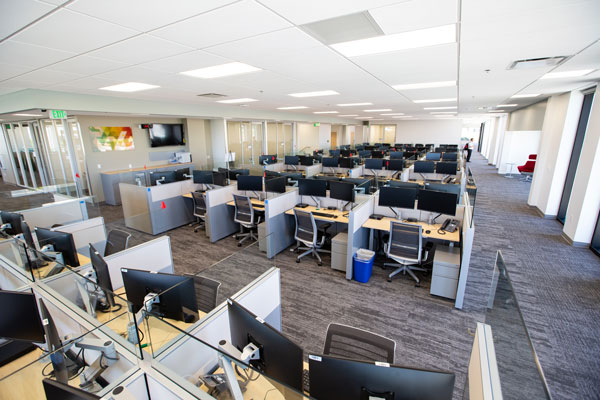 We launched our first ambulatory strategy in 2014 with an eye on the rapid population growth in our state and region. It's projected by our friends at U of U's Gardner Policy Institute that, by the year 2055, there will be 5.3 million people living in Utah. Right now, we have approximately 3 million residents. Nationwide, Utah is number one in population growth and number eight in aging populations.
As part of our Strategy Refresh Initiative, we're studying social dynamics within the population boom, including the growth of ethnic diversity in the state. We're examining a host of changing socio-economic factors. And we're taking a close look at rural Utah because, as the University for Utah, we have a mission to provide health care for those who don't reside within the 100-mile stretch along the Wasatch Front.
Our health care service is unique in the Mountain West because it is based within a renowned academic medical operation. Because of that, our trusted clinical care is interconnected with breakthrough medical research and high-caliber education. Now, University of Utah Health is leading the way when it comes to ambulatory care and interconnected care navigation. At the end of the day, this means better care for more patients.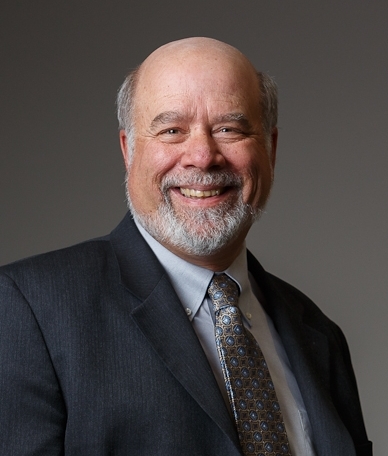 Wayne Imbrescia, MPH, MHSA
Guest blogger Wayne Imbrescia is Executive Director of Ambulatory Services for University of Utah Health. He has also served as Executive Director of John A. Moran Eye Center since 2005.
DON'T MISS OUT. GOOD NOTES delivers to your inbox.