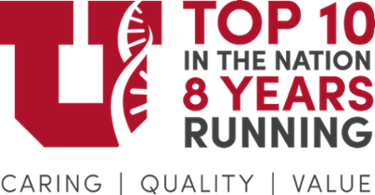 While much has changed and continues to change at University of Utah Health, the fundamentals remain, namely our commitment to: provide compassionate care without compromise; educate scientists and health care professionals; engage in research to advance knowledge and well-being; and function as a comprehensive, inclusive, transparent, and collaborative health system.
U of U Health's commitment to the exceptional patient experience and value continues. No other academic medical center in the country rivals what we have achieved with patient satisfaction. In 2017, for the eighth consecutive year, U of U Health was ranked among the nation's top 10 academic medical centers for quality, safety, and accountability. Utah continues to offer the best health care at the lowest cost in the nation.
Transition and Reflection
This year's departure of Former Senior Vice President for Health Sciences Vivian Lee, MD, PhD, MBA, was a loss for our institution. During Dr. Lee's tenure, U of U Health made impressive strides toward transforming health care. Some of these include:
Application of LEAN management principles and the Value-Driven Outcomes (VDO) project;
Efforts to improve transparency in health care, including a pricing transparency platform and becoming the first health system to publish patient reviews online;
Quality initiatives to improve an inpatient and outpatient experience;
Dedicating two new ambulatory care centers to expand access to high-value care;
A sharper focus on improving care delivery from the patient's perspective;
Growing the research enterprise by more than one-third;
Launching the Utah Genome Project and the Center for Medical Innovation;
Partnering with the Larry H. & Gail Miller Family Foundation on the Driving Out Diabetes Initiative;
Expanding the School of Medicine class size;
Opening a new School of Dentistry; and
Securing philanthropic and legislative funding, of historic proportions, to advance the construction of a new school of medicine, ambulatory care center, and rehabilitation hospital.
While situations differ across the country, it adds some context and perspective to know that U of U Health was only one of dozens of health systems that experienced executive resignations in 2017. Despite this, we continue to be grateful for the path Dr. Lee set for our health system. Her positive impact on the university, and on health care in general, will be felt for decades to come.
Forward Momentum
Everyone at U of U Health plays a role in maintaining our stability and propelling us forward. Once again, we will recruit an exceptional senior vice president who is eager to be a part of this distinctly collaborative ecosystem.
Here's a look back at just a few of U of U Health's most notable moments from 2017.
National Recognition

Lorris Betz, MD, PhD
Guest blogger Lorris Betz is currently serving as interim senior vice president for the University of Utah Health Sciences, CEO of University of Utah Health, and executive dean of the University's School of Medicine while the University conducts a national search for this position. Dr. Betz previously served in this capacity from 1999-2011, and served as interim president of the University of Utah twice during his career.
DON'T MISS OUT. GOOD NOTES delivers to your inbox.