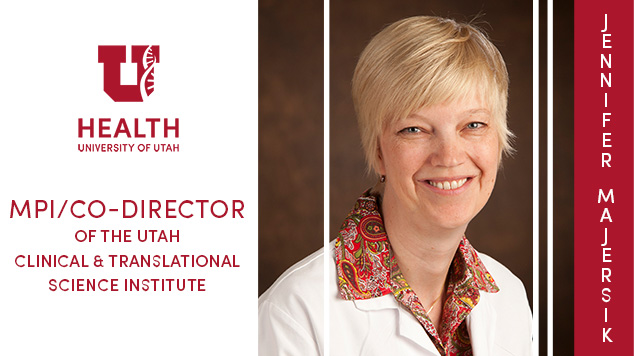 Below is an announcement from the Utah Clinical & Translational Science Institute.
The Utah Clinical & Translational Science Institute (CTSI) is pleased to announce our new MPI and co-Director, Dr. Jennifer Majersik, MD, MS, starting October 1st. Dr. Majersik will work collaboratively with contact PI and co-Director, Dr. Rachel Hess, to guide and oversee the strategic growth and operations of the Utah CTSI.
Dr. Majersik brings her extensive experience building, managing, and collaborating with multi-disciplinary and multi-institution teams to the Utah CTSI. Dr. Majersik is Chief of the Vascular Neurology Division in the Department of Neurology, and Professor of Neurology. She is the University of Utah Stroke Center and Telestroke Network Director, and in these roles obtained certification for the Stroke Center as a Comprehensive Stroke Center and led growth of the Telestroke Network to 26 spokes in 6 states. She is the Principal Investigator of NIH-funded UT StrokeNet Regional Coordinating Center, which manages phase 2 and 3 stroke prevention, treatment, and recovery trials in 11 stroke centers across 4 states.
She has held many national leadership positions including NIH/NINDS-appointed member of the NIH StrokeNet Executive Committee, Associate Editor of Stroke, Chair of the American Academy of Neurology Division Chief Subcommittee, and past Chair of the American Heart/Stroke Association Telestroke Committee.
Her 8 years as a senior mentor in the Vice President's Clinical and Translational (VPCAT) Research Scholar Program and her position as Vice Chair of Faculty Development (Department of Neurology) fostered her understanding of the training and institutional resources needs of junior investigators.
Most recently, Dr. Majersik took her family of 4 to Australia, as part of her sabbatical as the Fulbright Distinguished Chair of Health to University of Newcastle. There, she explored the implementation of telemedicine methods to improve health and trial enrollment in rural areas. She is gaining greater understanding of how these methods are tailored to the community and culture in order to increase health equity and reduce disparities across Australia, which is directly relevant to the Utah CTSI mission.
Please join us in welcoming Dr. Majersik to the Utah CTSI!