Oral Health is a Right, Not a Privilege
For far too long, oral health has been seen as a status symbol in this country. Having a healthy smile is considered a luxury, not a necessity.


There are many reasons—political, educational, historical—why dentistry has been kept separate from general medicine. But the two couldn't be more linked. The health of the mouth can dictate the health of the body, and vice versa. Having a healthy and pain-free smile also contributes to overall quality of life, including how one feels about themselves.


My goal as an oral epidemiologist is to help bring these fields under one roof—in attitude and in practice.
Oral Health Inequities


Earlier in my career, I participated in community-based research that focused on dental caries (tooth decay or cavities) in children from infants to 6 years old living in government-funded housing. Tooth decay is entirely preventable and can be devastating when it occurs in children that young. I'll never forget the first time I saw a young child break into a wide grin full of rotten front teeth. 

I soon learned that severe decay like this can result in pain, infection, and functional limitations that impact a child's life in significant ways. Early Childhood Caries is a disease that leads to missed school days, impaired learning, increased costs of care, and utilization of hospital emergency services. 

Two things from this experience stuck with me. First, children suffering from early tooth decay largely belonged to historically marginalized populations. Second, despite having some access to dental care through government-funded programs, utilization remains quite low.
More recently in my research career, I discovered that similar inequities are found across the lifespan. Individuals from under-resourced communities are losing all their adult teeth more frequently and earlier in life. This leads to significant impacts on quality of life, overall health, and even how long they live.


Unfortunately, there are no simple explanations for why these inequities exist. Contributing factors include the biology of disease, individual values, beliefs and practices, social and political climates, dental care workforce issues, and payer practices. Whatever the drivers, the current system of influence strongly favors people of privilege.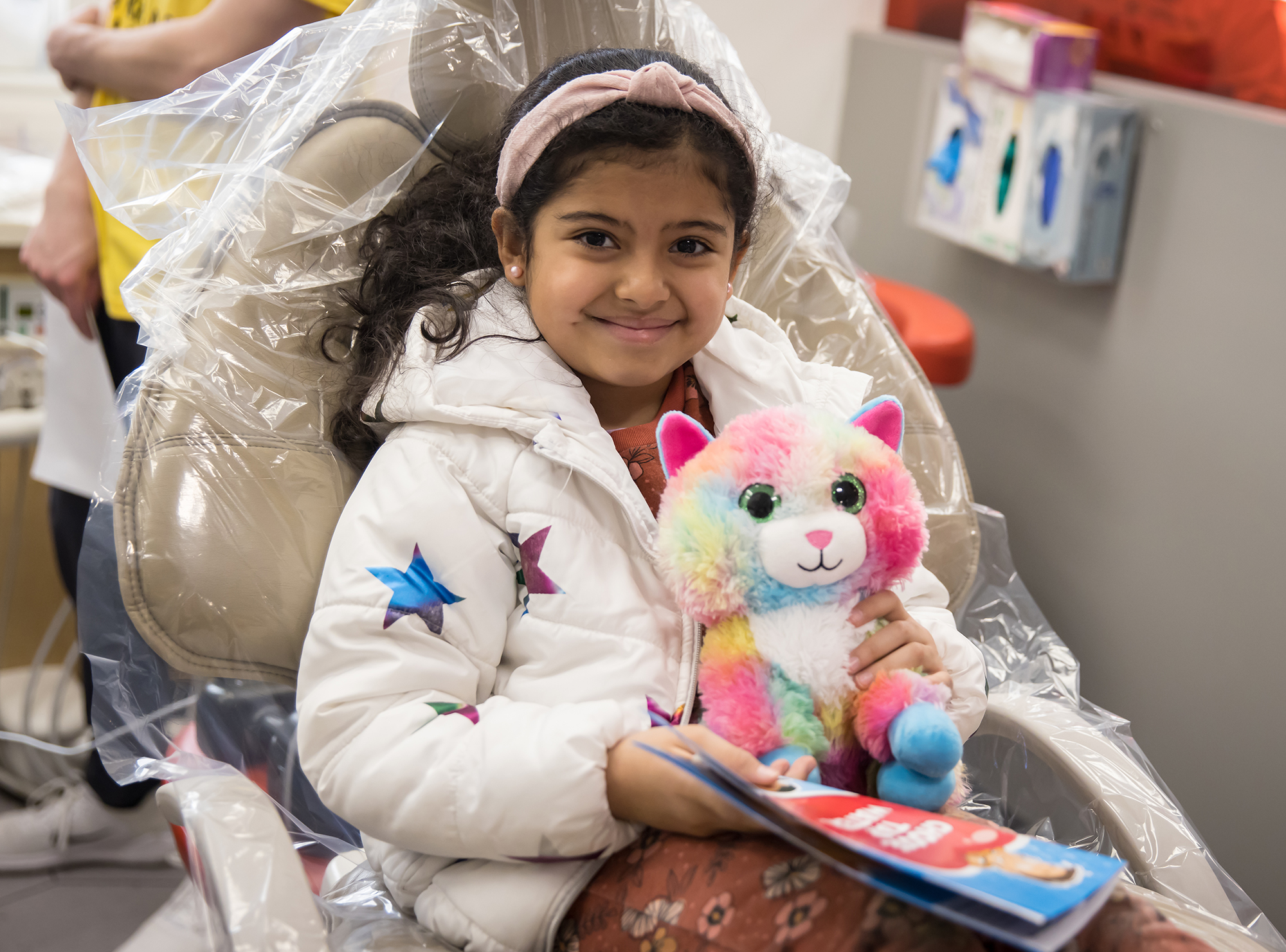 Social Networks and Oral Health Outcomes
Scientific methods used to study how and why disease occurs often assume individuals are independent. They presume one person's risk for disease is not affected by another person's risk. In reality, we are all influenced by the complex systems that inform how we live our lives. My research uses tools that analyze how social systems and structures may prevent individuals and communities from accessing adequate dental care.
For example, I have studied how social networks influence oral health. Social network science recognizes that individuals' actions are not independent, but are influenced by the social context. We demonstrate that the shared social context can produce a buffer-like effect from outside influences—good or bad—much like the concept of "herd immunity." This means interventions to change individual behavior may not be effective or sustainable.
But social networks make up only a fraction of the complex system we live in. Everything from the bacteria in a patient's mouth to the political climate can influence one's oral health status and utilization of oral health care.
My research uses agent-based computer models to simulate the interplay between biological disease, individual behaviors, and various system influences. When applied to oral health, these models can offer insights about the mechanisms that perpetuate oral health inequities.
Integrating Medicine and Dentistry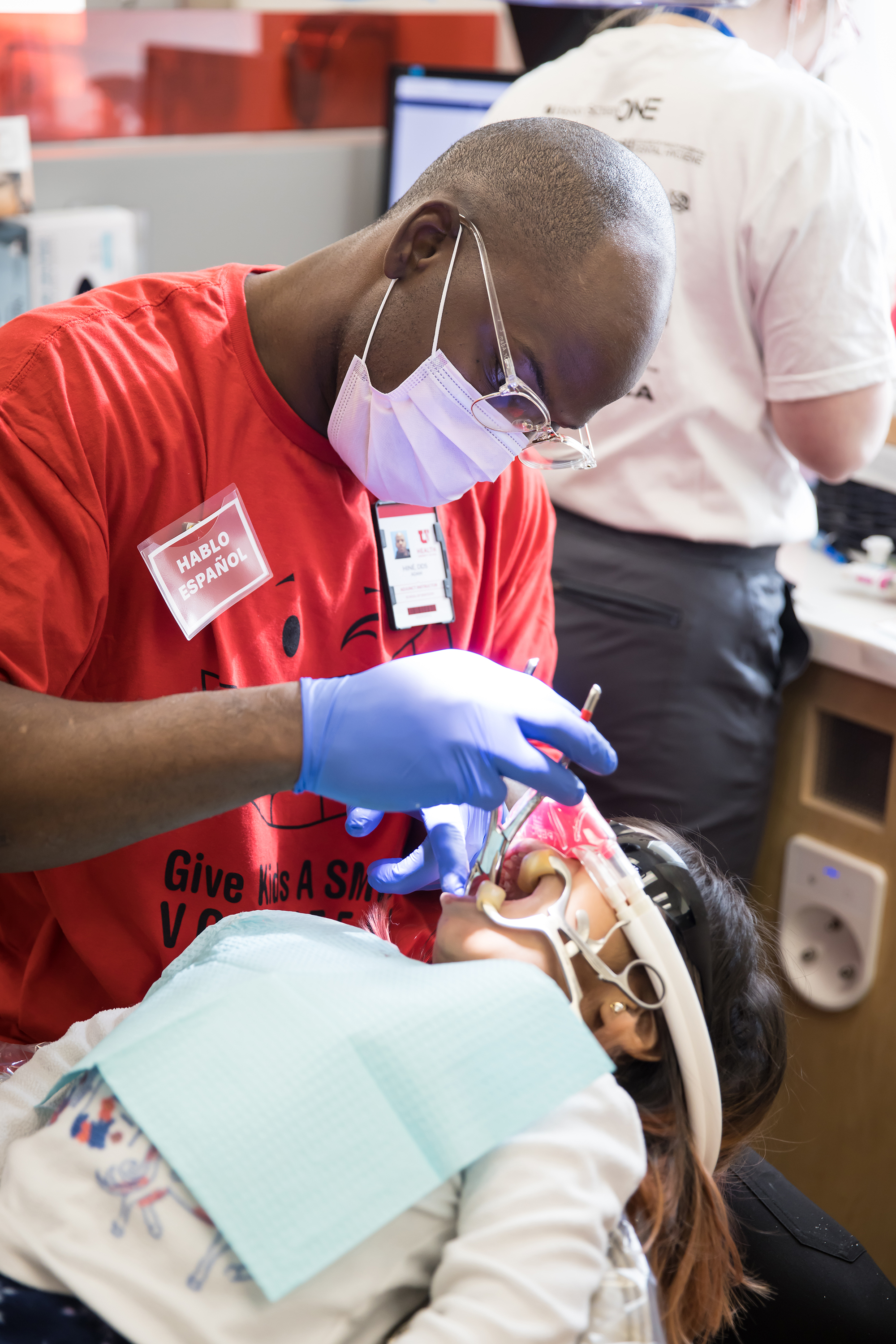 Utah has some of the most favorable oral health policies in the nation. Residents who qualify for Medicaid will soon be able to receive comprehensive dental health care as early as next year. This is largely thanks to a collective commitment to serve under-resourced communities and make care more accessible.
In partnership with University of Utah Health, the University of Utah School of Dentistry is particularly innovative in its efforts to integrate oral health care into general medicine. New and exciting partnerships are forming between dentists and physicians, as well as other specialty care. More medical students are being trained to ask about and screen for oral conditions. In a single office visit, patients can receive medical and dental care.
Integrating dental and medical care increases the opportunity to address a patient's oral health needs in a timelier way. Our research is showing that integrated oral health care may improve the management and care outcomes of conditions such as substance use disorder.
Forthcoming research focuses on the impact comprehensive oral health care under Medicaid has on management and cost of care for multiple chronic disease outcomes. The integration of medicine and dentistry at U of U Health creates a unique opportunity for collaborative research. This data contributes to health policies that address oral health inequities from childhood to adulthood and beyond.
Paradigm Shift


We hope our work at U of U Health is the beginning of a significant shift in the way we view oral health. It's important to expose students in all health care sectors to oral health inequities. We are cultivating a new generation of health professionals with greater knowledge and willingness to help those who need it most. 

With continued work, I'm confident we will see a more integrated approach that recognizes oral health for the basic human right that it is.
Brenda Heaton, PhD, MPH
Brenda Heaton is the Associate Dean for Research and an associate professor of epidemiology and health services research at the University of Utah School of Dentistry. She is also adjunct associate professor of population health sciences at the Spencer Fox Eccles School Medicine. Heaton is an epidemiologist whose primary research interests include a focus on the social production of oral health, with an overall goal of addressing the complex  mechanisms responsible for the emergence of oral health disparities. She also maintains significant scholarship in the area of periodontal disease epidemiology with interests in the relationship between periodontitis and other chronic inflammatory diseases, periodontitis and reproductive outcomes, and the validity of clinical and self-report measures for population-level research. Her research is currently funded by multiple awards from the National Institute for Dental and Craniofacial Research. She is an active member of the American Association for Dental, Oral and Craniofacial Research having most recently served as an elected member of the Board of Directors (2019-2022). Heaton received a PhD and MPH in epidemiology at the Boston University School of Public Health.  
DON'T MISS OUT. GOOD NOTES delivers to your inbox.