Healing at Home: Bringing Care to Patients
When Gretchen arrived at University of Utah Hospital, she had packed a bag and mentally prepared herself to stay for up to five days. After all, she was having serious abdominal surgery in which a large section of her colon would be removed. She was shocked when her care team gave her the option to return home that same day.
Gretchen's surgery was successful without complications. She was stable, felt well, and had a good support system at home. She met the qualifications for the Heal at Home program and could go home with the program's close supervision and care. After a few hours of recovery and sleep, Gretchen was discharged. She received her first visit from a nurse within one hour of getting home.
Gretchen holds a special place in history as the first patient to have this novel same-day procedure at University of Utah Health.
A Different Way to View Recovery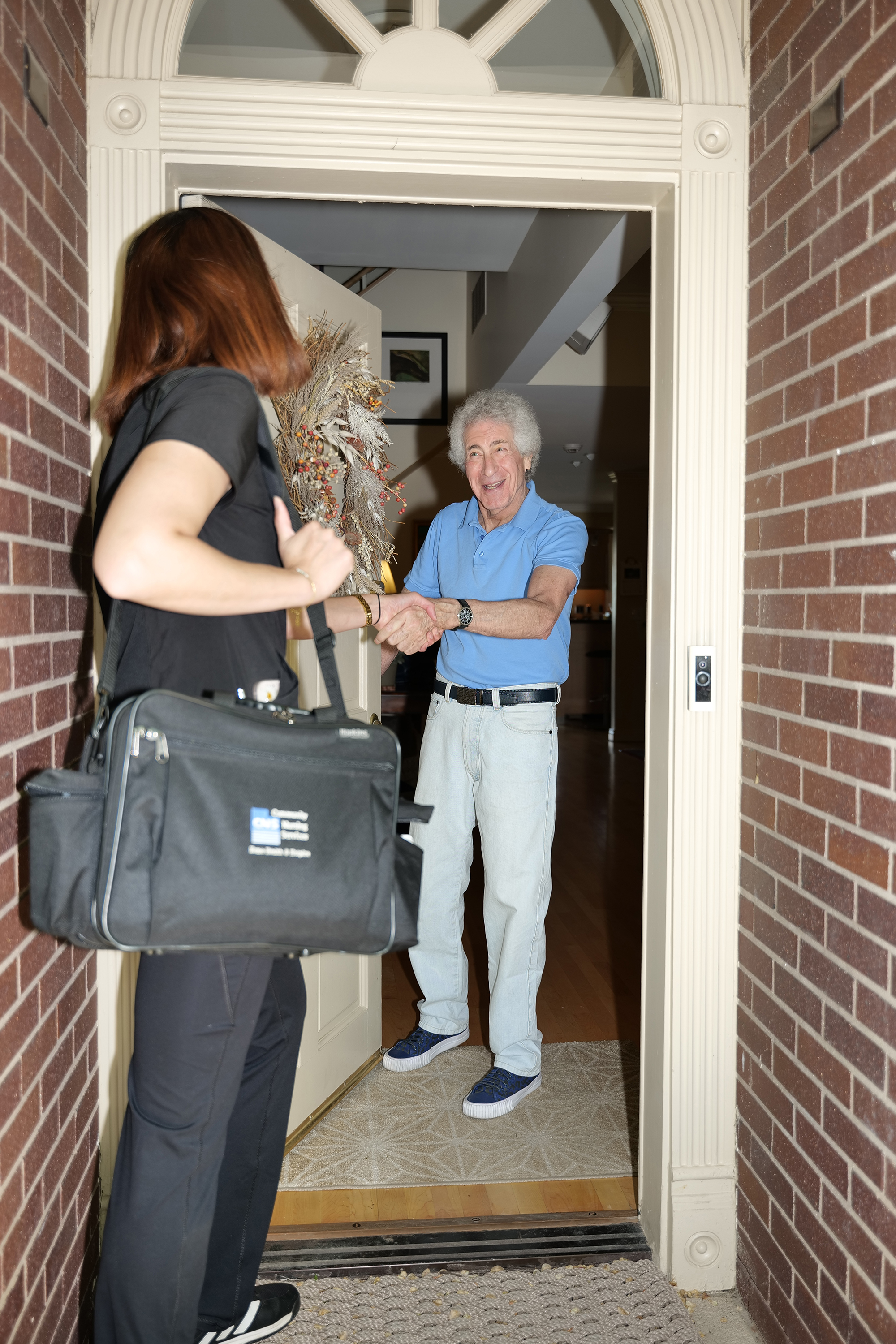 In a way, Heal at Home hails back to the days of physician home visits for health care. This practice has been making a comeback with the increase in virtual visits. Our own experience and mounting research across the country shows that comprehensive transitional care programs like Heal at Home, which include home follow-ups with skilled nurses:
Reduce the number of readmissions
Decrease average length of stay
Reduce deaths
Decrease health care costs
This program builds much-needed bed capacity for our health system as patients are safely discharged sooner. More importantly, it provides a more comfortable and satisfactory experience for our patients.
At U of U Health and nationally, other existing programs treat patients at home. However, Heal at Home is unique in its scope. Our special partnership with Community Nursing Services extends our continuum of care. Patients remain connected to U of U Health as they continue to receive exceptional care from skilled nurses in their own space at home—often avoiding an overnight stay after surgeries.
By creating more seamless transitions of care with a trusted partner, we improve the patient and caregiver experiences, improve access and bed utilization, and drive better outcomes. Ultimately, we are making our health system as a whole more efficient and effective by delivering excellent services to even more patients.
Safe and Effective Care
For Gretchen, being able to sleep in her own bed made a world of difference for her mental health during recovery. To ensure her recovery was going well, nurses visited twice a day to check on her incisions and manage her medications. They stayed in close communication with her by phone and text.
As she felt up to it, Gretchen could get up and take walks around the house. Within the first week, she was going on gentle walks up to 1.5 miles around her neighborhood. If she ever had a concern or question, she texted her nursing team and received a quick response. She felt her care team was easy to reach and checked on her often enough that she always felt well cared for.
At one point, about three weeks after her surgery, Gretchen had a concern that the nursing staff felt they should elevate to the surgical team. The doctor texted her back within a few hours. Fortunately, she did not need to return to clinic.
"Dr. Martin explained things for me and genuinely listened to my fears and concerns. And it was on a weekend—I feel like most doctors won't do that," Gretchen explained. "That particular situation ended well, and overall, I just felt well cared for by the entire team throughout the whole process."
Expanding to Care for More Patients
Currently, the Heal at Home program is live in six specialties:
Colorectal Surgery (Colectomy)
Neurosurgery (Spine)
Orthopaedics (Hip & Knee)
Urology (TURP)
Uro-Oncology (Robotic Prostatectomy)
Vascular Surgery
Even more programs are in development. Our program managers have worked hard to ensure this is a scalable model that can be applied to many different surgical specialties. The process for adopting this program into a practice takes anywhere between two and six months. That gives our team time to work with specialties and their unique clinic models to tailor each program to work for them and their patients.
Today, Gretchen is five months post-op. She has returned to work and feels like she's well on her way to healing. We are thrilled to see favorable cases like hers coming out of the Heal at Home program. We hope to offer the same level of care, comfort, and healing to many more patients in the future.
If you are interested in learning more about and/or starting up a Heal at Home program for your practice, please contact the Heal at Home team: HomeBasedCare@hsc.utah.edu.
Jared Huber, MD
Jared Huber is an assistant professor of internal medicine at the Spencer Fox Eccles School of Medicine and hospitalist for University of Utah Health and Huntsman Cancer Hospital. Huber was recently appointed Medical Director of Home-Based Care at U of U Health. His primary research interests focus on transitions of care, specifically on home-based care and its development and implementation at the University of Utah. Huber received an MD from the Perelman School of Medicine at the University of Pennsylvania and completed an internal medicine residency at Oregon Health & Sciences University.  
Luke Martin, MD
Luke Martin is an assistant professor of surgery at the Spencer Fox Eccles School of Medicine and clinician at University Hospital and Huntsman Cancer Hospital. Martin's clinical practice includes cancers of the colon and rectum, inflammatory bowel disease, diverticulitis, pelvic floor dysfunction, and other problems of the lower gastrointestinal tract and anus. He received an MD from the McGovern Medical School in the Texas Medical Center at UTHealth Houston. He completed a general surgery residency at the University of Utah, followed by a Colon & Rectal Surgery fellowship at the University of Minnesota.  
DON'T MISS OUT. GOOD NOTES delivers to your inbox.