From Puerto Rico to Utah: Discovering A Passion for Biosciences
The Genomics Summer Research for Minorities (GSRM) internship at University of Utah Health gave me a lot. It opened doors for me to explore my interests, created networking opportunities, and provided a platform for me to share my work with the scientific community.
But the biggest thing I gained was the realization that leaving my comfort zone created the potential to grow and succeed.
Finding the Way to GSRM
I'm not from a medical background. I was born and raised in Fajardo, Puerto Rico, in a single-parent household. I was interested in science at a young age, so I worked hard and pursued an undergraduate degree in microbiology. I earned a Pfizer scholarship to the Universidad Ana G. Méndez in Carolina, Puerto Rico.
In my junior year, my advisors suggested I look for an internship to broaden my horizons and make connections. At the time, my goal was to take on an MD-PhD with a combined focus on research and clinical care.
Looking for an internship, I found GSRM. I was nervous at first. The prospect of leaving my home for somewhere new and culturally different was daunting.
But I saw that GSRM had a strong focus on people from diverse backgrounds, and that encouraged me. Working in a safe space is incredibly important to me, and GSRM creates exactly that.
Developing a Taste for Science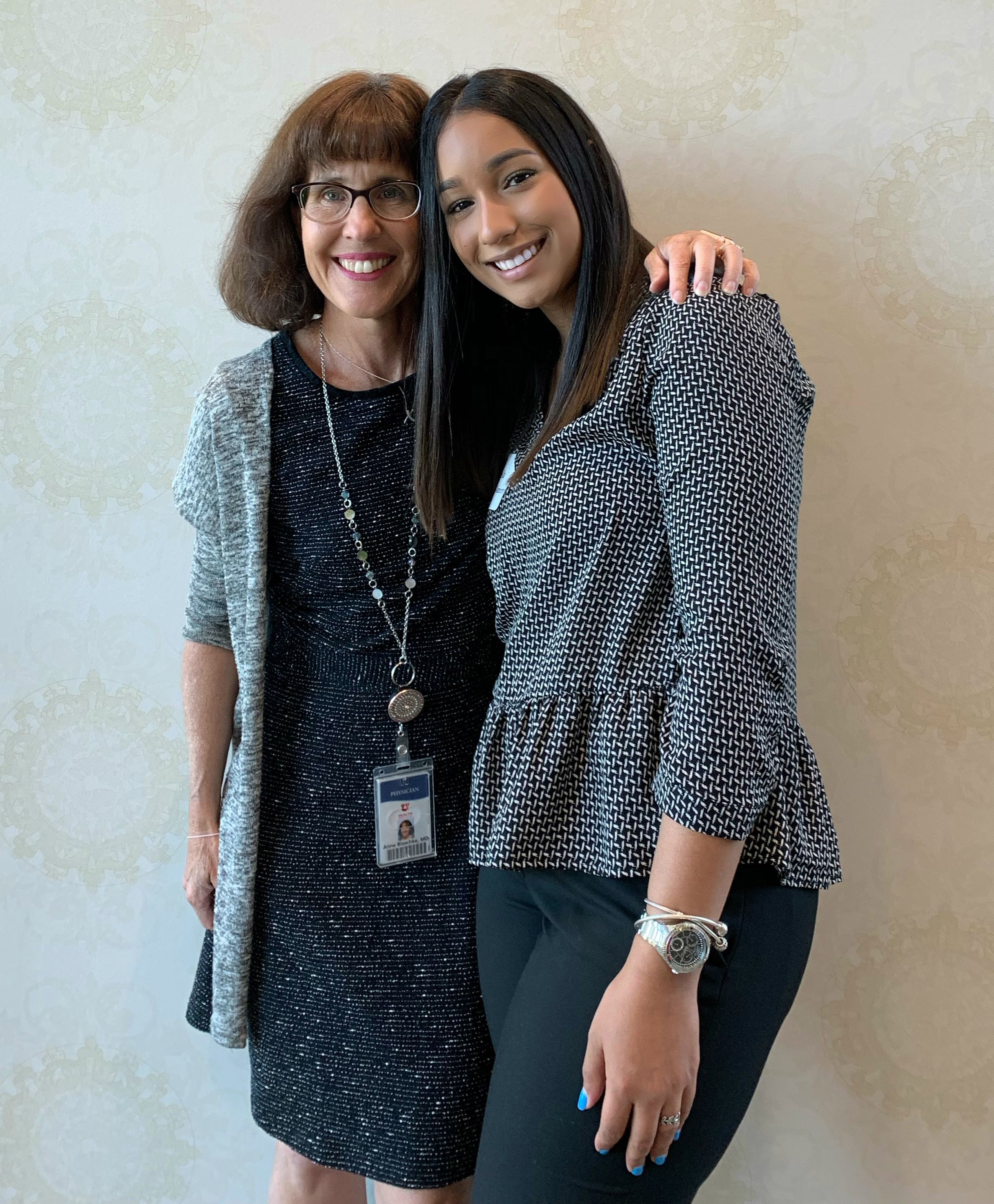 Before starting GSRM, I picked a principal investigator: Anne Blaschke, MD, PhD. Her lab researches infectious diseases in pediatrics, which fit my interests and values perfectly.
During the internship, I studied a new method of testing for pneumonia in children using multiplex PCR. With multiplex PCR, we can test for multiple bacteria at the same time. This improves the accuracy of testing, especially in cases where a patient has several bacterial infections at once.
Normally, the type of testing we use to diagnose pneumonia produces a false negative one-third of the time. But with multiplex PCR, we cast a broader net and detect more infections, which eliminates almost all false positives.
The results were very convincing. I'm currently working with Professor Blaschke to turn this work into a manuscript, which I plan to publish before finishing graduate school.
Finding a Home Away from Home
It was a very productive time. But the first two weeks, I was a nervous wreck.
When I first arrived in Utah, I felt a lot of imposter syndrome and culture shock. I had never left Puerto Rico, and the people in my life were apprehensive about me leaving. They had a lot of preconceived notions about what Utah would be like.
I wasn't sure if I would feel accepted or be able to form relationships with people. But then I connected with Gloria Slattum, MS, PhD, GSRM program director. She offered a lot of helpful reassurance that made me feel more at home.
Once I was in the program, I became fast friends with other GSRM interns. We all became close. We talked about our research, our cultures, and our backgrounds. Many of us still keep in touch.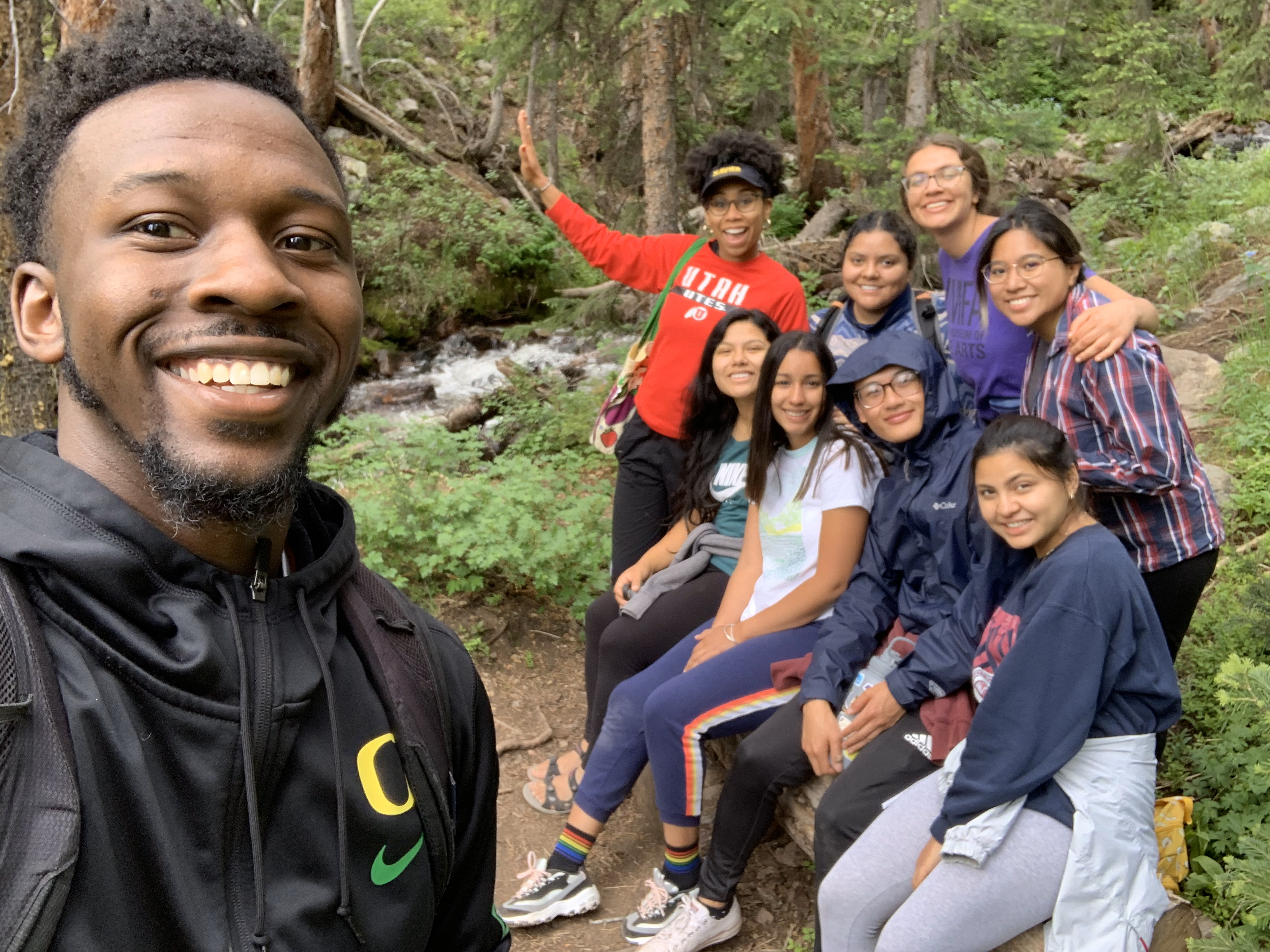 New Paths to Success
When my internship was over, I went back to Puerto Rico to finish my undergraduate degree. But I was already thinking about graduate school, and the University of Utah was at the top of my list. I had come to love the atmosphere and the people here.
GSRM had also shifted my goals. During my internship, I realized that I have a natural curiosity that is well-suited for research. When I was exploring graduate programs, I gravitated to the Med into Grad program (U2M2G). This path lets me do the work to earn a PhD, but when I'm finished, I'll also have a master's degree in clinical investigation.
Today, I'm well on my way to earning my PhD. I work in a lab with Daniel Leung, MD, MSc. The Leung Lab focuses on global health and collaborating in rural areas around the planet to prevent disease. This kind of work is important to me, and I enjoy having the opportunity to make a positive impact in developing countries.
Before I graduate, I'm hoping to publish several different pieces of research, including the manuscript from my GSRM internship. I've also had the opportunity to travel around the U.S. to share my research in the meantime. After this, I'm not sure where I'll go. But I have many paths in front of me, and they all feel possible.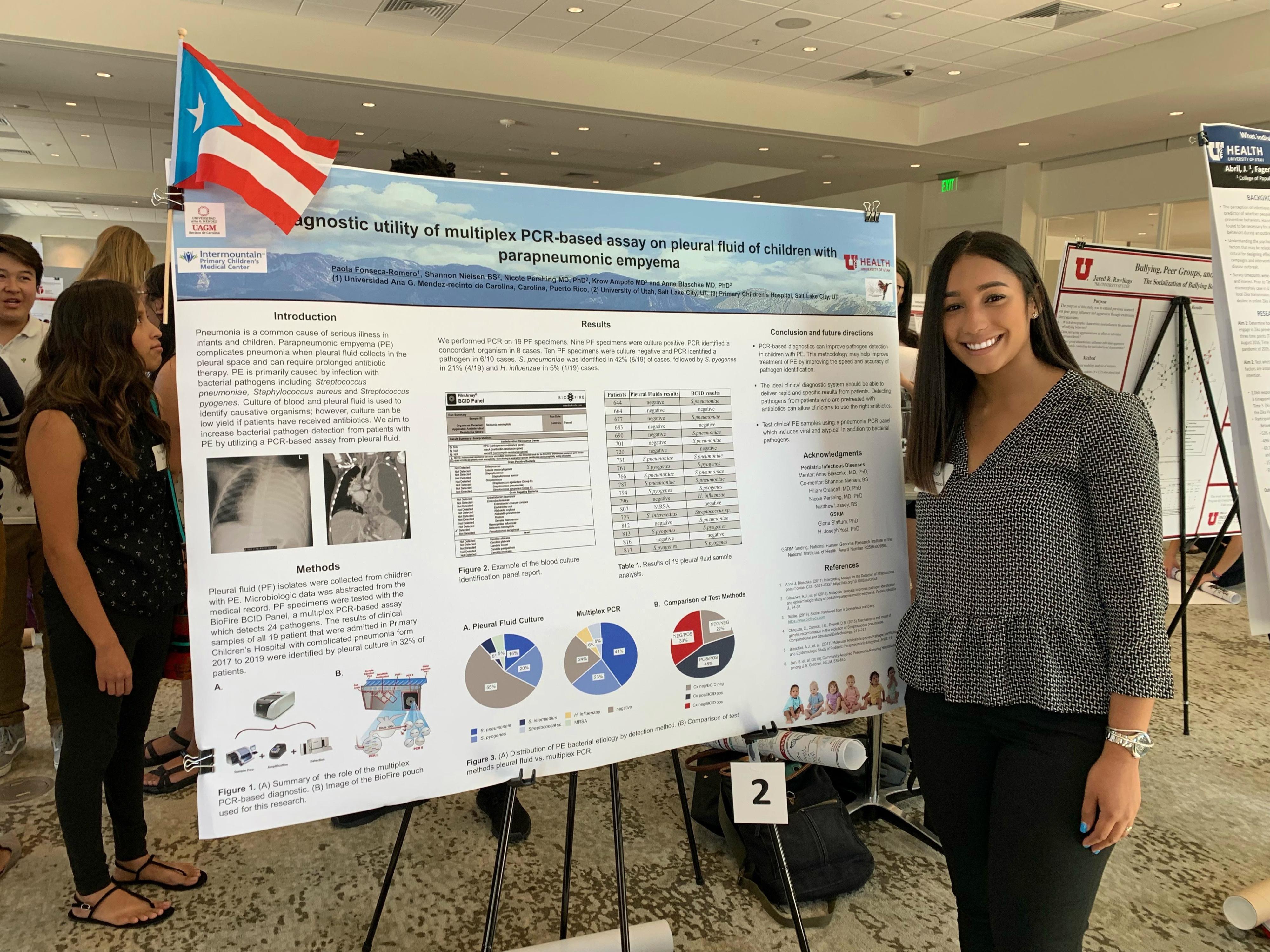 Benefits of Embracing the Unknown
At the University of Utah, doors open when you ask for help.
At the start of my journey, I felt determined to be a scientist. But I wasn't sure how I was going to get there. I could have pursued a PhD at the Universidad Ana G. Méndez in Puerto Rico, but it would have been expensive and taken a lot of time.
The scholarship opportunities I found at the U got me where I wanted to be faster and gave me a higher quality of education. I've had ample help to meet my goals. If I needed to make connections or find the funds to present my research at a conference, I just had to ask.
If I'd never left my comfort zone, I might not have had the chances for personal growth that I found here.
It all started with GSRM, really. Today, I have opportunities to travel and share my science, to network, and to work on research that captivates me.
I'm proud to be part of a supportive community that values me for who I am. The university's focus on EDI and promoting diverse voices is important, especially because so many other institutions are lacking in that area.
Ultimately, creating diverse teams is good for everyone. People like me benefit, of course. But diverse voices also expand science and improve our health care support system.
I hope that as I continue my career, I can have a positive influence on my field and also the culture of academic medicine.
Paola Fonseca-Romero, BS
Paola Fonseca-Romero is completing a PhD in biosciences and an MS in clinical investigation at the University of Utah. As a member of Daniel Leung's lab, she focuses on predictive modeling and metabolomics, with a specific emphasis on addressing childhood diarrhea diseases and malnutrition. She serves as recruitment chair for the University of Utah Chapter of the Society of Advancement of Chicanos/Hispanics & Native Americans in Science. Fonseca-Romero received a BS in microbiology from the Universidad Ana G. Méndez (UAGM), Carolina Campus. She received a Pfizer honor scholarship in 2017 to work with Juan Gonzalez-Sanchez, PhD, MS, at UAGM, studying nanoparticle properties to develop more efficient pacemakers.  
DON'T MISS OUT. GOOD NOTES delivers to your inbox.