Utah Legislature Supports Dedicated Long COVID Care, Education, Research
While the future of COVID remains uncertain, one thing is sure. Utahns who were severely ill with the virus or live with persistent symptoms can receive specialized care at University of Utah Health. 


Thanks to the state legislature, University of Utah Hospital received $4 million to continue operating its long COVID clinic. The clinic will help reduce the load on hospitals. It will offer a dedicated space for continued treatment. It can improve patient outcomes by handling a spectrum of symptoms. It will also promote public health by using new findings in long-term COVID research and care.
Responding to the Needs of Our Community 


In the early days of the pandemic, people fixated on severe cases. Clinicians expected those with mild cases to improve more quickly. Yet, a percentage of people were still struggling.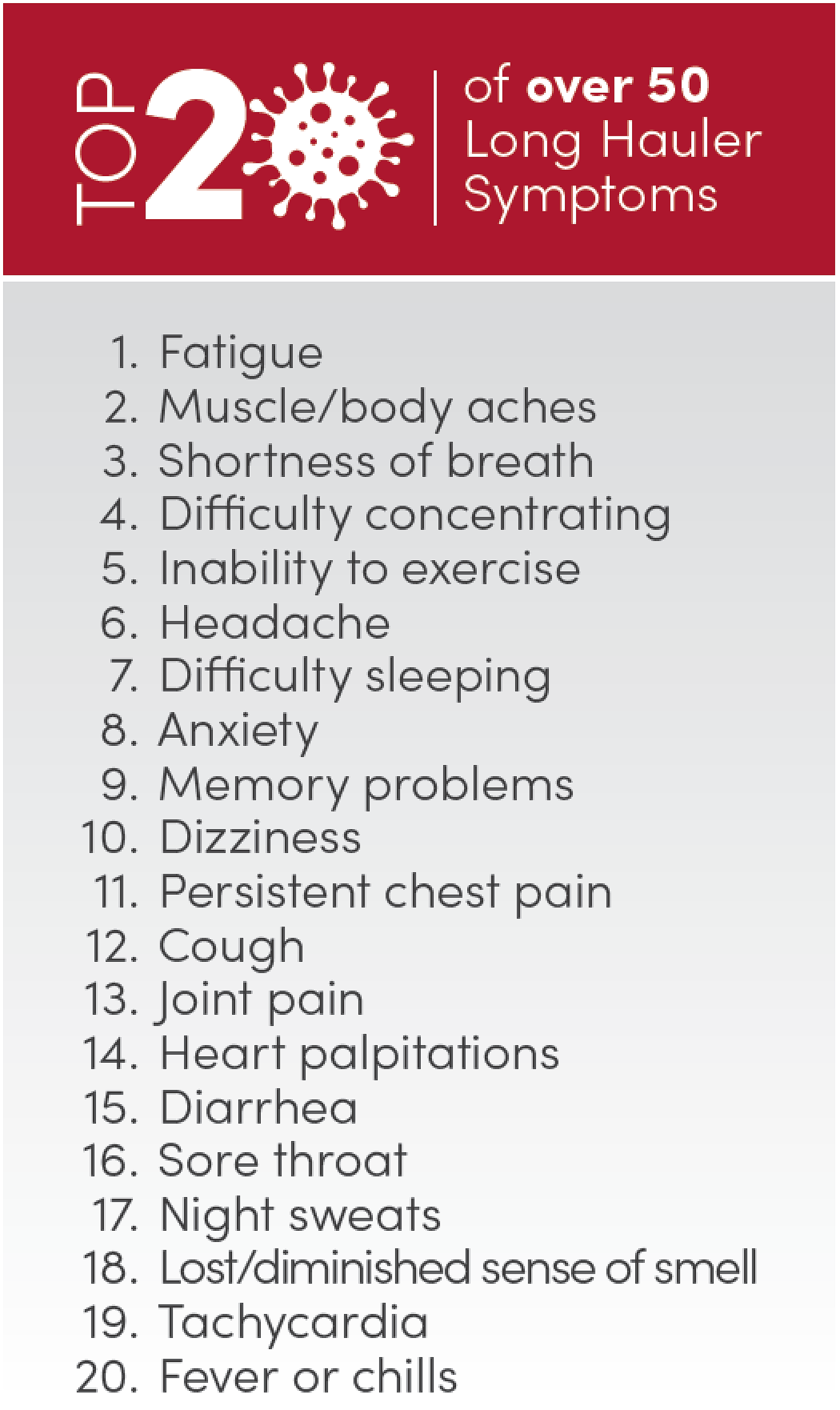 In late 2020, Michael Good, MD, CEO of University of Utah Health, and John Inadomi, MD, chair of the Department of Internal Medicine, recognized the need for chronic care for those who did not recover from COVID as expected. 

Plans for a dedicated long COVID clinic began in January 2021 and we officially opened in July 2021. The clinic treats patients who were hospitalized or continue to have chronic, sustained symptoms that impact everyday life and employment. We continue to receive about 100 referrals each month and have served more than 1,800 to date.
Supporting Long COVID Comprehensive Patient Care and Research


The University of Utah Hospital provided initial operating funds for the long COVID clinic. Once we knew the clinic would operate longer term, we had to find a way to fund it. How would we reach uninsured or underinsured patients and those living in distant rural communities? We decided to approach the state legislature for their support.
Working closely with the university's legislative liaison staff and U of U Health strategic communications team, we developed informational materials to inform legislators. We made a strong case for how the university can help current and new patients. We met with Utah state Rep. Melissa Ballard. Ballard is a long COVID patient who received care at our clinic. She became an important advocate and partner for us. When we presented our case to the legislature, Ballard and another patient shared their experiences. Everyone in the room knew someone affected by the long-term consequences of the virus.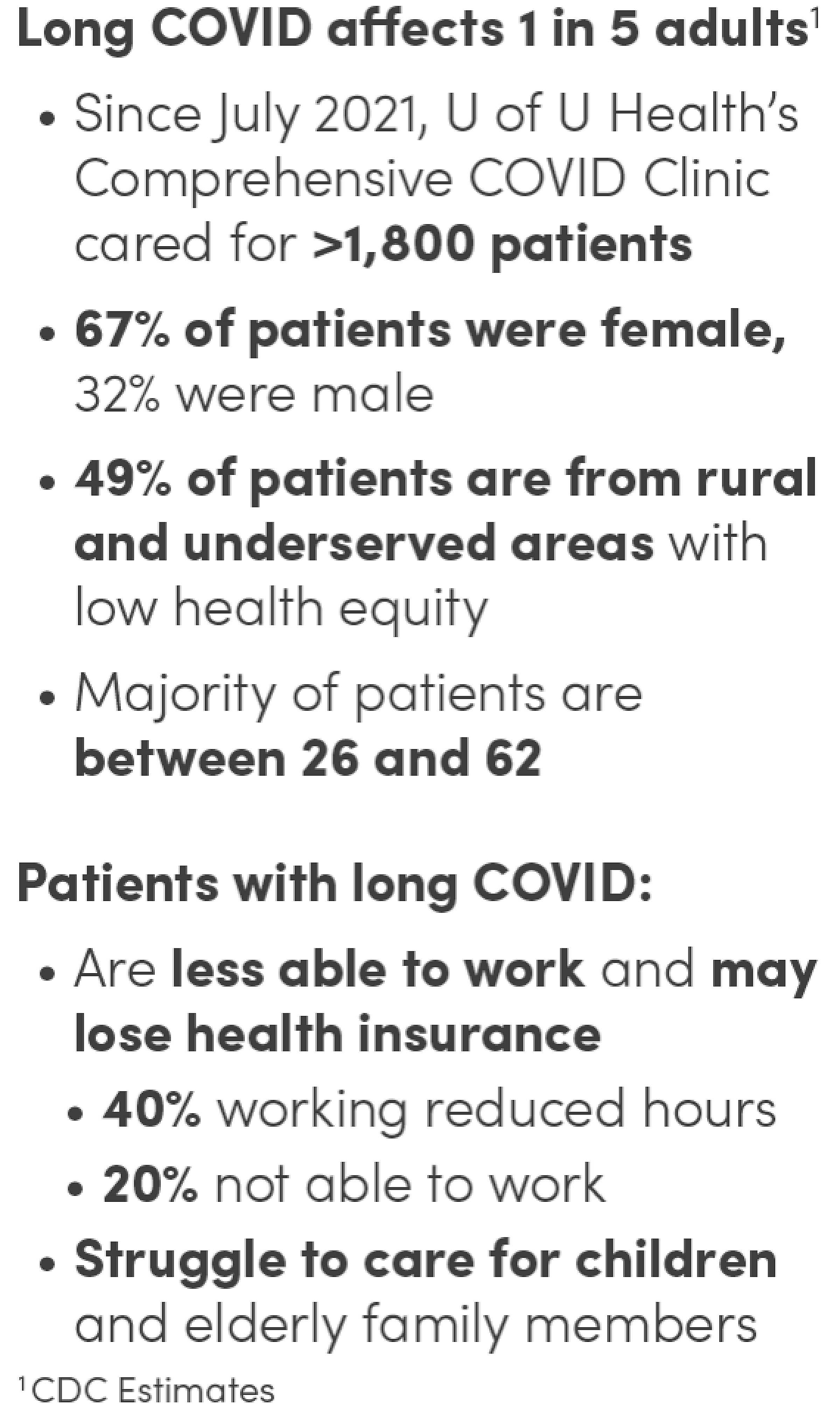 Fortunately, supplemental funds were available from the 2020 Coronavirus Relief Bill (CARES Act). FEMA overpayment to the state was also available. The legislature earmarked the funds for COVID care and voted to direct $4 million to our long COVID clinic.
It was a fortuitous moment! They had the available funds, and we had a way to care for patients around the state.


With this generous support from the legislature, we will do the following:
Expand long COVID clinical operations, making it possible for uninsured and underinsured patients to receive timely care.
Expand provider education in under-resourced areas with sharable digital resources.
Partner with other community health organizations around the state to create access to care in underresourced and rural communities.
Conduct research and clinical trials to improve COVID treatment methods.
Stepping Back, Reevaluating 


We're always learning from our patients and community. A lot of COVID patients—especially those experiencing long COVID—said they felt unheard. Sometimes we need to pause. When something doesn't fit an expected pattern, we should take a moment to acknowledge what the patient is going through. And to reevaluate and look at a problem in new, creative ways.
Like any great life challenge, confronting the pandemic and its effects causes you to revisit your priorities. Our goal is to take what we can learn from this, move forward, and strive to improve things. That's what we're here for.
Jeanette Brown, MD, PhD
Jeanette Brown is an associate professor of internal medicine at the Spencer Fox Eccles School of Medicine at the University of Utah. Brown serves as medical director for University of Utah Health's Comprehensive COVID Clinic. The clinic provides care for patients with symptoms from COVID-19 (severe and long COVID) and facilitates research and education for other clinicians who care for these patients. Brown's clinical focus is patients with chronic respiratory failure requiring mechanical ventilation due to neuromuscular diseases including spinal cord injury, and muscular dystrophy. She received an MD at the University of Colorado School of Medicine and completed residencies in internal medicine and pulmonary and critical care medicine at the University of Michigan. She also received a PhD in immunology at the University of Colorado.  
DON'T MISS OUT. GOOD NOTES delivers to your inbox.