Project ECHO Recognized for Rural Partnerships
Specialized health care is scarce in rural communities. When treatment can't be provided by a community doctor, patients are referred to hospitals that are often miles away. To assist these patients, Project ECHO connects medical practitioners working in remote areas with University of Utah Health specialists.
Our ECHO hub now spans more than a dozen specialties. We bring virtual health education to medical practitioners working in rural communities throughout the Mountain West.
Our ECHO counterparts at the Rural Health Association of Utah recently selected our hub as their 2022 Partner of the Year. This monumental honor recognizes the value of our ECHO programs. It's an important milestone in the journey to further expand our services and impact.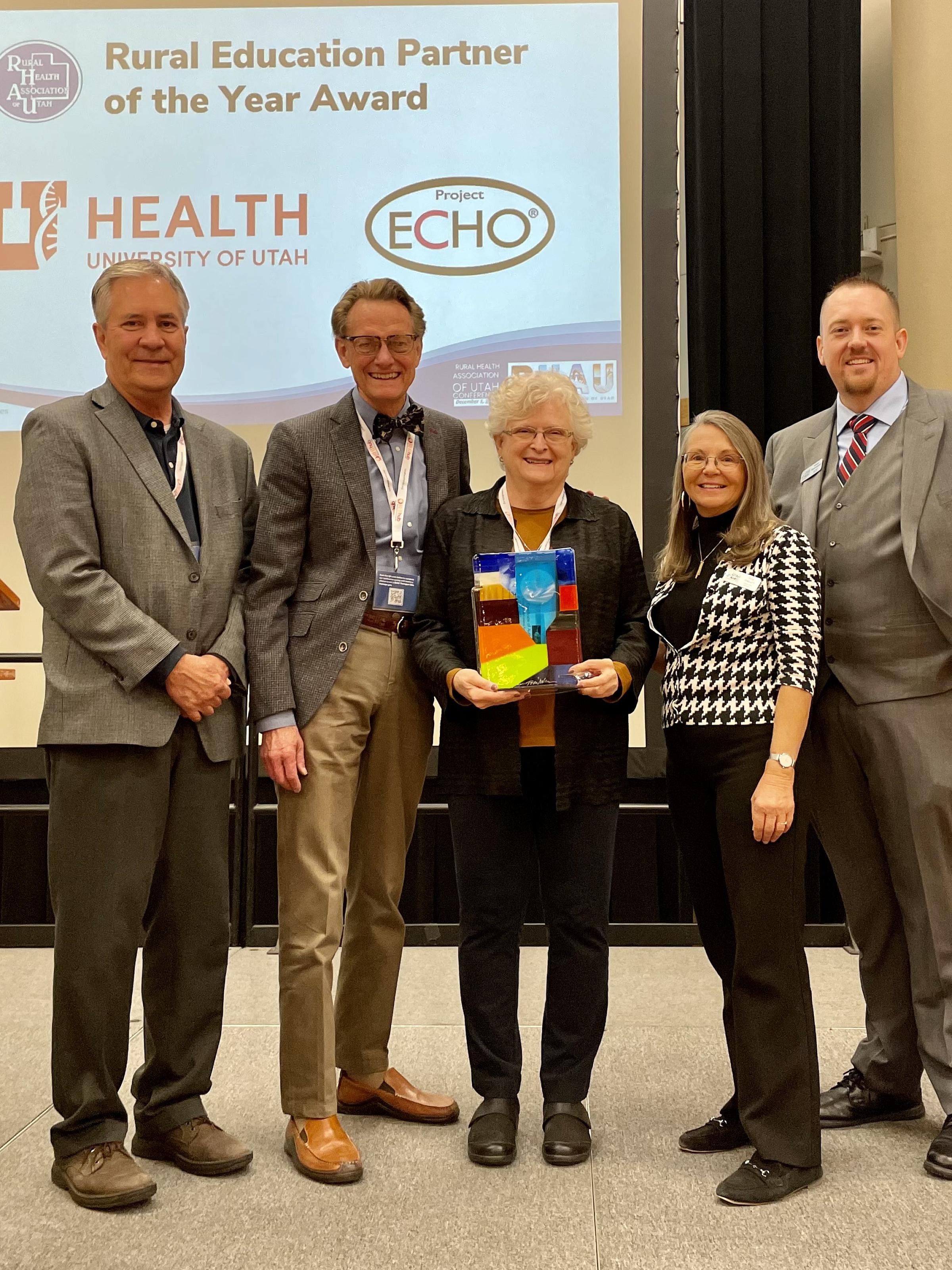 Project ECHO is a second pair of eyes that can help doctors prescribe the best care for their patients. For instance, if a patient in rural Utah has concerns about a potential skin condition, they consult their primary care physician. But that doctor may not be qualified to identify any potential illness. On top of that, the nearest dermatologist is several hours away.
Enter Project ECHO. The physician can consult with dermatology specialists virtually through the ECHO hub at U of U Health. Our dermatology team can help the physician identify an illness and guide them through the appropriate care for the patient. The physician has also learned new information that can be applied to future cases.
This care model was pioneered in 2003 by Sanjeev Arora, MD, of the University of New Mexico School of Medicine. At the time, few hepatitis C patients in New Mexico were receiving the right treatment. This led to high yet avoidable death rates. By employing the ECHO model, doctors in remote areas with high hepatitis C rates could consult with treatment experts. This has since helped save thousands of lives from hepatitis C infections.
The ECHO model is now utilized on a global scale. With experts in a wide array of specialties, the ECHO program offers education and guidance for our peers who want the best for their patients. Physicians can access this resource regardless of their social or geographic circumstances.
Project ECHO also brings tremendous cost savings for both patients and care facilities. It gives valuable guidance to physicians—and there is no cost to use an ECHO hub. Physicians who see hundreds of patients per year and include us in treatment solutions are preventing many from going to the hospital. We are in the process of gathering data to highlight this contribution from our own ECHO programs.
Bringing the ECHO Model to the U
Project ECHO's mission aligns perfectly with our values at U of U Health. We were the fourth institution in the world to form an ECHO hub. Jumping off from our hepatitis C work with Dr.
Arora, our ECHO program has flourished into a hub with an array of programs. These programs include hepatitis C treatment, pediatrics, burn injuries, substance use treatment, and behavioral health.
We have seen tremendous success with our pregnancy care ECHO program. We now connect with nearly 600 obstetric providers annually. Our inclusive consultation with out-of-hospital birth care providers helps ensure best practices are carried out. Additionally, we have improved the relationship between hospitals and out-of-hospital providers.
We recently formed a post-viral ECHO program. The program provides learners with useful guidance and tools to address those with post-viral syndrome. This program is especially important as the COVID-19 pandemic continues and long COVID cases increase. We have already given many of our community partners strong support to combat this.
Destigmatizing Addiction and Behavioral Health
A significant objective of our ECHO hub is to destigmatize addiction and familiarize rural physicians with treatment.
Many physicians across the country, especially those in remote areas, lack the knowledge to treat patients with substance use disorders. In some cases, doctors outright refuse to admit these patients. This is a problem that occurs not only in rural communities but also in urban centers where drug use is high.
Substance use treatment has crossed over into other ECHO programs, as well. For example, hepatitis C cases are again on the rise nationwide because of injection drug use. If ECHO can help improve access to addiction treatment, we can significantly decrease the spread of hepatitis C.
Substance use treatment is one component of our overarching behavior health ECHO programs. Adequate behavioral health treatment within our care systems is severely lacking. But our behavioral health specialists in ECHO continue to draw enthusiasm from our community partners who want to change their notions about treating mental health. Changing attitudes about addiction and behavioral health leads to better, more equitable care.
A Fruitful Partnership
We have worked hand in hand with the Rural Health Association of Utah's ECHO hub for several years. While the U of U Health ECHO hub provides clinical health consultation, the association hub provides non-clinical programming. This includes workforce development and administrative support.
Our partnership has created a well-rounded support system that serves Utah's rural health care communities in many ways. It has been especially effective at confronting substance use disorders and the health and social challenges addiction brings to individuals in remote regions.
To be recognized as their 2022 partner of the year is humbling and encouraging. It will go a long way as we continue to expand our programs and seek funding sources. We're excited to continue this partnership for years to come.
Terry Box, MD
Terry Box directs Utah's Project ECHO. Box is an associate professor in the Department of Internal Medicine at the Spencer Fox Eccles School of Medicine at the University of Utah. He is also a Huntsman Cancer Institute (HCI) investigator and a member of HCI's Gastrointestinal Cancer Program. Box's expertise is in diagnosing and treating diseases of the liver. He received an MD at University of Texas Southwestern Medical School, followed by residency and fellowship at the University of Utah.
Elizabeth Howell, MD, MS
Beth Howell is co-director of the Integrative Primary Care and Substance Use Disorder ECHO series. Howell is a professor of psychiatry (clinical) at the Spencer Fox Eccles School of Medicine at the University of Utah. She treats patients at the Huntsman Mental Health Institute and University of Utah Hospital. Howell also serves as Training Director for the Addiction Psychiatry and Addiction Medicine fellowship programs and Principal Investigator for a NIDA Clinical Trials Network project (CTN-0100) on Opioid Use Disorder. Howell received an MD and completed residency and fellowship at the Medical University of South Carolina.
DON'T MISS OUT. GOOD NOTES delivers to your inbox.