Leader Profile: Karyn Springer Guides a New Generation of Population Health Physicians
Over the years, I've held numerous leadership positions at Intermountain Healthcare, where I've spent most of my career. I can pinpoint my journey as a leader to one singular event.
Years ago, a family medicine colleague of mine reached out to let me know that he was stepping down from an elected medical board position. He said, "I think you would do a great job, and I would like to nominate you for the position."
Before that moment, I hadn't fathomed that the scope of my career as a physician would extend beyond seeing patients and teaching students and residents. My colleague's suggestion opened my eyes to many leadership possibilities. Nearly every leadership opportunity that I've had since then has stemmed from that initial experience on the board.
I have often reflected on that moment. If my colleague hadn't reached out with a supportive, "Hey, I think you'd be really good at this," I might have taken a completely different career path. This has led me to prioritize mentoring and talking to people about their individual worth and goals. One of my most important responsibilities as a leader is to look for opportunities for those I lead and support them in their growth—to help pay it forward.
Finding Joy in Leading and Teaching
I've had many different leadership opportunities with Intermountain Healthcare. I've served as a regional coordinator with urgent care, the Utah Valley LiVe Well Center Medical Director, interim Associate Chief Medical Officer for primary care, and chair of the Utah Medical Group Board. As a leader, my role is to facilitate and lead through influence and example. I thrive and find joy as those I lead achieve success and reach their potential.
While holding these leadership positions at Intermountain, along with my practice, I have always taught. I was drawn to teaching years before I became a physician. As an undergraduate at Stanford University, I considered getting a master's in education. Instead, I decided to go to medical school because the science and the academic challenge appealed to me. I remember thinking to myself, "Well, at least I can teach patients about their health." At the time, I had no idea that there would be so many opportunities for a physician to teach beyond the patient-physician relationship.
During my residency, I really enjoyed learning from and teaching other residents and students. After I completed my residency, I contacted the director of the program to see if they needed more preceptors. Fortunately, he said, "Yes!" and that was the simple start to what has now become a career deeply rooted in medical education.
Guiding Tomorrow's Population Health Leaders
Being faculty at the residency program was the main way that I interacted with students until I accepted a position as Intermountain's Senior Medical Director of Graduate Medical Education (GME) strategy and began working with the Population Health Scholars Program. The Scholars Program is an innovative, one-of-a-kind program involving collaboration between Intermountain Healthcare and the Spencer Fox Eccles School of Medicine at University of Utah.
The program was created through an endowment from Intermountain Healthcare to support the education of medical students who are interested in pursuing population health and its associated specialties, such as family medicine, internal medicine, pediatrics, OB/GYN, general surgery, and psychiatry. Because of the shortages in these areas—especially primary care physicians and psychiatrists—exposing our students to great experiences with physicians who are thriving in those specialties is essential for inspiring them to choose those fields.
The Population Health Scholars Program launched during the 2021-22 academic year with 11 students. This academic year, we have 10 new students, and we plan to admit 15 more students for the 2023-24 academic year. Students who are already accepted to the medical school and have an interest in population health are eligible to apply to the program.
Each student completes the Population Health Pathway, where they receive additional education in population health and a graduate certificate along with their medical degree. The students are also paired with Intermountain physicians who serve as mentors on a longitudinal basis, beginning with the students' first year of medical school. We encourage the students to nurture these one-on-one relationships and stay connected throughout medical school and even into residency.
As part of the program, Intermountain guarantees the Population Health Scholars an employment offer after residency. They also receive 50 percent in-state tuition support in the form of a loan that the university forgives after the students work for Intermountain for four years. This tuition support is especially meaningful in decreasing the students' financial burden, as this is often a barrier to going into the population health specialties.
Having graduated from the University of Utah School of Medicine, this program holds a special place in my heart. It represents an innovative way to advance the education, experience, and future pipeline of physicians who will successfully practice population health strategies in our region and beyond.
Expanding a Developing Program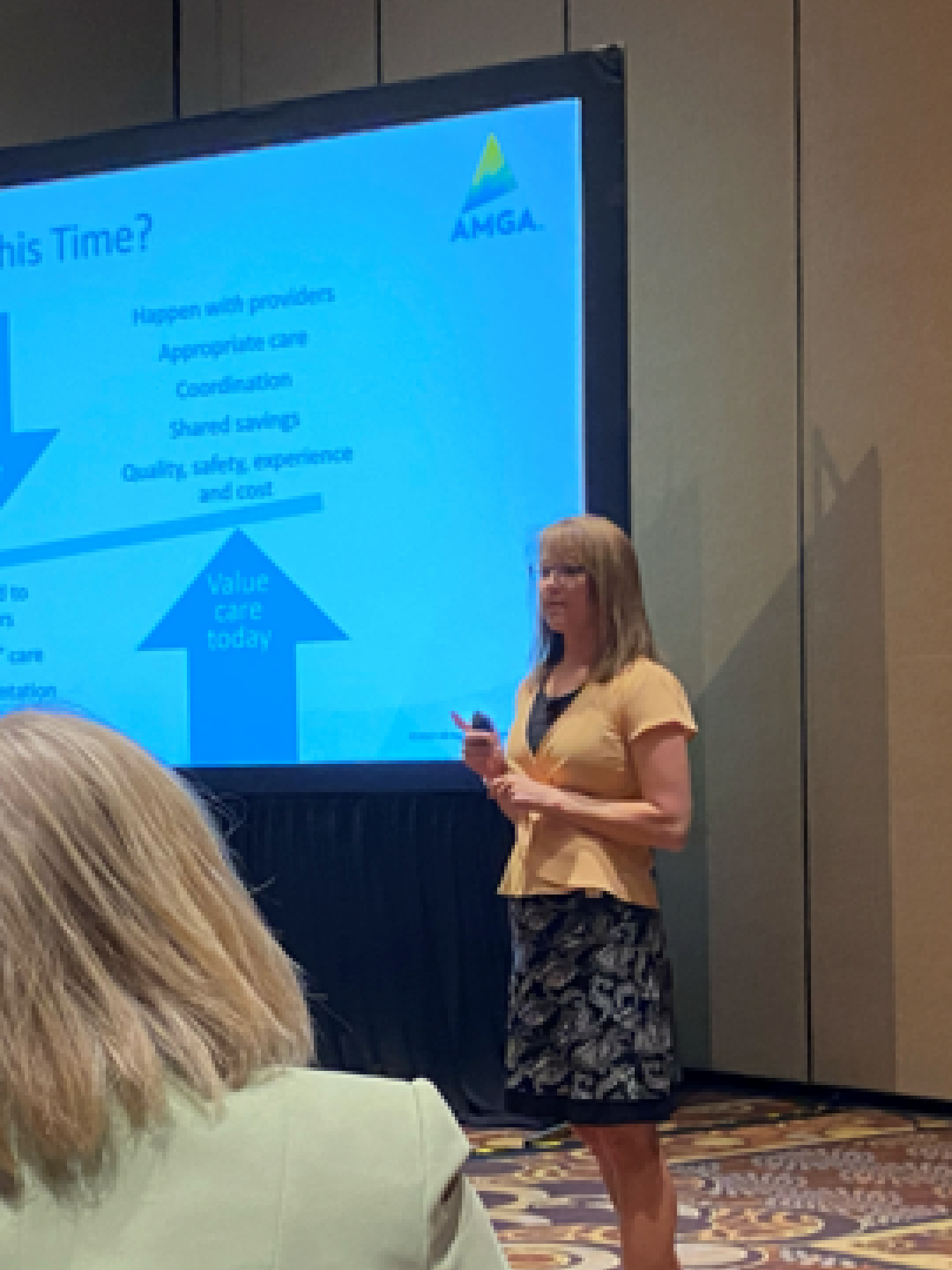 The Population Health Scholars Program offers many enrichment opportunities for the students. Through our program, students experience what it's like to be an Intermountain physician involved with different community health programs. The biggest strength of the program is that it exposes students very early on to practicing in our new health care environment, where we're more focused on population health and working as a team rather than on traditional fee-for-service.
As our program expands, we're working to create a population health longitudinal integrated curriculum (LIC) during their third year. Instead of block rotations, the students will follow a panel of patients on a longitudinal basis, working with physicians in the traditional clerkship specialties who focus on value when caring for their patients. The LIC will provide students the opportunity to participate as part of an extended care team and better understand their role as a physician in caring for the whole person, not just a set of separate medical conditions.
The population health LIC is one of the most exciting things that we're working on to expand our scholars' education. We are looking for the right Intermountain physician preceptors to be able to provide that type of experience.
Encouraging Collaboration on Different Levels
I'm reminded daily that traditional partnerships are starting to look different and that this likely will be the norm going forward. Where there has been competition in the past, now there is an ever-growing need to work together. My role with Intermountain Healthcare and new appointment as the Assistant Dean for Intermountain Population Health Clinical Learning at the Spencer Fox Eccles School of Medicine truly reflect the collaborative nature between our organizations. Really, it's just one example of our strong, ongoing relationship.
Recognizing that we will always achieve more together than we will by ourselves is required to stay focused on our end goal—which, for both organizations, is providing high-quality care for our communities. As leaders, we are showing the next generation how we must collaborate to achieve this goal and help prepare others to do that in the future. I am honored to participate in this great work.
Having students interact directly with practicing physicians and leaders from both Intermountain and U of U Health is a unique and important opportunity. Unlike me—who went to medical school and didn't realize that there were other options besides practicing clinical medicine—we have already started telling them, "You are our future leaders, and you can make a difference." It's incredibly meaningful for me to expose our students to this perspective early and broaden their view of what it means to be a physician. This is exactly what health care and our communities need.
Karyn Springer, MD
Karyn Springer is the Assistant Dean for Intermountain Population Health Clinical Learning at the Spencer Fox Eccles School of Medicine at University of Utah. Springer is board certified in family medicine and lifestyle medicine and practices at Intermountain Healthcare. She serves as Intermountain's Senior Medical Director for Graduate Medical Education and Chair of the Intermountain Utah Medical Group Board. Springer received an MD at the University of Utah School of Medicine and completed residency at the Utah Valley Family Medicine Residency.
DON'T MISS OUT. GOOD NOTES delivers to your inbox.