Leader Profile: Rachel Hess' Action Plan Focuses on People
My pediatrician inspired me to become a doctor when I was six or seven years old. Dr. Haruo Kusumoto survived Hiroshima, and he was the person I admired the most. I began my journey to become an internal medicine physician and primary care provider when I attended the University of New Mexico School of Medicine. Part of the university's mission was to provide health care to the state's largely rural and underserved population. We spent several months after our first year of medical school working with physicians in rural New Mexico. This was a true eye opener. Even though I was assigned to work in a ski town, it was remote and lacked emergency health care and technology. When a patient needed urgent or high-level care, they usually faced a three-and-a-half-hour drive to Albuquerque.
After medical school, I completed my internship and residency at Temple University Hospital in north Philadelphia, which took care of a largely Black population in one of the nation's poorest ZIP codes. I continued to learn about how lifestyle contributed to medical issues. I was now training in a major metropolitan area but dealing with similar challenges to those in rural New Mexico—underserved patients for whom a lack of resources exacerbated health inequities.
Meet People Where They Are
My experiences in New Mexico and Philadelphia informed my desire to continue a path in primary care and research—and informed my leadership style. In the same way that we reach out to the patient community we're serving, it is equally important to reach out and listen to the faculty and staff that make up the research community we serve. As health providers, we need to ensure our communities have access to medical resources and education. We use transparency in order to gain the trust of our patients and encourage them to become engaged in their own health care. As leaders in academic medicine, we ensure our researchers have access to the infrastructure, resources, and training to thrive in their careers. We use transparency to build trust with our research community.
I went on to do a three-year research fellowship at the University of Pittsburgh, where I focused on women's midlife health. I learned how to measure patient outcomes to understand where people started in their medical journey and how much progress they were making. After my fellowship, I stayed on the faculty of the University of Pittsburgh for 10 more years, which was an amazing and informative time for me.
I was fortunate to work with an exceptional cadre of men and women in academic medicine. We had an extremely strong cohort of junior and early mid-career women faculty who provided peer and near-peer mentoring. These incredible women encouraged me to believe in my professional goals and my ability to achieve them. I was able to observe varied leadership styles—and begin to cultivate a style that aims to encourage all members of a team, regardless of title, to participate in developing and reaching our goals.  
A High Ceiling for Growth
In 2014, I was recruited by University of Utah Health to establish and serve as chief of the Division of Health System Research and Innovation in what is now the Department of Population Health Sciences. We immediately began hiring staff and faculty, growing the team from one to 17. The department is now beginning a nationwide search for a person to replace me in this role.
I am excited to continue my career working for U of U Health . There's something about the Mountain West that invites innovation and different ideas. There is a willingness to collaborate across the health system and health sciences and main campus. U of U Health has a high ceiling for growth and expansion. We're large enough to have an exceptional diversity of ideas, skills, and information and small enough to easily share them.
Turning Vision into Reality
The University of Utah is known for its discovery research and bridging those findings to impact patient health and outcomes. As the new associate vice president for research, I want to build on this history and continue to support and grow research from discovery through implementation. In order to realize this vision for our office, I have specific leadership goals, which include :
Understanding and utilizing perspectives of my entire team
Building a solid floor for our researchers to stand on, with a high enough ceiling to ensure that they do not feel stifled
Encouraging and supporting the work of collaborative teams and partners to solve human health issues
U of U Health as a Destination
The University of Utah has grown exponentially in people, programs, and reputation. I believe we can become a premier place for anyone working in health care.
My vision for the future is that when people in academic medicine think about the perfect job, they think about University of Utah Health. Just as people consider Utah as a destination for skiing and other outdoor recreation, they will think about U of U Health as the ultimate place to choose for their next work experience.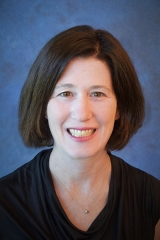 Rachel Hess, MD, MS
As associate vice president for research at U of U Health, Rachel Hess guides institutional research strategy and investment. A professor of population health sciences and internal medicine, she also serves as co-director of the Utah Clinical & Translational Science Institute. Hess received an MD at the University of New Mexico School of Medicine and completed her internship and residency in internal medicine at Temple University Hospital. She completed her general internal medicine and women's health fellowship and received an MS in clinical investigation at the University of Pittsburgh.
DON'T MISS OUT. GOOD NOTES delivers to your inbox.