Celebrating the Past, Present, and Future of Anesthesiology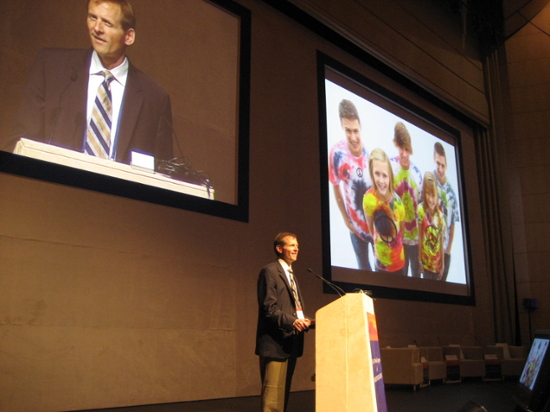 When I was first appointed chair of the Department of Anesthesiology in April 2015, I had already been with the department for more than 20 years. I was humbled and honored by the opportunity to help push the department and the field of anesthesiology to greater heights in this new leadership position.
I am humbled again now as I accept the reappointment to serve another term as chair. I appreciate the opportunity to pause and reflect on our growth as a department and share where we will focus our energy over the next several years.
#COVID19DUNKIRK 
Perhaps the department's most important accomplishment during my first term as department chair was the creation of a robust COVID-19 response plan. From the outset, the pandemic presented numerous challenges to perioperative services across the world, never failing to surprise us.
When the World Health Organization declared the COVID-19 outbreak a pandemic in early March 2020, the Department of Anesthesiology established an Incident Command Structure (ICS), emulating the crisis governance approach used by federal emergency response teams when they deploy to a disaster site. There was a great deal of uncertainty at the time; the ICS enabled us to be nimble as we confronted the highly dynamic situation presented by the pandemic. The ICS divided the tasks (e.g., staffing, personal protective equipment, wellness, emergency finance) and empowered the leadership of each area to make decisions on the fly.
It was during this early phase of the pandemic that I unveiled a theme for the department's COVID-19 response, naming it "Operation COVID-19 Anesthesia Dunkirk" (I even created a Twitter hashtag, #COVID19DUNKIRK).
The theme alluded to Operation Dynamo during the early days of World War II, where nearly half a million Allied soldiers were trapped in a small area on the western coast of France, facing a ferocious onslaught of Nazi forces. Thanks to hundreds of small, civilian sailing ships coming to the rescue, most of these stranded soldiers were evacuated from the beaches and harbor of Dunkirk. To me, this inspiring rescue effort at Dunkirk was the ultimate example of an entire community mobilizing to confront a serious threat to their society. Like Dunkirk, my charge to each department member was simple: climb aboard your individual sailing ship and come to the rescue of your community.
COVID-19 Department Czar 
Another key element of Operation COVID-19 Anesthesia Dunkirk was the appointment of Candice Morrisey, MD, as the COVID-19 Department Czar—our very own CDC. Dr. Morrisey was the point person for the department's COVID-19 response, managing daily huddles of the leadership team in the early months of the pandemic.
We focused on nimble governance and increased coordination and collaboration, empowering every member of our department to "come to the rescue" in numerous and impressive ways. Some of these rescue efforts included the purchase of reusable industrial masks for everyone in the department, innovation around airway management and CPR, the creation of an extremely affordable open-source ventilator for use in underdeveloped countries, a COVID-19 ICU refresher course, coordination of messaging via the Department of Anesthesiology's intranet page, and the creation of an emergency pay plan during the period of operating room shutdown, among many others.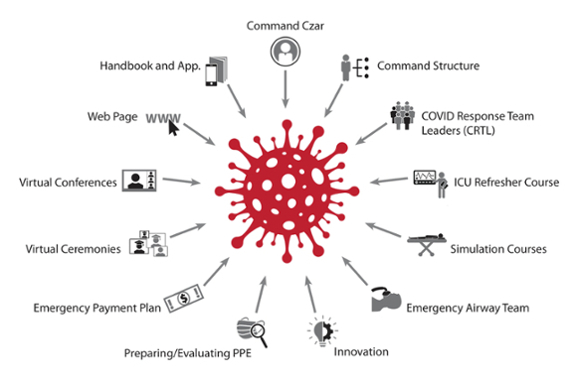 The pandemic has been a demanding tutor. We have learned a great deal about organizing perioperative services during a respiratory virus epidemic, including how we must adapt individually as doctors and collectively as a group of anesthesiologists. Looking back, we have experienced a lot of personal and communal growth, despite the hardships brought on by COVID-19 (and because of them…). We published the lessons we learned in the South African Journal of Anaesthesia and Analgesia.
While my #COVID19DUNKIRK hashtag didn't get much traction on social media, the spirit of service, community, teamwork, and innovation is stronger than ever in the Department of Anesthesiology. I'm grateful to all of our department members for the marvelous and varied ways they contributed to all of our missions during this time of worldwide crisis. I'm hopeful that we can now begin to navigate toward brighter, smoother waters.
Renaming the Department
When I was training in anesthesiology more than 30 years ago, anesthesia practice was thought of as something that only happens in the operating room. In the modern era, however, about a third of anesthesiologists at University of Utah Health don't work primarily in the operating room. Instead, they are in intensive care units, preoperative clinics, pain clinics, and postoperative wards, among others. The future of anesthesia—in large part—will focus on what we call perioperative medicine.
Perioperative medicine can be thought of as comprehensive care of the surgical patient across the entire surgical space and time spectrum. Anesthesiology encompasses each of these phases of patient care. In addition to anesthetizing the patient during the operation, we want to provide exceptional care at every stage of the surgical journey by managing comorbidities, treating pain, and enhancing patient recovery before, during, and after an operation, beginning at home and continuing through hospitalization and back home again.
Soon, the Department of Anesthesiology will have a new name, the Department of Anesthesiology, Perioperative and Pain Medicine. This new name will not only reflect the expanded view of what we do as a department but will also create space for current and future innovations in the field of anesthesiology.
Building Our Strategy
While anesthesiology encompasses a broad field of endeavor, the Department of Anesthesiology focuses our clinical, education, and research efforts on selected areas of strength and innovation. Our strategy for the next 3-5 years includes: 
Delivering high-quality, safe, efficient care to patients. We achieve this by recruiting top-notch clinicians, inspiring the clinical team with effective leadership, putting systems in place to ensure patient safety, and organizing efficient clinical services.
Attracting a diverse and talented pool of trainees, educating them with innovative pedagogical methods, and inspiring them to be life-long learners. I'm happy to report that our last two years in the National Resident Match Program have yielded the most diverse classes in the history of the department.
Attracting productive basic and clinical scientists, supporting them with the necessary financing and infrastructure, and advancing the field in an impactful way. The department has made internationally recognized research contributions in total intravenous anesthesia, drug and medical device development (e.g., fentanyl "lollipop"), in silico investigation (data science), pain management techniques, and the effects of aging on the cardiovascular and nervous systems, among many others. We will continue focusing on in silico research, an exciting and expanding area of research in anesthesiology that is sure to yield important advances in the future.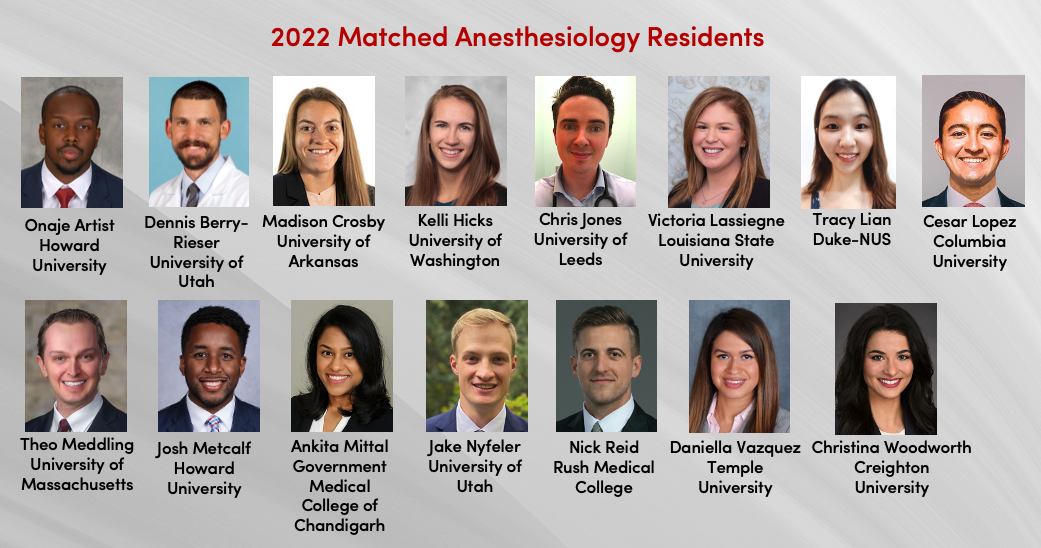 As I embark on my second term as department chair, I am grateful to stand shoulder to shoulder with so many amazingly talented and dedicated faculty and staff within the department. All we've accomplished as a department over the last seven years was not possible without our amazing teams. I am grateful to continue this journey with my colleagues in the coming years. Our people are at the heart of everything we do, and they inspire and motivate me to new heights.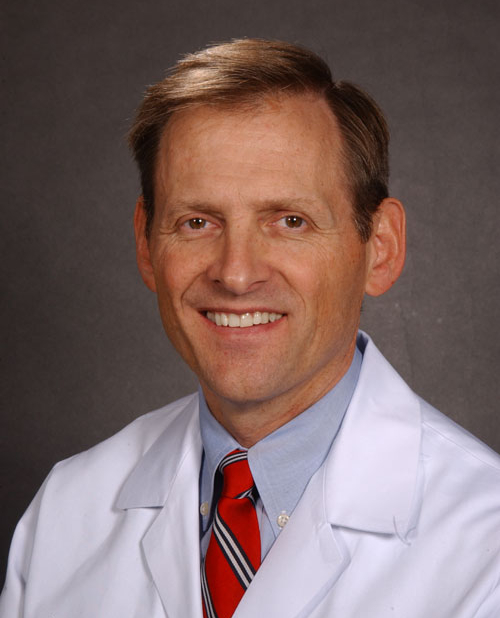 Talmage Egan, MD
Talmage Egan is a professor of anesthesiology and the K.C. Wong Presidential Endowed Chair in Anesthesiology at the Spencer Fox Eccles School of Medicine. Egan served for many years as a board member, treasurer, and president of the International Society for Anaesthetic Pharmacology. He received an MD and completed a preliminary general surgery residency at the University of Utah. He completed postgraduate training in anesthesiology and critical care and a fellowship in clinical pharmacology at Stanford University. Recently, he completed intensive physician executive training at the Harvard School of Public Health.
DON'T MISS OUT. GOOD NOTES delivers to your inbox.