Celebrating the 100th Anniversary of Primary Children's Hospital
Primary Children's Hospital is celebrating 100 years of service this year. That means celebrating 100 years of helping children and their families in Utah—and across the Mountain West—heal and thrive. It also means 100 years of research, innovation, teaching, and service that all center around our core belief of "The Child First and Always."
A Birthday Party to Remember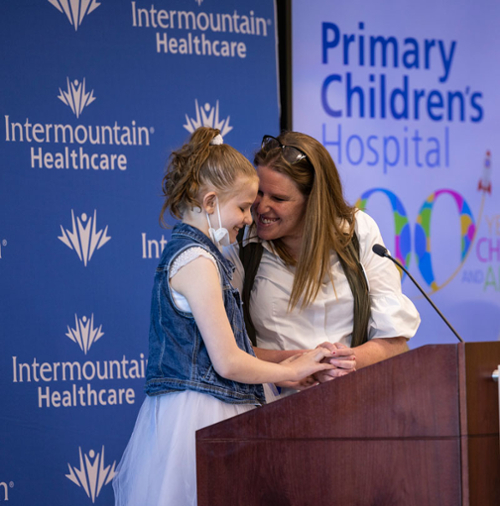 To celebrate, hundreds of people came to a birthday party for Primary Children's Hospital on Wednesday, May 11. Former and current patients and their families joined University of Utah Health, Intermountain Healthcare, local leaders, and health representatives for the celebration.
I was honored to speak to the audience about the message Primary Children's Hospital's founders would have for us today: We should all work together to help children have the best health possible.
Living proof of that promise came from the keynote speakers. Nellie Mainor and her mother, Sarah, shared their story with the audience. Nellie was diagnosed with a kidney disease when she was 6 years old. Sarah herself was a patient when she was a child. Both mother and daughter spoke about the care they received at Primary Children's Hospital, both as a patient and as a family member.
After a dozen surgeries, Nellie got a new kidney in 2019 and "is still going strong." Nellie said, "I have a big family at home and a big family here at Primary Children's. This is my home away from home. I feel safe here; I feel at home here."
Sarah spoke about the care and support of everyone from physicians to social workers and musical therapists to cooks and security officers.
"I have never been alone—not once—since Nellie was diagnosed at age 6. They cry with us, they rejoice with us, and they support us," Sarah said. "And they're here supporting us today."
Long History of Helping, Healing, and Growth
Primary Children's Hospital began in an old home near Temple Square in Salt Lake City on May 11, 1922. Donations of pennies—children would collect as many pennies as their age to help fund the hospital. The LDS Hospital performed surgeries, and children healed at the Primary facility.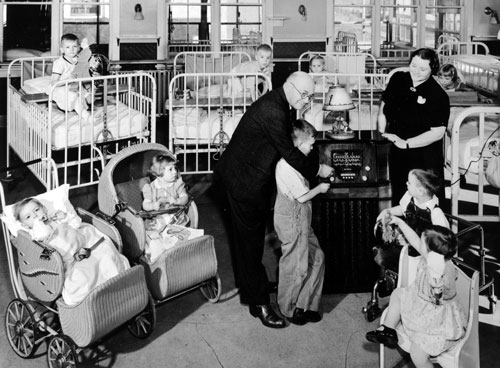 In 1952, the hospital moved to a new facility, and in 1977, after informally working together for years, an agreement between Primary Children's and the University of Utah School of Medicine (now Spencer Fox Eccles School of Medicine) established Primary Children's Hospital as an official teaching hospital.
Now, Primary Children's Hospital is jointly affiliated with Intermountain Healthcare, is located on the University of Utah campus, and has grown to hundreds of beds, more than 800 pediatric providers, a staff of 3,000 people, and more than 60 medical and surgical pediatric surgeries. We also partner with community practices and community hospitals through the Mountain West to help provide quality care close to the homes of children.
Today, Primary Children's Hospital is consistently ranked among the best children's hospitals in the nation.
We are also a leading teaching hospital. Teaching is woven into our DNA: There's nobody here who doesn't want to teach somebody something! All the medical students at the University of Utah rotate through Primary Pediatrics. We also have a strong residency program—among the best in the country. And every year, fellowships help drive education and training for pediatric care.
Spirit of Collaboration Drives Us to Serve
There's always been a spirit of collaboration in the Salt Lake community. As the needs of the children became more complex, specialists from the University of Utah became increasingly connected to the medical staff at Primary Children's Hospital.
That collaboration increased as ever-larger numbers of children needed sophisticated medical care. It just made sense for us to work closer together, share educational programs, collaborate on research, and focus on improving care delivery. Over time, we evolved from serving the generalized pediatric population to meeting more specialized needs.
That spirit of collaboration shows in the leadership at Primary Children's Hospital and drives U of U Health, Intermountain Healthcare, Primary Children's Hospital, and Salt Lake community and religious organizations to partner to provide the best care possible for our children.
The Child First and Always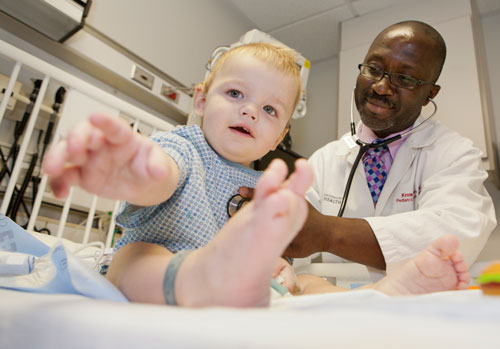 Pediatrics is a really optimistic medical field. It has to be. The children here at Primary Children's Hospital are at the beginning of their lives and have a huge amount of potential. Our job is to enable them to develop that potential. Health and wellness mean a lot in pediatrics. Most children are blessed with excellent health, but when they are afflicted with a condition, we pride ourselves on working hard to alleviate that condition.
"The Child First and Always" is a focusing motto we use to remind us why we're here. Whenever there's a barrier, we look to that statement to inspire us to overcome that obstacle. It's very affirming: We come here every day hoping to help a child and their family through what might be a very difficult and challenging experience.
We set about making sure we have a full range of programs children might need to deal with any conditions or adversities. And we must deliver those programs safely. The big goal of the past 25 years has been to make sure that our systems are safe. That's why we have the "Zero Harm/Always Safe" program. We're making sure these really complex health care environments are operating as safely as possible.
To help families be involved in their child's care, we include them on morning rounds, encourage them to ask questions, and empower families to raise concerns if something doesn't look or seem right.
The birthday celebration was an opportunity to reflect back but also to think forward.
We'll continue to drive innovative research and deliver compassionate, life-changing care. We'll continue expanding—including a new campus coming to Lehi in 2024—and building relationships.
We're always working at getting better in pediatric care. And that mission is going to drive us for the next 100 years because it's always about the child first and always!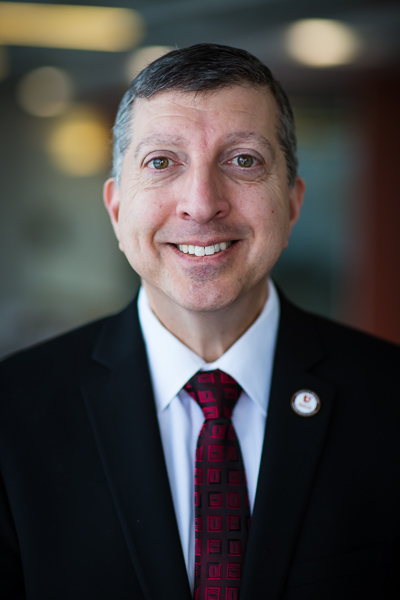 Angelo Giardino, MD, PhD, MPH, FAAP
Angelo Giardino is the Wilma T. Gibson Presidential Professor and chair of the Department of Pediatrics at the Spencer Fox Eccles School of Medicine at the University of Utah and chief medical officer at Intermountain Primary Children's Hospital. Giardino is a board member for several national and regional boards, including Prevent Child Abuse America, Mobilizing Action for Resilient Communities, and an appointed member of the national Medicaid and CHIP Payment and Access Commission. He also serves as associate editor for the 23rd and 24th editions of the Rudolph's Pediatrics textbook. Giardino received an MD and PhD from the University of Pennsylvania, completed residency and fellowship training at the Children's Hospital of Philadelphia, and received a Master's in Public Health from the University of Massachusetts.
DON'T MISS OUT. GOOD NOTES delivers to your inbox.