Making Employee Wellness a Priority
How do we support the well-being of health care workers? After two years of navigating the pandemic, we need to ensure faculty and staff at University of Utah Health have the resources needed to care for themselves and the patients and trainees we serve. This looks like working in an environment where well-being is infused into daily operations, decision-making, and the overall culture.
Understanding Work Culture's Role in Health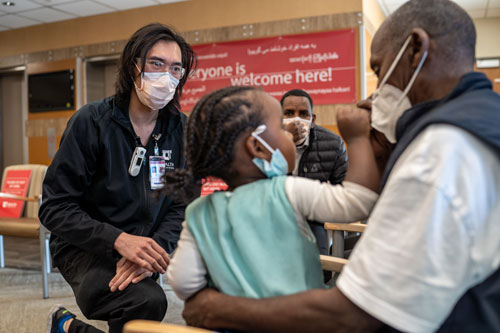 A culture of wellness is essential to our health care workers. U of U Health has made substantial strides in creating a culture that is more open about discussing mental and physical health and how both contribute to success at work. 
While the interplay of personal and professional well-being is not difficult to understand (i.e., if you aren't personally well, it's hard to get work done), how to impact professional well-being more broadly is complicated.
Work culture and the actual day-to-day work we do are the largest drivers of professional well-being. Work culture is hard to change, and there are many factors that influence someone's well-being at work, from the amount of work to how it's structured and supported.
Success in addressing professional well-being predicts our success in academic health care. Our strategy to maximize professional well-being focuses directly on culture and leadership communication, identifying and addressing upstream drivers of burnout, and expanding how we systematically evaluate what we do and its impacts. This work got a big boost thanks to a nearly $3 million US Health Resources and Services Administration (HRSA) grant.
What We've Been Through
The COVID-19 pandemic significantly affected the lives of health care workers across the nation. Stress, exhaustion, and compassion fatigue have been reported in workers worldwide. All this has led to high rates of burnout and turnover.
As health care workers, we tend to just put our heads down and keep working when times get tough. While that's a great attitude for getting things done, it can leave a person open to problems coping with stress, fatigue, and other effects from the pandemic.
During these past two years, we've seen spikes in mental health distress, including depression, anxiety, and PTSD-type symptoms. Looking at employee data, we can see burnout is persistently high. We are seeing chronic depression and anxiety. We know that unmanaged chronic stress can lead to physical and mental health symptoms that impact both our personal and professional lives. 
HRSA Grant for Resiliency Center Will Help Expand Resources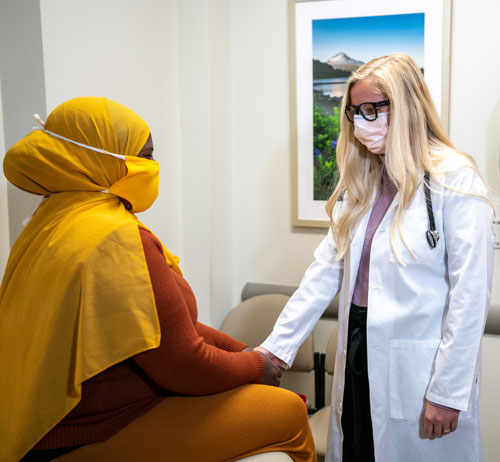 The Resiliency Center is a resource to help U of U Health focus on the professional well-being of people who work and train at the university. While we do help individuals identify resources when they are struggling, our primary job is to help the organization create a supportive culture and be people-centric. Individuals struggling with stress and burnout definitely need help; if we can get upstream of those issues, we can have an even more dramatic outcome on our productivity, our success as an organization, and most importantly, our own well-being.
The center received a $2.96 million grant earlier this year from the HRSA. That money will be used to expand the influence of the Resiliency Center to a broader audience, both internal and external to our medical center.
The grant money will be used for three main goals:
The first is to continue to strengthen programs and services within U of U Health and strengthen how the Resiliency Center evaluates its impact on health care workers.
Second, it will be used to further develop our crisis-response and peer-support programs. Our peer-support program started in 2017 and has benefited from continuous process improvement. The grant will allow us to strengthen peer-support training and a tiered system with escalating levels of support for individuals and teams.
The third goal is to expand professional well-being work to rural areas across the region.
If successful, we will share strategies to address professional well-being with hospitals and public health professionals, increase access to mental health support, and reduce burnout throughout the Mountain West.
We've partnered with four rural affiliate hospitals and the Utah Department of Health and Human Services to serve rural and underserved frontline workers across the rural West. Hospitals included in the grant are Moab Regional, Gunnison Valley, Blue Mountain, and Madison Memorial.
Looking at Lessons Learned for a Better Future
We have a real opportunity before us. The COVID pandemic has created a seismic shift in how we think about mental health and professional well-being among health care workers. We don't have to go back to the way things were pre-COVID when it comes to the well-being of our colleagues. 
The pandemic has opened up a conversation we've needed to have for a long time. Rather than looking the other way on important issues like mental health, exhaustion, work-life balance, and burnout, we're addressing these issues. We can work toward a future where—in addition to the health of our patients—we focus on the humanity and overall health of health care workers.
Amy Locke, MD, FAAFP
As chief wellness officer for University of Utah Health, Amy Locke leads the design, direction, and implementation of wellness and well-being programs across campus and the community to empower patients, faculty, staff, and learners to live healthy lives. In addition to her role as chief wellness officer, she is executive director of the U of U Health Resiliency Center, professor in the Department of Family and Preventive Medicine, and adjunct professor of Nutrition and Integrative Physiology in the University of Utah College of Health. Locke is Vice-Chair of the Board of Directors for the Academic Consortium for Integrative Medicine and Health.
DON'T MISS OUT. GOOD NOTES delivers to your inbox.