Health Sciences Leadership Forum Addresses Racism, Bias, and Discrimination
On March 22, 2022, the University of Utah held its inaugural Day of Collective Action. Initiated by the Presidential Commission on Equity and Belonging, the Day of Collective Action was a campus-wide moment of reflection and action designed to propel our collective goal to create an inclusive community. The Day of Collective Action began in response to the bomb threats against the Black Cultural Center, as well as other racist and oppressive actions. While initially a response, it has transformed to be an annual proactive activity to end systemic anti-Blackness and other forms of oppression.
As an equity, diversity, and inclusion (EDI) officer, I was excited for the opportunity to participate in this collective introspection—specifically to see how our collective purpose could make real changes. The Equity, Diversity, and Inclusion team was initially asked to participate but not lead. Under the leadership of Senior Vice President Michael Good, MD, we decided that in Health Sciences, we would participate in multiple events and provide a report of the ongoing projects and challenges associated with increasing our efforts in the EDI space. The Health Sciences Leadership Forum allowed four of our leaders to share how they are addressing racism, bias, and discrimination.
MyChart en Español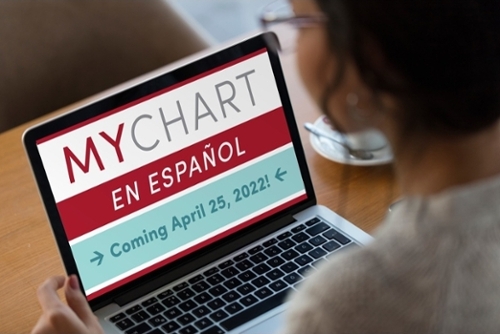 Michael Strong, MD, chief medical information officer, announced a launch date for MyChart in Spanish. Starting April 25, patients can easily switch to a Spanish-language version of MyChart. Patients who select the Spanish version will be able to schedule appointments, view upcoming appointments, access visit summaries, and refill medications—all in Spanish. In the coming months, more areas of MyChart will be translated to Spanish (including MyChart messages). Spanish is the most common language after English among our patients. We also feel that this is the beginning, and many other languages can be made available to make us more accessible to our diverse patient population. We celebrate the efforts of Strong and his team to make health care accessible and equal across all ethnic groups.
Overcoming Health Inequities in Kidney Disease and Transplantation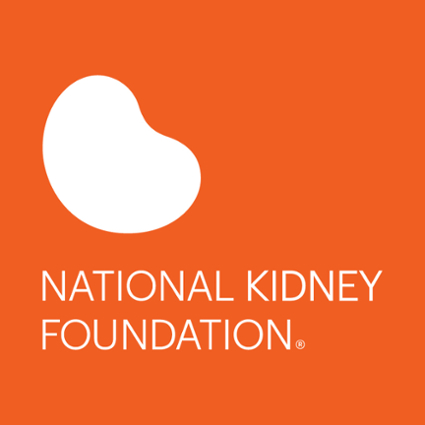 Starting in August, our health system will no longer use an antiquated formula for calculating kidney function in Black patients. The updated equation will no longer include the current Black race coefficient, which can overestimate Glomerular Filtration Rate (GFR), a critical indicator used to assess overall renal function, and has led to fewer Black patients being perceived as eligible for kidney transplants in our system and others. Medical Director for the Clinical Toxicology at ARUP Laboratories and Associate Professor of Pathology Kamisha Johnson-Davis, PhD, is helping to integrate this new equation into the U Health Care system. The elimination of the race coefficient is a realization that even in "objective measures," systemic racism is ever-present, and it is a small victory in our pursuit of health equity for all. We foresee a time when other calculators that use race as a biological marker, such as the atherosclerotic cardiovascular disease (ASCVD) risk calculators, will receive a similar revision. These are important first steps in making health care equity a priority for our health system.  
Transforming U Bioscience PhD Programs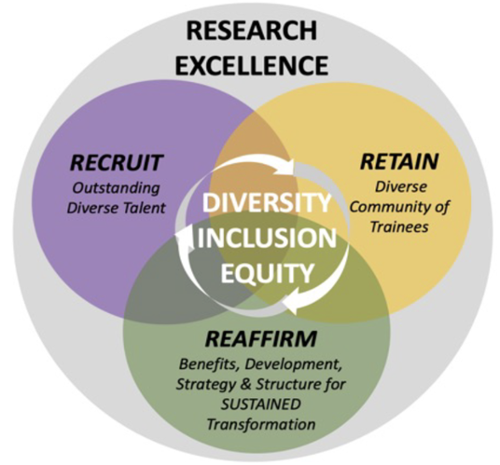 The Biosciences collaboration has transformed its PhD program with disruptive inclusion, an equity, diversity, and inclusion project launched in 2017. Jeanette Ducut-Sigala, PhD, manager for Diversity & Inclusion, Health Sciences Training Programs, was hired to spearhead the project. She helped restructure national and local recruiting strategies to be more inclusive to underrepresented populations and reframe the culture and infrastructure of the program. Over the past five years, the Bioscience PhD program has had sustained, significant success in recruiting and retaining underrepresented students, and now 24 percent of Bioscience PhD students are from domestic underrepresented groups. Grassroots, student-led organizations like the Society for the Advancement of Chicanos and Native Americans in Science (SACNAS) have been key in recruiting, retaining, and ensuring success here at University of Utah Health. Increasing our diversity will help us innovate in different and new ways and will accelerate our pursuit of excellence. As the efforts continue, Ducut-Sigala encourages each of us to ask ourselves the question, "What legacy and infrastructure for advancing diversity and inclusion will I leave behind?" Ducut-Sigala is an example of how all of us can achieve excellence through EDI efforts.
Policies to Establish Anti-Sexism and Anti-Racism as Institutional Values at U School of Dentistry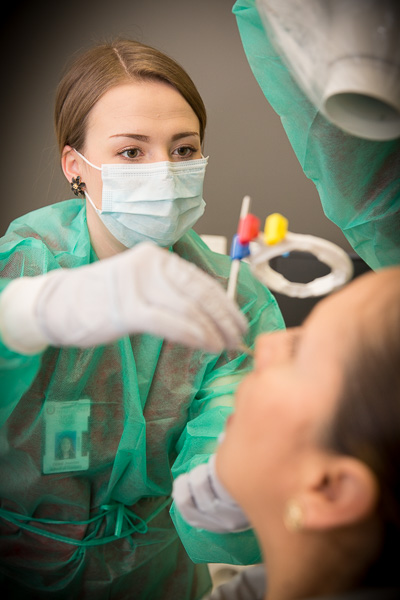 Recently, the School of Dentistry added new policies to address sexism and racism: the school's Strategy Refresh 2020-2025 promotes a humanistic culture built on an inclusive, equitable, safe, transparent, engaging, appreciative, and professional environment that values its people. The Family Leave policy provides fair and equitable time off for all students with family care needs. In addition to these written policies, there are unwritten policies—principles of action that communicate what we truly value. These unwritten policies are helping create new conversations and positive changes in the School of Dentistry. Dean Rory Hume, DDS, PhD, often engages students in discussions about racism, sexism, and discrimination. Bart Watts, DDS, associate professor, reports that this year the School of Dentistry will welcome its most diverse incoming class with nearly 50 percent of the students being female. When we talk about the things that matter to us—even when it's difficult—they become a part of our day-to-day narrative, they affect how we think, and we can start holding ourselves accountable.
Looking to the Future 
The four presenters in the Health Sciences Leadership forum have taught us some very important things that we can do in our own areas of the organization now. We can look to see what barriers exist in our patient interfaces and fix them. We can look at the science behind some of the decision-making tools that we use and correct them or use them appropriately. We have also learned that it's energy, passion, and placement of resources that can help us be successful in this work. We need to set the tone as leaders. When we talk about the importance of equity, diversity, and inclusion in our institution, it becomes that much more important to the unit over which we preside. It was a wonderful day of collective action—the first of many more to come.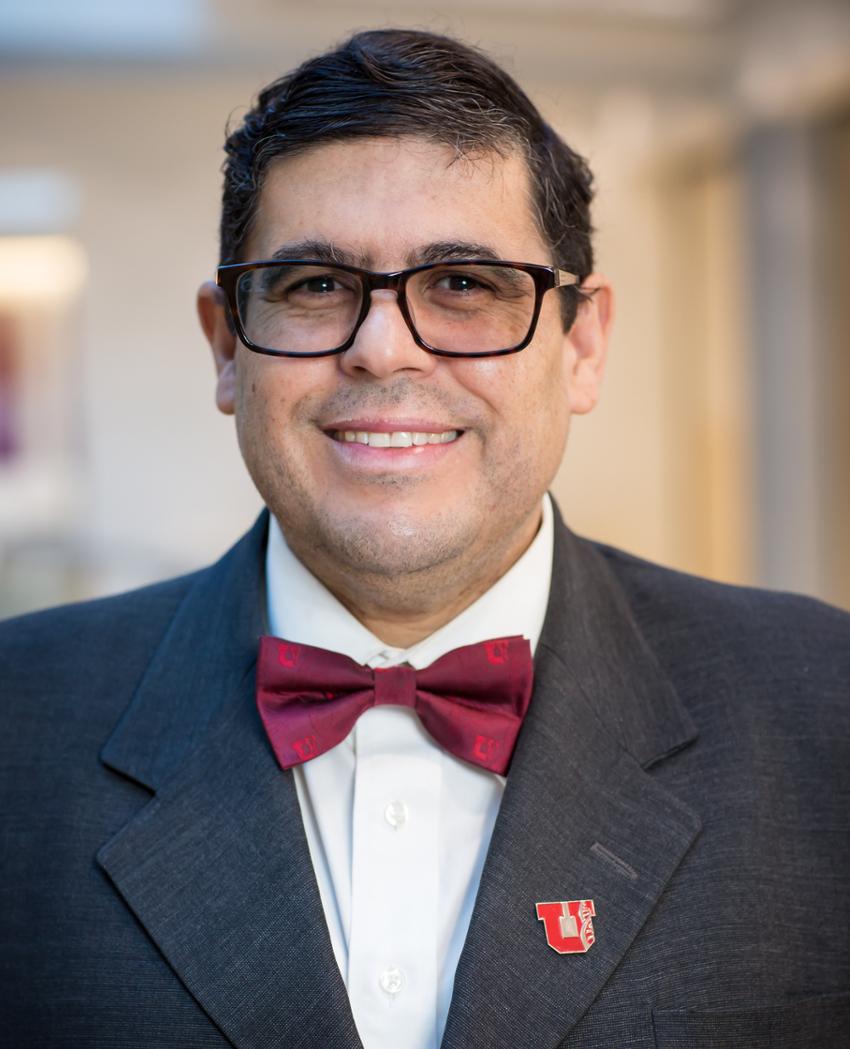 José Rodríguez, MD, FAAFP
As Associate Vice President for Health Equity, Diversity, and Inclusion for University of Utah Health, José Rodríguez is committed to identifying and eliminating systemic anti-Black racism in medicine, equipping underrepresented minority faculty with tools to succeed in a system that was not designed for them, and enlisting allies in this work. Rodríguez is a professor in the Department of Family and Preventive Medicine and a family physician and Associate Medical Director at the Redwood Health Center. He received an MD from Weill Cornell Medicine and completed a residency in social medicine at the Montefiore Medical Center at Albert Einstein College of Medicine.
DON'T MISS OUT. GOOD NOTES delivers to your inbox.