2022 Strategic Directed Steps for University of Utah Health and the People We Serve
University of Utah Health is proud to publish the 2022 directed steps for our Health Sciences Strategy 2025, which shape our journey to achieving our 2025 goals. Directed steps are the result of months of work, dialogue, and collaboration by leaders at many levels across the U of U Health community.
What Are the Pillars of Our Strategy 2025?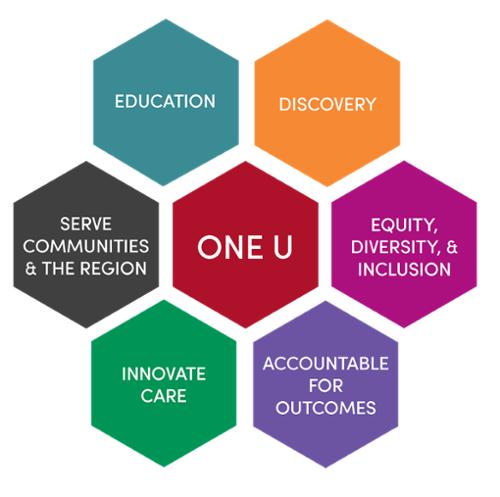 It has been said the best way to prepare for the future is to create it. As U of U Health looks ahead to where we want to be, our vision for the future revolves around seven key pillars:
Health care continues to face an immense set of challenges managing the coronavirus pandemic, building and maintaining our workforce, improving care delivery, training a new inclusive generation, advancing knowledge with limited space and resources, shifting revenue models, and adapting to a multitude of internal and external forces.
These strategy pillars help us remember and organize our work around where we need to head to successfully adapt to those challenges.
The Process of Creating Yearly Directed Steps
We take several months to discuss and collaborate as we develop our annual directed steps. Representatives of the entire health care ecosystem and broader university are involved. Our primary intention is to practice and model both transparency and inclusivity—ensuring that voices from all across the university are involved in crafting the directed steps.
This is a strategy built by our entire organization. Working together in this way empowers stakeholders to take ownership of the directed steps, many of which are sourced from grassroots levels of the health system. Having such a broad group of people help drive the process gives us better perspectives about where and how we can improve. Additional insights and vetting from key health system committees help us finalize these steps, deciding as a system how to best move forward together.
Finding Focus Amidst a Pandemic
2022 marks the third year U of U Health has released directed steps as part of Strategy 2025. Most of our strategy has been executed and refined in the thick of the pandemic. Collaborating on this process during a pandemic was a challenge that the U of U Health community rose to successfully meet each year.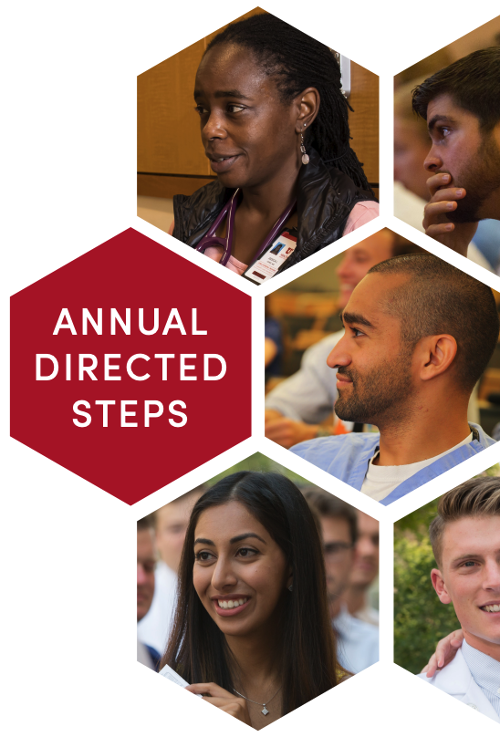 Like our academic peers across the country, we are entering a period of transition and adjustment. The last two years challenged us in ways we could never have imagined. We experienced a spectrum of emotions and a series of confrontations to the ways we do our work. We experienced losses and we experienced gains. And through it all, we stayed together, we remained dedicated to our missions, and we continued to innovate.
Even during a pandemic, U of U Health advanced strategic initiatives in so many areas, including population health, mental health, dismantling systemic racism, increasing research funding, reforming medical education, and confronting health disparities across our community. Among all these realms, we have an accelerating momentum because we work to make one another successful.
The pandemic has stressed hospitals and health care facilities locally and nationally, which influenced the direction of our 2022 steps. Health care workers have had to deal with strain and burnout. Communities deserve and are demanding greater equity and access to health care. We are finding strategies to guide smart growth for University of Utah Health and Health Sciences and serve the larger community on issues from substance abuse to air quality. Collectively, we are addressing those needs and more while helping our workforce thrive.
What Directed Steps Mean for U of U Health
These directed steps are the result of months of collaboration and communication between people from across the university. Together, they promote deeper ties among the university, finding new solutions to ongoing problems, and fostering organizational excellence to address the many unique needs Utah and U of U Health face. We've all created a vision guiding us toward the future we want to build.
Now, it's important that we each understand the strategy and know our roles in it. As U of U Health faculty, staff, and students read this document and our current directed steps, we should ask ourselves: How does my work support these efforts, and how can I use my inspiration for my work to support the future we are trying to build here?
We have set out for a destination that asks us to be our best selves. Reaching it will be a challenge. And together, we will make it, one directed step at a time.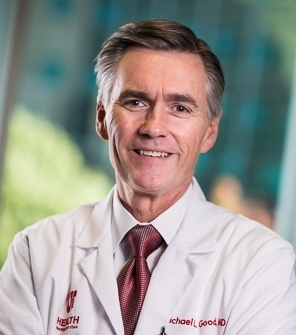 Michael Good, MD
Michael Good is CEO of University of Utah Health, Dean of the University of Utah School of Medicine, and A. Lorris Betz Senior Vice President for Health Sciences. A professor of anesthesiology, Good joined U of U Health after more than three decades of teaching, innovation, and leadership at the University of Florida, where he served as dean of the College of Medicine for 10 years.
DON'T MISS OUT. GOOD NOTES delivers to your inbox.