COVID-19 Update, March 29, 2022
Click here for Spanish translation recording.
Transcript of Dr. Good's COVID-19 Update, March 29, 2022
Hello, I'm Michael Good, CEO of University of Utah Health, bringing you the COVID-19 update for March 29, 2022. Probably a report I've certainly been waiting a long time to be able to share with rapidly declining levels of coronavirus in our nation, as shown on this first chart—both in the number of new cases and the number of deaths reported each day from coronavirus. And similarly here in the state of Utah, down to where we have just a few, just a little over 100 coronavirus cases each day in our state of 3.3 million citizens, basically one or many days now less than one death from coronavirus. So we finally have this virus at very low, and continuing to do decline, levels. In fact, by various estimates, we have around 3,600 Utahns that have a coronavirus infection right now. Remember at various points of this, particularly this Omicron wave, where we had over 200,000 Utahns with an active coronavirus infection.
With fewer cases the other metrics that we follow, similarly with these rapid declines over the last few weeks and months. This is the positivity rate; this is the seven-day rolling average of the number of coronavirus tests that come up positive. One of the things that is happening, and although this has been a really important measure, and again it's at some of the lowest levels that we've seen, but remember more and more of coronavirus testing now, particularly that asymptomatic screening is being done at home with at home test kits. So both the number of tests being performed and in many cases, I certainly know of individuals who tested positive, had mild cases and the only tests that were the home test. So we're going to have to follow this in a variety of different ways. But suffice to say, despite all those qualifications the positivity rate, again, is very low, under 5 percent. Most importantly, this means few are and fewer Utahns are in the hospital with coronavirus. We're now down under 120 individuals across the entire state, all the hospitals in the state of Utah, only 120, actually a little less than 120 individuals in the hospital and of those, only 20 are in an ICU with severe forms of COVID-19.
So while the picture in the United States and, particularly here at Utah, is very positive right now, very little coronavirus, very little transmission, the same is not true across the world. You've probably been following particularly in Europe, many countries in Europe now having another wave of coronavirus, high transmission levels move through their community. Australia and New Zealand also having a particularly high level of coronavirus right now. So we're going to continue to keep an eye on things. Again, here in the state of Utah, our entire state, actually with one exception, our entire state, all counties, all areas are reporting low community levels of coronavirus, one state in the medium, none in the high by the new classification of the CDC that we've talked about during our last two reports.
So I guess to sum this all together, as we end March and move into April, the state of Utah moves into what has been referred to as the steady state response. So what's in that steady state response? Vaccines and boosters are really important. Vaccines are what have allowed us to get around the corner, to change the trajectory of this virus, of this pandemic, those that are vaccinated and now boosted, you're just not as susceptible to the virus and you're far, far, far less likely to go into the hospital or die from coronavirus if you're vaccinated. Boosters are going to become a way of life, there is now discussion about who and when should individuals get a second booster, if you will, the fourth shot in most of the sequences. So we need to continue to emphasize this. When you're sick with flu like symptoms, it's still good to get tested. Again, testing now much more readily available, many in-home kits, as well as facilities such as the University of Utah Health where individuals that are symptomatic can readily get a coronavirus test and find out if it's coronavirus or flu. We have seen increasing levels of influenza in our community and of course the other respiratory viruses that we deal with each year.
We do have a number of new treatments since we started this pandemic two years ago, both the monoclonal antibodies as well as oral, pill form, antivirals that work against coronavirus. So when you're symptomatic you want to test because if you are positive with coronavirus you're going to want to quickly confirm with your health provider because those antiviral medications, they work best in the very early periods of the illness.
We will be transitioning to less frequent data reporting. Things will still be tracked by the state and others, but we'll see less frequent reports because as I mentioned, we're down to just 100 or so people each day in our state being affected by coronavirus and less than a fifth of them with the severe forms.
So on the one hand much good news to report and, in fact, we'll change our reporting interval. This will be our last report until things change. And we hope this low level of virus and virus transmission continues certainly well through the summer. Some do worry about a fall resurgence, and we do have to keep an eye on those hot spots that I mentioned in Europe and in Australia. So if things change here we'll report sooner, but in the meantime we'll sign off from this series of COVID-19 updates. Part of me hopes that we won't have to reinstate these broadcasts, but if things change, we will be back in touch and we'll make sure just as we've done through the past two years, we'll keep you informed about what's going on with COVID-19 in the state of Utah, and particularly here at the University of Utah. Stay well.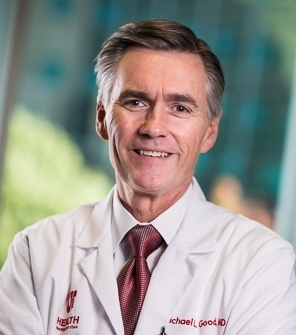 Michael Good, MD
Michael Good is CEO of University of Utah Health, Dean of the University of Utah School of Medicine, and A. Lorris Betz Senior Vice President for Health Sciences. A professor of anesthesiology, Good joined U of U Health after more than three decades of teaching, innovation, and leadership at the University of Florida, where he served as dean of the College of Medicine for 10 years.
DON'T MISS OUT. GOOD NOTES delivers to your inbox.