COVID-19 Update, March 1, 2022
Click here for Spanish translation recording.
Transcript of Dr. Good's COVID-19 Update, March 1, 2022
Hello, I'm Michael Good, CEO of University of Utah Health presenting the COVID-19 Update for March 1, 2022. And a report that certainly I've been waiting for a long time to see, these trends that we're able to report today. And hopefully as you've been following, these are the charts for our country as a whole. Case counts continue to decline at a very rapid rate. And now getting down to some of the lowest levels that we've seen in quite some time. And with it, although following several weeks behind and changing course, the death rate from coronavirus in our country is now also on a nice decline, but still remember that somewhere around 1,500 Americans each day continue to die from infections related to this very difficult virus—but declining.
And here in the state of Utah, even a more rapid decline that we've seen. Again, down to some very low levels, lowest levels certainly in six, seven months and continuing to decline. And again, following that a few weeks later, a rapid decline in the number of new deaths from coronavirus among citizens in our state. As this would lead us to believe or lead us to suspect, this means we have far fewer active infections now down just under 20,000 active infections. Remember at one point not so long ago, we had almost 200,000 Utahns with an active infection. So really pleased to see this decline in the prevalence of the coronavirus in our state and in our immunity.
All of this, again, not surprising, means that our reproductive number, the number of individuals for an individual who has coronavirus-- how many others do they infect? It's been hovering way down to about a half, meaning each person only infects a half of another person. That means the spread of the virus is slowing at a really dramatic rate. And we've seen this trend started back here, oh, in the middle of January and it has really been sustained now for several weeks. Again, indications on multiple of the metrics that we follow, that the virus spread is really slowing at a rapid rate. Fewer cases mean fewer individuals ending up in the hospital. And so, here are they collectively across the hospitals in the state of Utah, how many Utahns are being admitted each day? We're closing in on 40 to 50, where at one point we had gotten to almost 2,500 individuals admitted in a day.
The blue line is a 14-day sum of those admissions. And that's now dropped down under a thousand and is continuing to decline. With fewer individuals being admitted to the hospital with coronavirus, the number of patients in a hospital with coronavirus, the so-called "hospital census" has declined. We peaked up here just over 800, again, in that mid-January period. And we're now half as much, actually more than half as much and continuing to decline every day. Not only are the number of patients in the hospital declining, but the number of patients in an intensive care unit, the more seriously ill from their COVID-19, also declining similarly, less than half of what it was just a little a month ago. So this is an important and new update for us to look at today. I should back up and mention that last Friday, the CDC issued new guidelines on face masking, and those guidelines changed or pivoted from looking at what's called transmission level. And we show that on the left to what we call community level, the level of virus in our community.
So on the left, the transmission level, which is what the CDC had been using prior to this week, looked at the number of new cases of coronavirus and the percent positivity on the coronavirus tests. And using those measures for the many months in this pandemic, we then broke communities down, so-called community transmission rates into high, substantial, moderate, and low. And as the map above it shows last week under this prior system, almost the entire country was in the high transmission. And this is fitting. We've talked for many weeks now about how Omicron is a very highly transmissible virus. And when it gets in a community and gets among a few people, it rapidly spreads from them to others. Remember we saw that reproductive number well above one for quite a period of time.
But in making the recommendation now to move what we call a community level over here, the CDC changes the focus on metrics that include how many individual individuals are hospitalized, what percentage of hospital beds are being used for COVID patients, and they continue to include the number of new cases as part of how they determine community level. Using those three metrics, number of patients in the hospital with COVID-19, the percentage of hospital beds filled with COVID patients, and the number of new cases of COVID-19, they map every county in the United States on the map in the right, and they use similarly a low, medium, or high classification.
And so you can see that there's a more evenly distributed amount of counties that are in low, medium, and high. And so we're going to zoom in using this new community level approach. And the CDC website, the address is shown down here on the bottom of the screen. This is actually covered quite nicely on the CDC webpage. You can actually put in your state and your county and the CDC website will tell you, based on those three criteria, the current level of coronavirus, the categorization of your county. As you can see on the inset, we have two counties that are in the high, the orange, and we have seven counties here that are in the low.
And the majority of Utah is in the yellow or the medium. And most importantly, for many of us here in Salt Lake County and the county surrounding Salt Lake, we're in this medium category. So what the medium category, the medium category focuses on those that are at high risk for serious illness, should they encounter coronavirus. And in fact, the CDC guidelines recommend that those at high risk talk to their healthcare provider about whether they should be wearing a mask and taking other precautions. So in the medium category, the focus is on those at high risk. Of course, everyone needs to stay up to date with their COVID vaccines. That means not only an initial series, but at the right time interval, after that initial series, getting the booster vaccination as well. And then, as always, get tested if you have flu-like symptoms. We've talked a lot about these.
We need to make sure those who are ill with a positive coronavirus test isolate themselves for at least five days so that they don't spread this really tough virus to others. Again, you can continue to read on the CDC website, if you are in one of the other counties in the state of Utah, or in fact, any county in the country. Depending on whether your county is at the low, the medium, or high level of coronavirus, you can see the various recommendations. It is in the high zone where the recommendation to wear a mask indoors is implemented or recommended. And so this is a significant progress for our community, with our level now, moving finally in the correct direction. Again, all of these things, the testing, staying up on vaccines.
And also, I think this is a really important point. I hope we all will continue to be highly respectful of those that wish to wear a mask. I certainly, there are many community settings where I continue to wear a mask, even though I'm not at high risk. One of the things we've seen in the healthcare setting is some of the other viruses and illnesses that tend to move through our community at a pretty good pace here in the winter months, we see much less of that the more people that are wearing masks. So be courteous, be kind. Many in our community will want to continue to wear masks. And we don't often know those that are at high risk. So I think this is an important point of the updated guidelines as well. And again, immunocompromised individuals, those at high risk, it's really important that you spend some time preferably with a healthcare provider talking about what's best for you.
Again, currently Salt Lake County in that medium level. These are the conditions again, that the CDC website lists as individuals who may be at risk for more severe illness, should they encounter coronavirus. And so you can read through this list and if these are any of the health challenges that you or members of your family experience, again, I'd recommend perhaps looking at the CDC website, or perhaps even better, contacting your health provider and talk through the specific things you should do to protect yourself from coronavirus. And finally, as I mentioned, in our last report, we are entering a phase where we need to learn to live with coronavirus. Very pleased to see the declining levels of virus in our community, but many including myself, this isn't going to go to zero anytime soon, it's going to enter a manageable level. And so again, reference the Utah Department of Health Coronavirus website with a lot of information about learning to live with coronavirus, everything from testing and treatments and so on, which is being kept up to date and in a very reasonable manner.
So with this improvement in conditions, we're going to return to every other week updates on COVID-19. In two weeks on March 15, I'm pleased that Dr. Kencee Graves, the associate chief medical officer at University of Utah Health will present this update as I'll be on a vacation that day. We'll change course, if things in this pandemic change course on us, but right now, thank you to everyone who's done all the things you've done to get us to this point. Again, please to see these declining levels of coronavirus. Please continue to do all that you're doing. Stay safe. And again, look forward to another update in two weeks.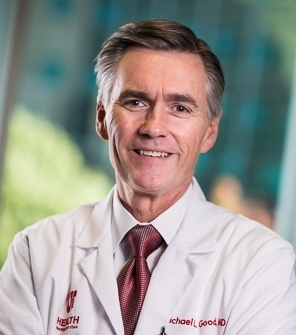 Michael Good, MD
Michael Good is CEO of University of Utah Health, Dean of the University of Utah School of Medicine, and A. Lorris Betz Senior Vice President for Health Sciences. A professor of anesthesiology, Good joined U of U Health after more than three decades of teaching, innovation, and leadership at the University of Florida, where he served as dean of the College of Medicine for 10 years.
DON'T MISS OUT. GOOD NOTES delivers to your inbox.