COVID-19 Update, February 8, 2022
Click here for Spanish translation recording.
Transcript of Dr. Good's COVID-19 Update, February 8, 2022
Hello. This is the COVID 19-update for February 8, 2022. I'm Michael Good, CEO of University of Utah Health. And as with our last couple of reports, we continue to see declining cases, stabilization of hospitalizations, and declining deaths from coronavirus, particularly here in the state of Utah.
Let's go through some of the charts as we have in prior weeks. So at the national level, the decline in the number of new coronavirus cases continues. We're now back to closing in right on a quarter of a million new cases reported each day. And as you can see, that point, we get back to the peak of that first wave just about a little bit more than a year ago now, and again, the decline really coming down quite a bit. Remember the death rate lags, so it had continued to come up, but now here over the last week it does appear to at least have stabilized, if not begun what will hopefully be a decline. Still many, many deaths, thousands of deaths in our country each day from coronavirus.
In the state of Utah, a similar, not exact, but a similar pattern. We had the rapid rise of the Omicron variant which, again, highly transmissible, but now is in a rapid decline. The seven-day moving average is at 2,600. Today's report is a little over 1,300. And actually the point on our curve is actually probably a little bit at, or even a little bit lower, than the peak from the wave just a little over a year ago last winter.
As we had begun to see last week when we gave the report, we were just starting to see the top of the number of deaths, the curve of the number of deaths each day. But that downward reducing number of deaths each day from coronavirus continues in the state of Utah, now averaging about four deaths per day here in the state.
This is our reproductive number. Dr. Zhang and Dr. Samore help us with these bio-statistical and epidemiological measurements of the coronavirus. Remember when the reproductive number is above one, that means the virus is spreading, it's accelerating, moving through the community. And when it's below one that means the transmission is slowing down. Each person who is infected with coronavirus shares it with less than one other person. And you can see that over the last, not quite a month, probably three weeks here, we've had a really nice period where that reproductive number has been quite a bit below one, actually closing in on one half. And as you can see, the lowest, certainly in over a year where we've had that reproductive number quite a bit below one. And that all correlates with the declining case numbers that we're seeing in our state.
After getting to some very high levels as far as our positivity rate with our testing, that positivity rate clearly declining by both measures of measurement. I still, though, point out the current positivity rate is still, even though the curve has turned down, is still quite high, at some of the highest levels that we've seen throughout the pandemic for the two measurement methods. So we need to continue to see these trends, but certainly encouraging to see viral transmission slowing down.
Remember case hospitalizations lag cases, and we finally are seeing what we hope will be the peak in the hospitalizations. This was a particularly challenging portion of the pandemic for the health professionals working at our hospitals. Again, it appears to have leveled off here at a little bit over 800 or so, and hopefully this downward trend will continue.
This blue line down here is the number of Utahans admitted to a Utah hospital with a coronavirus infection. Some admitted because of COVID-19, the symptom, the disease complex. Some admitted for other reasons and found to have a coronavirus infection. But this has now crossed below 100 and we hope that trend continues. Fewer people being admitted to the hospital means that the number in the hospital will also continue to decline.
And again, as we've pointed out before, the red line is the number of Utahns in an intensive care unit with their COVID-19. And even though the hospitalizations have gone up dramatically, sharply, the ICUs have either stayed stable or actually, again, a lot of variation, but over time clearly seem to be trending down.
This is just another representation of that. The bars are the daily hospital admissions. You can see the green dotted line here that I'm tracing over in red. We've got several days now where each day there's fewer and fewer people being admitted to the hospital. The blue line is the 14-day summation of all admissions across the state over a 14-day period, and that chart has finally peaked and in fact appears to be drifting downward as well.
Despite declining case numbers and declining hospitalizations across the state, we haven't quite seen that at University Hospital. We remain with a lot of coronavirus patients in our hospital. It does appear that we may have peaked. In other words, we've stopped going up. We started to come down. But actually, and since the chart was pulled this morning, we actually bumped up a little bit here, the last day or two. You can start to see it there. So we're going to have to follow things here at University Hospital. This has happened at other points in the pandemic where you'd see one trend across the state and another trend here at University Hospital, so we'll continue to watch and try to understand why we continue to have many. I think today's number was around 130 individuals in our hospital, either with COVID-19 or with a coronavirus infection that was found after they were admitted to the hospital for something else.
I'm pleased to report coronavirus remains very, very low on our campus. Remember we had gotten up 150 or more seven-day average of new cases, that's settling in, in this 25 to 30 range, and the last few weeks have been stable. And Vice President Dr. Lori McDonald reports that they are not having any issues with keeping students who need to be in isolation during a coronavirus infection. The university has plenty of capacity to take care of those few individuals who do need to be in an isolated living situation.
The Utah Medical Association continues to share information with members of the Medical Association. I thought this chart was particularly helpful comparing the Delta wave that we went through previously and this Omicron wave that we've been dealing with over the last few months. And you can see the chart shows that when you have a booster dose of the vaccine, the boost of the vaccine and the boosted vaccine was very effective at preventing either going to the emergency room or urgent care, as well as hospitalization. Again, almost consistent with those early reports of vaccine effectiveness being greater than 90 percent. Omicron is more transmissible so it spreads to many more people. But look it, still, when studied, over 80 percent effective at preventing emergency or urgent care, and still at 90 percent preventing hospitalization. So vaccine and boosters matter and they are the best way to stay out of the hospital, even if you do encounter coronavirus.
And finally, again, from the Utah Medical Association, a little bit more detail on the various masks. You've probably heard and read a lot about this but, again, it's a continuum. And obviously with no mask, there's no protection. And then as you move through from cloth, to surgical, to high-filtration masks, and even some have drawn this out that even the KN95s and then the precisely fitted N95 masks that we use in the healthcare setting when we're caring for individuals with a coronavirus infection, the further you move to the right on this chart and get into the high-filtration masks, if there is coronavirus in the environment, the respiratory droplets, that the virus moves in. The farther you are on the right part of this curve, the better protection you're going to afford yourself.
And also, if you do have a coronavirus infection, particularly if you don't know about it, you're also going to prevent the spread or highly, highly reduce the likelihood of spread. And that likelihood, again, the farther you get to the right of this continuum, the better.
So hopefully this information is of value to you. Again, we are seeing encouraging signs with particularly declining numbers of new coronavirus cases, a reproductive number that's below one. A suggestion that hospitalizations have peaked and hopefully will begin to come down. And again, here in Utah, it looks like a clear decline in the number of deaths from coronavirus. We'll continue to watch this pandemic as it evolves and we'll be back next week with our next COVID-19 update. Have a good and safe week. Thanks.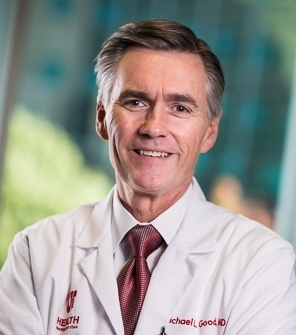 Michael Good, MD
Michael Good is CEO of University of Utah Health, Dean of the University of Utah School of Medicine, and A. Lorris Betz Senior Vice President for Health Sciences. A professor of anesthesiology, Good joined U of U Health after more than three decades of teaching, innovation, and leadership at the University of Florida, where he served as dean of the College of Medicine for 10 years.
DON'T MISS OUT. GOOD NOTES delivers to your inbox.