COVID-19 Update, February 15, 2022
Click here for Spanish translation recording.
Transcript of Dr. Good's COVID-19 Update, February 15, 2022
Hello, I'm Michael Good, CEO of University of Utah Health, presenting the COVID-19 update for February 15, 2022. And the positive trends we've been tracking the last few weeks specifically declining case counts, hospitalizations, and deaths from coronavirus continue. First, our national charts. And again, this big Omicron wave that we've all been experiencing now in the nation, our case counts continue to decline. And the number of deaths nationwide from coronavirus have clearly peaked here, and now for the last week and a half or two weeks with fewer deaths each day. I still point out, however, the seven-day running average of deaths from coronavirus still exceeds 2,000. So while the declines are certainly welcome and we hope will continue, we still need to go a lot further and have further reductions, particularly 2,000 people a day, 2,000 Americans still dying each day from coronavirus.
In Utah, similar trends. The big Omicron wave, and now on the back side of that wave, rapidly declining cases. Our seven-day moving average is a little over a 1,560, as you see, and yesterday, just 660 new cases of coronavirus, well below 1,000. Our death rate here in Utah also really declining. This pandemic has been going on so long. All of the recent action here is crammed into the right side of the chart, but as you can see, the death rate also declining here in Utah with the same pattern as the national average peaking right about here and declining. The peak was up around 12, 13 deaths a day, the seven-day average now down to three. So this means that there are fewer and fewer active infections in our state. This had peaked back here, and as you can see now, is down to 66, almost 67,000 active infections in Utah down from almost 200,000 at this peak. So like all of our charts, nice declines continue in the past week.
Positive tests declining by both measurement methods, but again, we need to see this trend continue because even at the current rate, we're back here to the peak level that we saw last year in the January timeframe. So again, same thing with the test-over-tests kind of traced right back to the peak last year, but certainly pleased to see the drops from these high levels of a couple weeks ago. Really, for those of us that work in hospitals, particularly pleased to see the fewer people being admitted to the hospital each day with COVID-19. We peaked up here right at about 200. So on January 25, we had just under 200 people admitted that day to Utah hospitals with coronavirus. And as you can see, steady decline to where now we're hovering right around 100. So almost a 50 percent drop in the number of new daily admissions to Utah hospitals for patients with COVID-19.
That means our hospitals, which have been quite full with coronavirus patients are now starting to see those numbers decline as we move down toward and even less than about 600 individuals in the hospital with COVID-19. If you look at the purple bar on the bottom, that's the number of patients in the ICU and we're also seeing that come down as well. So both total hospitalizations, the number of patients in the hospital, number of patients in the ICU with COVID declining. Again, still very nice to see that decline, but this level here quite a bit higher than where we were in December still. So we're not done yet. We need these trends to continue. Same progress here on the University of Utah campus. The last couple weeks, we had hovered around 25 to 30 new reported cases each day, and that has dropped further to 15, 16 on the seven-day running average.
And finally, we close with a snapshot look here at University of Utah Hospital yesterday on February 14, and the individuals that are shown in red are individuals that are not vaccinated at all. The orange color are individuals that are vaccinated, but they're not up to date, meaning they are eligible or they are in the timeframe where they need a booster and they have not received one. And then the blue are individuals whose vaccination is up to date, meaning they've received the initial vaccination. And if after the appropriate amount of time, they've also received a booster. So we show the individuals that are in the hospital, those that are in an ICU, we break out those that are on a ventilator, and then we show those that have passed away from COVID-19 over the last 30 days.
In addition to the color coding, as I just went over: not vaccinated, vaccinated, not up to date, or vaccinated up to date, we also do identify individuals who are immunocompromised with a circle. These might be patients who have had organ transplants and to not reject their organ, their transplanted organ, they take immunosuppressive drugs, or they may be patients who have a disease process that compromises their immune system. And so, as you can see, if you look at the patients in the hospital over here on the left, the vast majority or majority are not vaccinated or not up to date, but you do see some individuals with vaccination up to date although a large portion of those individuals have conditions or medications that cause their immune system to be compromised. As you get to the ICU and to the ventilator, here you see everyone in the ICU is either unvaccinated or they are immunocompromised. Same is true on a ventilator, either unvaccinated or immunocompromised.
And then finally, note here that here at University Hospital, all of the deaths that we've experienced from COVID-19 over the past 30 days have been individuals who were not vaccinated at all. So I think this snapshot just shows you how powerful to be fully vaccinated, meaning having the initial COVID-19 vaccine, and if you are eligible, receiving a booster. While a few individuals may up end in the hospital, unless you have an immunocompromising condition, the individuals in the ICU, on the ventilator, and passing away are predominantly unvaccinated.
And so I close with the caption "learning to live with coronavirus." Again, we need these trends to continue. The levels are still higher than we'd like. Here at University Hospital, we've gone from about 145 patients at University Hospital with COVID-19 down to about 85 and continuing decline, but those 85 individuals are still in beds that we would like to be able to take care of other patients that have had delayed surgeries and other conditions where they need to be in the hospital and have had to be postponed because of the pandemic.
So as we learn to live with coronavirus, we kind of summarize here trending topics. These are places you can link to from www.coronavirus.utah.gov, all kinds of information related to travel and to school, myths, and vaccine information, as you can see. So continue to educate yourself and learn more. We'll continue to follow what's happening with coronavirus here at the campus of the University of Utah, in the City of Salt Lake and Salt Lake County, and indeed across our state. We'll be back in two weeks, unless things change, we'll be back in two weeks with our next COVID-19 update. Until then, stay well and be safe.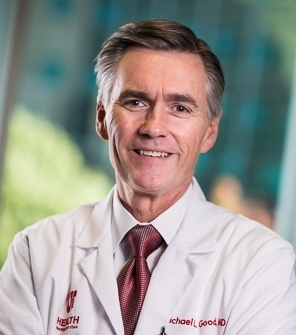 Michael Good, MD
Michael Good is CEO of University of Utah Health, Dean of the University of Utah School of Medicine, and A. Lorris Betz Senior Vice President for Health Sciences. A professor of anesthesiology, Good joined U of U Health after more than three decades of teaching, innovation, and leadership at the University of Florida, where he served as dean of the College of Medicine for 10 years.
DON'T MISS OUT. GOOD NOTES delivers to your inbox.