COVID-19 Update, January 25, 2022
Click here for Spanish translation recording.
Transcript of Dr. Good's COVID-19 Update, January 25, 2022
Hello. Today is January 25, 2022. I'm Michael Good, CEO of University of Utah Health, presenting the COVID-19 update. Some of the trends that we were watching last week, and thinking that we may be seeing the peak of this Omicron variant wave, have continued over the past week. So as I'm sure you've been watching at the national level, that's way over here on the right, but the number of new cases each day, the daily new cases in the country, which had gotten up, well, almost 800,000 on a seven-day average basis. Now we've pulled back, and as you can see, are just a little bit over 600,000 a day, but the curve has clearly made a peak, and the decline, fewer cases each day, has sustained.
Throughout the pandemic, we've talked about the timing relationship between cases, hospitalizations, and deaths. Unfortunately, the upward trend in deaths from coronavirus in our country continues, and we're back up over 2,000 deaths per day. Only a couple points in the pandemic where we've been at this level, so hopefully as the cases come down, we'll see this number of deaths stabilize and similarly come down. But encouraging signs at the national level.
We are following what's happening in some of the other states that are at different points in this wave, the Omicron wave. In New York, where particularly, New York is publishing their hospital admissions, and their hospital admissions have clearly peaked, and now for several couple of weeks here are on the decline. I showed you this chart last time, from Erin Clouse, who has put together the tracing of new cases on a seven-day average basis for a number of states, and as we predicted last week, as we look at this chart, we see that most places in the country, many states in the country, the upstroke of that rise in new cases takes place over approximately a three-week period. So, if indeed our trends in Utah hold, that would put our peak right at 20 days, consistent with what we're seeing in other states. Many of these states started their increase from Omicron a little bit ahead of us, so we'll keep an eye both on what's going on in our state and nation, but also this state-by-state analysis is helpful.
As I mentioned, we now, we're only a few days into it, but we do have what we hope, if that 20-day prediction is correct, then indeed we may be seeing the peak as far as new cases. Our seven-day average, as you can see, and the seven-day average had gotten up over 10,000. It's dropped just below 10,000. This is the seven-day average, and today, the Department of Health is reporting 6,600 new cases, so hopefully, this is the beginning of that downward trend that we're seeing in other states and at the nation, when looked at in total.
A similar pattern with deaths then, again. Increasing over the last two to three weeks here. The last data point, if you can see it on the far right period, the far right portion of the chart is lower. I think that's two in the most recent report, so again, the overall trend has been up. Again, it's going to lag two to four weeks behind the cases and the hospitalizations, but this, to me, again, still very high levels of coronavirus, but hopefully, we're seeing that peak that has been seen in other parts of the country.
Hospitalizations have risen, and we've been really studying the hospitalization pattern. As you can see, now this chart shows all the hospitals in Utah and all of the patients with COVID in those hospitals, so our statewide COVID census, and for much of this pandemic, kind of 600 was kind of the ceiling of where we had seen, both from experience in prior parts of the pandemic, but also what we thought our capacity as a healthcare system throughout the state would max out at. And as you can see now, for almost a month, we've been above that. We got up to 776 Utahns in the hospital with coronavirus. It certainly appears to have leveled off. Today's number is 747, today's COVID census across the state. However, as optimistic as I'd like to be, I do note that we appeared to have a plateau back here in 12, 13, 14, 15th of January time period, only then to see it step off around the 18th and 19th here. So, at the moment, the last few days, stable, but something that we'll keep an eye on.
I'll show you our University Hospital chart in just a moment, but I also want to call your attention to, despite this pretty good run here of increasing hospitalization, there's been some increase. The purple bars are the patients that are in an ICU with COVID, the more severely ill with COVID. And certainly, it's drifted up from this 170, oh, up to around 200, 210. It's come down a little bit, but as you can see, the dramatic part of the increase has been in the patients that are on the medical ward, the regular hospital, and less growth, or less increase in patients that are in the ICU.
Now I'll shift to University of Utah Hospital, and similarly, we've seen this tremendous increase in the number of patients in the hospital who are testing positive for coronavirus. Similarly, some increase in the ICU piece is shown here, with the blue, the darker blue color, but clearly, the vast majority have been patients admitted to the medical ward, or inpatient units. Another way of looking at this, the dark bar, or the dark dots and line on the bottom are the patients that are on the ventilator. And you can see that we've actually had a pretty steady decline in that ventilator component over this period of time.
This all fits with many, many people having coronavirus infections, many more, many needing to be in the hospital, but not as many with severe illness, proportionally, and needing an ICU or a ventilator, much less than at virtually any other part in this pandemic. Many of these patients in the health system, we're now speaking about patients who are admitted with a positive coronavirus test, even though they're admitted for something else, so this chart shows both those admitted for their COVID or those admitted with a coronavirus infection, so-called. The distinction being, remember, COVID is the disease caused by a coronavirus infection.
So we've got a large number of patients in the hospital, some admitted because of their COVID, but others admitted for other reasons and found to have COVID. So the positive aspect of that is we've got many more units in our hospital taking care of patients with coronavirus infections, if you will, spread out. The patients can be in more of the units and wards, for example, rather than just in the ICU. However, that creates additional work on those units. Particularly a shout-out for our nursing staff and other leaders on those units. They've found a way to have the coronavirus patients in sections of their unit, so that all of the appropriate infection control procedures and processes can be in place for our patients.
More good news, this tracks COVID activity at the University of Utah, campus-wide. It's our reporting. It comes from a number of sources, both testing, self-reported, but it's all aggregated, and it's been being aggregated for several semesters now. Last week at this time, we were showing a new daily cases at 153 and the seven-day average at 130. And as you can see, those numbers have similarly declined, with 50 new cases being reported and the seven-day average down to 72. So more coronavirus activity than we saw last semester, but like the other charts from the nation and the state, here on campus, we're seeing declining numbers of new cases as well.
You've probably seen and been reading, a lot of attention is being focused on the positivity rate. Whether you look at the so-called people over people, how many people are tested and what percentage of those are positive, that's being reported up over 40, and the test over test, where you just look at all tests, sometimes with duplicates from individuals and so on. Even that's over 30 percent and with these large increases over the past month.
There is limited testing availability in many parts of our state, and some caution that these declining case numbers that I've reviewed may be in part related to the testing availability. And that certainly may be part of the equation, if you will. While some areas of the state have had limited testing availability, that has not been the case at University of Utah Health, where we have both testing for symptomatic patients who present in our health system. Those tests are sent to ARUP Laboratories, and ARUP has done a phenomenal job making sure we have sufficient, more than sufficient tests available for our patients. And our asymptomatic testing program for our faculty, staff, and their families, where we screen for coronavirus using our research course. Again, no limitation of testing there and we are seeing declining number of positives and declining numbers of tests.
So if you think about it, these are the symptomatic tests collected in our health system and analyzed at ARUP laboratories, and you notice a few things. One, the number of labs collected, the number of coronavirus tests is declining. That means fewer people are presenting with symptomatic illness to their healthcare provider, for a coronavirus test, and the proportion of positive tests is declining. You can see that for much of the month we've been between 3 and 400. You see the drop-off on the weekends, but here, the week of the 18th, last week, we had many days at 200 and even a day at 167, so again, that's a sign, kind of a leading indicator to us that indeed, we may be on the declining part of the wave, the curve if you will.
Similarly, this is from our asymptomatic testing center. We certainly saw the ramp-up as the Omicron wave came over this part of our city, and community, and campus, and for the last few measures here, the last few measurement periods, I'm going to say it's either leveling off or.. depending on how you want to draw the curve. Obviously, we need some more data points, but again, in an environment which is not limited by testing availability, we're similarly seeing signs that again, this thing may have crested, and again, still way too many cases than we'd like to see. We'd really like to see a lot fewer hospitalizations and ill individuals, but that rapid rise seems to have peaked, and hopefully we'll continue to see declining numbers in positive tests, cases, hospitalizations, and ultimately deaths from coronavirus.
Nothing new here than to please continue to vax, to get boosters, to mask, high-quality masks, to test, to stay home when you're ill, to remember to continue good washing and cleansing activities, and when you can, keep distance. Distance is also, in one respect, our friend when it comes to coronavirus spread, but as we've certainly talked in many of our groups and team meetings, there's also the mental health component of this pandemic. As Dr. Rapaport, the director of the Huntsman Mental Health Institute, points out or likes to call it, "The second pandemic." So being together is important, and we just have to balance those times that we separate ourselves from one another with those that when we're together, particularly with family and friends.
So, please continue to do as many of these layers of protection as you can. We'll continue to follow the trends, as we have throughout the pandemic, and in this instance, hope that this decline that we think we're seeing continues in the week ahead. Have a great week, and we'll see you next week.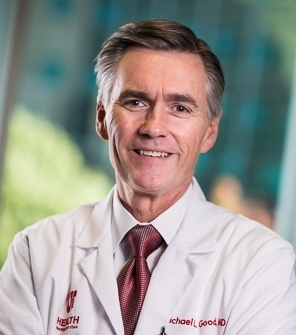 Michael Good, MD
Michael Good is CEO of University of Utah Health, Dean of the University of Utah School of Medicine, and A. Lorris Betz Senior Vice President for Health Sciences. A professor of anesthesiology, Good joined U of U Health after more than three decades of teaching, innovation, and leadership at the University of Florida, where he served as dean of the College of Medicine for 10 years.
DON'T MISS OUT. GOOD NOTES delivers to your inbox.