COVID-19 Update, January 11, 2022
Click here for Spanish translation recording.
Transcript of Dr. Good's COVID-19 Update, January 11, 2022
Hello, I'm Michael Good, CEO of University of Utah Health, providing the COVID-19 update for January 11, 2022. And as I'm sure everyone watching this broadcast knows, we are experiencing a tremendous wave of coronavirus in our country. We're now having over 700,000 new coronavirus cases each day in our country. You can see just the rapid spread of the Omicron variant of coronavirus. We are seeing a rise in deaths from coronavirus, and we're going to talk more about that in just a minute. And that is not good, that we're seeing increased deaths. But as you can see, looking at the two charts, the rate of rise of the new cases is far outpacing the increase so far in the number of deaths.
If you look at a heat map, if you will, across the country and you compare the darker the color, the higher number of coronavirus cases adjusted for population and you compare that heat app from December 20 to January 10, a picture is worth a thousand words. Most of the country was either in a mild, or even here in the Northeast, in the Midwest, there was some areas of increased coronavirus spread. But now in fact, Omicron has spread across the entire country and you can see large sections of the country here with the deeper colors, indicating much higher rates of coronavirus in those communities. And you can see that our state, the state of Utah does have also quite a bit darker than it was back here in December.
So, of course, when we look at the Utah charts, the similar charts to what we just looked at for the state, we see that same unbelievable rise in the number of new cases. Our seven day average now closing in on 8,000, we've had a number of days, including today when the case count is over 8,000. So far, we have not seen a change in the deaths from coronavirus, and in fact, so far our downward trend continues.
But remember, there is a period of time in the lag between new cases, between hospitalizations and then deaths. So by no means do we want to leave the impression that we're not going to see increased numbers of individuals dying from coronavirus in this Omicron wave, particularly with these large numbers of individuals now experiencing coronavirus infections.
If you do the math based on the information that I've just shared, we're at a point in this pandemic where one out of 38 Utahns has either a coronavirus infection, it may be a symptomatic or mildly symptomatic, or it could be asymptomatic. But if you look at the number of positive individuals and the testing rates and so on, about one in 40 of us has a current coronavirus infection, currently estimating almost 90,000 current infections. And you can see that is now the highest point in the pandemic for Utah, as well as the 19 million Americans who currently have coronavirus infections.
Driving all of this is many, many more individuals testing positive in our country, and here in Utah, we've got ... And the people over people method now, we're up over 30 percent positivity on a seven day average of new cases per 100,000 ... or per 100 tested. So this 30 is really 30 percent. And similarly, we've got the test over test method closing in on 25 percent. One out of four coronavirus tests in Utah currently is positive, one out of four.
After, as we've reported before, after a period of time with declining hospitalizations, with the delay that we talked about, but now we certainly are seeing the increase in hospitalizations from this Omicron wave. We had gotten down here to around 430, 440 Utahns in a hospital with COVID-19, and today, that number is 580, so 580. So we're getting awfully close to this peak of 600 that we saw at two other periods in the pandemic. So 580 today, much of that increase does come from the patients not in ICUs. We'll talk in a minute about severity of illness.
But again, even though Omicron, a lower percentage of individuals end up in the hospital and those that are in the hospital stay for a short of period of time, that dramatic increase in the number of individuals testing positive, being afflicted with coronavirus infections overpowers that lower severity. And we end up, as you see here, with many, many more people in the hospital, which is straining the healthcare systems across the country, and increasingly so here in the state of Utah.
This is our University of Utah Health chart, and very similar to the statewide chart. We are now back at levels that we were at last fall with somewhere between 70 and 80 patients with coronavirus in the hospital. We have, for the last three or four days, you can see right here, we have leveled off. But again, this part of the increase in cases, from around 25 patients in the hospital with COVID right around Christmas, over just a couple weeks' time running back up to and approaching 80.
Interesting, we are trying to better quantitate, but an additional trend that we're seeing throughout much of the pandemic, patients were admitted to the hospital for their COVID. They were admitted to the hospital for COVID. But with positivity rates running one in four to one in three, we're seeing an increased number of patients who are admitted to the hospital for other reasons, heart attack, stroke, other conditions, and are found to be positive with coronavirus. So we're trying to understand the proportion of patients admitted to the hospital for coronavirus as compared to patients that are admitted to the hospital and found to be with coronavirus.
Now, both groups of patients still need to undergo all of the isolation and the infection control procedures and processes that we use in the hospital, but they are also still getting care for their heart attack, their stroke, their trauma, and their other conditions. So as we begin to better understand those admitted with coronavirus as compared to those admitted for coronavirus, we'll share that information with you. But as you can see from these last two charts, the hospitals in Utah and the hospital here at University of Utah is quite full with patients who one way or another are afflicted with coronavirus.
And so we end with really emphasizing the key strategies to slowing the spread of this Omicron variant. So, as we've said, it spreads more easily. We're looking at reproductive numbers of between two and three, each person with coronavirus, it infects two or three other individuals, and then they infect two or three other more individuals and so on. Against the fewer, on a percentage basis, a lower hospitalization rate, a lower length of stay. But the first factor more than overwhelming the second and third, and so we are ending up with very full hospitals.
So how do we slow this down? We get people vaccinated and we get them boosted. And certainly the patients and the family members that I'm familiar with who do test positive for Omicron, who have had their booster, the individuals that I'm familiar with, they need to stay home. They get the flu, but they're not, as a group, the most severe cases. The severe cases are individuals who are not vaccinated. And then in the middle, the group that's vaccinated, but not boosted. So please get your vaccine, help others get theirs. If you are vaccinated and have not been, get the booster, it matters. It builds the antibodies in your body that helps you fight the infection.
Those that have had a coronavirus infection with Delta, the wave we saw last fall, there is some immunity provided against Omicron, but it is not great. And so you need your vaccine, you need your booster. Masks slow down the transmission. Remember, this virus is transmitted in respiratory droplets, masks slow those down. Wear a high-quality mask, wear either preferably a KN95 or a N95, if you can get one. Otherwise, a surgical mask with layers of quality material that will catch those respiratory droplets on the way out of you and slow down your acquisition of respiratory droplets from others. And then if you're not feeling well, stay home and get a test.
We have added self-serve kiosks here at the University of Utah. I've talked with several colleagues who have used the self-serve testing center over the last two days since we opened it up. In all the cases I'm familiar with, results were obtained later the same day. So please, the increased testing is an increased part of this effort to slow down Omicron.
Because of the rapid change that we're going through in this pandemic, we're going to step up our communications and our broadcasts. So we will be back next week with an update from where we stand in the evolving Omicron phase of this coronavirus pandemic. Please stay well, stay safe, follow these guidelines. We'll be back with you shortly. Thank you.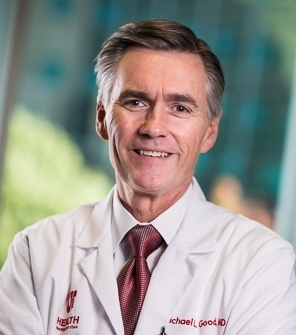 Michael Good, MD
Michael Good is CEO of University of Utah Health, Dean of the University of Utah School of Medicine, and A. Lorris Betz Senior Vice President for Health Sciences. A professor of anesthesiology, Good joined U of U Health after more than three decades of teaching, innovation, and leadership at the University of Florida, where he served as dean of the College of Medicine for 10 years.
DON'T MISS OUT. GOOD NOTES delivers to your inbox.