COVID-19 Update, December 7, 2021
Click here for Spanish translation recording.
Transcript of Dr. Good's COVID-19 Update, December 7, 2021
Hello, I'm Michael Good, CEO of University of Utah Health presenting our next COVID-19 update today, December 7, 2021. And unfortunately, since our last update, a number of those downward trends, particularly at the national level have reversed. And so, as you can see in this chart, after several months of having fewer and fewer new COVID cases in our country the last few weeks, we've seen that trend reverse. You'll also see most of our graphs today have what I call the Thanksgiving dip, where testing patterns change and reporting patterns change at the various health departments across our country. But certainly you can clearly see that this declining number of new COVID cases has definitely reversed and we're seeing more and more coronavirus cases in our country. We'll have to let the deaths from coronavirus play out a few more weeks here, but certainly the decline has stopped. We do, once again, see that Thanksgiving dip, but to me, there appears to be a suggestion that they are certainly level. I think if you look at that curve closely, it may be starting to inch up as well.
In Utah, it's a little harder. Certainly we do see the Thanksgiving dip again with a lot of changes in testing and reporting. We've now sustained over several months, this up, down, up, down, up down kind of hovering in the 1,500 or so cases on a daily basis. A lot of day-to-day variation up and down, but kind of in a holding pattern, neither are getting better nor worse if you look at it over that period. So far, the downward trend in deaths in Utah from coronavirus continues downward. You often hear numbers. The seven-day average now is down to six. You do hear numbers higher than that. Often, deaths are not reported over the weekend. So you hear a large number on Monday. Also in those multi-day reports or even the single day reports, there are often deaths from prior periods.
And so, those are attributed to the date of death once someone figures out that the death may have been from Coronavirus. So downward trend continuing in Utah, but again, need to continue to watch this, particularly with some of the new variant discussion we'll have in just a minute. So similar pattern, the active infections in the state of Utah, more or less remain in this zone of somewhere around 30,000 infections at any one time in our state, little bit different pattern than we see up here in the nation, where this downward decline, then a fairly steep upward increase. And so, whereas the Utah plateau is quite a bit lower than our peak back at the end of last year, in the nation, the new plateau is up higher than the plateau again from approximately a year ago. So trends that we'll want to watch; things holding steady here in Utah, if you will.
We do with continued thanks to Dr. Zhang and Dr. Samore for the reproductive number, the tail of this chart looks a little worrisome with a step-off in the reproductive number, both when looking at the daily values and also the seven-day moving average. That plateau of cases has, to no surprise, coincided with a long period where the reproductive number has hovered right around one, a little above a little below. But this step-off, if it portends things coming in the future, we would have to worry about increased number of cases. We'll keep an eye on that. Similarly, in a zone with positivity rate, whether it's looking at tests over tests or people over people. Maybe I probably didn't draw correctly. Clearly, there was an uptrend over the month of October, but then a down trend through much of November and now with a hook or a tail on it.
So again, some day-to-day and week-to-week variation, but overall staying in a range of around 15 percent for when we look at people over people, around 10 percent when we look at all tests, including multiple tests on a single individual. Fortunately, it's not as rapid as we would like, but we are continuing to see a decline in Utahns in the hospital for coronavirus. The blue line is the 14-day summation of all admissions. And actually you can see if you, if you look through that line to the orange bars, we're having somewhere between 50 and 80 Utahns admitted to a hospital with coronavirus over the last few weeks. Our hospitals are full. They're very full. We often have to reschedule elective surgeries because of how full our hospitals are, but we're not overflowing. We've been able to provide care for people who need it both with COVID and without COVID. But with some scheduled readjustments.
We had gotten close to 600 individuals in a Utah hospital with coronavirus and over this kind of prolonged multi-month period, we've drifted down. [Daily,] we're somewhere in the five, 10 range. So we've seen this continual decline in both total hospitalizations in Utah, and also in ICUs. Again, still very full. We would like to see the number of COVID cases in hospitals and ICUs decline further, but at least it's not running away from us with increases at this point. Similar trends here at the University of Utah Hospital, overall, a declining number of patients in our hospital, although still many patients often between 50 and 60. And this is just the active COVID patients, we often have another 10 to 20 patients who are no longer infectious with coronavirus, but recovering often severe COVID cases or episodes of COVID. And they're still in hospital with complications of that infection.
As we saw on the statewide graph, we similarly see overall the summation of COVID admissions declining with perhaps this little tail here over the last few days. In general, somewhere between, oh, typically seven to 10 or so. These are the gray bars. Seven to 10 coronavirus patients admitted with COVID-19 on a daily basis at University of Utah Hospital.
As we saw in some of our other charts, we see the Thanksgiving dip, but again, vast majority of new cases of coronavirus, approximately 80 per 100,000 are unvaccinated individuals. In vaccinated individuals, it's about 25 or so. So three to four times less likely to have a coronavirus infection if you're vaccinated than if you are unvaccinated.
And then finally within the last week or so a lot of media attention on a new variant first identified in South Africa and this past week now, as we expected, sequenced here in the state of Utah, the code name, if you will, B.1.1.529 or Omicron, as it's been named. We have identified that variant of coronavirus in the state of Utah in a lot of work now going on nationally to understand the transmissibility. It's been reported that this is more transmittable, but not as well understood as the severity of illness caused by the variant.
It's been reported that this is more transmittable, but not as well understood, is the severity of illness caused by the variant and importantly, whether the existing immunity from vaccines, from prior infection with Delta variant or therapies like monoclonal antibodies and the coming antiviral medications—that are not fully approved yet but anticipated to be so in the coming weeks. So Omicron is a variant that we're going to keep our eye on and as we learn more about it, we'll certainly share that with you as well. So in the meantime, we continue to focus on the basics, particularly vaccination. I'm pleased to report, we're seeing increasing in large numbers of children now eligible for vaccination who are being vaccinated. And we continue to ask adults who are not vaccinated to consider doing so.
We have nearly 90 percent vaccination rates between 85 percent and 90 percent at the University of Utah in our employees and our students. And consequently, we have seen very, very low levels of coronavirus on our campus despite having full in-person learning throughout this fall semester, which now winds down as we head into the holiday period. Masking, hand washing, distancing, staying away from work and others when you are ill, continues to be important.
Getting tested frequently. I traveled over the Thanksgiving holiday. I tested prior to leaving. I tested when I got home. Even though I'm fully vaccinated and have received my booster vaccination, testing is still part of good public health measures to make sure we're not inadvertently carrying a virus and sharing it with others. We will keep our eye on both the new variant, but also antiviral medication developed by Merck and Pfizer, which is nearing approvals to where they should be made available. The positive side is these are typically pills, multiple pills that are given over a five day period. The Merck medication reduces hospitalization and death by 30 percent. So reversing and worrisome trends at the national level, stable trends throughout the state of Utah. And again, with strong encouragement for vaccination and with an eye now to keep our eye on this new variant, as well as the new medications. As soon as we learn more, we'll be back with another COVID-19 update. Be safe.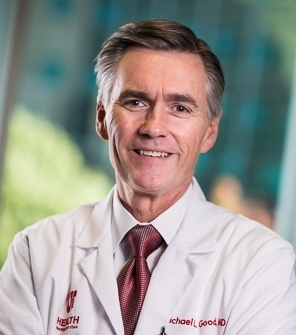 Michael Good, MD
Michael Good is CEO of University of Utah Health, Dean of the University of Utah School of Medicine, and A. Lorris Betz Senior Vice President for Health Sciences. A professor of anesthesiology, Good joined U of U Health after more than three decades of teaching, innovation, and leadership at the University of Florida, where he served as dean of the College of Medicine for 10 years.
DON'T MISS OUT. GOOD NOTES delivers to your inbox.