Like Throwing Pebbles in a Puddle
There is such a tremendous need in most communities for good public health policies and programs, including those related to healthy nutrition. That need is the main reason I started the University of Utah Center for Community Nutrition (UUCCN) in 2017. Our team is dedicated to advancing preventive health through nutrition education, research, and community outreach.
Far-Reaching Impact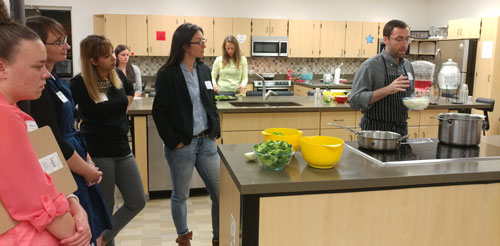 It's easy to feel overwhelmed, as if we're throwing pebbles in a big puddle and barely making a ripple. However, UUCCN's impact on people has been hard to deny. One of my favorite stories is about a homeless woman we ran into years after she'd been involved in our outreach program. She no longer drinks soda, is more physically active, and completed a job training program and started her own small business. She said she was so amazed that anyone from the U would bother trying to help people like her.
Sophie, a graduate student in the College of Health, is another example. Through UUCCN, she learned how impactful community outreach can be. As a volunteer teaching Journey to Health classes in underserved communities, Sophie was surprised at how a 45-minute food demo convinced all nine attendees that healthy eating at home can be cost- and time-effective.
"I understood that the Journey to Health program was designed to improve health outcomes of diverse, underserved communities," Sophie said. "But it was gratifying for me to see these individuals develop the competence and confidence to implement recipes with ingredients from local food pantries and seasonal, sustainable fresh foods."
Early Objectives: Nutrition Outreach, Intervention, and Opportunity
Knowing that good nutrition is central to good health, I had three objectives in mind for UUCCN when we launched:
Coordinate nutrition outreach on campus
Create a setting for evaluating nutrition interventions in the community
Provide students with opportunities to work with community members experiencing poverty, food insecurity, and lack of healthy food choices
Since the program started, nearly 300 undergrad and graduate students have been involved in a variety of research, education, and community outreach programs.
Outreach Through Education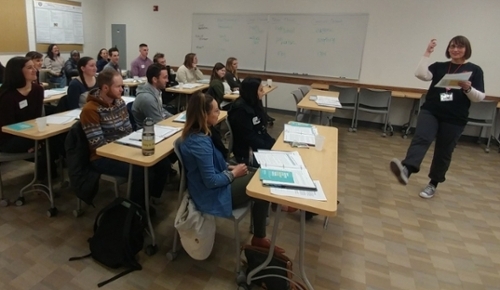 UUCCN's work in schools is particularly revealing. So far, we've worked with about 70,000 high school and middle school students in Utah, Arizona, and Idaho, where we train teachers and provide educational materials. Data shows that students who have participated in our nutrition outreach classes are eating healthier foods and being more active than students who haven't.
University students conducting these outreach classes measured and monitored the students over time to determine if they maintained good nutrition/health by eating more fruits and vegetables, not drinking sodas, and being more physically active. We're pleased that the vast majority of participating students continued to maintain the health habits they've learned through our classes. That's great, because ultimately, these good nutrition habits will lead to better health as they grow older.
Bringing Health to the Homeless
UUCCN does a great deal of work with Salt Lake County's chronically homeless community. Palmer Court is a downtown motel converted to housing for 300 people experiencing chronic homelessness. Through a special arrangement, our students can meet class requirements and log volunteer service hours by educating residents about nutrition and better eating habits.
Students help organize Palmer Court's Food Pantry, stocking and arranging the food to make it easier to assemble healthy meals. Together, residents and U students cleared a nearby lot in order to plant a garden filled with healthy fruits and vegetables. Another of our graduate students, Carly, filled her class requirements there and then returned as a volunteer.
"Healthy food isn't always accessible to low-income individuals and families," Carly said. "Having a well-stocked food pantry and fresh produce readily available makes a huge difference to the residents there. They've always expressed appreciation for the U program. That's what makes this volunteer opportunity so rewarding!"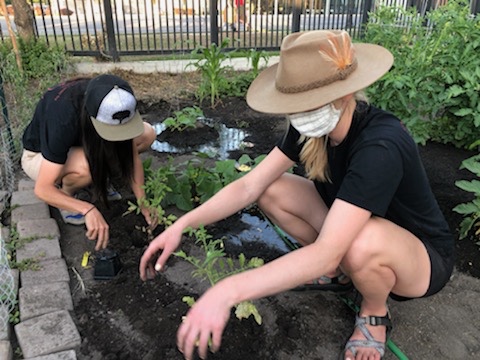 Trust is Essential
One valuable lesson I've learned through UUCCN is that it takes a long time for underserved communities to learn to trust us. There are so many well-meaning groups who want to help, but we want to have a long-term, sustainable relationship. This is especially prevalent among those serving in the homeless community. It's taken quite a while for them to believe we are in this for the long haul. Now they know we aren't there to just "fill their bellies" with any available food, but to fill them with good, nutritious food! This is one of the successes we can be proud of.
It's easy to become bogged down trying to help save the world, but our staff and students have learned to take pride in small successes like this. We are training the next generation of health care providers. We're also helping individuals and families in our own communities make healthier choices and live healthier lives.
You might say we're dropping pebbles in a puddle and letting the ripples do the work.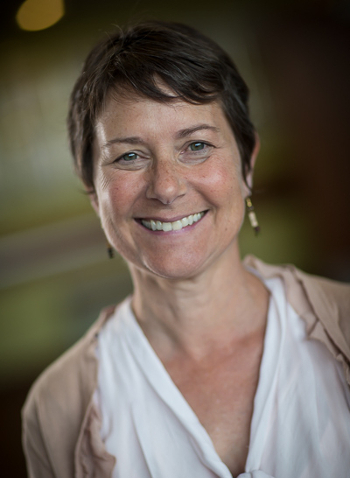 Julie Metos, PhD, MPH, RD
Julie Metos is a professor in the Department of Nutrition and Integrative Physiology in the College of Health and an adjunct professor in the Division of Public Health in the School of Medicine. Metos is the director of the University of Utah Center for Community Nutrition and a member of the Driving Out Diabetes leadership team. She teaches future nutrition and public health professionals, creates community programs, and conducts research on effective health interventions in family and child health. Previously, she was the Chief Clinical Dietitian at Primary Children's Medical Center.
DON'T MISS OUT. GOOD NOTES delivers to your inbox.