Pioneering a New Era of Biomedical Informatics
The opportunity to lead the Department of Biomedical Informatics at the University of Utah almost seems like destiny. The research of medical informatics pioneers and clinicians at the U shaped my career and many others. I am humbled to serve with the best in the field and train the next generation of biomedical informaticists.
Bridging Technology and Medicine
My interest in medicine and engineering began at an early age. I started programming at age 13. By the time I was 18, I was a seasoned programmer and had launched my own consulting company. Around this same time, I discovered computers could not reason with medical data. I went on to complete three engineering internships with IBM and calculated that I could make a better living in programming than I could in medicine. However, I saw an opportunity to contribute to computing with the language of medicine and improve health care. While some computer-assisted diagnostic tools existed at that time, they were not available commercially.
I decided that pursuing both medicine and engineering would allow me to help bridge this gap. After 17 years of exciting clinical practice—where I saw what health information systems were capable of—I decided to focus my career entirely on translational informatics, research and development, and leadership. That is where I felt I could have the most impact.
Serendipitous Circumstances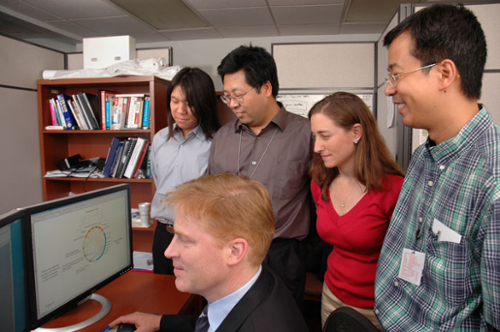 A number of rare opportunities and chance encounters shaped my path in biomedical informatics. In 1990, while I was a family medicine resident at Centre Hospitalier Universitaire de Sherbrooke in Quebec, Canada, they implemented electronic health records (EHRs). At that time, less than one percent of hospitals in the world operated with EHRs. I had the opportunity to be mentored by Roger Côté, MD, and then, as an editorial board member of the College of American Pathologists, contribute to transforming Côté's nomenclature—Systematized Nomenclature of Medicine (SNOMED)—into electronic form. Now used globally, SNOMED makes it possible for the computer to reason with medical facts. Today, the nomenclature of medicine includes more than 350,000 concepts and continues to grow.
When I was hired as a post-doctoral student at Columbia University, the founding chair of the biomedical informatics department was Paul Clayton, PhD. Clayton came from the Department of Biomedical Informatics at the University of Utah, the nation's first biomedical informatics department. At the U, he collaborated on groundbreaking research and development, including the HELP EHR and proving that EHR-anchored clinical decision support tools improve antibiotic therapy outcomes and reduce surgical complications. Clayton created a subculture at Columbia patterned after the innovative, collaborative culture at the U. His primary criteria for those he hired was "nice, hardworking, and smart."
I was also mentored by three National Academy of Medicine-inducted faculty members at Columbia who made significant contributions to computing with the language of medicine: Carol Friedman, PhD (Natural Language Processing); James "Jim" Cimino, MD (Networked Knowledge of Controlled Terminologies); and Edward "Ted" Shortliffe, MD, PhD (Expert Systems pioneer). 
Côté, Clayton, Friedman, Cimino, Shortliffe, and many others in the biomedical informatics community have had a profound influence on me and countless trainees. They were at the forefront of the field, proactively creating a space for others with their vision. As I embark on my leadership journey at the University of Utah, it's as if my path has come full circle. Joining the institution that had such an important impact on my career feels like an opportunity of a lifetime. As I do my best to carry on the legacy of this department, I want to cultivate a learning environment that allows our students to have pivotal experiences and mentors.
Leadership Values and Priorities 
I believe a servant-leadership approach, and creating consensus, is fundamental to our success as a department. A good leader knows their faults/deficits and surrounds themselves with people who are smarter than they are or who complement their skills. A good leader and educator also measures their success based on the success of those they have trained.
We are an academic institution, and by definition, it is our role to educate. This must be at the forefront of all aspects of our mission. It is essential that senior faculty members take on mentorship roles to ensure we teach, develop, and transfer knowledge to junior faculty, trainees, and students—our future informaticians.
Although biomedical informatics is very interdisciplinary, the field is lacking in diversity. Attracting more women and underrepresented minorities to this ever-changing field of science is critical to delivering equitable health care for all.
Harnessing Our Strengths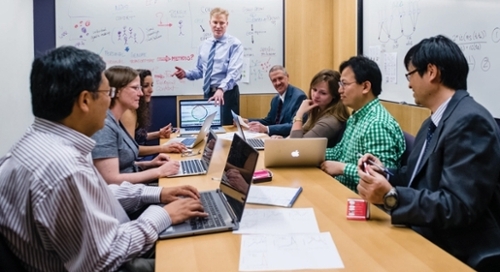 Established in 1964, our Department of Biomedical Informatics is internationally recognized as a leader in biomedical informatics research and education. Our faculty represent a wide range of subspecialties—spanning health care, clinical research, translational bioinformatics, clinical research informatics, and public health informatics—and we are expanding our expertise to consumer informatics.
As the bioinformatics field advances at a rapid pace, we will continue to leverage our expertise in clinical decision support, genomic medicine, sociotechnical systems, and predictive precision analytics. The ReImagine EHR Initiative is changing the way providers use electronic health records to deliver individually tailored medical care. Our contributions to genomics uniquely position us to develop affordable, scalable solutions for precision medicine and pharmaceuticals. And our sociotechnical researchers are playing a key role in how information transforms decision-making and enables behavioral, social, and cognitive changes. 
We are fortunate to be part of a learning health system. This creates an environment where bioinformatics extends beyond the walls of one department to be an embedded part of our entire system, impacting health care worldwide. Informatics and data science rely heavily on working—and working well—with other fields. We take pride in establishing collaborations with other units across campus as well as with industry partners. We encourage teamwork at all levels.
Convergence of Fields and Innovation  
We are standing at the lobby of the fourth industrial revolution with the convergence of digital, biological, and physical innovations. We are seeing a convergence of bioengineering, informatics, machine learning, computer science, and medicine. New fields are rising from previous fields at the interface of new problems. We are facing a new marketplace. For instance, over the next 20 years, machine learning will replace many of the jobs we have today. There will be a rise of new jobs. It's our responsibility as academicians, as we test the market and innovations of the future, to prepare our trainees to thrive in this new marketplace.
I look forward to working with my colleagues across campus to envision the transformative impact biomedical informatics can have on every medical, nursing, pharmacological, and public health subspecialty. Together, we can develop affordable, equitable, scalable solutions for optimal health care delivery while contributing to a diverse biomedical workforce.  
Yves Lussier, MD, FACMI
Yves Lussier is a professor of biomedical informatics and chair of the Department of Biomedical Informatics. Before joining the University of Utah in February 2021, Lussier was a professor at University of Arizona Health Sciences Center and served as Associate Vice President for Health Sciences and Chief Knowledge Officer, director of the Center for Biomedical Informatics and Biostatistics, and associate director for informatics at the university's Bio5 Institute.
DON'T MISS OUT. GOOD NOTES delivers to your inbox.