COVID-19 Update, October 26, 2021
Click here for Spanish translation recording.
Transcript of Dr. Good's COVID-19 Update, October 26, 2021
Hello, I'm Michael Good, CEO of University of Utah Health presenting the COVID-19 update for October 26, 2021. Trends of the previous weeks continue. At the national level new daily cases of coronavirus continued to decline, and the number of deaths from COVID-19 continued to decline at a steady rate across our country. A little bit different story here in Utah. Although similar to previous weeks, we see the, I describe it as a plateau with a slow decline. So for several weeks now we've been observing the number of new coronavirus cases in the state of Utah a little bit lower each day. The blue line is a seven-day rolling average. We do note here just in the last couple days, on the very end of our chart here, a couple days of increase. So I'm going to still call this a slowly decreasing plateau, and we'll want to keep an eye on that over the next week or so.
Again, a suggestion here that after a long period of plateau, maybe a decreasing number of deaths from coronavirus in our state. That same pattern, a slowly decreasing plateau is seen in the number of daily admissions to Utah hospitals for patients with COVID-19. Again, you see this, the blue line is a 14-day summation of how many admissions to Utah hospitals with patients with COVID-19. And you can see we've pretty consistently been in this 60 to 80 range. Some days we shoot up above that, but again, a plateau slowly decreasing as far as admissions.
This chart shows the number of Utahns in Utah hospitals with COVID-19. And you can that we were up here approaching 600. In the last week or so, we've pulled back into the mid-500s. The total bar are all patients in with COVID-19 in Utah hospitals. The red bar are our ICUs. And you can see so blue bars are those not in ICUs. And you can see that the pullback has been principally in our ICUs. So that's very helpful as the patients in the ICU obviously are the ones with the more severe forms of COVID-19.
Here at University Hospital, the last few days, we've seen fewer admissions from coronavirus in quite it a while. Similarly, we had had this plateau now also beginning to decrease as throughout, certainly the last few months, the vast majority of patients in the hospital are not vaccinated. The blue bars are those that are vaccinated, and you can see that's the very small proportion of patients in the hospital. I checked one day last week and of the 55 patients in the hospital, four had been vaccinated and 51 were unvaccinated. So we continue to see those in the hospital, predominantly being those who have not received a coronavirus vaccination.
And that leads to our next chart here. We've shown this before. The blue line, is the number of new coronavirus cases adjusted by population by vaccination status. And you can see a slow upward drift. A few more cases in the vaccinated group, just a little bit under 20 per 100,000. But the vaccinated group has been above 80 and now is getting back close to 80. So almost fourfold difference in new cases occurring in the unvaccinated. The chart in the middle then is  if you take everyone in Utah, we're currently seen around 40 new coronavirus cases each day, per 100,000 population. I mentioned this plateau slowly decreasing plateau. Like some of the other charts we looked at today, there was an uptick over the last couple days. So that is a trend that we'll want to keep an eye on. Hopefully that the plateau with a slow decline will continue. And these upticks will revert and continue the downward trend.
Many patients, many individuals are getting their booster on this slide. Their vaccine booster. There are now recommended boosters for all three of the available vaccines in the United States, the Pfizer, the Moderna, and the Johnson and Johnson. And the details of who's currently eligible for those boosters are shown in this graph. And if you are in one of those groups, we encourage you to get your booster to help keep our immunity high. And we do need to slow this virus down even further from what we have accomplished so far. There is ample vaccine available, and there are many, many ways and places to get your booster. We reference you to vaccines.gov as a site that will then route you to where you can make an appointment for your booster vaccination.
But finally, I'll close again here in Utah, we've seen a plateau, a slow decline, but not nearly where we need to be. And while many booster doses are being administered, I'm a little bit concerned by this chart, which is the average. It's a seven day average of first dose vaccine. So in other words, unvaccinated individuals getting their first dose. And while we still see approximately 2,000 individuals getting their first vaccine dose, this is the lowest point of the pandemic. And so we all need to redouble our efforts. If you know someone who is not received a coronavirus vaccine, please talk to them, refer them to their healthcare professional. We need to slow this virus down further. We're up to 87 percent of the students at the University of Utah have received a coronavirus vaccine. 85 percent of our employees have received a coronavirus vaccine. And we are seeing very, very low levels of coronavirus on our campus this fall.
So there is a strong correlation between having high percentages of a group of a population vaccinated, and that population then seeing a very low rate of coronavirus transmission. So please work with family and friends. Let's see if we can-- this is the one chart I would certainly like to see reverse the trend and see the number of first dose vaccines being administered begin increasing in our state.
That's our COVID-19 update for October 26, 2021. We'll be back in two weeks with another update. In the meantime, please stay safe and please help everyone get vaccinated so that we can slow down this virus and get this pandemic coming to an end. Thank you.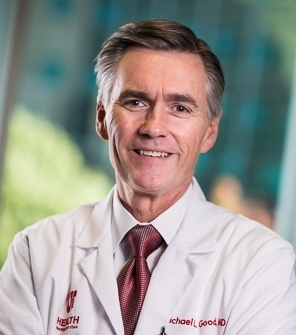 Michael Good, MD
Michael Good is CEO of University of Utah Health, Dean of the University of Utah School of Medicine, and A. Lorris Betz Senior Vice President for Health Sciences. A professor of anesthesiology, Good joined U of U Health after more than three decades of teaching, innovation, and leadership at the University of Florida, where he served as dean of the College of Medicine for 10 years.
DON'T MISS OUT. GOOD NOTES delivers to your inbox.