COVID-19 Update, October 12, 2021
Click here for Spanish translation recording.
Transcript of Dr. Good's COVID-19 Update, October 12, 2021
Hello, I'm Michael Good, CEO of University of Utah Health, presenting the COVID-19 update for October 12, 2021. And as we look at, first, the national trends we do see the continued decrease in the number of coronavirus cases being reported each day in our country, appear in the upper right of this chart. As well as, pleased to see, declining deaths per day from coronavirus at the national level. We look at not only, this here on the upper left, is that same chart, just a shorter period of weeks. But we look at some of the other states across the nation and some of the trends and patterns we're seeing, for example, in Florida, which experienced an extremely high wave of coronavirus, but see now a decline from that peak. And we see this in other states in the Southeast. Arizona, a lot like here in Utah, which we'll look at in a minute, a lower wave during the last few months, but more of a plateau, rather than that rapid decline. Idaho, hopefully reaching a plateau, again, somewhat in between the two; Nevada with again, a wider curve, although also now on the decline.
Here in Utah, we had an extremely slow rise this wave but then as you can see, dipped down, but appears to be plateauing right now. We'll see some other of our statistics and data, which suggests that we're at a plateau. And hopefully we can resume the decreasing trend lines on these charts, and not resume an upward trajectory, as has happened at other points in this pandemic. So again, our reproductive number, which tells us whether virus spread is increasing or decreasing, kind of is hovering right around one. So we're kind of at this plateau, with about each person who catches coronavirus, sharing it with one other person. So our numbers are stable. They're still too high. I'll show you, there are too many Utahns in hospitals, in Utah, with coronavirus. But the reproductive number, similarly is suggesting that we're at this period where, bottom line is we need more individuals to get vaccinated, while continuing the masking and the social distancing, because we're not quite out of this pandemic, for sure.
This is one of two very worrisome charts; here in Utah, the seven-day average of daily hospitalizations. We have just under 600 Utahns in Utah hospitals with COVID-19. And that was right up there with where we were November, December of last year. You can see we came down this period in January, February, March, and April, kind of plateaued. And then, now on the orange line, we've gone all the way back up over this July, August, September, and October period. So again, nearly 600 Utahans in hospitals with COVID-19. This part of the curve is the same as the previous chart, but now we add the ICU's in the red line, and you can see we're actually exceeding-- I didn't draw that too straight-- but we're actually exceeding the level of ICU utilization by COVID-19 patients. And as you can see, the Utah hospitals, the Utah ICU's are quite full right now, with high numbers of COVID patients.
The blue line is the daily admissions from COVID, and as you can see, it's been slowly rising. Maybe a top on this forming, maybe this last period here is starting to decline, but certainly, we need that to sustain, we need fewer people getting COVID-19, and fewer people being hospitalized with it. Same picture here at University of Utah Hospital, we've been having about 55 to 60 active COVID patients, and another 15 to 20 so-called COVID recovered. COVID recovered means there are no longer infectious with coronavirus, but still in the hospital, sometimes in the ICU, suffering the complications, often severe complications from their crone of virus infection. So, continued high levels of admissions into University of Utah Hospital. Again, the blue line is the 14 days summation of admissions. They've been hovering in the eight to 10 range. We did have a low number, one of the lowest numbers in quite a while, in the last day that's been reported, but pretty much stable, again with a total of somewhere between 70 and 80 active and recovered COVID patients in University Hospital.
We continue to see reported the number of vaccines administered, but we now start to show the seven-day average of initial COVID vaccine. We have to start paying attention, many of the vaccines being delivered are booster doses, currently approved for Pfizer vaccines and action anticipated in the next month or so on boosters for those who received Moderna and J&J vaccine. If we look at just first time, or first COVID vaccine doses administered, we actually see a worrisome trend now, with a pretty steady decline here in the latter parts of August, all through September and into October. In fact, this last reporting period falling below 2000 doses of vaccine administered to new patients, first time, non-booster patients. So, really would encourage everyone who is not vaccinated, please get vaccinated. We'll continue to share statistics about the difference, comparing vaccinated to unvaccinated. If you are unvaccinated, you have a four times greater risk of testing positive, you have an almost eight time risk of being admitted to the hospital if you get COVID, if you're unvaccinated compared to vaccinated, and you have a 10-fold difference of dying from COVID-19, if you are unvaccinated.
We even go a little further this week, and report out the hospitalization, this 7.8 greater risk if you're unvaccinated of being hospitalized, here's that total. But we break it out by different age categories. And the vaccine is really important in higher age groups, with 4, 6, 9-fold difference in being hospitalized if you're unvaccinated compared to vaccinated. But even in younger groups the difference is even further, perhaps resulting from the strong immune system of younger cohorts of patients. But, regardless of your age group, multiple, multiple times more likely the probability of being hospitalized if you get a coronavirus infection if you're unvaccinated compared to being vaccinated.
So after several weeks of declining trends in our various cases, deaths, hospitalizations, and so on, we now have kind of hit a plateau where things are. For example that reproductive number stands at one. So we need to continue vaccination, particularly those who are not vaccinated, getting vaccinated. Those who are eligible for boosters, getting their vaccine booster, and continuing the other practices of wearing masks indoors, keeping our distance where we can. I am very pleased to report, we continue to have very, very low levels of coronavirus on the University of Utah campus. Today. It was reported that over, I think it's 86 or 87 percent of our students have had at least one dose of vaccine. 76, 77 are fully vaccinated, and another 8 to 9 percent have had their first vaccine dose, and are on schedule to get their second. So 86, 87 percent of the University of Utah student body being vaccinated and similarly high levels reported for our employees. So we see very low levels of coronavirus on the campus. And again, just reemphasizing the importance of the vaccine.
We'll continue to follow the trends associated with the pandemic, and we'll be back in two weeks with another COVID-19 update. Please stay safe.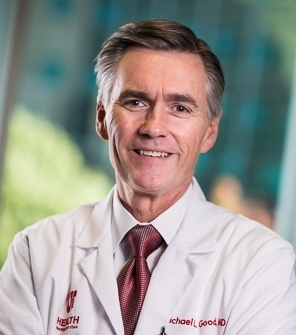 Michael Good, MD
Michael Good is CEO of University of Utah Health, Dean of the University of Utah School of Medicine, and A. Lorris Betz Senior Vice President for Health Sciences. A professor of anesthesiology, Good joined U of U Health after more than three decades of teaching, innovation, and leadership at the University of Florida, where he served as dean of the College of Medicine for 10 years.
DON'T MISS OUT. GOOD NOTES delivers to your inbox.